Blooom Review 2022: Pros, Cons and How It Compares
Blooom manages 401(k)s and other workplace retirement plans, plus some IRAs, too. With no minimum account balance and the option to pay a reduced flat annual fee, the service offers a distinct service at a reasonable cost.
Many or all of the products featured here are from our partners who compensate us. This may influence which products we write about and where and how the product appears on a page. However, this does not influence our evaluations. Our opinions are our own. Here is a list of our partners and here's how we make money.
---
The investing information provided on this page is for educational purposes only. NerdWallet does not offer advisory or brokerage services, nor does it recommend or advise investors to buy or sell particular stocks, securities or other investments.
Our Take
The bottom line:
Blooom brings much-needed investment management to employer-sponsored retirement plans like 401(k)s, plus some IRAs, too. Investors can also test drive the service with the company's free analysis tool.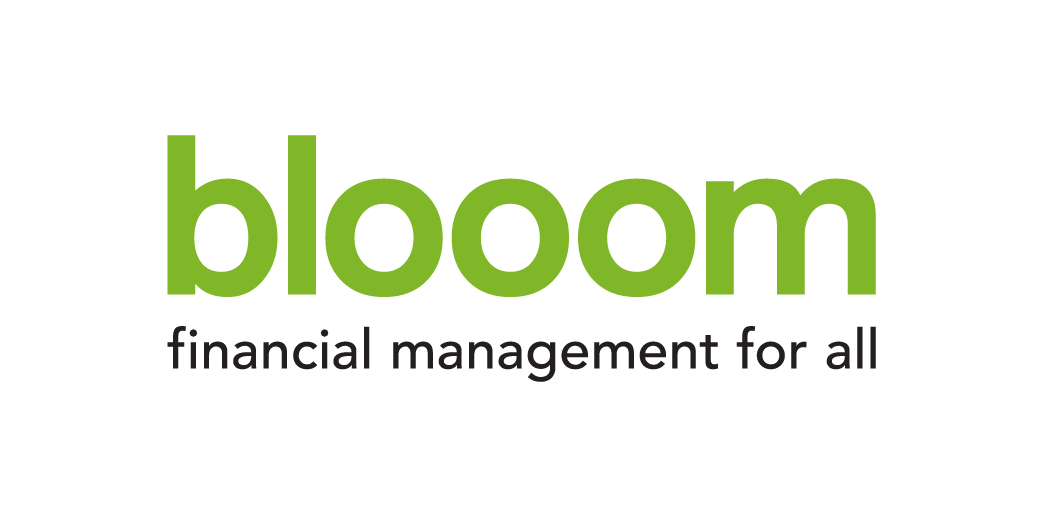 Pros & Cons
Pros
Access to financial advisors.
Cons
Limited direct IRA management.

High costs for small account balances.
Compare to Other Advisors
Promotion

$10 off

with code REEETIRE10

Promotion

Free

career counseling plus loan discounts with qualifying deposit

Promotion

Up to 1 year

of free management with a qualifying deposit
Get more smart money moves — straight to your inbox
Become a NerdWallet member, and we'll send you tailored articles we think you'll love.
Full Review
Focus on 401(k)s: Blooom stands out in a crowded field of robo-advisors by narrowing its focus to one segment: retirement plans such as 401(k)s and IRAs. By tending to Americans' retirement assets, Blooom offers management services that often are overlooked by other advisors.
Simple model: Blooom's model is straightforward: There's no account minimum, and management costs a flat annual fee ranging from $45 to $250 each year, depending on the level of service desired and number of accounts managed. It's easy to register for an account and have Blooom analyze your 401(k) for free. Access to financial advisors and personalized guidance in Standard and Unlimited tiers.
Limited direct IRA management: Only those with accounts at Fidelity can have their IRA fully managed.
Expensive for small balances: Flat fees are compelling the higher your account balance grows, but are on the high-end for accounts with lower balances.
No phone support: Blooom's customer support and access to financial advisors is exclusively online, via chat and email.
Employer-sponsored plan participants.

People with IRAs at Fidelity.

Free 401(k) portfolio analysis.
DIY package $45/year/account (personalized portfolio).

Standard package $120/year/account (personalized portfolio + auto optimization, transaction activity alerts, advisor access).

Unlimited package $250/year/unlimited accounts (all above + priority advisor access).

Investment expense ratios

Not rated. Investments used are limited to plan offerings, though Blooom will prioritize funds with the lowest expense ratios.

Account fees (annual, transfer, closing)

Not rated. Investments used are limited to plan offerings. Blooom prioritizes index funds, with occasional use of actively managed funds. The service first reviews funds already owned.

Socially responsible portfolio options

Not rated. Investments used are limited to plan offerings.

401(k)s, Thrift Savings Plans (TSP), 457s, 403(b)s and 401(a)s. IRAs (traditional, Roth, SEP, SIMPLE, nondeductible, spousal and self-directed).

IRAs at Fidelity can be fully managed. IRAs held at Vanguard, Charles Schwab and TD Ameritrade can receive a custom investment recommendation that clients implement on their own.

Not rated. Typical robo-advisor tax strategies cannot be employed in the tax-advantaged retirement accounts Blooom manages.

Blooom reviews accounts approximately 95 days after the last adjustment. If the account has not drifted enough to warrant an optimization, Blooom monitors changes in the account until another adjustment is necessary. Rebalancing occurs between one and four times per year.

No advisors available for DIY tier.

Registered investment advisors available via chat and email for Standard and Unlimited tiers.

Bank account/cash management account

Not rated. Customers don't invest or stash savings directly with Blooom.

Customer support options (includes how easy it is to find key details on the website)

Live chat and email support Monday to Friday, 10 a.m. to 5 p.m. Eastern.
More details about Blooom's ratings
Account minimum: 5 out of 5 stars
Many robo-advisors have an account minimum, which means their customers must have a certain account balance to qualify for services. Often, this means that investors who are just starting out are shut out from using that particular investing platform. This doesn't apply at Blooom.
With no account minimum, beginner savers can have Blooom manage their accounts right from the start, giving them a better shot at getting off on the right foot.
Account management fee: 5 out of 5 stars
Blooom hopes customers see as much value in outsourcing the management of their 401(k) as they do in paying for things like Netflix. There's something to be said for the clean, flat annual fee. Investors know exactly how much they're paying, and the fee is charged to a credit or debit card rather than skimmed from the account balance.
Blooom's flat fees allow customers to choose the level of service that best fits their needs. Tiers start at $45 per year, per account with its DIY package, which provides the customer with a personalized portfolio. The next tier is $120 per year, per account with its Standard package, which supplements the personalized portfolio with auto-optimization, transaction activity alerts and advisor access. The most comprehensive tier is the Unlimited package, which costs $250 a year for an unlimited number of accounts, giving all the services in the DIY and Standard tiers combined with priority advisor access (live chat with an advisor during normal business hours).
But there's a downside to flat fees, too. To compare costs with other advisory services, both robo and human, it's important to evaluate that fee as a percentage of the assets under management.
Here are a few examples of Blooom's pricing at various account levels:
| | Essentials tier fee (% of assets/year) | Standard tier fee (% of assets/year) | Unlimited tier fee (% of assets/year) |
| --- | --- | --- | --- |
| | | | |
| | | | |
| | | | |
| | | | |
| | | | |
For comparison, robo-advisors typically charge  0.25% to 0.50%, and human advisors typically charge about 1% of assets under management. Given that Blooom is one of the few robo-advisors that manages 401(k)s, and that the company offers customers access to financial advisors, we think its charges are reasonable.
Investment expense ratios: Not rated
Employer plans generally offer limited investment options, some of which can carry higher-than-average fees. Usually, investment options include various types of funds — mutual funds, index funds or exchange-traded funds — which typically all have an investment expense ratio baked in. The investment expense ratio is a fee that goes back to the fund company to cover its costs.
Blooom works with the investments available in the account by grouping them into asset classes, then selecting the investment in each bucket with the lowest internal expense ratio.
Although there are many instances when there's only one fund in each category — and no way to lower expenses — Blooom's investment expense audit can help investors lower their expenses overall while maintaining an appropriate asset allocation and diversification.
Account fees: 5 out of 5 stars
With investment accounts, there can be charges for wire transfers, annual fees and other charges to pay attention to. Minimizing fees is important because the less you pay, the more you can save.
Blooom prides itself on being transparent with no hidden fees. There are no additional costs for trading, ACAT transfer fees (whole or partial), closing fees or any setup or onboarding fees.
When testing various providers, Blooom's asset allocation mix fell on the more aggressive side with higher exposure to equities (stocks) vs. its peers. Blooom's view is that younger investors focused on saving for retirement should not allocate toward cash and bonds in their 401(k). Their algorithm tends to favor equities until about 20 years out from retirement.
Blooom acts as a fiduciary when giving advice and its business model is set up so that its advisors are limited to using a client's plan offerings. Blooom doesn't have any proprietary products and has no incentive to place client funds into cash or other products that could benefit its bottom line.
Accounts supported: 3 out of 5 stars
Blooom stands out for its niche strategy of exclusively managing employer-sponsored retirement plans — 401(k)s, 403(b)s, 457s, TSPs and 401(a)s — as well as IRAs. While Blooom can work with various types of IRAs — traditional, Roth, SEP, SIMPLE, nondeductible, spousal and self-directed — only IRAs held at Fidelity can be directly managed. IRAs at Vanguard, Charles Schwab and TD Ameritrade can receive a custom investment recommendation, but clients must implement the strategy on their own.
Even though 401(k)s are the primary retirement savings vehicle for many people, it's rare for robo-advisors to manage them — most robos deal exclusively with IRAs (individual retirement accounts) and taxable accounts. Blooom can manage most 401(k) plans, there's no need for your employer to have a partnership with the service. If you have online access, Blooom can usually work with you.
Blooom added a feature that allows you to add brokerage accounts to its platform so you can see all your accounts in one place. However, its advisors can only help answer questions on brokerage accounts if you have an eligible company-sponsored account or an IRA that Blooom is able to manage and sign up for its Standard or Unlimited membership tier. Customers looking for an advisor to directly manage non-401(k) or non-IRA funds will need to look elsewhere.
Automatic rebalancing: 4 out of 5 stars
As the market moves up and down, your investment account and its allocation will change over time. Automatic rebalancing means that the robo-advisor will monitor and keep tabs on your account. If the allocation moves too far from its target, the robo-advisor will buy or sell investments to bring your allocation back in line.
Blooom reviews customer accounts every 95 days and will proactively adjust your allocation if necessary. You will receive an email confirming any transactions in your account and see any changes in your account activity.
Human advisor option: 1 out of 5 stars
Sometimes it can be helpful to discuss your personal financial situation with a human financial advisor. Human advisors can consider your goals, time horizon and risk tolerance to help determine the optimal strategy for your needs.
Human advisors aren't available for the DIY tier, but the Standard and Unlimited tiers provide email and live online chat support with registered investment advisors able to answer financial planning questions. That includes topics that fall outside of 401(k) management, such as debt repayment, budgeting and preparing for major life events. All advisors are Series 65 licensed and act as fiduciaries.
Customer support options: 3 out of 5 stars
Some robo-advisors offer 24/7 phone customer service. With Blooom, you need to be comfortable with no phone support. You can access customer service via live chat and email support Monday to Friday, 10 a.m. to 5 p.m. Eastern time.
Other features you should know
Anyone can register for an account and have Blooom analyze their 401(k) for free.
It's a fairly painless process: You'll create a username and password, share a bit of information about yourself, then securely link your 401(k) by selecting your provider and logging in through Blooom's site. The company then tells you how your fees and asset allocation compare with its recommendations, suggesting ways to improve.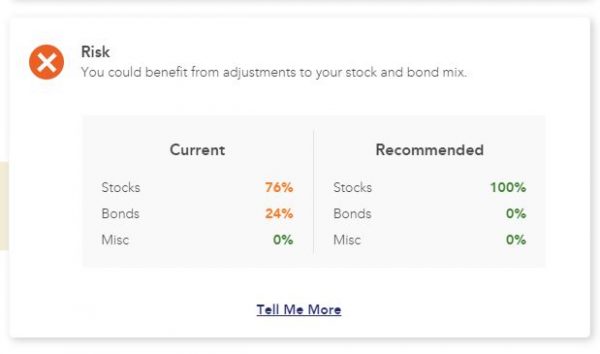 You can adjust your recommended asset allocation to take more or less risk, and once you've settled on a breakdown between stocks and bonds, Blooom will share its recommendation for your 401(k) compared with how your 401(k) is currently allocated and the investments available to you.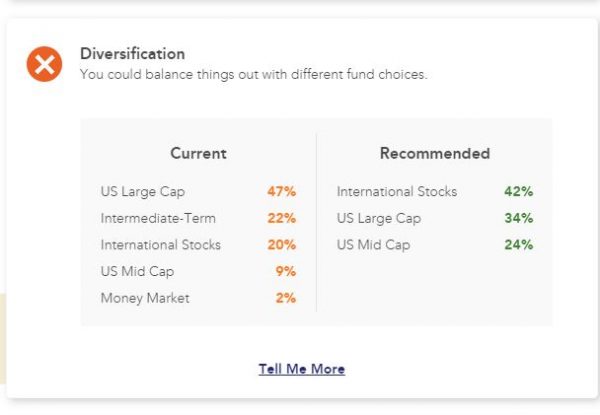 Do-it-yourselfers could easily take those recommendations and change their asset allocations on their own, without signing up for a paid account with Blooom.
Blooom brings much-needed investment management to employer-sponsored retirement plans. That's a significant benefit because such plans usually are the primary retirement vehicle for people who have them. Few other robo-advisors have tapped this market.
But before signing up, do the math to figure out what percentage of assets you'll pay based on your account balance. Check into whether you have access to comparable services directly through your 401(k) or other employer retirement plan; some offer free investment guidance.
How do we review robo-advisors?
NerdWallet's comprehensive review process evaluates and ranks the largest U.S. robo-advisors. Our aim is to provide an independent assessment of providers to help arm you with information to make sound, informed judgements on which ones will best meet your needs. We adhere to strict guidelines for editorial integrity.
We collect data directly from providers through detailed questionnaires, and conduct first-hand testing and observation through provider demonstrations. The questionnaire answers, combined with demonstrations, interviews of personnel at the providers and our specialists' hands-on research, fuel our proprietary assessment process that scores each provider's performance across more than 20 factors. The final output produces star ratings from poor (one star) to excellent (five stars). Ratings are rounded to the nearest half-star.
Arielle O'Shea contributed to this review.