Capital Good Fund: 2021 Review
Capital Good Fund may be an affordable option for emergency expenses, though its loans are available in just a handful of states.
Many or all of the products featured here are from our partners who compensate us. This may influence which products we write about and where and how the product appears on a page. However, this does not influence our evaluations. Our opinions are our own. Here is a list of our partners and here's how we make money.
Our Take
The bottom line: Capital Good Fund provides a lower-cost alternative to payday loans, with fast funding and consumer-first features.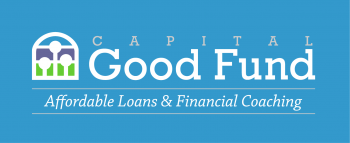 Min. Credit Score
Est. APR
Loan Amount
Pros & Cons
Pros
Accepts bad credit.

Fast funding.
Cons
Available in a limited number of states.
Compare to Other Lenders
Loan Amount

$300 - $10,000

Loan Amount

$1,500 - $20,000
Get more smart money moves — straight to your inbox
Become a NerdWallet member, and we'll send you tailored articles we think you'll love.
Full Review
Capital Good Fund is an online, nonprofit lender that makes installment loans to borrowers with low income and no credit history or bad credit. Common uses of Capital Good Fund loans include car repairs, security deposits, refinancing high-interest debt and catching up on rent or utility bills.
With rates capped at 24%, Capital Good Fund personal loans are cheaper than payday and other high-interest loans but are still expensive. If you're borrowing for short-term or emergency expenses, NerdWallet recommends exploring alternatives first.
Capital Good Fund lends to consumers in six states: Delaware, Florida, Illinois, Massachusetts, Rhode Island and Texas.
The company can offer low rates to consumers because it partly operates on donations and grants, says CEO Andy Posner.
Capital Good Fund loan types
Capital Good Fund offers several loan products based on the use of loan proceeds. Its offerings vary by state.
These loans can be used to cover utility bills, rent, medical bills and groceries when you're in financial distress.
Repayment term: 15 months, following an initial 90-day deferment.
These loans can pay for immigration-related expenses, like obtaining citizenship and securing or renewing a green card. Capital Good Fund has staff who are fluent in English and Spanish, Posner says.
Immigration loans are structured differently depending on the amount borrowed. The majority of immigration loans are over $2,000.
Repayment term: Monthly payments over two or four years.
These loans can be used for things like car repairs and security deposits, but not to repay other debt.
Repayment terms: Monthly payments over two years.
The lender offers weatherization loans to help homeowners make their houses more energy-efficient. Rates, loan amounts, terms and qualification requirements vary by state.
APR: 7.99%, 9.99% or 10.99% in IL; 0% in MA and RI.
Repayment terms: Monthly payments over two to seven years.
How to qualify for a Capital Good Fund loan
To qualify for a Capital Good Fund loan, you usually need a bank account or prepaid debit card with two months of statements and income that can be verified with pay stubs or deposits into a bank account.
You also must live in one of the six states where Capital Good Fund operates.
You don't need a credit score or credit history to get a loan, but any credit you have will be considered.
Banking history is the most important factor considered for approval, Posner says. The company looks at the average daily balance in your bank account and whether you've had any overdrafts.
This information shows not only if a borrower has enough income to repay the loan, but also whether they keep enough money in their account every month to do so.
Capital Good Fund loan features
Loan flexibility: Borrowers who run into payment trouble may qualify for deferred payments or interest-only payments, as long as they remain in contact with the lender.
Other programs: Capital Good Fund offers a credit-builder program, in which you pay $5 per month for 12 months and the lender reports the payments to all three credit bureaus. It also offers a full financial coaching program at $15 per month for 12 months.
Capital Good Fund loan example
Here's what you can expect to pay for one of its loans:
Crisis relief loan: A $400 loan at 5% APR repaid over 12 months carries monthly payments of $34 and would cost $11 in total interest and fees.

Immigration loan: A $5,000 loan at 15.99% APR repaid over 36 months would cost $176 per month and carry $1,327 in total interest and fees.

Personal loan: A $1,000 loan with a 24% APR repaid over 24 months would have monthly payments of $53 and would cost $269 in total interest and fees.
How Capital Good Fund compares
Capital Good Fund has lower rates and smaller borrowing amounts than other payday loan alternatives, though lenders like Oportun and OppLoans are more widely available.
Here are some ways to compare Capital Good Fund with other small-loan lenders.
Oportun: Offers personal loans up to $10,000 with APRs up to 36%. These loans are available in 12 states and allow borrowers to choose their payment date or add a co-signer.
OppLoans: Offers installment loans up to $4,000 with APRs reaching triple digits. OppLoans lets you change your payment date.
Capital Good Fund isn't a good idea if:
You need to consolidate debt: Capital Good Fund's personal loan can't be used for debt consolidation or refinancing. If you're looking to consolidate high-interest debt, consider other options.

You have cheaper options: If you can't pay your bills, ask for extra time from your creditors, get local assistance or find cash elsewhere. Take the quiz below to explore your options.
If you take a Capital Good Fund loan
After considering alternatives, you may decide that taking a Capital Good Fund loan is your best option. In that case, do what you can to carve out room in your budget to repay the loan as quickly as possible and to build your emergency savings. For many people, borrowing for emergencies can be an expensive solution.
Personal Loans Rating Methodology
This lender is not rated.
Find the Best Personal Loan