PenFed Credit Union Mortgage Review 2023
Good for: borrowers who prize low rates and fees and prefer working with an easy-to-join credit union.
Some or all of the mortgage lenders featured on our site are advertising partners of NerdWallet, but this does not influence our evaluations, lender star ratings or the order in which lenders are listed on the page. Our opinions are our own. Here is a list of our partners.
Our Take
The Nerdy headline:
PenFed Credit Union offers a selection of low-down-payment mortgages, jumbo loans and a HELOC, and it has an open membership charter, meaning anyone is eligible to join. Its average rates and fees are on the lower end compared with other lenders, but the website requires users to provide contact information to get personalized rate quotes.

---
Loan types and products
Purchase, Refinance, Home Equity, Jumbo, Fixed, Adjustable, VA, FHA
Pros & Cons
Pros
Offers a selection of low-down-payment options for first-time home buyers and HELOCs.
Offers a rate lock with a fully underwritten preapproval when you're still shopping for a home.
Mortgage rates and fees are low compared with other lenders, according to the latest data.
Cons
Borrowers cannot see customized mortgage rates without providing contact information.
Does not offer harder-to-find mortgages, such as construction, ITIN or USDA loans.
Compare to Other Lenders
NBKC: NMLS#409631

New American Funding: NMLS#6606
LOAN TYPES AND PRODUCTS
Purchase, Refinance, Jumbo, Fixed, Adjustable, FHA, VA
LOAN TYPES AND PRODUCTS
Purchase, Refinance, Home Equity, Reverse, Jumbo, Fixed, Adjustable, FHA, VA, USDA
Get more smart money moves — straight to your inbox
Become a NerdWallet member, and we'll send you tailored articles we think you'll love.
Full Review
What borrowers say about PenFed mortgages
NerdWallet's lender star ratings assess objective qualities, including rates, fees and loan offerings. To assess borrowers' subjective experiences with lenders, NerdWallet has gathered customer satisfaction ratings from Zillow.
PenFed received a customer rating of 4.58 out of 5 on Zillow, as of the date of publication. The score reflects 90 reviews.
PenFed's mortgage loan options
Pentagon Federal Credit Union, known as PenFed, offers fixed- and adjustable-rate mortgages, including jumbo loans, government-backed VA loans and FHA loans, and conventional mortgages with down payment requirements as low as 3%.
The choices are listed on the website's main mortgage loans page. Highlights for each loan type are clearly spelled out, and there are links to learn more about each option.
PenFed also offers a few special promotions. A "power buyer" program lets you get preapproved and lock in an interest rate for 60 days while you shop for a home. With many lenders, you can't lock in a rate until you've signed a purchase agreement for a home. The preapproval is based on a full underwriting review, which may help when competing against other buyers.
Home buyers who get a PenFed mortgage and work with a referred real estate agent from the lender's network of agents can get a credit applied at closing. The credit is $1,000 for homes priced up to $699,999 and $1,500 for properties priced $700,000 or more.
Sellers who work with an agent from the PenFed network may qualify for a renovation loan to make repairs for selling. The loan is interest free for the first six months; after that, the loan has a fixed APR, which is set at loan approval and based on the applicant's credit history.
PenFed HELOC
PenFed also offers a home equity line of credit, or HELOC. These second mortgages are one way for homeowners to access existing home equity without refinancing or selling their home. Funds obtained with a second mortgage can be used for expenses such as home improvements, education costs or debt consolidation.
PenFed's HELOC has a 10-year draw period and a 20-year repayment period, with interest-only payments allowed during the draw period. The HELOC allows borrowers to switch from a variable to a fixed interest rate. Some borrowers may qualify for a HELOC that closes in as little as 15 days.
What it's like to apply for a PenFed mortgage
You have to be a member to get a mortgage with PenFed, but membership in the credit union is open to anyone. To join, you provide your name and contact information and then open a savings account with an initial $5 deposit.
You can begin an application online, or fill out a form online to get a rate quote and have a loan officer call you. PenFed's digital capabilities allow for electronic signature, online document upload and online mortgage status updates.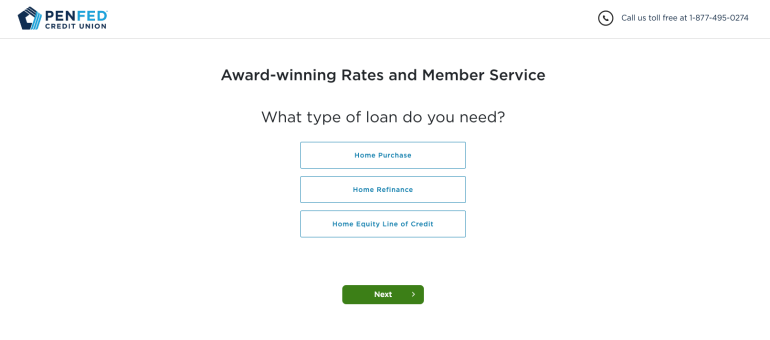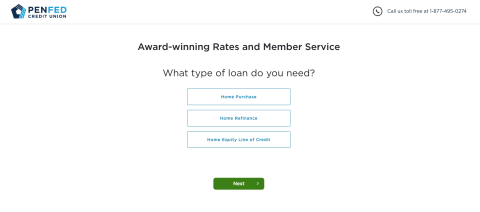 There's also a toll-free number you can call. On the day we called, it took a couple of tries to reach someone because our calls were dropped during the transfer to a representative. On the third try we were placed on hold for about 15 minutes and then spoke with someone. The representative answered a basic question about mortgage offerings and then directed us to the mortgage loans page when we asked for specifics about first-time home buyer options.
While PenFed offers mortgage loans nationwide, actual brick-and-mortar locations are limited to about a dozen states. The ATM and branch locations page features a map to search by ZIP code and filter for branches. Any results will give address, phone number, hours of operation and a list of services, which may not include mortgage lending.
PenFed's mobile app lets you manage and track bank accounts and get loan application updates.
PenFed's mortgage rates and fees
PenFed earns 4 of 5 stars for average origination fee.

PenFed earns 4 of 5 stars for average mortgage interest rates.
NerdWallet analyzes federal data to compare mortgage lenders' origination fees and offered mortgage rates. We measure annual averages across all loan types, as reported by the lenders. PenFed's average fees and rates are on the lower end compared with other lenders.
Borrowers should consider the balance between lender fees and mortgage rates. While it's not always the case, paying upfront fees can lower your mortgage interest rate. Some lenders will charge higher upfront fees to lower their advertised interest rate and make it more attractive. Some lenders just charge higher upfront fees.
PenFed's mortgage rate transparency
PenFed provides sample mortgage rates on its website, but online personalized rates based on location, credit score or other factors are available only when you provide contact information.
The sample rates are based on a highly favorable financial profile. On the day we checked, for instance, the advertised rate for a conventional mortgage was based on a loan amount of $400,000, a down payment of 25%, a credit score of 760 and a debt-to-income ratio of 18% or less. The rate also assumed 1.25 discount points. This is not unusual for advertised mortgage rates, but keep in mind you may be quoted a higher rate.
NerdWallet's transparency ratings are higher for lenders that post sample rates on their sites, making it easier for home buyers to comparison shop, and highest for sites with self-serve tools that allow shoppers to see what rates might be like for their particular loan.
Alternatives to a home loan from PenFed
Here are some comparable lenders we review that borrowers can consider. Flagstar Bank offers HELOCs, and Veterans United specializes in VA loans.
Getting ready to buy a home? We'll find you a highly rated lender in just a few minutes.
Enter your ZIP code to get started on a personalized lender match
Bella Angelos contributed to this review.
NerdWallet's overall ratings for mortgage lenders are evaluated based on four major categories: variety of loan types (purchase, refinance, fixed and adjustable, for example), ease of application, rates and fees and rate transparency. Among the factors we consider when scoring these categories are options to apply for and track loans online, the level of detail about mortgage rates on lender websites and our analysis of the rates and fees lenders reported in the latest available Home Mortgage Disclosure Act data. These scores generate ratings from 1 star (poor) to 5 stars (excellent).