Editorial Review
Sebonic Financial Mortgage Review 2020
Ideal for borrowers who want a loan with flexible down payment and credit score requirements.
At NerdWallet, we strive to help you make financial decisions with confidence. To do this, many or all of the products featured here are from our partners. However, this doesn't influence our evaluations. Our opinions are our own.
Our Take
The bottom line: Sebonic offers several loans with down payments below 20%, but won't use alternative credit data.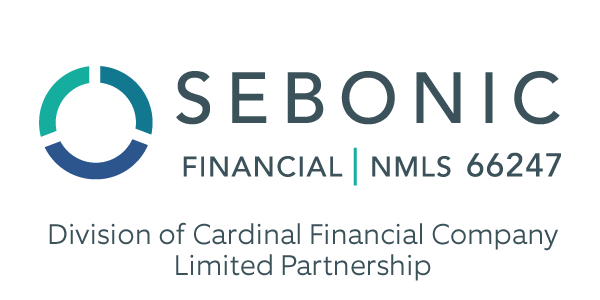 Sebonic Financial: NMLS#66247
Min. Credit Score
Min. Down Payment
Loan Types and Products
Purchase, Refinance, Jumbo, Fixed, Adjustable, FHA, VA, USDA
Pros & Cons
Pros
Offers FHA, VA and USDA loans

Participates in first-time home buyer programs in several states

Provides phone and email access to loan officers for guidance
Cons
No online preapproval or pre-qualification

Mortgage interest rates not published online

Doesn't consider alternative credit data, such as rent payments
Compare to Other Lenders
Loan Types and Products

Purchase, Refinance, Jumbo, Fixed, Adjustable, FHA, VA, USDA

Loan Types and Products

Purchase, Refinance, Jumbo, Fixed, Adjustable, FHA
Full Review
Sebonic Financial — a division of Cardinal Financial — is a consumer-direct lending company that aims to provide a fast, competitively priced mortgage experience. Though Cardinal has been around since 1987, the Sebonic brand launched in 2013 after new ownership took over the business.
Fast-forward a few years and Sebonic Financial has grown from a small office in North Carolina to a national lender that expected to close around $8.5 billion in home loans in 2018. The company also plans to enhance its digital platform with a "self-serve" experience — similar to Rocket Mortgage — in the near future.
Let's take a closer look at what Sebonic Financial has to offer as a mortgage lender.
Sebonic Financial seeks to provide value through efficiency
According to its website, Sebonic prioritizes simplicity and speed, and claims to deliver both through its proprietary loan origination system, called Octane.
Although customers don't necessarily see Octane, they experience it when they interact with the brand's online portal to upload loan documents or track application progress, Colin Treend, senior vice president of marketing at Cardinal Financial, told NerdWallet.
He says this technology allows Sebonic to minimize unnecessary expenses throughout the mortgage process and pass savings on to its customers.
One of those expenses is physical locations; rather than having branch offices throughout the country, Sebonic loan officers operate out of call centers in North Carolina and Maryland, providing the bulk of their customer support over the phone.
Though it relies heavily on automated technology, Sebonic Financial prides itself on maintaining this personal connection. "We want to make sure the customer is making a good decision and that we're providing the level of service they expect," Treend says.
Sebonic Financial mortgage products
Sebonic offers a full non-bank selection of fixed- and adjustable-rate mortgages, including FHA, VA and USDA. The company also offers refinancing options and jumbo loans for houses priced above current conforming loan limits. Sebonic is a "non-bank" because it doesn't accept deposits or offer home equity loans and lines of credit.
Although the typical Sebonic customer already has a good idea of what they need and is generally more comfortable with an online lender, the company doesn't shy away from less experienced buyers.
Sebonic Financial participates in first-time home buyer programs offered by state housing agencies in California, Minnesota and Texas, and is "adding more every month," Treend says. The company offers several home loans with down payment requirements well below the traditional 20%. However, Sebonic doesn't incorporate any alternative credit data into the approval process.
Sebonic Financial fees and mortgage rates
Sebonic doesn't charge fees for tax certification, flood certification or pulling your credit report, but other lender and origination fees may apply. Current mortgage interest rates aren't publicly visible anywhere on the Sebonic website, even after submitting the rate quote contact form.
As with many lenders, Sebonic home loan customers have the option to "buy down" their mortgage payment by putting more money down or paying for discount points. They may also choose to "buy up" to a higher interest rate in exchange for a rebate.
The Sebonic Financial mortgage process
On the Sebonic Financial website, you'll see multiple ways to start the mortgage loan process. Depending on which button you click, you'll be taken to one of two rate quote questionnaires:
"Get Started Now" or "Free Quote": Click one of those buttons on the home page to open an 18-step rate quote form.
After entering a ZIP code, selecting either "home purchase" or "home refinance," and indicating property type, you'll be asked about your credit, whether it's your first home purchase, your current property situation and what the property will be used for.
Next, you'll be asked to select the approximate purchase price of the property, your estimated down payment, whether you're interested in a fixed- or adjustable-rate loan, and your gross household income.
Then, you'll be asked to indicate your employment status and whether you've filed for bankruptcy in the last three years. The form will also ask if you can show proof of your household income and whether you're working with a real estate agent.
After answering all the questions, you'll be asked to enter your name, email address and phone number so a Sebonic Financial agent can contact you to complete the application process.
"Purchase" or "Refinance": Click one of those buttons on the Products page to open a short "fill-in-the-blank" form that asks for credit score, purchase price and down payment. You'll also indicate if you've served in the military and if you want to live in the city, suburbs or country. After clicking "next," you'll be asked to provide your contact information and — you guessed it — wait to be contacted by a Sebonic Financial representative.
Although neither process requires much time or personal information, answering so many questions without the immediate reward of a qualification amount, potential mortgage rates or other loan details is somewhat disappointing.
This may change with the debut of the Sebonic Financial "smart application," which Treend says will allow customers to price a loan, lock in a rate, submit documents, print a pre-qualification letter or even get preapproved — all by themselves and possibly in the same day.
NerdWallet's star ratings for mortgage lenders are awarded based on our evaluation of the products and services that lenders offer to consumers who are actively shopping for the best mortgage. The six key areas we evaluated include the loan types and loan products offered, online capabilities, online mortgage rate information, customer service and the number of complaints filed with the Consumer Financial Protection Bureau as a percentage of loans issued. We also awarded lenders up to one bonus star for a unique program or borrower focus that set them apart from other lenders. To ensure consistency, our ratings are reviewed by multiple people on the NerdWallet Mortgages team.