Best Credit Cards for Entertainment Spending
Whether you prefer a night out or an evening in, the right credit card can offer generous rewards on your fun.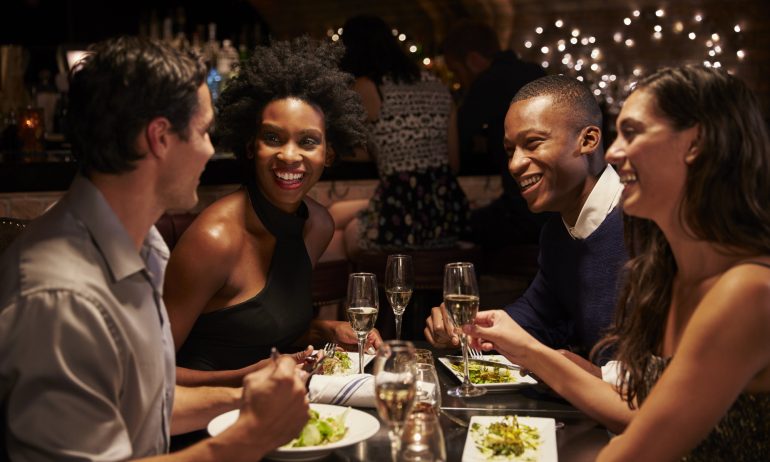 Many or all of the products featured here are from our partners who compensate us. This may influence which products we write about and where and how the product appears on a page. However, this does not influence our evaluations. Our opinions are our own. Here is a list of our partners and here's how we make money.
It wasn't always easy to find a credit card that could reward you for painting the town in your signature color, or even for enjoying a relaxing night in front of the TV.
But whatever your definition of "entertainment," whether it's barhopping or binge-watching, there are now plenty of cards that rake in rewards for spending on fun.
Here are several credit cards that can help you maximize rewards on entertainment spending:
If you frequently go out on the town, the could be an ideal companion. Stop and grab dinner first and earn triple points back per dollar spent.
Then, go earn that same rewards rate at a variety of eligible fun zones, including movies, plays, concerts, sporting events, tourist attractions, theme parks, aquariums, zoos, dance clubs, pool halls, bowling alleys and record stores.
Or stay in and binge a new show from your streaming service of choice like Netflix, Hulu or Disney+ and you'll earn 3X points on the bill.
If dining out is your go-to, the offers 4X points on those restaurant purchases (including takeout and delivery). It also earns 2X points at grocery stores, gas stations and on purchases with streaming services. It has a annual fee.
When you're the entertainer, the can earn you back some value on supermarket spending for a large party, barbecue or dinner celebration. And if you're spending big on an impromptu celebration, the introductory APR offers can provide some breathing room.
The card is also a great choice even if you're cooking for one and planning to stick to the sofa and your Spotify playlist.
If an annual fee is a deal breaker, check out the -annual-fee ; it earns lower cash-back rates at U.S. supermarkets and U.S. gas stations, and you won't earn bonus rewards on streaming services or transit (see ).
The lets you choose your own bonus categories every quarter, allowing you to earn more rewards on frequent purchases. As of May 2021, the card's 5% bonus categories include fast food and movie theaters (among several other choices). Also, one of the card's 2% categories is restaurants.
Some of the categories rotate on a quarterly basis, and you'll have to opt in every time to earn the higher rates.
If opting in for rewards isn't ideal, the offers bonus rewards in two top monthly spending categories from a list of eight options that include entertainment and dining out. You earn 3% back on the highest spending category and 2% in the second highest spending category. All other purchases earn 1% back. Under the entertainment and dining out categories, movie theaters, theatrical and concert promoters, video rentals and bars qualify for the higher rewards rate. It has a annual fee.
If your version of entertainment requires a trip farther from home than the local watering hole, the 's introductory offer and ongoing rewards can help you pay for that excursion. Plus, your points earn 25% more value when you redeem them for travel through the Chase Ultimate Rewards® portal.
The card has an annual fee — — but you can easily offset that cost if you spend a lot on dining out.
If you prefer a annual fee, the  offers 1.5 points per dollar spent and 3 points per dollar for travel booked through Bank of America®'s Travel Center. Points redeem for a statement credit or cash. The card's definition of travel also extends from airlines and hotels to art galleries, bars, nightclubs and restaurants, to name a few.
Entertainment optimizers can earn higher rewards rates with other cards. But with the , you won't have to worry about keeping track of any categories. You'll earn a high flat rate back on all purchases.
The also earns 2% cash back on every purchase. Unlike the , there's no minimum redemption required, and also no foreign transaction fee. You do, however, have to have a PayPal account, which is free to open.
If live shows are your thing, the is just the ticket for essentially earning a 5% discount.
The card offers 5% cash back on up to $500 spent if live entertainment is your highest spending category for the billing cycle. (Or, if streaming is more your thing, and it ends up being your top category, you'll get 5% back on that.) The great thing is you don't have to think about it. Your top eligible spending category automatically earns 5% cash back. Beware that this category is for live entertainment so some entertainment spending is excluded, such as golf courses, movie theaters, tourist attractions and museums.
If you're looking for exclusive access to some shows, you might try an American Express card like the , which also has an annual fee of . The card's rewards aren't entertainment-focused, but you'll get a benefit called , which is access to tickets available exclusively to all American Express cardmembers. Terms apply, see .
Welcome bonus: Earn a $50 PlayStation Store code when you make your first purchase with the card within 60 days of signing up. And, earn a $75 game coupon when you spend $500 (outside of PlayStation and Sony purchases) within 60 days of card activation.
APR: A variable 13.99%, 19.99% or 22.74%, based upon your creditworthiness.
The can be used instantly after approval. You're sent a temporary shopping pass for online purchases while you're waiting for the physical card to arrive. You may have to jump through a few hoops to earn the elevated points, but the high rewards may be worth it if you spent a lot with PlayStation. For instance, you'll have to shop with authorized retailers and submit a Sony Rewards bonus points form through the Sony Rewards app. Points redeem for Sony and PlayStation products.
Amazon Prime loyalists who shop for hardware, accessories or games through the retailer, can also get value with the It earns 5% back at Amazon.com and earns rewards in other categories. It has a annual fee, but it does require an Amazon Prime membership which costs $119 annually (less for students).
Welcome bonus: Earn 5,000 Sony Rewards points when you open and use the NEW Sony Visa® Credit Card within 60 days of account opening. Plus, earn a $50 statement credit when you spend $500 within the first 60 days of opening an account.
APR: A variable 13.99%, 19.99%, or 22.74%, based upon your creditworthiness.
The is available for use instantly after approval. While you're waiting for the physical card to arrive in the mail, you can request that a digital shopping pass be sent to your mobile device. The card has a broad definition of what qualifies as entertainment and it rewards you generously in that category. Earning elevated rewards for Sony purchases requires shopping through qualifying retailers and uploading a photo of your receipt in the Sony Rewards app. Otherwise, you'll only earn 1 point per dollar spent. If you're willing to play by these rules, you could snag handsome rewards that later redeem for Sony products.
For Sony fans who prefer a simpler approach to earning rewards, a  can offer 5% back on all purchases at Best Buy and flexible financing options.
is a great choice for those who travel enough to offset the annual fee with the card's lavish perks. If your definition of entertainment includes travel and you value unique experiences, this card may match your lifestyle. It can get you into curated By Invitation Only experiences. These are customized events for those interested in sports, fashion, fine dining, arts or theater, to name a few. Plus, you'll get access to a concierge service that can help you score event tickets. Terms apply (see ).
If you can't fathom paying a annual fee, the offers rewards in similar categories for a annual fee. You'll earn 3 ThankYou points per dollar spent on travel, hotels, supermarkets, gas stations and restaurants. All other purchases earn 1 point. Cardholders also get the Citi Entertainment perk, which offers special access to purchase tickets to events and unique experiences from concerts to dining. And, you can stay overnight because this card offers a $100 annual hotel savings benefit. Terms apply.
To view rates and fees of the , see . To view rates and fees of the , see . To view rates and fees of , see .
The information related to . credit card has been collected by NerdWallet and has not been reviewed or provided by the issuer of this card