Best Credit Cards for Pet Owners
Ideally, a pet-friendly credit card will return some value in the form of savings or rewards.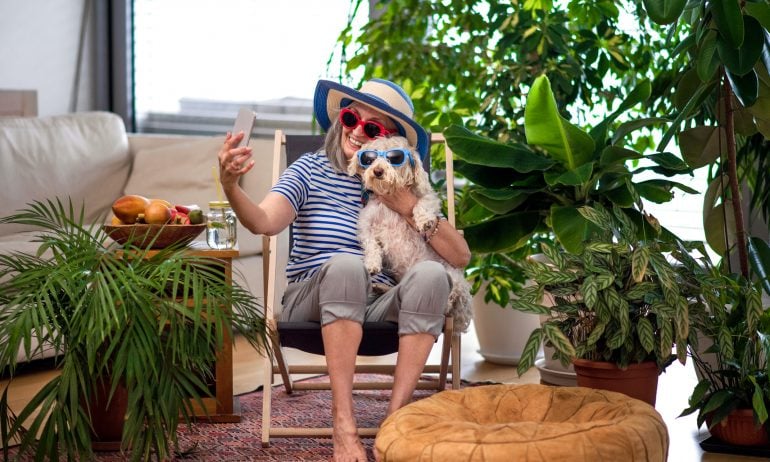 Many or all of the products featured here are from our partners who compensate us. This may influence which products we write about and where and how the product appears on a page. However, this does not influence our evaluations. Our opinions are our own. Here is a list of our partners and here's how we make money.
When you open your home to a pet, you commit to a . But for many, the benefits of owning that scaly, furry or feathered family member outweigh the hard work and responsibilities involved.
Whether you're budgeting for routine purchases like food and grooming, or preparing for an unexpected expense at the vet, pet care credit cards can return some value in the form of savings or rewards.
The best credit cards for pets aren't necessarily the co-branded store credit cards that you'll find . Depending on how you shop for your pet, a general purpose credit card may be a better match for your expenses. Here are a few pet-friendly options to consider.
Rewards: Unlimited 2% cash back on purchases.
The has healthy introductory offers and a rewards rate to match. The 2% cash-back card is excellent for all your purchases, including vet bills, pet sitting services and everyday pet-related expenses. You don't have to worry about maximizing rewards in certain categories or meeting any spending requirements. Additionally, if you need to finance a large purchase or several small ones, this card offers a lengthy interest-free window to pay down debt. It could come in handy for a procedure at the vet if you need to supplement an emergency fund. You can also use the card's sign-up bonus to buy your pet — or yourself — some extra treats.
If you're a one-stop shopper, picking up groceries and pet supplies at the supermarket can yield some value with a card like the . You'll earn a high 3% rewards rate on purchases at U.S. supermarkets on up to $6,000 spent per year. And there's a potentially generous sign-up offer if you frequent Amazon.com to shop for yourself or your pet. Also, the introductory interest rate can save you money if you need to finance pet-related purchases.
For even higher rewards at U.S. supermarkets, consider the . It earns 6% cash back at U.S. supermarkets on up to $6,000 spent per year and rewards in other categories. It has a annual fee. Terms apply (see ).
If you often shop online for pet food and supplies, you can earn elevated rewards on those purchases with the . The card earns a higher rewards rate on the category of your choice each quarter, one of which is online shopping. The other options are gas, dining, travel, drugstores, and home improvement and furnishings. Plus, you get 2% back at grocery stores and wholesale clubs if you ever decide to shop in person. There are also money-saving incentives for new cardholders and loyalty bonuses through the .
Rewards: 1.5% cash back on all purchases.
The can be an excellent emergency pet care credit card when a rainy day fund is not enough to cover unexpected costs. It can offer you quick access to cash when you need it. It's a unique and flexible hybrid product that you may use as a credit card or a personal loan. When used as a credit card, remaining balances are converted to installment loans. The personal loan option allows you to get funds sent directly to your bank account. You don't need to apply, undergo a credit check or pay an origination fee. With either option, you can pay back the amount in equal monthly installments at a fixed interest rate over the allotted time frame. Even more useful, you can apply for the card and start using it instantly if approved. You'll get a temporary virtual card to use (wherever it is accepted) while you wait for the physical card to arrive in the mail. Of course, if there's enough time to apply and wait for , then that's even better. But, if you don't have that time, this option can potentially save you money, especially if you qualify for the lower APR range it offers.
Rewards: 1 point per dollar spent on all purchases.
If you maintain an ongoing balance on your credit card, a low-interest credit card like the can potentially save you money, assuming you qualify for the lower rate. It also earns modest rewards. You'll need to be a member of NASA Federal Credit Union to apply. If you can't qualify through an employer, organization or a family member, it's easy to join. The credit union provides you a complimentary one-year membership to the National Space Society which makes you eligible to join NASA Federal Credit Union.
Rewards: 2% cash back: 1% when you buy and 1% when you pay it off.
The is an excellent get-out-of-debt option. It offers a lengthy interest-free window to transfer and pay off a balance. And the balance transfer fee is on the lower end at 3%. The card earns a solid rewards rate of 2% on all purchases, so it will continue being valuable for pet-related purchases or any other expenses long after paying off the debt.
Note: It's not ideal to add new purchases to a card when you're trying to eliminate debt. But you can look forward to earning that 2% back once you've paid down your balance.
Rewards: 1.5% cash back on all purchases.
The can offer a lot of value if you have fair credit (a credit score of 630 to 689). It's rare to find a card that welcomes fair credit and also offers a decent rate on all purchases. There's also an opportunity to earn a higher credit limit. With on-time payments, the issuer automatically considers you for a higher credit limit in as little as six months. Avoid keeping a balance on this card, though, as the APR is high. If you're in the habit of maintaining an ongoing balance, consider the mentioned above.
Rewards: Earn 2% cash back at gas stations and restaurants on up to $1,000 in combined purchases each quarter. All other purchases earn 1%.
Finding a pet credit card with bad credit is difficult given the limited options that exist. The is a rare secured card option that offers rewards and a path to an unsecured credit card if you make on-time payments. It does require a $200 minimum security deposit, but it also offers some incentives that may defray that cost. The base rewards rate can be applied to any pet-related purchases and there's a sign-up bonus. If the security deposit requirement is too high, consider the -annual-fee . It doesn't offer incentives, but it's possible to get a $200 credit line with an initial deposit of $49 or $99 if you qualify for those terms.
To view rates and fees of the , see .
To view rates and fees of the , see .