Flowchart: Find the Right Rewards Credit Card
Not every rewards card is right for every user. Think about how you spend and how you'd like to use rewards.
Many or all of the products featured here are from our partners who compensate us. This may influence which products we write about and where and how the product appears on a page. However, this does not influence our evaluations. Our opinions are our own. Here is a list of our partners and here's how we make money.
Airline miles. Hotel points. Cash back. When choosing a rewards credit card, no one size fits all. Before pouncing on a card offer, though, here are four things to consider:
Redemption options. Decide whether you want to use rewards points for travel, cash back or merchandise.

Loyalty programs. With some credit cards, you earn extra perks with a certain hotel chain or airline.

Spending. Identify your biggest expenses, and look for cards that reward that kind of spending.

Annual fees. Sometimes they're worth it, and sometimes they're not.
We'll break it all down for you here.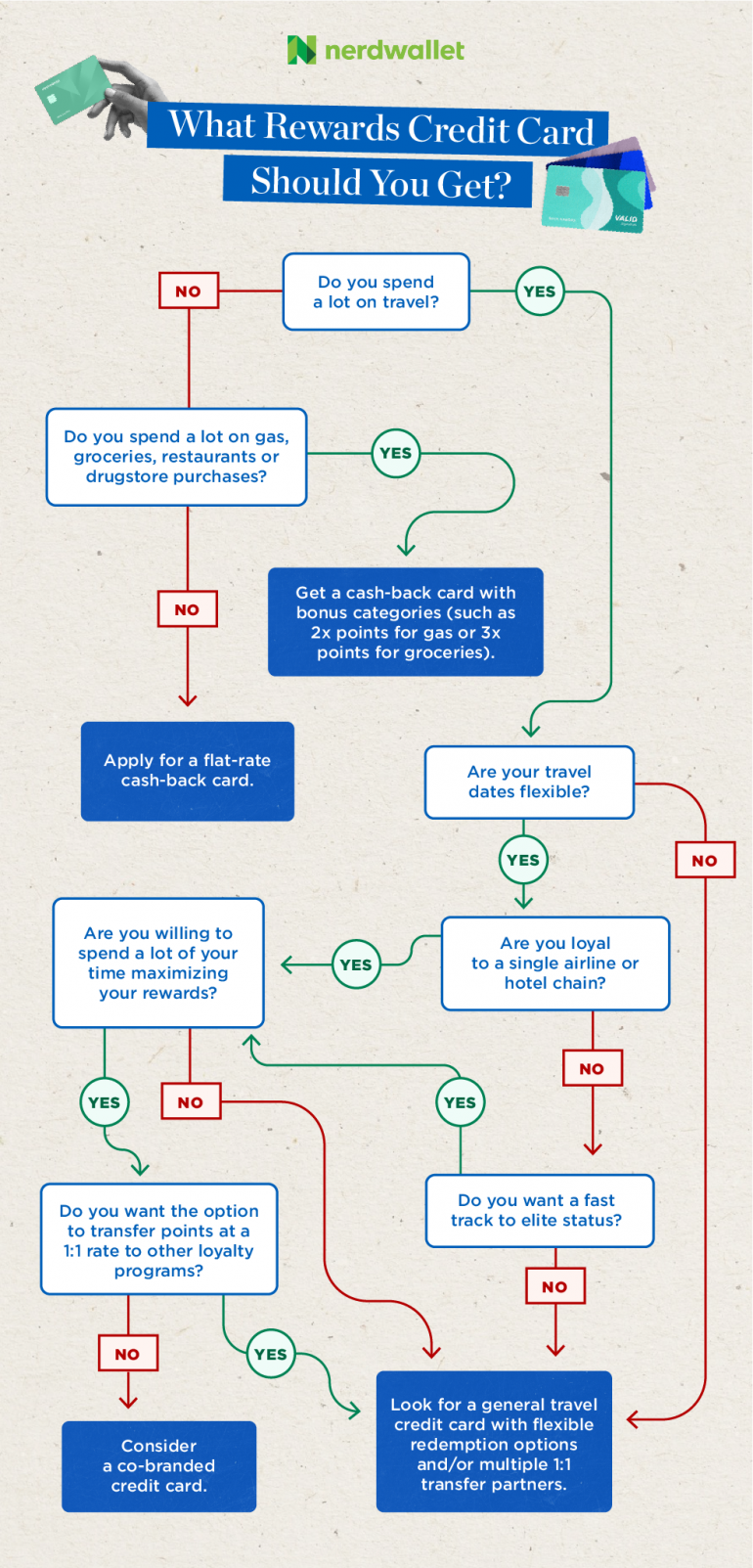 Redemption options: Using what you earn
Assuming you have excellent credit, you'll have a variety of rewards credit cards to choose from. Cash-back cards offer the most simplicity. With these cards, you'll typically earn 1 to 2 cents per dollar spent, to be used as a statement or account credit. Because these rewards have a fixed dollar value, they're harder to optimize.
Travel points and miles, on the other hand, often have values that shift depending on how they're redeemed. Because of this, you can sometimes fly business class or international for much less in points than it might cost in cash.
There's a big caveat, though. Really optimizing your earnings on rewards cards might mean spending a lot of time navigating tedious loyalty program rules or experimenting with lots of different redemption options. (Even cash-back cards, notoriously low-maintenance, sometimes have rotating rewards categories that can be hard to keep up with.)
For those who delight in spending hours in front of the computer finding ways to stretch points a little bit further, this isn't a problem. But for consumers looking for an uncomplicated card, this narrows the search.
Loyalty programs: The availability issue
Co-branded cards generally offer cardholders additional perks and greater earning power for their loyalty. You may consider getting one of these cards if you're already spending thousands of dollars with a single airline or at a single hotel chain, or if you want to earn elite status faster.
The choice becomes more complicated, though, when you consider the biggest drawback of some co-branded cards: limited availability of airline seats or hotel rooms designated for reward redemptions. While most loyalty programs have dropped blackout dates, they still tend to limit how many reward spaces are available each day. With a conventional traveling schedule — say, vacation time during late December and mid-July — you might have a hard time redeeming rewards, especially when traveling with others.
That's where general travel credit cards come in handy. Some cards, such as this one, have partnerships that allow you to book flights and stays with points instantly through their website. If availability is limited on one airline or at one hotel during booking, you'll be able to choose another. Other cards, such as this one, offer even more flexibility, with the option to redeem points for statement credits against travel purchases. Keep in mind that the latter offers a fixed dollar value for each point, similar to a cash-back card, making it harder to maximize.
Spending: Category conundrums
With most rewards cards, whether they're cash back, travel or another type, different earning rates apply to different types of purchases. For instance, a gas station purchase may get 5 points per dollar, a restaurant run may get 2 points per dollar and other purchases may produce 1 point per dollar. Get a card that's a poor fit, and you'll likely end up missing out on a big chunk of the card's value.
For the most part, travel cards earn extra points with travel purchases. Co-branded cards earn extra points with purchases from a certain company and, sometimes, the company's partners. But cash-back cards may offer a variety of bonus reward categories, from bookstores and movie theaters to grocery stores and gas stations. Some cards also have rewards categories that rotate each quarter.
Nerd note: What if you buy a book at a grocery store or carrots at a gas station? Well, the first would probably count as groceries, the second as a gas station purchase. That's because payment networks use Merchant Categorization Codes (MCCs) to sort purchases by where you made them, not what you got. Groceries bought at Walmart or Target, for instance, may not be categorized as groceries, depending on the store. Look up outlets on sites such as Visa's supplier locator before deciding on a card.
Annual fees: Whether it's worth it
Annual fees bring higher rewards rates and bigger sign-up bonuses — but the steeper the fee, the more you'd have to spend on travel to make it worth the investment.
Say you want to get a card with a $400 annual fee. It earns 5 points per travel purchase, and when redeemed, each point would get 1 cent of value. Drop $1,500 on a nice hotel, and you'll earn $75 worth of rewards. Sign-up bonuses aside, though, you'd have to spend more than $8,000 a year to come out ahead on that deal.
Now say you decide on a card with an $80 annual fee instead. Sounds much more reasonable, right? Well, not necessarily. Say it earns 2 points per travel purchase, worth 0.5 cent when redeemed. Not counting any sign-up bonus, you'd still have to make $8,000 in travel purchases on the card to earn enough rewards to make up for the cost of the card. And after that, you'd earn points at a much slower rate than you would with the $400 card.
Before dropping a chunk of a paycheck on a card, consider the annual fee within the larger context of the card's earning structure. For a frequent traveler, a costlier card may be worth the expense.
Choosing the right rewards credit card takes a lot of time and effort, but it can pay off. With some planning, you'll be able to earn more credit card rewards and use the same account for years to come. So resist the urge to hurry up. Slow down, weigh the pros and cons and think about what you really want.
Get more smart money moves – straight to your inbox
Sign up and we'll send you Nerdy articles about the money topics that matter most to you along with other ways to help you get more from your money.