How to Choose a Gas Credit Card
You may not spend as much on gas as you think, which is why the best ones give you elevated rewards on more than just fuel.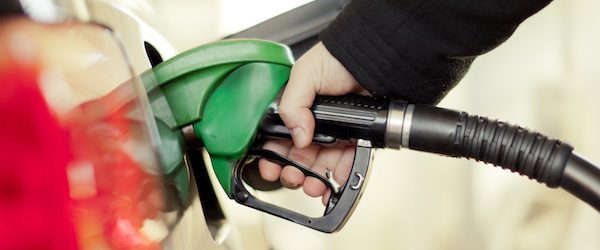 Many or all of the products featured here are from our partners who compensate us. This may influence which products we write about and where and how the product appears on a page. However, this does not influence our evaluations. Our opinions are our own. Here is a list of our partners and here's how we make money.
Gasoline fill-ups might psychologically cause "pain at the pump," maybe because service stations post prices at busy intersections, making it easy to notice price hikes.
But when you're selecting a credit card that offers higher rewards on service station purchases, remember that gasoline spending might not be as high as you guess. Here's the quick math:
The point: Getting extra cash back or points for gas station spending is great because you reap rewards for money you would spend anyway — and big gas spenders will rack up more rewards than average. But other aspects of a rewards card are likely to yield greater value.
That's why the best gasoline cards are likely the ones that not only give you extra rewards on gas station purchases, but reward you handsomely for other spending, too. Cards branded with the gas station name tend to have  while tying you to a single brand.
Currently, a good goal is to get at least 3% back in value for gas station purchases.
Annual fee: Annual fees bite into the value of your overall rewards. There's no reason to pay an annual fee for a gas card unless it gives you something extra. For example, the has an annual fee of . But it not only offers 3% back at U.S. gas stations and on transit, it also offers a whopping 6% back on purchases at U.S. supermarkets (on up to $6,000 per year in purchases, then 1%) and 6% back on select U.S. streaming subscriptions. All other purchases earn 1% back. Terms apply (see ). That could easily make the annual fee worth paying.
Reward caps: Note whether your gas rewards are limited. Some caps are per quarter; others are per year. The average household spends $500 per quarter on gas. Figure out what your spending is and determine whether it fits under the card's rewards cap.
Redemption value: Just because a credit card offers triple points for gas doesn't mean it's a 3% rewards value. Many points are worth a penny each, but some are worth less than that. Once you accumulate points for gas spending, what can you redeem them for?
Pump or gas station: With most cards, higher points for gas station purchases apply to anything bought at the service station, such as items from the affiliated convenience stores and car washes. However, some cards specify their gas rewards are for pay-at-the-pump purchases only.
Membership requirements: Some credit cards require memberships that can cost you in dollars or hassle to join. For example, you might have to join a credit union to get a certain card, or you might have to pay the membership fee to a warehouse club to get its card.
Quarterly bonus-category cards are good for gas purchases only during the three months when gas stations qualify as a 5% rewards category. If you use such a card for gas year-round, it returns a mundane 1% in the other three quarters, making it an overall 2% cash-back card for gas. Great when used for three months; lackluster when used all year.
Two examples of good quarterly category cards that usually feature gas are the  and the .
Quarterly cards are also good for planned expenses. If home-improvement stores will soon be a category, you might delay a house project for a few weeks until the 5% category is active. But you mostly can't do that with gas. You buy gas when you need it and typically don't stockpile it.
Quarterly category cards can be ideal for a two-card strategy for gas. Use the quarterly category card when gas earns bonus rewards, and use a different card the rest of the year.
For example, you might use the as your category card to get 5% cash back during the three months it's active. The rest of the year, you might use a different card that offers higher rewards on gas purchases.
Warehouse clubs deserve a special mention because they offer huge rewards for gas spending.
If you're already a member of one of the two large warehouse clubs, Sam's Club or Costco, you have some nice credit card choices with sky-high rewards rates on gas. The offers 5% back on eligible gas purchases (on up to $6,000 spent per year, then 1%). The offers a healthy 4% back on eligible gas purchases (on up to $7,000 spent per year).
In addition to those spending caps, the warehouse cards come with a few other drawbacks. You have to be a member, which incurs an annual membership fee. And both cards have clunky redemption rules. For example, you can redeem rewards only in physical stores, and only once per year.
Some credit cards, and many gas-station-branded cards, offer a number of cents off per gallon instead of rewards based on dollars spent. At first, this might seem enticing. Getting 6 cents off per gallon sounds great — until you realize that's just 60 cents off for a 10-gallon fill-up.
Cents-off rewards are better when gas prices are low. For example, when gas prices are $2 per gallon, 6 cents off is a decent 3% discount, comparable with the rate of many good credit cards that offer gas as a rewards bonus category.
But many areas of the country see higher prices, at least as of September 2018. That's especially true for vehicles that require premium gasoline. When gas costs $3 per gallon, that 6 cents off is a meh 2% discount. At $4 per gallon, the rewards rate is a dismal 1.5%.
To their credit — so to speak — a few major fuel companies have raised their credit card rewards to 10 cents off per gallon. If gas costs $3, that's a good rewards rate of 3.3%.
Maybe more problematic is that, with these cards, you're usually tied to a single brand of service station that might not be available where you need it.
To view rates and fees of the , see .