Why You Need a Separate Credit Card for Work Expenses
Whether you're an employee or your own boss, a separate credit card can facilitate tracking expenses for tax purposes. And, you might earn rewards, too.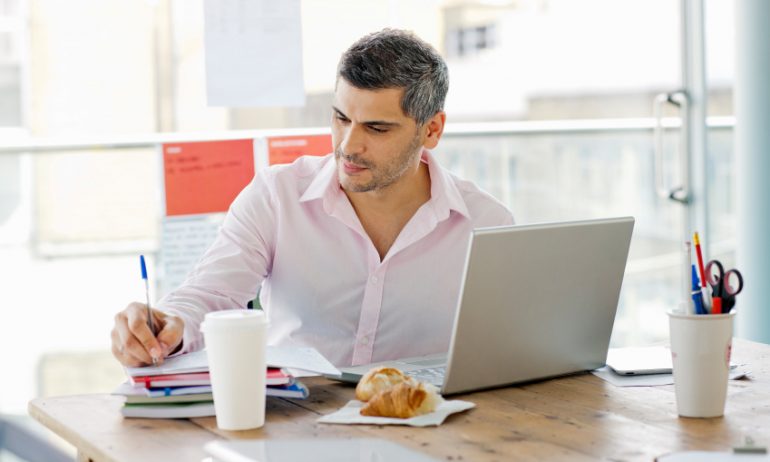 Many or all of the products featured here are from our partners who compensate us. This may influence which products we write about and where and how the product appears on a page. However, this does not influence our evaluations. Our opinions are our own. Here is a list of our partners and here's how we make money.
Sorting through credit card statements and receipts is no one's idea of a good time. Still, when you've spent your own money on work expenses, it's a necessary task to get a reimbursement or tax deduction.
The process is even more tedious when you have to dig through a pile of personal expenses to find what you're looking for. There's an easier way: Get a separate credit card just for your job.
If you're paying business expenses out of pocket regularly, either as an employee or an entrepreneur, a separate credit card lets you keep better track of your work expenses — and maybe earn a portion of them back in rewards, too.
Credit card statements can serve as backup documentation for business-related purchases, although you'll still want to hang on to receipts for purchases that you plan to deduct or get reimbursed for. The IRS encourages keeping both types of records for business purposes.
If you're keeping receipts anyway, what's the advantage of a dedicated card for work? For one thing, it saves time and hassle. If you're regularly ringing up both work and personal expenses, having a separate statement makes it easier to make sense of that pile of receipts. For another, it greatly reduces the risk of misidentifying a personal expense as a business expense or vice versa, which can cost you money or, worse, get you in trouble with your employer or the IRS.
How you'll use your expense records depends on whether you work for someone else or for yourself:
A separate credit card can also prove beneficial in the event of a . You won't have to deal with business and personal expenses commingled on your credit card statements as you try to find the evidence you need.
By putting business expenses on a rewards credit card, you can earn a little something back for your trouble. Consumer credit cards and business credit cards both offer rewards such as  or .
You'll get the most value when the work spending you do matches the rewards categories of the card. And if you have a big work expense coming up, you could apply for a new card and use that expense to meet the spending threshold for a sign-up bonus.
Consumer credit cards are usually the better choice for employees. They tend to produce greater rewards on dining, entertainment, travel and other common out-of-pocket expenses, and they're more likely to have a $0 annual fee. These cards also come with consumer protections that business cards don't. The , for example, prevents consumer card issuers from raising rates unexpectedly and charging excessive fees. A consumer card is also a good choice when you're self-employed and your business has minimal overhead costs.
Business credit cards earn big rewards on common business expenses. A is a better choice for business owners who want to build business credit or who have large office-related expenses. Business credit cards may offer bonus rewards for such things as office supplies, telecommunications services, advertising or travel.
Rewards are just one factor to consider. If you're looking at a card that charges an annual fee, make sure it offers rewards or perks that offset the cost. If you travel abroad frequently for business, look for a card that doesn't charge foreign transaction fees. You may also want one that offers free checked bags, airport lounge access or other perks. Some cards come with budgeting tools that might be helpful if you're self-employed. Choose the option that offers the most value for your time and your wallet.