4 Surprising Things Homeowners Insurance Covers
Your policy probably covers more than you think.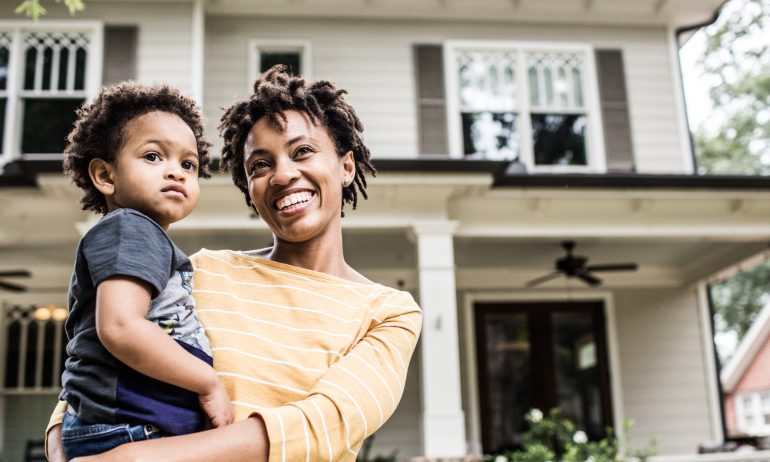 Many or all of the products featured here are from our partners who compensate us. This influences which products we write about and where and how the product appears on a page. However, this does not influence our evaluations. Our opinions are our own. Here is a list of our partners and here's how we make money.
You probably already know that homeowners insurance covers your house and everything in it, but there's actually a lot more to your policy. Depending on the circumstances, your homeowners insurance could also pay for a hotel stay, a suitcase stolen on vacation or even a lawyer to defend you in a lawsuit. Here's a peek at a few useful features that might be available in your policy.
1. Living expenses if your home is damaged
Say an electrical fire leaves your home unsafe to live in. You don't have to pay out of pocket for a hotel or crash on a friend's couch for months on end while waiting for repairs.
Instead, turn to your loss of use coverage. This part of your policy can help you "maintain your normal standard of living," says Justin Skipton, a vice president for the National Association of Public Insurance Adjusters.
For example, your policy could pay for an extended-stay hotel or a rental apartment where you can have a full kitchen plus space for kids and pets, Skipton says. You can also get reimbursed for things like extra transportation costs if your rental home is farther away from work or school.
Your insurer will often cap your expenses at a certain percentage of your dwelling coverage limit, says Alaina Hixson, director of sales and operations at The Churchill Agency in Brentwood, Tennessee.
So if you have $200,000 of insurance on the structure of your house and your loss of use coverage is 20%, you'd have up to $40,000 to put toward living expenses while you're away from home. Time limits may apply, such as 12 or 24 months.
Note that your costs should be reasonable. "If your $150,000 house burns down, you're not going to be able to stay at The Ritz-Carlton or some high-end hotel for a year while you rebuild," says Rich Johnson, director of communications for the Insurance Council of Texas.
Get home insurance quotes in minutes
Answer a few questions to see custom quotes and find the right policy for you.
2. Your belongings away from home
If someone breaks into your hotel room and steals your stuff while you're on vacation, your homeowners insurance may pay to replace the lost items.
"Most insurance policies give you coverage for your personal property anywhere in the world," Skipton says. "But sometimes they'll limit the amount of that coverage."
For instance, your coverage amount for items outside your home may be 10% of your total limit for personal property coverage. If your belongings are insured for $100,000, you'll have $10,000 worth of coverage for items outside your home.
In addition to travel, this coverage could be useful if you have stuff in a storage unit or a child living in a college dorm. Check with your agent or read your policy to see what limitations apply.
Note that personal property coverage generally comes with a deductible, an amount subtracted from your claim payout. So if someone steals your $500 laptop from a cafe but you have a $1,000 deductible, you won't get any benefit from filing a claim.
3. Lawsuits and liability claims
Few homeowners expect to be sued — but if you are, your insurance company might have your back.
The personal liability section of your policy covers you if a member of your household is responsible for someone else's injury or property damage. That could include scenarios like your dog biting someone at the park or a delivery person slipping on your icy front steps. Your policy can cover medical expenses as well as lost wages if the injured person has to miss work, Johnson says.
If the other person sues you instead of just filing a claim, your insurance company will generally pay to defend you in court, Hixson says. It will also cover legal damages up to your policy limit.
Note that some companies won't insure dog breeds they consider aggressive, such as pit bulls, Johnson says. And liability coverage covers accidents or negligence — not crimes or intentional harm to others.
Homeowners insurance also covers a few oddities, including space debris and burial plots in cemeteries.
"If a satellite falls on your home, you're covered," Johnson says. That's because standard homeowners insurance pays for damage from falling objects. Meteors and asteroids could also fall into this category.
In addition, your policy may cover headstones, mausoleums and other grave markers that you're responsible for, Skipton says. For example, if you purchased a memorial for your deceased spouse and someone vandalized it, your policy could pay for repairs.
Your own homeowners policy may hold even more surprises. To discover them — and to make sure you have the coverage that's most important to you — reach out to your agent, Hixson says. "Make sure you're asking questions."
Get more smart money moves – straight to your inbox
Sign up and we'll send you Nerdy articles about the money topics that matter most to you along with other ways to help you get more from your money.