How to Lease a Car: Everything You Need to Know
Leasing can be a cheaper, more flexible option for some drivers. But there are some things to consider before signing a lease.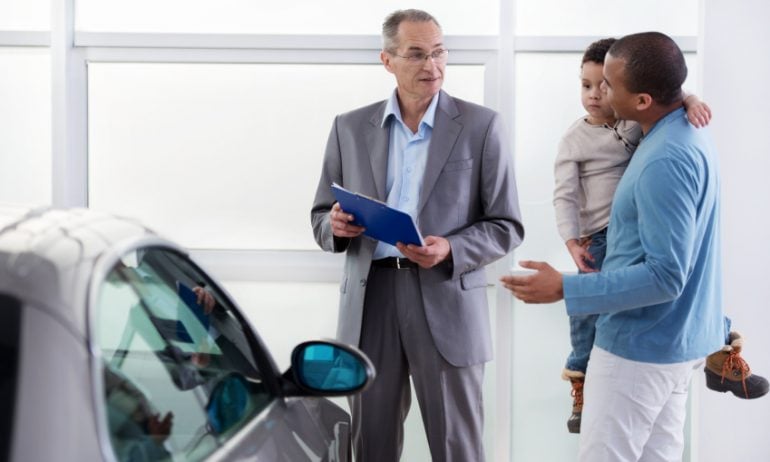 Many or all of the products featured here are from our partners who compensate us. This influences which products we write about and where and how the product appears on a page. However, this does not influence our evaluations. Our opinions are our own. Here is a list of our partners and here's how we make money.
Leasing offers drivers the ability to pay for a car only for a set amount of time, or certain number of miles. And although fewer Americans are leasing than they did pre-pandemic due to high prices, high rates and nearly nonexistent leasing deals, almost one-fifth of new vehicles in the United States were leased in 2022, according to Cox Automotive. To incentivize consumers, manufacturers are beginning to offer leasing incentives again as prices in the car market cool.
Car leasing can be a flexible option for some people, depending on their needs and lifestyle — but it's not for everyone. Here's what you need to know about leasing a car and how to get a good lease deal.
When you lease a car, you pay monthly to drive it for a set amount of time — typically 12,000 miles a year or 36,000 miles for a standard three-year lease. You don't own the car while leasing it nor after the lease expires. Unlike monthly loan payments that go toward owning a car, monthly lease payments don't build equity. At the end of the lease, you must return the car in the condition it was in at the beginning of the lease term.
To lease a car you need to present proof of income, proof of insurance, a valid driver's license and, similar to buying a car, dealers will use your credit score to determine your ability to make lease payments.
What to know before leasing a car
Leasing will not make sense for all drivers. Consider the following before opting to lease a car.
Before you lease a car, it's crucial to consider how far you typically drive. A standard lease contract which allows for 12,000 miles a year or 36,000 miles for a typical three-year lease. If you drive further than your set miles, you may be charged an excess mileage fee for each additional mile — anywhere from 10 to 25 cents per mile — when the lease ends. This can be costly for high-mileage drivers.
Note that you can buy additional miles upfront if you think you'll be over the allotted miles.
Leasing can be cheaper than buying
Monthly leasing payments are typically lower than financing payments. The average lease payment for a new car is $586, while the average monthly loan payment for a new car is $729, according to Experian's State of the Automotive Finance Market report for the second quarter of 2023.
Although leasing monthly payments can be less expensive than new-vehicle loans, it's important to consider how long you're willing to lease — is it a short-term option for you until you can afford a car, or will you be a serial leaser? If you're always leasing, you'll be consistently paying monthly payments but won't ever own the vehicle like you would when you buy a car.
Additionally, there are fees, like taxes and registration, as well as long term costs like insurance that can add up. Most leasing contracts also include an acquisition fee (which covers the cost of getting a credit check and verifying insurance coverage) and sometimes a security deposit (which is typically equal to one monthly payment and is used to offset any amount you might owe at the end of the lease).
Car maintenance is important
Lease contracts allow for standard wear and tear like minor scuff or spills. But at the end of your lease, you'll have to return the car in the condition it was in when you got it. If you return a car with excessive wear and tear — things like damaged parts, permanent stains, broken glass or the like — you can incur fees.
It can be costly to end your lease early
Some dealerships charge early termination fees for breaking your lease early — which can cost up to the total amount left on the lease. Additionally, when you return your leased vehicle, you'll typically be charged a disposition fee, which pays for the cost of preparing and selling your car at the end of the lease.
You can also choose to buy your leased car at the end of your lease for a buyout amount. Buyout amounts are typically determined at the start of the lease and can rarely be negotiated at the end of the lease.
Check your lease contract before the lease ends to see what the cost of ending your lease early is and how much the buyout price will be.
Auto loans from our partners


If you decide leasing is right for you, the following tips can make the process easier..
Choose cars that hold their value
When you lease a vehicle, you are paying for its depreciation, plus interest, tax and some fees. If you choose a car that holds its value, or depreciates less, your lease payment will be lower. In lease-speak, a car with good resale value has a strong "residual value." This means the residual — the amount that's left — is still high when your lease term is over. In other words, a higher residual value generally corresponds to lower monthly payments over the lease term.
Manufacturers sometimes advertise special leasing offers in the form of lower interest rates or lower monthly payments, for example. While such incentives can decrease lease costs, make sure to check for any hidden fees before accepting an offer. Some manufacturer deals might include drive-off fees, for example, which are similar to down payments and are paid upfront to start a lease.
Once you have a target sales price, contact multiple dealers to request and compare car price quotes. Contacting dealers by phone or via email in lieu of going to a physical car lot can alleviate some negotiating stress and make it easier to compare quotes without feeling pressured to commit to a car or dealer yet.
Once you've asked for price quotes, compare them to the estimates you received from pricing guides, and to your budget, to determine what the best option is for you. You can also shop around your lowest offer to other dealers to see if they can beat the price.
When you decide what vehicle to lease and what dealer to lease from, the next step is to set and understand the terms before signing a deal. Keep in mind that you can always negotiate the terms of your lease. Also, be sure to ask about the interest rate you'll be charged, which will impact your monthly payment. In leasing, the interest rate is called the lease factor or money factor. Money factors are displayed differently from interest rates. A 6% interest rate would be displayed as 0.0025, for example. (To express a money factor as a percentage, multiply it by 2,400).
Before signing, make sure the lease contract matches your agreed-upon price and terms (length of the lease and mileage) and that there are no extra fees you are unaware of. Also, verify that the lease contract includes gap insurance, which covers the difference between the cost of damages if your car is stolen or damaged, and what your insurance will pay for the loss. Note that not all lease contracts automatically come with gap coverage.
Get more smart money moves – straight to your inbox
Sign up and we'll send you Nerdy articles about the money topics that matter most to you along with other ways to help you get more from your money.