5 Loan Apps in 2022: Cash Advances and Overdraft Protection
Cash advance apps are one-time options for emergency cash, but you may have cheaper alternatives.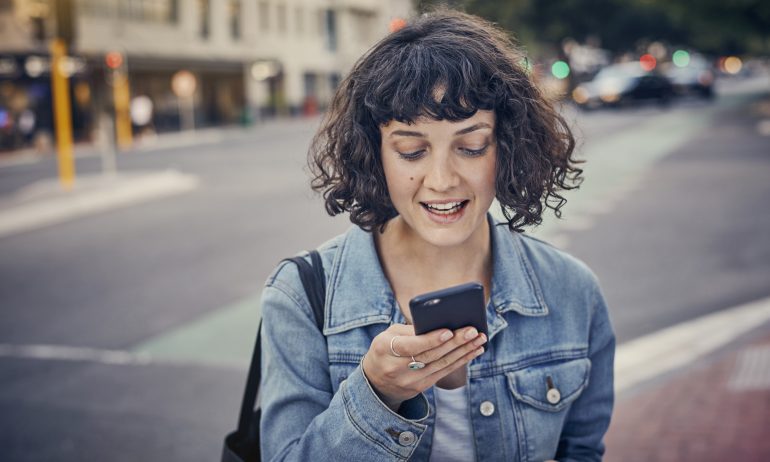 Many or all of the products featured here are from our partners who compensate us. This may influence which products we write about and where and how the product appears on a page. However, this does not influence our evaluations. Our opinions are our own. Here is a list of our partners and here's how we make money.
Cash advance apps like Earnin, Dave and Brigit let you borrow a small amount from your next paycheck before you receive it. This quick fix may be helpful if you need cash in an emergency, but look for cheaper options before you borrow from an app.
Unlike other borrowing options such as credit cards or personal loans, the cost of borrowing from an app isn't expressed as an interest rate. Instead, the apps may charge subscription or expedited funding fees, and many suggest you tip them.
Lenders and credit card issuers describe the cost of using their product as an annual percentage rate, which accounts for interest and any other fees they may charge. Loan apps and other small-dollar lenders argue that APR isn't a fair way to represent the cost of their products, but we've included an example with the apps.
Here are five apps that let you borrow against future earnings, and some less expensive options to consider.
1. Earnin: Best for low fees
Earnin is a paycheck advance app that tracks your hours worked — using either a timesheet or by tracking your location — and lets you borrow money you've earned. The app also has a feature that notifies you when your bank account balance is low and a feature that will top it off for a fee.
Amount: Maximums from $100 to $500.
Fees: Earnin asks for a voluntary tip, which is capped at $14. You can opt into the overdraft protection feature automatically by setting a recurring tip of at least $1.50.
Speed: You can sign up for Earnin's Lightning Speed feature, which costs $1.99 to $3.99, depending on the amount borrowed, and gets you the money instantly. Otherwise, it typically takes one to three business days.
Repayment: Earnin withdraws the cash you borrowed from your bank account on your next payday.
APR example: If you borrow $100 seven days before payday and tip $2, your loan's APR is 104.3%.
See if you pre-qualify for a personal loan – without affecting your credit score
Just answer a few questions to get personalized rate estimates from multiple lenders.
2. Dave: Best for small advances
The Dave app lets you borrow a small amount of money to cover expenses while you wait for your next paycheck, or to avoid overdrawing your bank account. Users who have a Dave spending account have access to larger loan amounts than those who don't. The app also has a "Side Hustle" feature that helps users find side gigs to earn more money.
Amount: $5 to $200 for Dave spending account users; $5 to $100 for customers without a Dave spending account.
Fees: Dave charges a few fees, but the company says they're all optional:
$1 monthly membership fee, which you can opt out of in the app.

$1.99 to $5.99 fee to get your money faster. The fee varies based on loan amount.

Optional tip up to 20% of the amount borrowed.
Speed: It takes up to three days to get your money from Dave. If you pay the express fee to get your money faster, the company says you'll get your funds within eight hours.
Repayment: Your payment date is set to your next payday by default, but you can change it.
APR example: If you borrow $100 seven days before you get your next paycheck, pay a $5.99 express fee, the monthly $1 subscription fee and add a $1 tip, it'll cost $7.99 to borrow the $100. The APR on that loan would be above 400%.
Track your spending — for free
NerdWallet's free app helps you track your spending, find ways to save and build your credit score.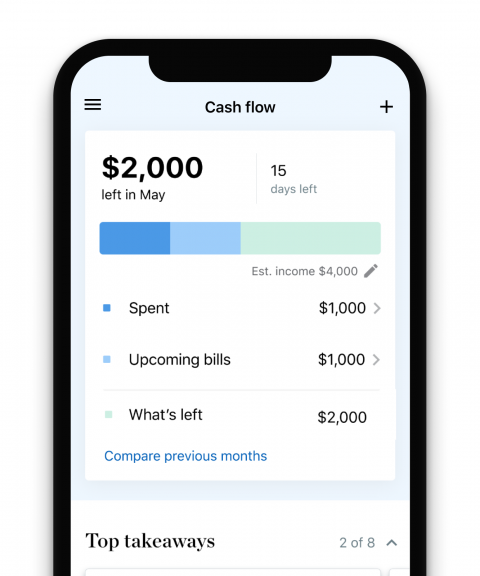 3. Brigit: Best for budgeting tools
Brigit is a budgeting app that can get you up to $250 whenever you need it. You can use the app's free plan, which offers financial advice and budgeting help. To get the cash advance, you have to use the paid plan, which includes all the features of the free plan, plus cash advances, automatic deposits in your account if you're about to overdraft and credit monitoring.
Fees: The paid plan is $9.99 per month.
Speed: Brigit says it can get you an advance the same day if you request it before 10 a.m. ET; otherwise, it will arrive the following business day.
Repayment: Brigit automatically sets your next payment according to your income schedule. You can extend your repayment date in the app, but only one time for every two advances you pay back on time.
APR example: If you get a $9.99 Brigit membership and use the app only to get a one-time, $100 advance that you'll repay in seven days, your loan has an APR of over 500%.
4. Chime: Best for overdraft protection
Chime, a mobile company that offers checking and savings accounts, as well as credit-builder loans, lets customers overdraw their checking account by a small, predetermined amount without fees via its SpotMe feature. SpotMe is more of an overdraft protection feature than a cash advance, but it still asks if you want to tip for the service. Chime says your account can go negative up to your approved amount, and purchases that put you below that extra cushion will be declined. You need at least $200 in qualifying direct deposits to your Chime account every month to qualify for SpotMe.
Amount: $20 to $200. Limits start at $20 and increase based on your account activity.
Fees: There are no fees. The company asks if you want to tip.
Speed: Instant. You set up SpotMe before you overdraw, and then it's built into your account moving forward.
Repayment: Your next direct deposit — typically on your next payday — will repay the amount Chime spotted you.
APR example: If Chime gives you $50 to overdraw, you repay the balance in seven days and add a $1 tip, you're basically getting a $50 loan with a 104.3% APR.
5. MoneyLion: Best for multiple financial products
The MoneyLion app offers mobile bank and investment accounts, financial tracking, a credit-builder loan and cash advances up to $250. The Instacash advance is available to anyone with a qualifying checking account. However, you'll have to pay a fee if you need your funds quickly. MoneyLion says it charges no interest or fees with the cash advance, but you're asked to provide an optional tip if you get an advance.
Amount: $25 to $250, but only MoneyLion checking account customers get access to the largest amounts.
Fees: MoneyLion has an optional tip, plus a fee for instant delivery that varies by amount borrowed:
MoneyLion checking account users: $0.99 to 5.99 for instant delivery.

Users with non-MoneyLion checking accounts: $1.99 to $7.99 for instant delivery.
Speed: If you don't pay the instant delivery fee, it takes 12 to 48 hours for MoneyLion checking account users, and three to five business days for non-MoneyLion checking account users.
Repayment: The funds are automatically withdrawn from your account on the day you're expected to receive your next deposit — typically your next payday. If your account doesn't have enough money, the app will repeatedly try to withdraw the funds.
APR: If you get a $100 advance deposited instantly into an external account for $7.99, add a tip of $1 and repay the loan in seven days, you'll be charged an APR of over 300%.
Summary of cash advance apps
| | | Speed without paying a fee | | |
| --- | --- | --- | --- | --- |
| | | | | |
| | | | | $1 monthly membership fee. |
| | | | | $9.99 monthly subscription fee. |
| | | | | |
| | | | | |
Pros and cons of loan apps
Though loan app fees seem small, they can add up quickly, and NerdWallet doesn't recommend paying for early access to money you've earned. These apps can help in emergencies, like a car repair or unexpected travel, but financial experts say they aren't sustainable, long-term solutions.
Consider the pros and cons before using a cash advance app.
Fast cash in an emergency: Some apps can immediately deposit money into your checking account — but they may charge an extra fee for that service.
May be cheaper than an overdraft fee: If your choice is between a paycheck advance and paying an overdraft fee, the advance is likely cheaper. Most app fees are under $10, while bank overdraft fees can be $35 or more.
May cause an overdraft fee: Some apps require access to your bank account in order to withdraw money when it's due. While apps say they try to avoid triggering an overdraft, they don't guarantee it.
May lead to repeat borrowing: Because apps make borrowing from your next paycheck easy, they could lead to a cycle of debt if users rely on advances to cover regular expenses.
Are cash advance apps payday lenders?
Cash advance apps are not considered payday lenders, and payday lending regulations don't apply to them.
But some consumer advocates consider them thinly veiled payday lenders — and they share some traits. These apps offer small-dollar loans that are due on your next payday with potentially high fees. Like payday lenders, apps that offer advances don't report payments to the major credit bureaus, so it can't help or hurt your credit score.
Payroll advance investigation
Some loan apps are part of a payroll advance industry investigation announced in 2019 by the New York Department of Financial Services and joined by regulators in 10 other states and Puerto Rico. The investigation centers on whether these apps violate state lending laws by charging interest disguised as tips and membership fees, for example.
Alternatives to cash advance apps
Compare all your options before you go with a loan from an app. You may have cheaper alternatives that can help you improve your finances, credit or both.
Small personal loans: You may qualify for a small personal loan from an online lender. These loans can be as small as $1,000 and APRs are below 36%, which many financial experts say is the highest rate an affordable loan can have. Some online lenders tailor their loans to bad-credit borrowers.
Credit union loans: If you're a member of a credit union, you may qualify for a small personal loan with a rate of 18% or lower. Some credit unions offer personal loans of $500, and although they review your credit score to qualify you, they'll consider your standing as a credit union member in a loan decision. Some credit unions offer payday alternative loans, which are small-dollar loans with low interest rates that you repay over a few months to a year.
Other ways to make money: Instead of borrowing, you may find a way to earn some extra money. You can become a rideshare driver, take online surveys or babysit. You can choose a temporary side gig to cover an emergency expense or find one you enjoy enough to keep as an extra income stream.
Friend and family loans: Nobody likes to ask for money, but it may be your best option if you're in a bind. Borrowing from someone you trust, like a friend or family member, can get you the money you need without any red tape or risk to your finances. You can even draw up a contract that details repayment terms and interest.
Frequently asked questions
Which app gives you a loan instantly?
Get more smart money moves – straight to your inbox
Sign up and we'll send you Nerdy articles about the money topics that matter most to you along with other ways to help you get more from your money.