College During COVID-19: Your Aid Questions Answered
Your student financial aid eligibility won't change if your college switches to remote learning or a hybrid model.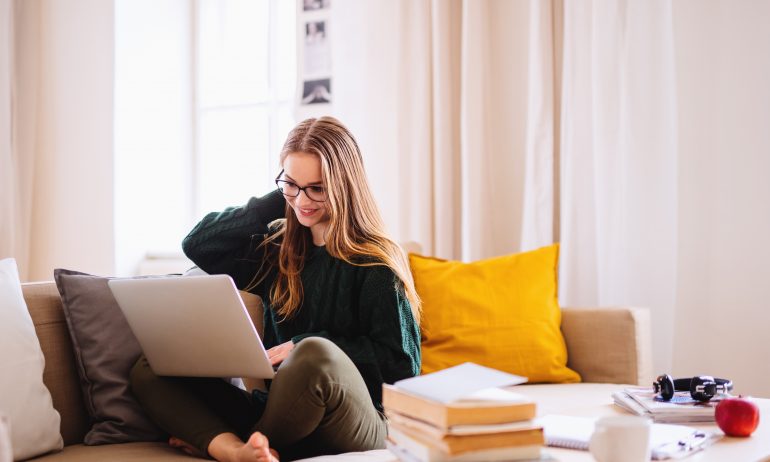 Many or all of the products featured here are from our partners who compensate us. This may influence which products we write about and where and how the product appears on a page. However, this does not influence our evaluations. Our opinions are our own. Here is a list of our partners and here's how we make money.
Navigating college is challenging enough without adding a pandemic to the mix. To clear up confusion about how COVID-19 could affect financial aid and paying for college, here are answers to your most pressing questions.
Am I still eligible for financial aid if my college goes remote?
Yes. Your eligibility for federal financial aid won't change if your college switches to a remote-only or hybrid model (remote and in-person learning). You can still receive federal Pell Grant funds and federal student loans. Contact your college to find out how it's handling work-study employment.
Private student loans are also still available to fill a payment gap, but the amount you qualify for will depend on your cost of attendance minus any financial aid. Your total cost of attendance may be lower if you're remote-only since you won't be paying for room and board on campus.
Call your school's financial aid office to find out your new cost of attendance.
Can I use my student loan for living expenses if I'm remote?
Yes. You can use student loans for living expenses, including off-campus housing. The amount you can get may depend on your living situation — whether you're living on your own or staying with family. Your borrowing is limited to the official cost of attendance for your living situation, minus any financial aid.
Your federal and private loans are disbursed directly to your school. If you're remote, any remaining funds after tuition and fees will be distributed to you, according to your school's policy. You can use those funds to pay for your expenses or return the amount back to your private lender or federal student loan servicer.
Can I get more financial aid due to hardship related to COVID-19?
If your family's financial situation has changed due to loss of income as a result of COVID-19 or any other reason, it's possible to get more financial aid.
Your school reconsiders financial aid awards if the information you included about your family's finances on the Free Application for Federal Student Aid, or FAFSA, is no longer accurate. However, most state aid, work-study and other first-come, first-served financial help have already been allocated for the academic year by summer.
Typically, you'll need to send your school a formal financial aid appeal letter and update the FAFSA. Make sure to include documentation that reflects your family's financial challenges, such as medical bills, to support your request. You should also specify the amount that you would need to close the payment gap.
How can I get emergency aid if I need it when school starts?
If you have an emergency and need short-term financial assistance, your college may have emergency aid available. Emergencies could include a job loss or unexpected medical treatment. Schools typically draw from a fund set aside specifically for this purpose.
On March 11, 2021, President Joe Biden signed a relief bill that provides an additional $40 billion in funding to colleges and universities. They're required to spend half on students in the form of emergency financial aid grants to be distributed through Sept. 30, 2023.
Emergency aid might include loans, small cash grants and scholarships, or other assistance with food and housing.
Should I take a gap semester or gap year due to COVID-19?
Whether it's remote learning or the coronavirus giving you pause, you may be considering taking time off from school with a gap year. Experts say you shouldn't do it unless you know the consequences and have a plan for what you'll do during that time.
Incoming freshmen may have an easier time taking a gap year if there's an official policy in place for deferring enrollment. Returning students who leave are called "stopouts" and, depending on your college's rules, could have to reapply to get back in.
If attending school this fall is out of the question, ask your school about taking an official leave of absence. Here's what to consider if you're set on missing school:
Taking a gap in enrollment could trigger your student loan payments to begin. This happens typically six months after leaving school for any reason — and if you don't return in the fall, that includes the summer months.

Students who take a gap usually use that time to travel or work. But those options might not be a given this time. Between international travel restrictions and the coronavirus causing shutdowns across the nation, traveling could not only be derailed, but also unsafe. And shutdowns have caused record high unemployment rates, which might affect your ability to find work.
Experts say you're better off attending school part time than not at all. Or if you do take a gap, consider taking online classes at a community college to complete graduation requirements. First, make sure your credits will transfer to your four-year college and that you're adhering to your school's policy for dual enrollment.
Track smarter. Save more.
Keep tabs on your cash, cards, and banks all in one place.