Emergency Financial Aid for College Students: What Are Your Options?
Talk to your college about emergency financial aid, food and housing options available.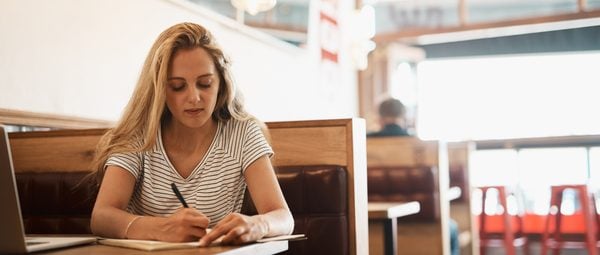 Many or all of the products featured here are from our partners who compensate us. This may influence which products we write about and where and how the product appears on a page. However, this does not influence our evaluations. Our opinions are our own. Here is a list of
our partners
and
here's how we make money
.
College students without a financial safety net are in a tough spot when unexpected costs arise.
"The chances their parents can pick up the bill are not as high," says Sara Goldrick-Rab, a professor at Temple University in Philadelphia and the president and founder of The Hope Center for College, Community, and Justice, a research center at the university.  "It's not for lack of families wanting to; they don't have it."
A spring 2020 (mid-April to mid-May) national survey by The Hope Center found that nearly three out of five of university students among 38,000 surveyed said they were experiencing basic needs insecurity. Forty-four percent of students surveyed at two-year schools and 38% of students at four-year schools said they experienced food insecurity in the previous 30 days. In addition 11% of those at two-year schools and 15% of those at four-year schools were experiencing homelessness due to the pandemic.
Student Loan Relief Guide
COVID-19 relief may affect information on this page. Know your options before making any decision.
What colleges are doing to help
Recognizing that a financial crisis can force a student to withdraw from classes, about three-quarters of colleges and other postsecondary schools offer some kind of help, according to a 2016 survey of emergency college aid programs by the professional association NASPA-Student Affairs Administrators in Higher Education. Programs include loans and small cash grants, dining hall vouchers and food pantries, and scholarships to complete a semester.
The impact can be significant. "We found that if you can alleviate their need in one place, it's going to free up their finances to support other things like tuition, books, housing or rent," says Stan Jackson, director of student affairs communications and marketing initiatives at the University of Georgia in Athens, Georgia.
Here are resources for students who need emergency help. Depending on your school's policy, you may have to provide documentation of your financial need.
Emergency cash grants for students affected by COVID-19
Colleges have a brand new pot of funding to pull from for emergency aid for students. The Department of Education is providing $20.5 billion to public and not-for-profit private colleges to be used for financial aid grants to students and to cover institutional costs, as part of the December 2020 coronavirus relief package. The department also made $681 million available to proprietary (for-profit private) colleges to use only for financial aid grants for students. The amount a school receives is based on factors around the amount of Pell Grant recipients enrolled.
Colleges are required to use allocated funds they receive on cash grants for students. The amount each school receives depends on the number of Pell-eligible students it enrolls along with the total population and students not enrolled full-time in online learning.
The funds can be used for technology like laptops, course material, food, housing, health care and childcare, according to the education department.
It's up to schools to create a process for distributing funds. If it's like other emergency aid program, you'll need to contact your financial aid office with a request for funds and provide any documentation they ask for to support your case.
In the first coronavirus relief package, the Department of Education provided $6.28 billion in emergency grant funding for colleges to distribute to students. Minority-serving institutions, including historically Black colleges and universities received an additional $1.4 billion in funding to use, in part, for grants to help students pay for attendance costs.
Emergency tuition assistance
Contact your school's financial aid or student affairs office to ask about emergency programs, which could include emergency grants for students, completion scholarships, emergency student loans or vouchers. Usually this money can pay for tuition, housing, books, supplies and transportation.
For example, at Grand Rapids Community College in Grand Rapids, Michigan, assistance is available for students who face emergencies such as losing their job, eviction or utility shut-off. The fund has provided students with over $78,000 in grants and loans since 2014, according to Dave Murray, a school spokesperson.
Emergency college food options
If you don't have consistent access to food, contact your school's student affairs office to learn about programs such as food vouchers, scholarships, free meal plans, access to SNAP benefits and food pantries.
At the University of Georgia, where Jackson says 10% of the population is affected by food insecurity, students can apply for yearlong food scholarships that award meal plans. There's also a campus food pantry.
Food pantries usually stock nonperishable foods, but some may also have fresh food and items such as cleaning supplies and hygiene products, says Clare Cady, co-founder and director of the College and University Food Bank Alliance, which has 626 member schools.
The food pantry at Oregon State University in Corvallis, Oregon, provides about 20,000 meals per semester, says Nicole Hindes, assistant director of the university's human services resource center. Hindes says free dining hall vouchers are the most heavily utilized program.
"They can spend time studying with their friends and not feel out of place meeting at the dining hall," Hindes says. "The food pantry is more cost-effective, but the food assistance program is one that students like and resonates with them."
Housing assistance for college students
Few schools have emergency housing, and options are often limited.
"There really isn't a good housing solution," says Daphne Hernandez, a University of Houston researcher who is conducting a study of food scholarship effectiveness at Houston Community Colleges. "Four walls and a roof is a little more difficult than food."
Find out from your school's housing or student affairs office if there is an on-campus emergency residency program. Some schools set aside dorm rooms. The office of student affairs at your school may also point to off-campus housing solutions including short-term sublets, apartments, youth shelters or room shares.
If your campus closes its housing temporarily or for the remainder of the semester, ask about options for students who cannot leave. During the coronavirus crisis, for example, colleges often allowed vulnerable students to stay on campus, such as homeless and international students.
Finding long-term solutions
Emergency college aid programs tend to be short-term fixes that aren't intended to replace federal aid. Be sure to submit the Free Application for Federal Student Aid, or FAFSA, each year. You may need to appeal if you don't receive enough aid or an unexpected situation arises, such as unemployment, medical expenses or the death of a caregiver.
To appeal your aid offer, even midyear, contact your school's financial aid office. Be prepared to:
Detail your circumstances.

Ask the office to reconsider your aid award.

Provide any documentation to support your claim.
This article was written by NerdWallet and was originally published by The Associated Press. 
Find ways to save with NerdWallet
Really get to know your money and find cash you can put aside and grow.