Med Student Borrowing Slows, but Debt Still an Issue
In the class of 2019, 73% of medical students took out loans; their median debt was $200,000.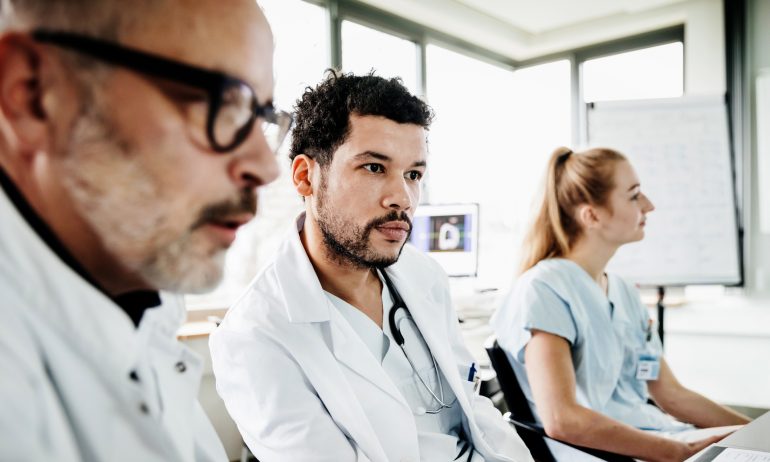 Many or all of the products featured here are from our partners who compensate us. This may influence which products we write about and where and how the product appears on a page. However, this does not influence our evaluations. Our opinions are our own. Here is a list of our partners and here's how we make money.
The amount medical students borrow to pay for school has risen more than 17% since 2012, according to a new report from the Association of American Medical Colleges.
But those increases have slowed in recent years.
Members of the class of 2019 owed a median medical school debt of $200,000, including undergraduate loans. That number is consistent with the class of 2020, according to additional reporting from the AAMC.
Debt for medical students had previously grown at rates higher than inflation, says Julie Fresne, senior director of student financial and career advising services at the AAMC.
"We're happy to see that it's leveling off a bit," Fresne says. But she adds that physicians still owe "a lot."
What affects med student borrowing?
Many factors affect the amount medical students borrow. One is whether they attend a private or public medical school, though the difference isn't as steep as the school's respective price tags.
The AAMC found that a private medical school cost an in-state student $330,180 in 2019 for four years— almost $80,000 more than at a public school.
But the median debt of private medical school graduates is just $15,000 higher than their public school counterparts: $215,000 versus $200,000.
The AAMC's report says this may be due in part to private medical schools "typically (having) greater resources for grants and scholarships," which can mitigate student borrowing.
Scholarships may also be helping more med students skip loans altogether.
The AAMC's report found the percentage of students paying for medical school with loans dropped by more than 15% since 2012. Precisely why is unclear.
"There's no real one smoking gun," Fresne says.
She points to slight increases in scholarships and parent contributions as potential reasons. Graduate students losing access in 2012 to low-cost federal subsidized loans — the government pays the interest on these while the student is enrolled at least half-time — may have also played a part.
Managing medical school debt
Seventy-three percent of medical students in the class of 2019 took out loans, and how to best manage that debt remains a question they must answer.
The AAMC's report states that "any physician can repay any amount borrowed regardless of specialty or where they live."
Earning potential plays a part in that.
The median salary for physicians and surgeons in 2019 was $208,000, according to the Bureau of Labor Statistics. But some medical professionals earn more; for example, anesthesiologists make $261,730 on average, per the BLS.
But if you earn less, you can take advantage of repayment options that reduce payments.
For example, if you have federal student loans, you can tie payments to a percentage of your discretionary income, typically 10%. This can be especially useful during residency, when the average salary is $63,400, according to the online medical resource Medscape.
Income-driven plans are also necessary if you want to pursue Public Service Loan Forgiveness. PSLF forgives federal loans after you make 10 years of on-time payments while working for an eligible employer, like a nonprofit hospital.
Reducing medical school debt
The AAMC's report found that only one-third of indebted graduates are interested in PSLF. If you aren't pursuing forgiveness, look at ways to pay off loans faster — like overpayment or refinancing.
For example, refinancing $200,000 from 7% to 4% would decrease your monthly payments by $257 and save you $35,672 in interest costs, assuming a 10-year repayment plan.
Refinancing federal loans costs you access to government programs like PSLF. Don't refinance those loans until you know if you'll want such benefits.
"If you are really interested in one of those forgiveness programs ... then it may not make sense to refinance," says Alyssa Schaefer, chief experience officer for Laurel Road, a digital lending platform and brand of KeyBank. "In most other cases, it probably does."
If your career plans are clear, you could refinance as early as during residency. Schaefer says you may want to do this in case the rate environment is less favorable after your residency.
Refinancing now also makes sense if you have private student loans. Private loans don't qualify for government benefits, so there's little downside to refinancing if you can get a lower interest rate.
Spot your saving opportunities
See your spending breakdown to show your top spending trends and where you can cut back.