ACH Business Loans: What They Are, How They Work
An ACH business loan is a cash advance on your business's future revenue. This type of financing is risky.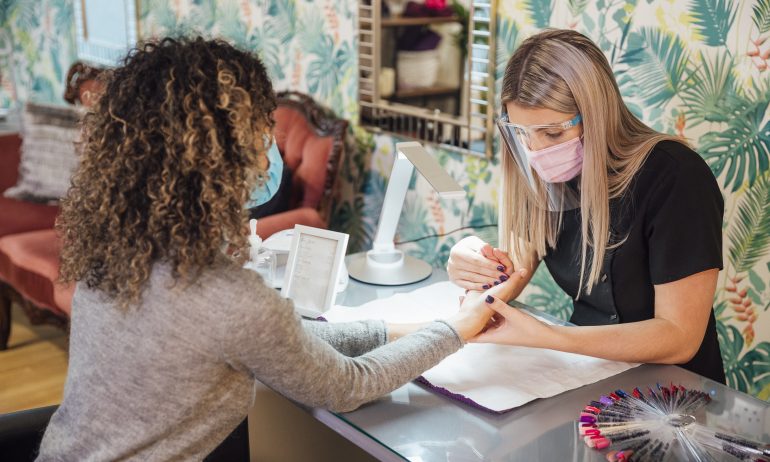 Many or all of the products featured here are from our partners who compensate us. This influences which products we write about and where and how the product appears on a page. However, this does not influence our evaluations. Our opinions are our own. Here is a list of our partners and here's how we make money.
ACH business loans are short-term business loans linked directly to your business checking account. You can qualify for ACH business loans based on your revenue and bank deposit activity, not a credit check, so they may be a good fit for businesses that don't qualify for other types of small-business financing.
But ACH business loans can come with very high annual percentage rates, or APRs, as well as additional fees. In general, ACH business loans should be a last-resort option for funding your business.
What is an ACH business loan?
ACH business loans are a type of business financing in which a lender deposits funds directly into your checking account via ACH transfer, or automated clearing house transfer. ACH transfers are a common way to move money from one financial institution to another.
Just like with the initial deposit, the lender can withdraw payments directly via ACH transfer when they're due. Your lender may require repayments as often as every day.
How do ACH business loans work?
ACH business loans can help your business get access to cash fast, especially if you have limited access to credit. Here's how they work:
The business applies for an ACH business loan. ACH business lenders decide whether to lend to you based on your revenue and other banking-related data, like your average daily business checking account balance. Essentially, they use your average account balance as evidence that you'll have enough cash flow in the future to pay back your loan.

The lender sets the terms of the loan. If your business is approved for an ACH business loan, the lender will tell you how frequently repayments are due and how much the loan will cost. Instead of an interest rate, your cost may be described by a factor rate (more on that below).

The lender transfers cash directly into the business's checking account. This is where ACH business loans get their name: The lender makes a direct ACH transfer into the borrower's account. Funds can be available in as little as 24 hours.

The lender begins collecting repayments. On a fixed repayment schedule — it could be daily, weekly, biweekly or monthly — the lender makes direct withdrawals from the business's bank account. Payments are usually fixed amounts. Normally, your loan will be fully paid off in a matter of months.
You may also see them described as a type of merchant cash advance. The two products work in very similar ways, but merchant cash advances are often repaid via credit and debit card transactions while ACH loan payments come from bank account balances.
How much do ACH business loans cost?
ACH business loans usually include a "factor rate." This is similar to an interest rate in that it determines how much extra you owe beyond the amount borrowed. To figure out the total amount for these fees, you can multiply the amount you're receiving by the factor rate.
For instance, say you're getting an ACH business loan of $20,000 at a factor rate of 1.3. When you multiply those two numbers together, you find out you'll owe $6,000 on top of the $20,000 you borrowed, for a total amount of $26,000 to repay.
If you paid that back with a fixed daily payment of $150, it would take you 174 days to repay it. Your APR — not including any additional fees the lender might charge for originating the loan or other services — would be more than 116%.
Use the calculator below to estimate the costs of an ACH business loan.
Is an ACH business loan right for you?
You might want to consider an ACH business loan if you need cash fast and:
You can't provide collateral. ACH business loans essentially use your future revenue as collateral, rather than asking you to pledge your existing assets.

You have no credit or bad credit. Lenders making ACH business loans decide whether you qualify based on your average daily checking account balance. They may consider your credit score or credit history, but it's not as important a factor as it is for other financing products.

You're confident that you can repay the loan in a matter of weeks or months. ACH business loans usually have tight repayment windows and may require daily or weekly repayments. Don't agree to one unless you're sure you'll have enough cash in your bank account when your lender begins withdrawing payments.
Make sure you consider some of the drawbacks of ACH business loans, including:
APRs can be very high. APRs on ACH business loans can be greater than 100%. For comparison, business credit cards typically have APRs ranging from 12% to 25%.

Frequent repayments can lead to a cash crunch. Some ACH lenders may require daily or weekly repayments. Because they can transfer funds directly from your business checking account, you'll need to have enough cash on hand to make those repayments. If your cash flow doesn't recover the way you hope it will, you may end up needing to borrow even more money to make your ACH loan payments.

They don't build business credit. If you plan to seek a more traditional form of business financing in the future, building your credit matters. An ACH business loan won't help you do that.
ACH business loan alternatives
ACH business loans are riskier than other types of business financing. Consider these alternatives before you make a decision.
If you've been in business for at least six months and have fair credit, you may qualify for some online business loans or lines of credit. Business loans and lines of credit serve slightly different purposes, but both are likely to offer you more financing and more flexibility than ACH business loans.
If you think your credit is too bad to get a business loan: OnDeck requires a minimum credit score of just 625 for its online term loans and lines of credit. You'll need at least a year in business and annual revenue of at least $100,000 to qualify.
If you need funding fast: Bluevine can approve you for a line of credit within minutes. If you're approved, the company can deposit funds in your account in as little as 24 hours. You'll need at least six months in business and $10,000 in monthly revenue to qualify, plus a FICO score of at least 625.
With invoice factoring, you sell your invoices to a factoring company at a slight discount. Then, when your client pays their invoice, the factoring company gets paid.
Invoice factoring can be a useful option for companies with business-to-business sales, but companies selling to consumers won't be able to access this type of financing.
A merchant cash advance is an advance on your future earnings like an ACH business loan. Instead of repaying your lender in fixed amounts, you'll pay back an MCA company based on a fixed percentage of your future debit and credit card transactions.
It might be a little less risky to make repayments based on your sales receipts than to make fixed repayments, but merchant cash advances are also very expensive and should be a last-resort option.