How to Accept Credit Card Payments
You'll need to pay for credit card processing. Other than that, some point-of-sale systems and card readers are free.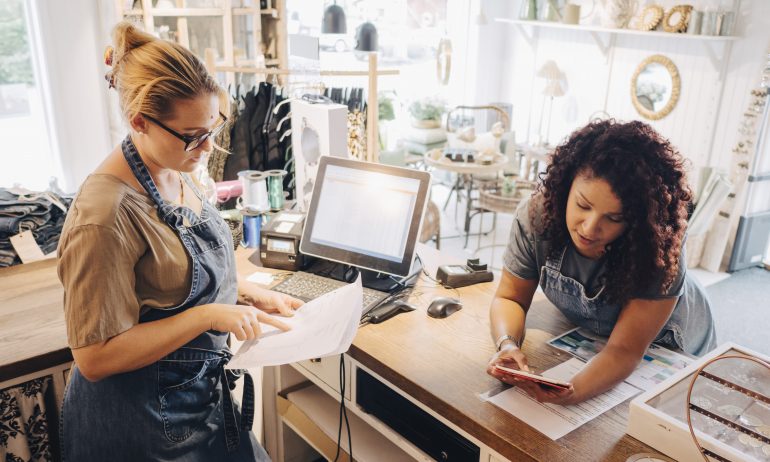 Many or all of the products featured here are from our partners who compensate us. This may influence which products we write about and where and how the product appears on a page. However, this does not influence our evaluations. Our opinions are our own. Here is a list of our partners and here's how we make money.
Accepting credit card payments at your small business can make it faster and easier for customers to pay you. Doing so isn't free, though. At a minimum, you'll have to pay for payment processing. And getting the right point-of-sale software and hardware could add to the expenses.
To accept card payments in-person, you need the following:
Often, the hardware and services needed to accept credit cards come bundled together from a single provider. For example, Toast's POS system works only with Toast's payment processing. In other cases, you can assemble a system with components from different providers. For example, Vend POS is compatible with various card readers and payment processors.
Payment gateway: This is a digital interface that allows customers to enter their card information securely. Companies like Stripe and Braintree offer online payment gateways. Many in-person POS systems also allow merchants to accept payments online, either directly or through an integration with an e-commerce system.
Payment processor: Like it does with in-person payments, a payment processor initiates and completes online transactions with credit card companies and banks. Payment processors charge a transaction fee for every payment accepted. Many payment gateways also include payment processing services.
When a customer swipes, taps or dips their card into a card reader, it sets off a chain of events among intermediaries:
When a card transaction is completed, the funds go to a particular kind of bank account called a merchant account. In most cases, the money will be transferred to the business's account in one to two business days.
If you're working with a  — sometimes referred to as a third-party payment provider, payment facilitator or processing aggregator — the merchant account technically belongs to the payment service provider; it aggregates all of its customers' funds into one or more merchant accounts, which can then be transferred into individual accounts. Square and PayPal are examples of payment service providers.
Whether the funds from card transactions land in a dedicated merchant account or one that belongs to a payment service provider, the process of getting paid is basically the same. There are some advantages and disadvantages to each method, though.
Do you want a comprehensive solution that combines a POS system, credit card processor, report generation, staff management and more? This option offers convenience — everything works together out of the box. But there's a cost associated with those extra features. You might prefer an account that's compatible with multiple POS systems, such as a merchant account through a company like .
Think through what you want a customer's checkout experience to look like. For example, a small retail shop might need one or two large countertop terminals like those offered by . A cafe might want a handheld card reader so customers can pay at their table. In that case, a durable handheld POS device such as those from  might work best.
Businesses that do some or all of their sales online will need a way to accept card payments digitally. Some companies, such as Shopify, have tools that help customers build their online presence, including a payment page. Others companies, like Stripe or PayPal, focus more specifically on creating digital payment tools that users can add to any website.
The prices for accepting card payments vary depending on the services needed and the provider you choose, but the types of costs you'll see are relatively constant.
The physical machine used to read a card's data is a must-have for in-person businesses. Card reader prices range from free for a basic reader to thousands of dollars for a comprehensive POS system. When comparing options, be sure to ask:
You'll usually pay a set monthly fee; the fee amount depends on the number and types of services used. Many payment service providers offer multiple pricing tiers — each with a set list of services. Some companies let you pay a fee to add a higher-tier service (like loyalty program management) to a lower-tier subscription.
Every time someone pays with a card, you'll pay a fee. This fee is often a percentage of the sale price plus a fixed amount, like 2.9% plus 15 cents. You'll pay more for online transaction than for in-person transactions because the risk of fraudulent activity is higher online. Depending on the plan, the cost may be affected by other factors, such as the type of card used.
is a well-known payment service provider and NerdWallet's pick for top POS system. You can sign up for a free account online and start taking payments almost instantly. Fees for in-person payments start at 2.6% plus 10 cents. The company doesn't require a long-term contract or charge setup fees, batch fees, refund fees or chargeback fees. For more POS features, you can upgrade to a paid plan.
focus is on online payments. Its payment platform allows you to accept credit card payments (as well as other payment types) without a merchant account. You can accept payments in-person with a terminal and online with a website-embedded checkout or recurring invoices. For all online payments, Stripe charges 2.9% plus 30 cents per transaction. Like Square, it doesn't charge monthly fees, setup fees or refund fees; it does, however, have a $15 chargeback fee per lost dispute.
If you do business in person, a basic payment processor like could be a good fit. You can buy a card reader and connect it to a variety of POS systems. There are four tiers of subscription levels; the highest monthly fee comes with the lowest transaction rates. The lowest cost tier is $79 per month with interchange plus 15 cents per transaction.
Randa Kriss, a NerdWallet small-business writer, contributed to this article.
A version of this article was first published on Fundera, a subsidiary of NerdWallet.