IRS Form 1065 Instructions: A Step-by-Step Guide
If your business is a partnership or LLC, you'll need this step-by-step guide to IRS Form 1065.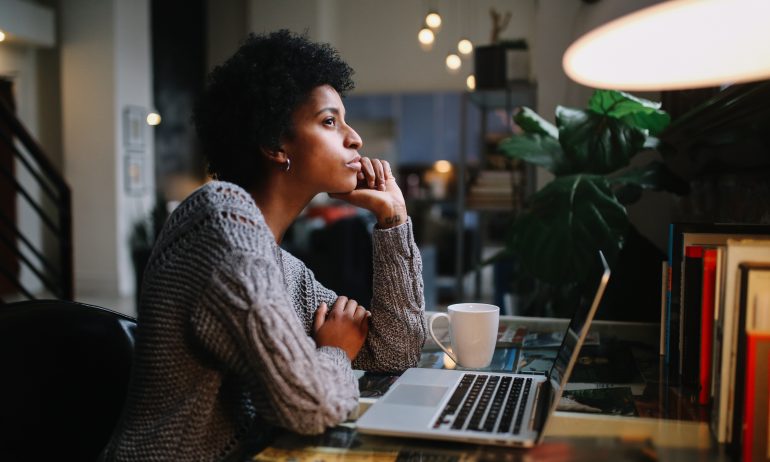 Many or all of the products featured here are from our partners who compensate us. This influences which products we write about and where and how the product appears on a page. However, this does not influence our evaluations. Our opinions are our own. Here is a list of our partners and here's how we make money.
If your business is a partnership or LLC, Form 1065 is one of the most important annual tax forms you must complete for the IRS.
Below are step-by-step Form 1065 instructions, as well as everything you need to know about this IRS business form.
1065 tax form: Fast facts
IRS Form 1065 is an informational tax return filed annually to report the income, gains, losses, deductions and credits from the operation of a partnership.
Because partnerships and LLCs are pass-through entities, profits and losses pass through directly to the partners or LLC members, who report and pay taxes on their share of the business income on their personal tax returns. So, although a partnership or LLC must file a single IRS Form 1065, the business itself does not pay the income tax.
Instead, the individual and LLC members complete a Schedule K-1 to report their share of the business's profits and losses and then file this form with their personal tax returns (the IRS Form 1040).
Who must file IRS Form 1065?
These entities need to complete Form 1065 on an annual basis:
Domestic partnerships, which the IRS defines as "the relationship between two or more persons who join to carry on a trade or business, with each person contributing money, property, labor or skill and each expecting to share in the profits and losses of the business whether or not a formal partnership agreement is made."

LLCs classified as partnerships for tax purposes.

501(d) nonprofit religious or apostolic organizations.

Foreign partnerships that had gross income derived from sources in the U.S.
Bench: America's Largest Bookkeeping Service for Small Businesses.
Get 30% off Your First 3 Months!
Where to find Form 1065 and how to file
If your partnership has more than 100 partners, you're required to file Form 1065 online. Other partnerships may be able to file by mail. The IRS Form 1065 instructions have the complete details.
Form 1065 must be filed by the 15th day of the third month following the date the tax year ended.
This means that if you're filing IRS Form 1065 for the 2021 calendar year, the deadline is March 15, 2022.

If the due date falls on a weekend or legal holiday, you'll have to file by the next day that is not a weekend or legal holiday.
Tax form 1065 is a five-page document that requires information from a variety of business financial documents and possibly other IRS forms. Here are step-by-step Form 1065 instructions:
1. Gather relevant financial documents and IRS forms
The dropdown list below contains some of the documents, information and IRS forms you may need to complete Form 1065. You may also need additional information. It all depends on the specifics of your operations.
Documents you may need to file Form 1065
Generally, the most important documents are those that reflect financial performance — the profit and loss statement, balance sheet, deductible expenses, gross receipts and sales, cost of goods sold, etc.
Due to the amount of forms, information and financial data involved in this process, it's a good idea to use accounting or tax software, as well as to work with a business accountant or tax advisor.
2. Fill in IRS Form 1065 A-K
The first section is, in essence, the general information section. These boxes, lettered A through K, are at the top of Form 1065.
In this section, you'll fill in:
The tax year you're using.

The name of your partnership and mailing address.

A-C: Fill in your principal business activity, principal product or service, and business code number. To find this information, use the list at the bottom of the Form 1065 instructions.

D: Fill in your employer identification number, also called the business tax ID number.

E: Fill in the date your business started.

F: Fill in the total assets of your partnership at the end of the year, as determined by the accounting method you use to keep your books.

G and H: Indicate what type of return this is and what kind of accounting method your business uses.

I: Every partner or LLC member must complete a Schedule K-1; in this box, you'll indicate how many you'll be attaching to this form.

J: In certain situations, you'll need to complete a Schedule C or M-3. If this is the case for your business, you'll check that those forms are attached in this section.
3. Fill in the remainder of IRS Form 1065 (page 1)
These boxes are numbered 1-30 and broken up into three categories: Income, Deductions, and Tax and Payment. You'll need your financial and other tax documents to fill in the appropriate numbers. In some cases, the line item will refer you to a specific form or document where you can find the information you need.
Boxes 1-7: In order to record your total income in box 8.

Boxes 9-20: In order to record your total deductions in box 21.

Box 22: Subtract box 21 from box 8 to fill in your ordinary business income loss.

Box 23-26: To record your total balance due in box 27.

Box 28: To record any prepayments you've made for taxes applicable to boxes 23-26.

Box 29: Amount owed if box 28 is smaller than box 27.

Box 30: Overpayment if box 28 is larger than box 27.
At the end of Form 1065 page 1, you'll sign and date the form once you have completed and reviewed everything. If you had a tax preparer complete the form, you'll have that professional fill in the box that says, "Paid Preparer Use Only." Additionally, if you authorize the IRS to contact that professional about this return, you'll check yes in the box to the right; if not, you'll check no.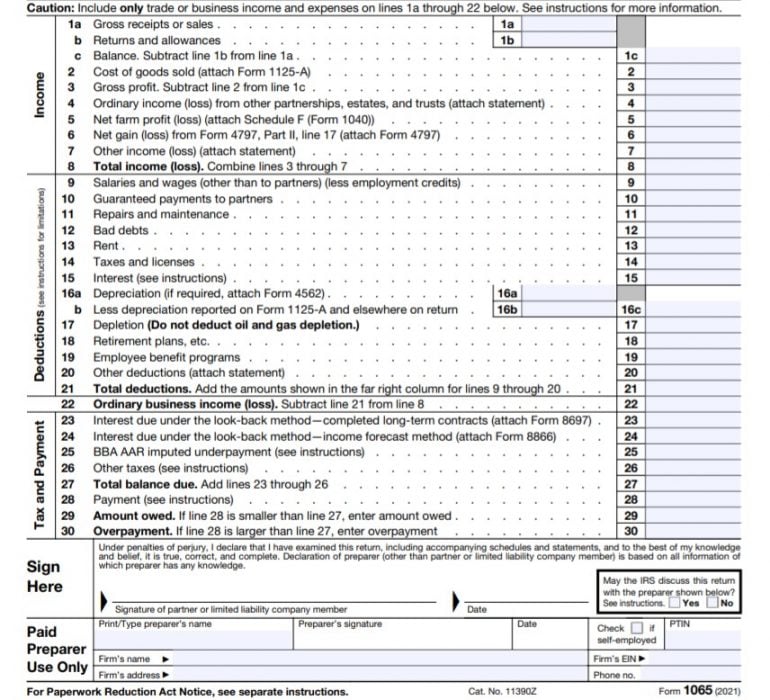 4. Fill in IRS Form 1065 Schedule B (page 2)
Schedule B has 29 line items and continues onto page 3. Schedule B has the header "Other information" and asks technical questions about your partnership. To complete this section, you'll answer yes or no to each question and provide additional information as it applies to your business.
The simplest question in this section is question 1, which asks you to indicate your business entity type.
The remainder of the first 10 questions on this page are very detailed and specific, asking for information regarding:
Ownership percentages of the partnership.

Partnership involvement in foreign financial accounts.
The answers to these questions are going to be specific to your business, and therefore, it will be helpful to have all your financial information organized and available and to consult a certified public accountant or other tax professional.
5. Complete IRS Form 1065 Schedule B (page 3)
The Schedule B portion of Form 1065 continues onto page 3 with lines 11-25. These yes-or-no questions cover a variety of topics, including:
Foreign partners within the partnership.

Tax obligations with regard to forms such as 1099, 5471, 1042, etc.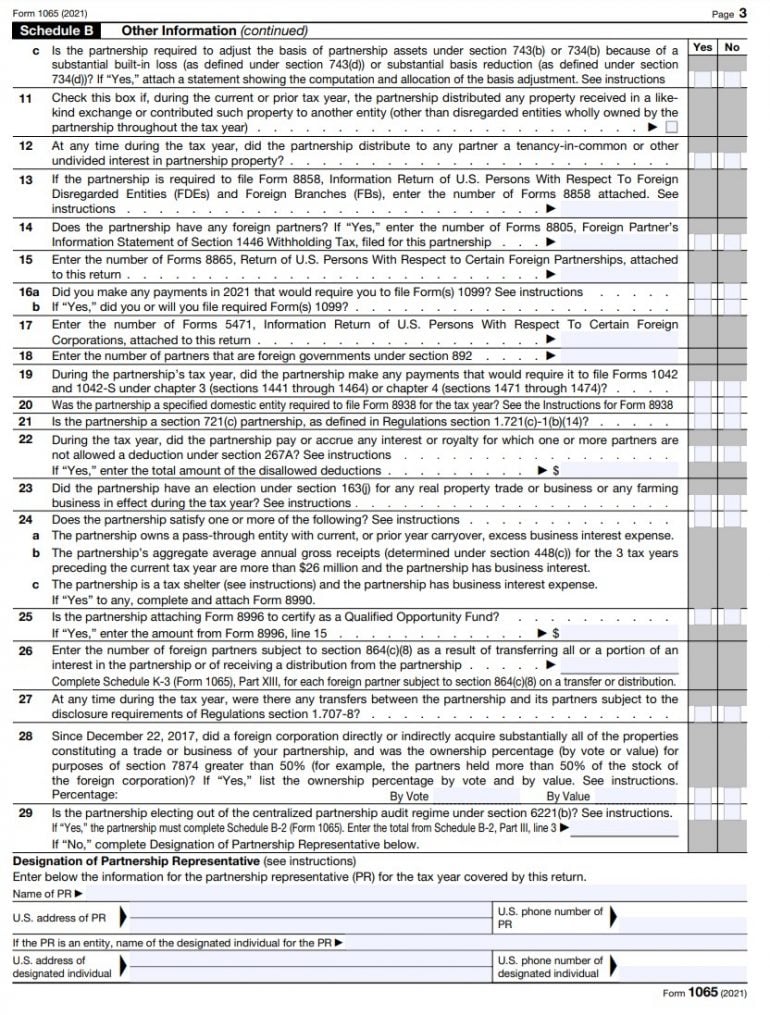 6. Complete IRS Form 1065 Schedule K (page 4)
After completing Schedule B, you can move on to Schedule K. Schedule K of Form 1065 is different from Schedule K-1. The difference is that Form 1065 is a summary schedule of all the partners' shares of the partnership's income, credits, deductions, etc. On the other hand, a K-1 shows each partner's separate share — and a copy of each partner's K-1 should be submitted with Form 1065.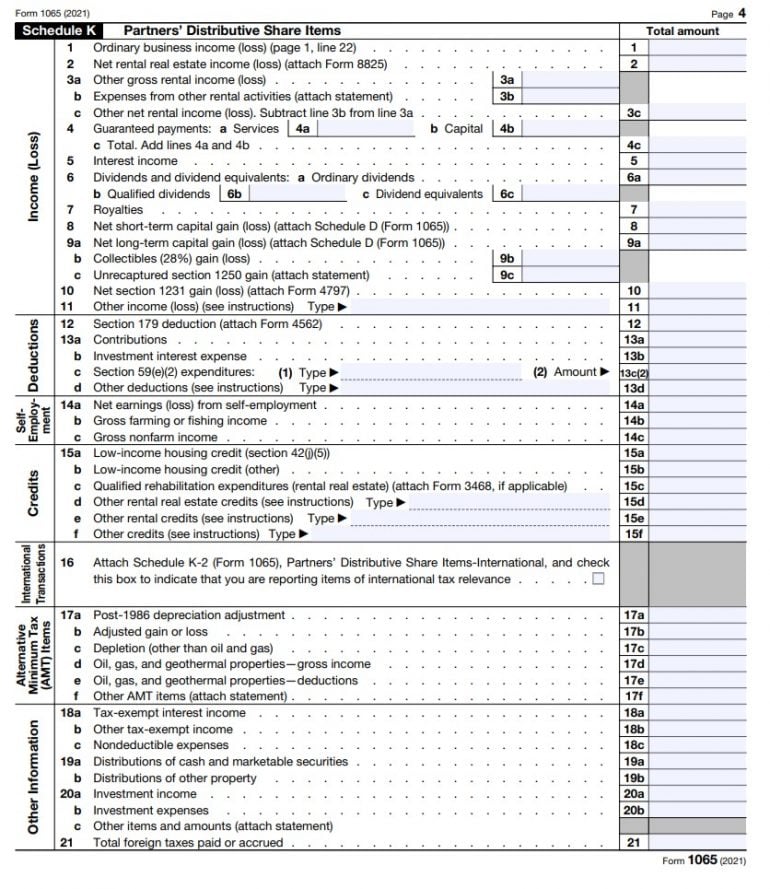 For Schedule K, you'll fill in boxes 1-21. These boxes are broken up into the following sections:
Boxes 1-11: Complete to calculate income loss.

Boxes 12-13: Complete to calculate deductions.

Box 14: Complete to record net earnings loss from self-employment.

Box 15: Complete to record any applicable credits.

Box 16: Complete to record any foreign transactions.

Boxes 18-21: Complete to record additional income and expenses.
7. Complete IRS Form 1065 Schedule L (page 5)
Schedule L, labeled "Balance Sheets per Books," takes up the rest of page 5 in Form 1065.
According to the IRS's Form 1065 instructions, if you answered yes to question 4 in Schedule B, you don't have to fill out Schedule L or the remaining Schedules M-1 and M-2.
If you need to complete Schedule L, you'll fill out lines 1-22 and record your partnership's assets, liabilities and capital. If this balance sheet differs from the one in your company's financial statements, you'll need to attach a statement explaining the discrepancies.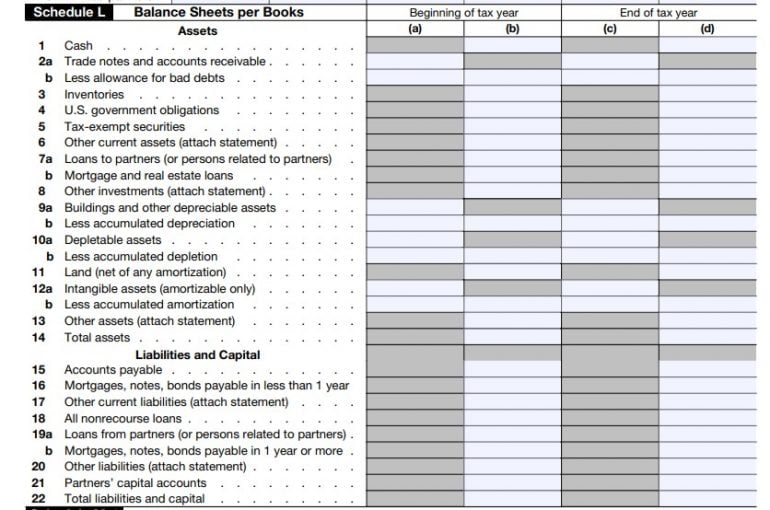 8. Complete IRS Form 1065 Schedule M-1 (page 5)
Schedule M-1 explains any differences between the partnership's net income on its financial statements and the partnership's net income on the tax returns. A few factors that might contribute to these differences are tax-exempt interest, guaranteed payments and depreciation.

9. Complete IRS Form 1065 Schedule M-2 (page 5)
The last section of Form 1065, Schedule M-2, shows the changes in the partners' capital accounts.

10. Review Form 1065 and file with the IRS
Once you've filled in all five pages, review the document thoroughly, preferably with a certified public accountant, enrolled agent or other tax professional, to ensure that everything is correct. Then sign and date the document and file it via your preferred method.
Tax Form 1065 will likely require several other forms to be submitted with it. You'll need to submit:
All five pages of Form 1065.

Form 1040 Schedule F, if required.

Form 1125-A, if required.

Any other schedules or forms as indicated based on your completion of Form 1065.
Remember to file each partner or LLC member's Schedule K-1 with the Form 1065.
Bench: America's Largest Bookkeeping Service for Small Businesses.
Get 30% off Your First 3 Months!