FreshBooks vs. QuickBooks Online 2022 Comparison
QuickBooks hits the mark for most small businesses, but FreshBooks has enough basic tools for many freelancers.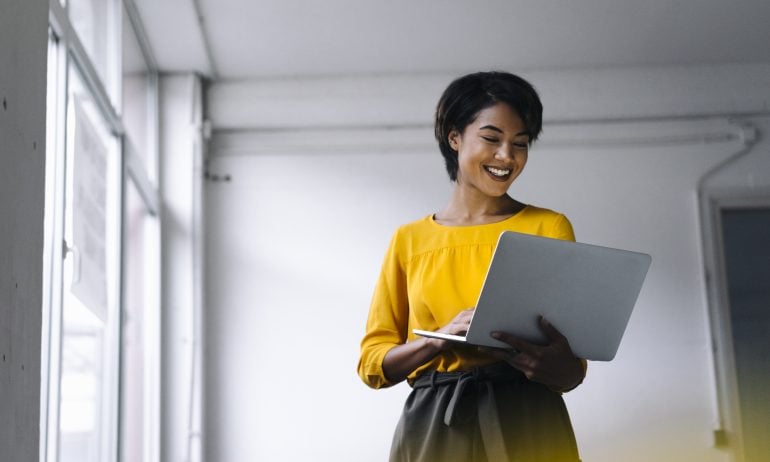 Many or all of the products featured here are from our partners who compensate us. This may influence which products we write about and where and how the product appears on a page. However, this does not influence our evaluations. Our opinions are our own. Here is a list of our partners and here's how we make money.
Deciding between FreshBooks and QuickBooks Online depends on how big your business is now and how big it will get. Freelancers and independent contractors may find all of the basic accounting functions they need with FreshBooks — and for a lower price point than QuickBooks Online, to boot.
But QuickBooks Online goes beyond basic accounting, with hundreds of app integrations, detailed inventory tracking in higher-tier plans and customizable reporting. Plus, it's easy to scale and share with your accountant — all features you'd expect from the best accounting software for small businesses.
Lite: $15 per month or $180 per year if paid for upfront.

Plus: $25 per month or $300 per year if paid for upfront.

Premium: $50 per month or $600 per year if paid for upfront.

Promotions may be available.

Simple Start: $30 per month.

Essentials: $55 per month.

Advanced: $200 per month.

Promotions may be available.

Freelancers, independent contractors and solopreneurs.

Most small to midsize companies; growing businesses; businesses with inventory management needs.

All plans except the Select plan include just one user. You can add additional team members for $10 per person, per month.

Simple Start: 1 user; 2 accounting firms.

Essentials: 3 users; 2 accounting firms.

Plus: 5 users; 2 accounting firms.

Advanced: 25 users; 3 accounting firms.

Good. No accountant access with the Lite plan. Plus, Premium and Select plans allow you to invite up to 10 accountants per business at no additional cost.

Excellent. Invite your accountant to work on your books via the Manage Users page. QuickBooks Online has 5.3 million users worldwide, meaning your accountant is likely familiar with it.

Average. You can upgrade your plan as your business grows, but the lack of bank reconciliation in the Lite plan, as well as restrictions on the number of clients and team members, can make scaling with FreshBooks expensive.

Excellent. You can upgrade your QuickBooks Online account as your business grows. You also can take advantage of other Intuit products like QuickBooks Payroll or QuickBooks Point of Sale to cover a wider range of business needs.

Excellent. FreshBooks is simple to use and has a user-friendly interface.

Excellent. QuickBooks Online has an intuitive interface and is easy to navigate.
Overall winner: QuickBooks Online
QuickBooks Online is a feature-filled accounting solution that can easily scale with your business. The cloud-based software has four subscription tiers that layer on reporting and bookkeeping functions to accommodate everyone from freelancers and service-based businesses to midsize companies with complex workflows and inventory management needs.
That scalability alone sets QuickBooks Online apart from FreshBooks, which is best suited for freelancers, independent contractors and other self-employed professionals, even at the premium level.
While both software solutions offer features like time and mileage tracking, inventory management and job costing, QuickBooks Online capabilities typically exceed those of FreshBooks.
QuickBooks is the more expensive option at all plan levels, and FreshBooks' lower price tag may be the deciding factor for business owners looking for a simple, mobile-friendly bookkeeping solution. While QuickBooks does offer a more scaled-back product for freelancers and gig workers — QuickBooks Self-Employed starts at $15 per month — you can't seamlessly grow into QuickBooks Online from this version.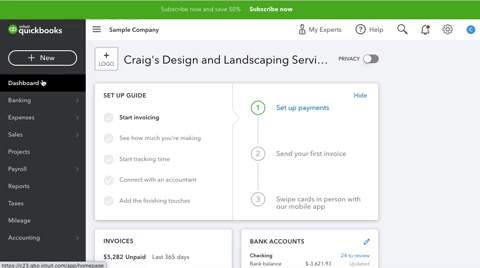 Winner: QuickBooks Online
QuickBooks Online users can seamlessly transition from Simple Start to Essentials to Plus or Advanced as their business grows. As they do so, they gain access to more advanced functions (job costing, inventory management, batch invoicing and automated task management) and richer reporting.
Upgraded QuickBooks Online plans also include multiple users, so you can share the workload with or among employees. FreshBooks, on the other hand, charges $10 per month per additional user, even on its top-tier plan.
FreshBooks also lacks some basic accounting features, like bank reconciliation and double-entry accounting reports, in its Lite plan. While you can upgrade to get these features, you shouldn't have to. These functions are standard on the entry-level plan for QuickBooks Online and most other accounting software.
Winner: QuickBooks Online
If you manage a small amount of inventory and need basic tracking functions, FreshBooks can get the job done. You can add and invoice goods with all plans, and get alerts when an item is out of stock. But FreshBooks isn't built to handle even modest amounts of inventory and you'll quickly outgrow it if you expand your product line.
QuickBooks Online goes well beyond basic inventory tracking, with low-stock warnings and the ability to reorder inventory directly from within the platform. You also can set pricing rules to customize rates, and run inventory reports to find out which products are your best sellers and which carry the highest cost.
QuickBooks Online's inventory features are available only on Plus and Advanced plans. FreshBooks, on the other hand, offers basic inventory tracking on all plans.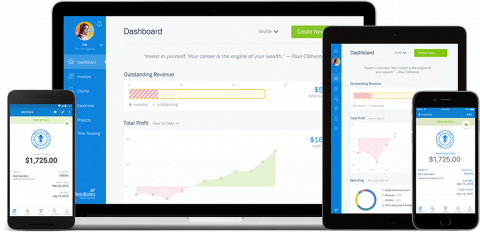 Time tracking is easy and automatic with FreshBooks, and it's included with all plans. You can log in online to track your time or mark it via the mobile app, a browser extension or a third-party app like Asana. You also can record time by project and bill for tracked hours.
While QuickBooks Online offers time tracking, it's not standard. You need to subscribe to the Essentials ($55 per month) plan or up to track billable time.
A rich reserve of online resources is available for both QuickBooks Online and FreshBooks users. And both feature extended hours and multiple ways of accessing standard customer support. QuickBooks Online users can get answers by chat or phone, while FreshBooks customers can reach support through phone or email.
Between the two, QuickBooks Online gains a slight edge with Saturday support, and 24/7 customer support for Advanced plan subscribers.
Pricing: $12 per month and up.
Xero, a popular alternative to QuickBooks Online and FreshBooks, has 3 million subscribers worldwide and allows unlimited users in every plan tier. While all of its plans include bank reconciliation, unlike FreshBooks, its lowest-tier Early plan doesn't let users send more than 20 invoices, enter five bills or claim expenses. The accounting software product also integrates with more than 1,000 apps.
Wave, a free accounting software product, offers unlimited invoicing, unlimited income and expense tracking, unlimited users and reporting. While it can't necessarily support a quickly growing small-business, it's a great solution for very small businesses with a tight budget. The company also makes its own Wave Payroll solution — just keep in mind that it only handles payroll taxes in 14 states and isn't free.
A closer look at FreshBooks vs. QuickBooks Online
Over 100 third-party integration options, including a deep integration with Gusto for payroll.

More than 650 apps including QuickBooks Time, QuickBooks Payroll and Gusto.

Yes. The FreshBooks Accounting app is available for both iOS and Android devices.

Yes. The QuickBooks Online Accounting app is available on iOS and Android devices.

Unlimited with all plans.

Included with Essentials, Plus and Advanced plans.

Automatic mileage tracking with all plans.

Yes. Sign up for a 30-day free trial with no contracts and no credit card required.

Yes. Choose between a 30-day free trial or 50% off for the first three months.

Customer support available through email and phone, Monday-Friday, 8 a.m to 8 p.m ET.

Simple Start, Essentials and Plus plans: Support by phone and online chat Monday-Friday from 6 a.m. to 6 p.m. PT and Saturdays from 6 a.m. to 3 p.m. PT. Advanced plan: 24/7 customer support.

Unlimited with all plans (but number of billable clients limited by plan).

Unlimited with all plans.

All plans let you manage budget and billing for projects, but project profitability tracking is only included in the Premium plan and up. Collaboration with team members requires paid team member add-on.

Ability to track costs, payroll and expenses by project included with Plus and Advanced plans.

Unlimited with all plans.

Unlimited with all plans.

Included with all plans (does not offer currency conversion).

Included with Essentials, Plus and Advanced plans.