Best Grocery Store POS Systems
Learn about the five best grocery store point-of-sale systems and the features you should look for.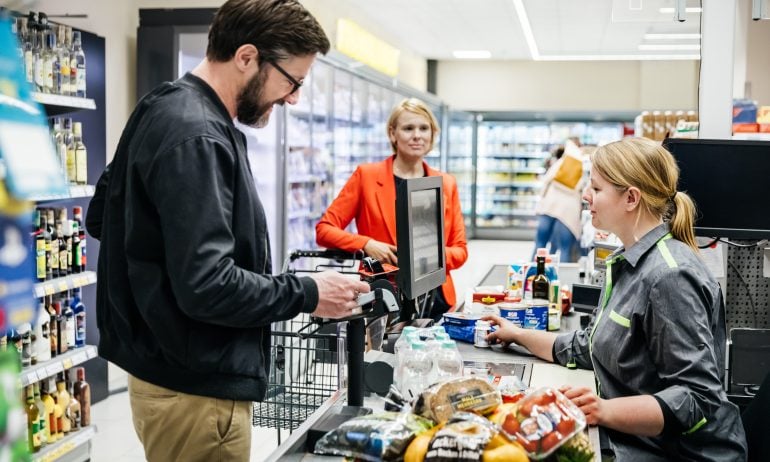 Many or all of the products featured here are from our partners who compensate us. This may influence which products we write about and where and how the product appears on a page. However, this does not influence our evaluations. Our opinions are our own. Here is a list of our partners and here's how we make money.
Remember the days when all a grocery store needed to ring up customers was a scale and a register? Neither do we. Though your average grocery store POS system has evolved dramatically in the past couple of years, it's been a necessity for much longer than that. Customers tend to spend more when they pay with credit cards, so grocery stores and markets were eager early adopters of POS systems.
Here are some top POS options you should consider to upgrade your grocery store's checkout processes:
What your grocery POS system should have
Find the right payment provider to meet your unique business needs.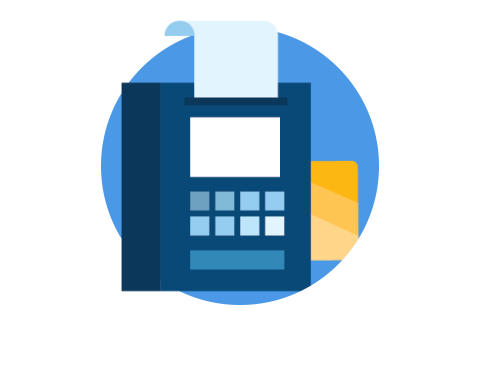 If you're looking for a grocery store POS system that offers a full package, then look into Revel POS system. Revel offers iPad-based POS systems along with pretty much any hardware you could need for your grocery store. Based on what you want from your grocery store POS system, Revel will bundle its preconfigured POS hardware. And if you want to access features like stands and self-service kiosks, Revel can set up a POS package for your grocery store. Its hardware options offer the most integrated and the most comprehensive options for your grocery store.
That said, Revel will likely cost your business a pretty penny: Its POS software starts at $99 a month and requires a three-year contract. Plus, installing a Revel POS system will cost at least $649, and that number doesn't even include the cost of the physical hardware itself or the payment processing fees. If you think that Revel offers the right POS system bundle for your grocery store, be sure that it's worth the investment and the long-term commitment.
If you're not convinced that a grocery store POS system from Revel would be worth the cost, then check out Clover POS systems. With the Clover Register POS software, you'll be able to perform all the actions necessary for a top-of-the-line grocery store POS system. Clover software plans cost $14.95-$94.85 per month, which is pennies next to the cost of Revel POS software.
Plus, Clover offers five POS hardware options, ranging from a smart device card reader all the way up to a fully autonomous countertop POS. Because none of the Clover POS terminals comes with a scale by default, Clover accessories include POS scales that can be easily integrated into a Clover POS terminal.
On top of those perks, Clover is also remarkably transparent with its payment processing fees. With the Clover Register POS software, each payment will be priced one of two ways:
2.6% plus 10 cents per in-person transaction for Starter Plan; 2.3% plus 10 cents per in-person transaction for Standard and Advanced plans.

3.5% of the transaction value, plus 10 cents per keyed-in transaction.
If you're looking for a grocery store POS system that's less of an investment than a Revel POS, then Clover offers another well-equipped option.
If neither Clover nor Revel seems like the right POS system for your grocery store, then consider Square POS systems. Square is a vanguard company that leads the charge in offering accessible, smart device-enabled POS systems.
This Square POS system has multiple helpful features. For one, its two screens — one customer-facing and one for the employee behind the counter — can make checkout easier. The Square Register also offers thorough, multi-location inventory tracking and insights.
The Square Register will cost you, though: You can either pay $39 a month for 24 months or $799 outright for this POS terminal. That said, for payments you process through the Register, you'll pay a more ideal payment processing fee than with other Square POS terminals. For any magstripe, chip or contactless payment you process through the Square Register, you'll pay 2.6% of the transaction value, plus $0.10 per transaction.
One thing to note about this grocery store POS system option: It won't come with an automatically integratable POS scale. As a result, you'll need to find a retail scale from a third-party source like POS Nation or even eBay — just be sure that the scale will be compatible with a Square system before you purchase it.
The company Polar, based out of Mundelein, Illinois, makes an industry-specific grocery store POS. If you like the idea of having a POS system made specifically for your industry, Polar POS is a great option.
Its system comes with support for integrating scales and scanners at the register and even for specific departments like the meat department, standalone payment terminals and EBT transaction processing. All of this is available at a fairly low price when comparing it with other options.
The lowest plan with Polar POS will cost you $24.99 a month. That plan comes with one register, allows for two users and 50 products, and comes with basic reporting and basic features. This least expensive option probably won't be the right fit for any grocer out there. The second tier plan costs $54.99 a month, comes with two registers and allows for four users, 200 products, advanced reporting on time and attendance, and a shelf labeler. The most expensive preset plan will cost you $99.99 a month; it comes with three registers for eight users and allows for unlimited products. It also comes with all the features Polar has to offer and access to remote and phone support. You can contact Polar for a custom plan if you need more than the options available.
If you're looking for a ton of features, like coupon acceptance, customer loyalty, mix-and-match pricing and more, POS Nation is one for you to check out. It's known for its numerous features, and features have a POS system specifically for grocers. Its POS systems come with a touch-screen terminal, a cash drawer and a receipt printer, but you can add on whatever else you need to your package from them.
Its prices vary depending on whether you want a local database or a cloud-based one. If you pay monthly for a local database, it will cost $99 a month for the basic package before add-ons; purchasing upfront costs $1,399. The cloud database also costs $99 if you plan to pay monthly, or $1,249 and then an additional $69 a month.
Any options you pay for monthly come with 24/7 support, and the monthly payments also come with a lifetime warranty. Paying upfront will get you a two-year warranty on the equipment. Another positive of paying monthly is that you can cancel at any time and return the hardware.
There's a handy tool on the company's website that allows you to build your own grocery POS system and see how much it would cost by entering your information along with your industry and how many terminals you would need.
Hardware you'll need for a grocery store POS
In addition to grocery-friendly POS software, you'll also likely need certain hardware to complete your grocery store checkout terminal. Here are some items to look for:
One of the pieces of hardware that most grocery stores will need in a POS system is a scale. If you sell anything that's priced by weight, then a POS scale is a must for your business — bonus points if you're able to find a POS scale that has a bar code scanner for produce labels.
Having a bar code is another one of the main advantages of a POS system for grocery stores. Being able to easily, efficiently ring up customers will make everyone happier. Plus, scanning bar codes will make managing your inventory that much more automated.
Whatever card reader you have on your grocery store POS system could make or break your checkout process. Be sure that your card reader offers all of the payment options your customers want — and that it works efficiently.
Whether on a physical keypad or on the screen of a smart device, a PIN verification should be an option that your grocery store POS system offers customers.
Even though cash-paying customers are getting rarer, you'll definitely need a cash register to store whatever cash you and your employees handle when operating your grocery store POS system.
Finally, you also want your grocery store POS system to provide your customers with receipt options. If you think your customers will prefer physical receipts over digital receipts, then you'll need a receipt printer.
A version of this article was first published on Fundera, a subsidiary of NerdWallet.