How Businesses Can Apply for a Second PPP Loan
Certain hard-hit businesses are eligible to receive a second PPP loan under the new COVID relief package.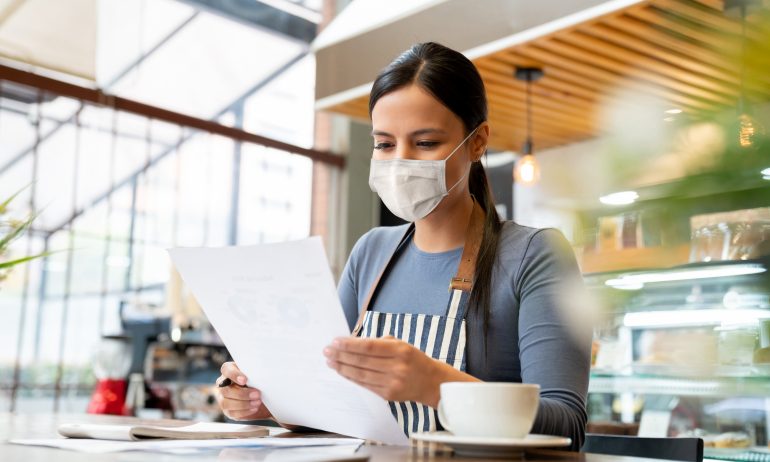 Many or all of the products featured here are from our partners who compensate us. This may influence which products we write about and where and how the product appears on a page. However, this does not influence our evaluations. Our opinions are our own. Here is a list of our partners and here's how we make money.
The Paycheck Protection Program officially ended May 31, 2021. Read our  page for more information or visit our .
Small businesses hit hardest by the coronavirus pandemic can receive a second forgivable loan under the newly revived . The application for "second-draw" loans opened to all eligible borrowers on Jan. 19. The deadline to apply is May 31, 2021.
Congress designated $137 billion for PPP second draw loans as part of a . The bill, signed into law on Dec. 27, includes a total of $284.5 billion for PPP loans. Businesses that need help beyond their initial loan can receive a second loan if they can show substantial revenue decline and meet other requirements detailed below.
Here's everything we know about second-draw PPP loans.
If you or your business received an initial PPP loan, you may qualify for a second round of funding, provided you meet the following requirements:
Second-draw PPP loans are available to businesses, certain nonprofits, self-employed individuals, independent contractors, sole proprietors, housing cooperatives, small agricultural cooperatives, veterans' organizations and tribal businesses.
Businesses that receive a Save Our Stages grant cannot receive additional PPP loans.
The formula for second-draw PPP loans is similar to that of initial loans: Borrowers can receive up to 2.5 times their average monthly payroll costs. Average monthly payroll costs can be calculated using one of the following:
Seasonal businesses (typically operating for less than seven months in a calendar year) and new businesses in operation on Feb. 15, 2020, but not open for a full 12 months, will use a separate formula to calculate average monthly payroll.
Hotels, restaurants and other accommodation and food service businesses can borrow up to 3.5 times their average monthly payroll costs.
Unlike initial loans, the maximum amount for second-draw PPP loans is just $2 million. First-time PPP loans max out at $10 million.
Second-draw funds are forgivable, provided they are spent on covered costs, including:
At least 60% of the total loan amount must be used on payroll expenses to qualify for full loan forgiveness.
In order to apply for a second-draw PPP loan, businesses need to submit an application along with documents to verify payroll costs and revenue loss, such as tax forms or bank statements, by May 31, 2021.
You can avoid some paperwork by using the same lender for first- and second-draw loans, provided you use payroll figures from calendar year 2019 when applying for the second loan. Check with your lender to see if it is planning to offer second-draw loans.
Borrowers seeking $150,000 or less don't need to prove revenue loss when they apply for a second-draw loan but will need to do so in order to apply for loan forgiveness.
if they are used on covered costs within 8 to 24 weeks of receiving your loan. The exact time frame is determined when you apply for your loan. At least 60% of the total second-draw loan must be used on payroll expenses to qualify for full loan forgiveness. Up to 40% can be used on other covered expenses detailed above.
Business owners who borrow $150,000 or less can submit a one-page certification that details the following:
Business owners who borrow more than $150,000 will complete the same forgiveness process required for their first PPP loan. If you fall into that category, you'll need documentation to show how the money was spent. This could include: