How to Direct Source Products to Sell Online
Here's what you need to know about finding and working with manufacturers to direct source products to sell online.
Many or all of the products featured here are from our partners who compensate us. This influences which products we write about and where and how the product appears on a page. However, this does not influence our evaluations. Our opinions are our own. Here is a list of our partners and here's how we make money.
Sourcing profitable products is job number one for most online sellers, and there are many ways to fill up those virtual shelves.
When you work directly with product manufacturers, you cut out the wholesale middlemen — and their markups — leaving you with more profit in your pocket. Direct source products also provide endless ways to create unique goods that set your brand apart from the competition.

$29
Basic Plan. Shopify & Advanced Plans Available. 
Pros and cons of direct source products
Working directly with manufacturers might seem daunting at first. Visions of overseas trips, product design costs and huge prepaid initial orders generally come to mind. However, the global manufacturing marketplace is surprisingly small-business-friendly these days.
Higher profits: Most wholesalers make their money by marking up manufacturer prices as much as 15% to 25%. Sourcing goods directly from the manufacturer leaves this markup in your pocket instead of depositing it into your wholesaler's piggy bank.

Customized products: It's impossible to stand out online when your products exactly match your competitors' goods. With direct source products, you can make slight or extensive modifications to a manufacturer's stock goods to offer products with unique benefits and branding.

Made-to-order goods: Direct source products let you create made-to-order items to your exact design and specifications. Called "contract manufacturing," this type of direct sourcing involves the most upfront work and cost, but lets you create products that are 100% unique to your brand.
Learning curve: Direct sourcing is more complex than placing a quick order with a wholesaler. You need to understand all the moving parts, make a professional impression and know what it takes to land a good deal.

Compliance issues: Government compliance requirements in materials, design, packaging and labeling vary for different types of goods. Understanding the rules specific to your products is a must in direct sourcing.

Large orders: Manufacturers typically have higher minimum order quantities — called MOQ in purchasing lingo — than wholesalers. For example, a wholesaler's MOQ might be a case of 12 units, but a manufacturer's MOQ for might be 48, 96 or 144 units.

Funding purchases: Most manufacturers require upfront payment, so many e-commerce sellers must turn to credit cards or other inventory financing options to place direct orders.

International deals: Sellers often turn to overseas manufacturers in China and India for low-cost direct source products. This is a very profitable strategy, but it comes with challenges such as overseas shipping, customs, cultural differences and the risk of scammers.
Clearly, there are some drawbacks to purchasing direct source products, but done right, the profit and branding potential far outweigh the risks. Next, Let's detail how you can direct source products to sell online in your own e-commerce store.
How to buy direct source products
As you move down the direct sourcing path, you're sure to fine-tune each step into a system that works for you. Until then, this overview will get you started on the right foot.
1. Research potential direct source products
Whether you're starting from scratch or already know what you want to sell, it's smart to head to Amazon for your initial product research. Browsing Amazon's vast catalog gives you insight into what products are selling well within your target category, as well as a snapshot of current pricing. Plus, it can help you spot and brainstorm profitable sales opportunities for other direct source products.
On Amazon, browse the Trending Products and Best Seller List pages within categories that complement your brand or business concept. These pages list top-selling products in both broad and niche categories — like horse halters and accessories in the example below.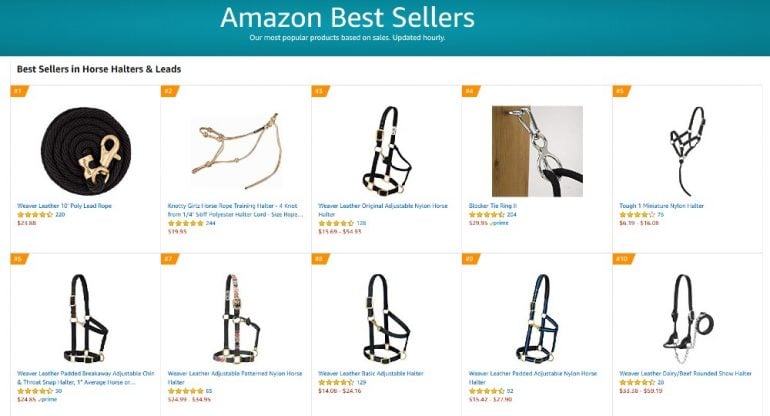 Here, you can see what's popular with shoppers now, plus gather two key points of product research — product pricing and popular features. You'll use this information to define specifications for your own direct source products.
Use retail prices to estimate a target cost
Use Amazon's pricing (or pricing found on other websites) to gauge an average price range for the products you hope to sell. Next, estimate a target cost for your direct source products.
If you plan to sell items on Amazon, your product cost should be around 30% of its retail price in order to be profitable after paying Amazon's seller fees. If selling on your own website, you can usually get away with a cost that's 40% to 55% of your retail price.
Note features that top-selling products have in common
A major goal of any direct sourcing strategy is offering products that beat the competition. For that, you have to know what the competition is offering and find or develop a product that beats it. Again, you can use Amazon and other category-specific websites to spot features common in top-selling items.
Using our example above, you see that most top-selling halters feature an adjustable noseband and quick-release cheek clip. If we want to sell halters, we should include these features — and improve on them if possible.
It's also important to note that a top-selling item in this category is a tie ring, not a halter. Further research might uncover this as a profitable product to focus on in addition to (or in place of) halters.
2. Research manufacturers for direct source products
After you settle on an item to sell and know its average selling price, target cost and must-have features, you're ready to search for potential direct source suppliers. There are many manufacturing options for direct source products, and you can start your search several ways.
Online marketplaces are the go-to tool for many e-commerce sellers looking to direct source products to sell online. One option is Alibaba, which is particularly popular with startups and small businesses. Other options to explore include Globalsources, IndiaMART, ChinaBrands, ThomasNet and FGmarkets.
Most of these marketplaces have vendor assurance and verification standards that protect buyers from scammers.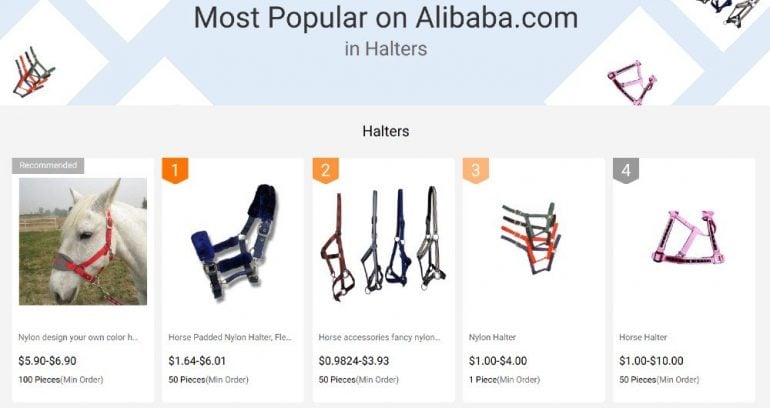 Most direct source product manufacturer marketplaces offer a wealth of information on supplier pages to help speed up your search. Pricing for various order quantities and important information like supplier ratings, response time and buyer protection like Alibaba's Trade Assurance program is prominently displayed.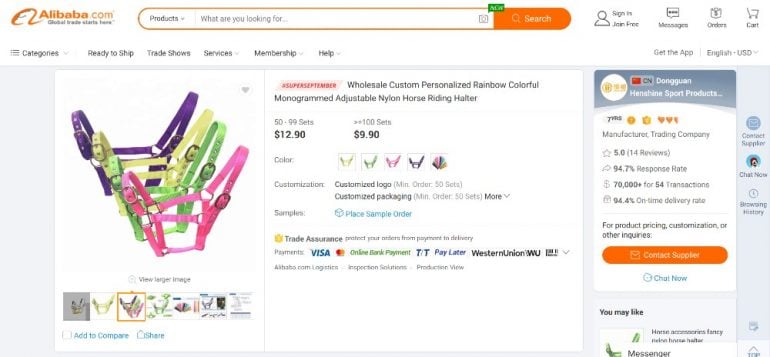 Standard item specifications, packaging, shipping and customization options can also be found on the product pages of these large direct source marketplace websites.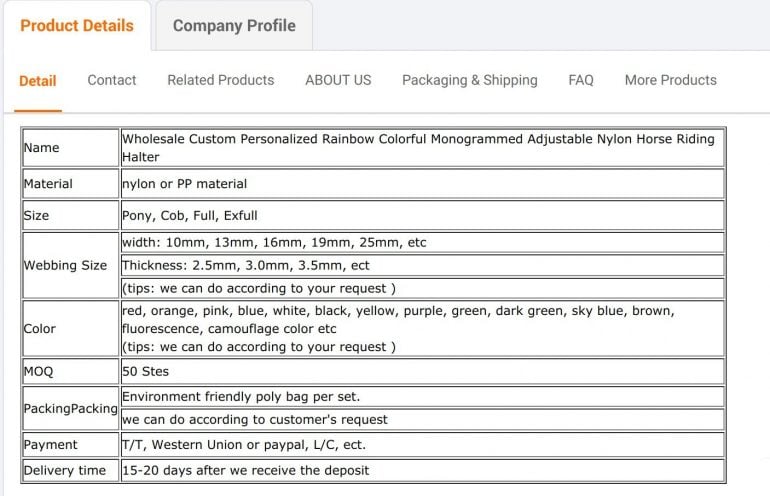 Many independent U.S. factories act as their own wholesalers and offer direct-source benefits like quantity discounts, product customization and made-to-order goods. Find independent U.S. manufacturers online by searching for a product or category term paired with "manufacturer U.S."
You can also find independent factories through trade shows and buyers' markets, or use ThomasNet and FGmarkets, which list many U.S. manufacturers.
Product sourcing and manufacturing consultants
Consultants like ChinaImportal can help you navigate the often murky waters of contract manufacturing for made-to-order goods. This can add costs; however, knowledgeable pros will guide you from design and tooling through production and delivery, and help you avoid mistakes along the way.
Most private label suppliers are manufacturers and offer an array of custom options. Private label vendors produce stock goods that can be customized with your own label or packaging, and most also offer semi-customized goods and fully made-to-order services.
3. Contact potential direct source suppliers
Once you've identified manufacturers who produce items that are similar to what you wish to sell and close to your target cost, it's time to contact them to discuss your unique needs. On Alibaba and similar marketplaces, you'll communicate via chat or email. If you find manufacturers at trade shows, buyers' markets or through other means, you'll converse via email and phone.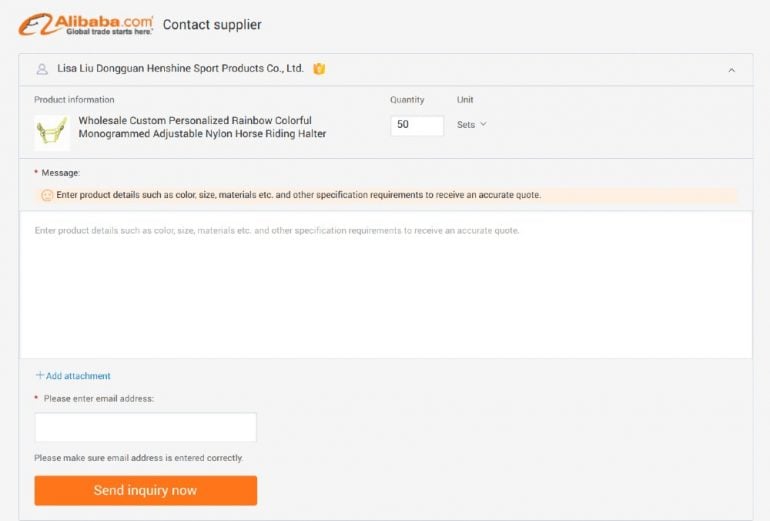 This stage of the conversation focuses on what you want your product to be. A supplier might already make the exact item that you're looking for, but you'd like a specific color or special packaging. Or, you might want to add feature improvements like a padded noseband on a halter, or a matching lead rope to sell as a set.
You'll also want to ask if goods meet product and packaging compliance standards for the countries in which you intend to sell.
If you're looking for a completely new, made-to-order good, you can ask manufacturers of similar goods about custom design and manufacturing services. Remember, you don't always have to reinvent the wheel when it comes to new product development. Sometimes starting with something similar, and adding specific alterations and improvements is the most economical solution.
Offer as much detail as possible with any semi-custom or made-to-order request. Fully describe item specifications, materials, finishes, dimensions and so on. Include formal plans or mockup images, technical drawings or at least some good sketches or samples of similar goods with changes noted. Also include product and packaging compliance requirements for the country or countries in which you intend to sell.
Soon, you'll have a shortlist of potential manufacturers who can do the work. Pricing is the next step.
4. Negotiate pricing and terms
Once you've chosen an item and settled on any custom needs, it's time to talk numbers and terms with your shortlist of potential manufacturers. This is typically handled under a "Request for Quote," or RFQ in purchasing lingo. It's imperative that you approach this step as a seasoned pro, even if it's your first rodeo. You want to sound knowledgeable so potential partners take you seriously and offer a favorable deal.
Here are the elements of the deal that you need to cover in your RFQ. Of course, numbers, quantities and other factors will vary depending on the type of product you're planning to purchase and the type of manufacturer you'll be using.
Item specifications: Include a complete description of the product you're ordering. If it has custom features or is made-to-order, include all design specs, drawings or imagery, dimensions, materials, colors, packaging and labeling requirements.

Order quantities: Confirm the minimum order quantity (MOQ) that the manufacturer will accept and your initial order quantity.

Pricing: Request the cost per unit for each item at the quantities to be ordered.

Discount levels: Request any discounts for ordering quantities over MOQ.

Lead time: State target delivery time between your placing an order and the factory shipping it out to you.

Carton weight and dimensions: Request the size and weight of your finished order ready for shipping. You'll use this if you arrange shipping via your carrier if needed.

Shipping: Ask who is arranging shipping? If your supplier is handling shipping, request the cost — your own carrier could be a better deal. If working with an overseas supplier, you need to choose air or ocean freight. If your products are small and light, air freight can be reasonable since it arrives fast — generally one to two weeks — and shipments clear through customs quickly. Ocean freight is more economical for large container-size orders, but takes months to arrive and clear through customs.

Payment terms: Outline payment terms, including deposits when the order is placed, design or tooling phase payments and release of the final payment upon receipt.

Samples: Ask what samples cost and if that cost will be deducted from your full order when placed. Offering to pay for samples, but asking for a discount off the full order, is a reasonable request — especially when dealing with overseas factories.
When you receive this information from each manufacturer on your shortlist, compare the deals and select one or two that stand out. Pricing, MOQ and lead times tend to be the most important elements for small businesses, but there are other negotiation points you can work to sweeten a so-so deal.
Here are a few pointers to keep in mind as you negotiate the best possible deal:
Lower price per unit: Manufacturers — especially overseas factories — are used to negotiating, so don't be afraid to ask for a lower price. Generally, factories run on a 20% profit margin, so if you can get your per-unit price discounted by 5% to 8%, you're doing well without offending the manufacturer.

Order quantity: If you think you have the consumer demand, ask about larger-quantity discounts.

Shorter lead time: Ask about faster lead times to differentiate deals.

Custom packaging: If you feel the cost is high but the manufacturer is not budging, ask about adding a custom label with your logo for no added charges.

Overage for replacements on defective units: Ask about the factory's defect rate and if the manufacturer will add a 1% or 2% overage at no charge to cover any replacement needs.
5. Run a profit forecast and arrange financing
Once you have final pricing from your negotiations with one or more of your potential manufacturers, you can run a quick profitability study. This can be a simple spreadsheet that details your per-unit cost, shipping averaged per-unit, target selling price and profits per supplier.

If your direct source product purchasing plan seems profitable, it's time to decide how you'll cover the cost of your order and meet the manufacturer's payment terms. Some small businesses pay out-of-pocket or use a line of credit or other inventory financing options for large direct sourcing purchases.
Startups and side-gig sellers often rely on personal funds or credit cards. A 0% credit card is a good option for financing your direct source products purchase with minimal interest, then pay it off using sales income over time.
Once you've settled on one or two potential suppliers, you can place your sample orders. Typically, you'll want to order two to three samples to compare consistency in workmanship, but that standard can vary based on your needs.
You can order and pay for samples for standard goods from manufacturer product pages on marketplace sites like Alibaba and Globalsources. Again, requesting that these costs are discounted from your full order is common and most suppliers will honor this request.
Ordering samples with custom features or for completely made-to-order products require more upfront specifications and generally cost more than stock samples. You'll need to work any design, setup and prototype cost details out in your negotiations.
After you're satisfied with the sample quality and have an acceptable deal, you're ready to place your order. If working through an online supplier marketplace, it's best to place your order and pay via its online system to ensure it's covered under buyer protections. If working directly with a factory, you'll need to place your order via its preferred method.
Direct source products ordered via online marketplaces generally must be paid for at the time of order. However, most major supplier marketplaces hold these funds and allow you to release them upon receipt of acceptable goods.
If working with an independent supplier, you might pay a deposit, then the remainder upon receipt. These details should be clearly defined in your negotiations so there's no confusion or delay over these details when your order is complete and ready to ship.
Once your order is placed, mark your calendar with expected production, shipping and delivery dates, and periodically check on its progress.
8. Receive goods and complete your payment
If all goes to plan, you'll soon receive your direct source products. Upon arrival, confirm that the count matches your ordered quantity, and quality-check that the items match your specifications and any packaging and labeling requirements.
Once everything checks out, you can release your final payment per your payment terms. Now you're ready to start selling your direct source products online!
A version of this article was first published on Fundera, a subsidiary of NerdWallet