Just-in-Time Inventory: What Is It and Which Businesses Should Use It?
Just-in-time inventory offers businesses a way to dynamically control their upfront inventory costs.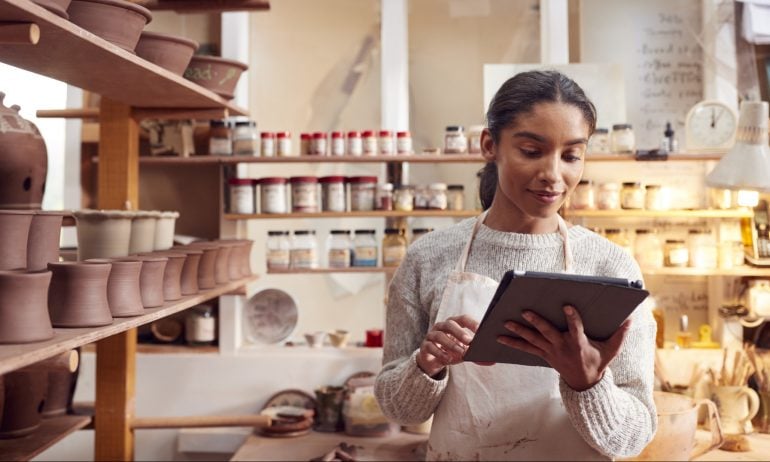 Many or all of the products featured here are from our partners who compensate us. This influences which products we write about and where and how the product appears on a page. However, this does not influence our evaluations. Our opinions are our own. Here is a list of our partners and here's how we make money.
Just-in-time inventory is a supply management strategy that schedules products and materials to arrive as they are needed to fulfill orders. This reduces how much inventory is kept on hand and can help small businesses reduce waste, save space and improve cash flow. But to be successful with this method, small businesses have to be prepared to track consumer demand and navigate the supply chain swiftly.
How does just-in-time inventory work?
The success of just-in-time inventory hinges on a business's ability to calculate how much inventory it needs to have available to fulfill orders without overstocking. Instead of ordering more than it needs and storing the overstock for future orders, a business orders small shipments to replace inventory as it fulfills orders.
There are two ways to implement just-in-time inventory, and which model works best depends on your business model.
For businesses that need to have inventory on hand, such as retail stores, ordering a small stock of products in advance of sales is a necessity. These businesses need to determine the minimum inventory they need to keep in stock to avoid missing out on sales and set up an ordering schedule to replenish the items to balance out sold products.
Here's an example: Fiona wants to implement just-in-time inventory management in her knitting store and decides to keep only a month's worth of inventory on hand at a time. She calculates the monthly sales volume for each item to figure out how much to keep on hand and schedules replacement orders at the end of each week to restock what she's sold that week. This allows Fiona to invest a smaller amount upfront, improving her cash flow and allowing her to make profit before investing in more inventory each time.
Small businesses that specialize in custom orders might find that only ordering materials after a customer submits an order works better. This can help a business avoid stocking up on perishable or expensive items that do not have to be readily available when they make a sale.
Here's an example: Jon wants to switch to just-in-time inventory with his at-home cake business. He finds it more helpful to wait until a customer orders a cake before buying perishable ingredients. While he can keep inventory on hand that he will always use and that isn't perishable, such as flour and sugar, he's able to wait until a customer pays a deposit on an order before purchasing additional ingredients that he otherwise would have had to store.
Creating flexible inventory. By ordering less more frequently, small businesses are able to be more flexible with their inventory and respond to customer behavior and shopping trends, including seasonal changes.
"If every day you replenish what you consumed, then you would need less inventory and you could adjust dynamically," says Lisa Lang, who has a doctorate in engineering management and is president of Science of Business, Inc., a consulting company that has helped small businesses implement the just-in-time method.
Minimizing inventory storage space. Just-in-time inventory lets small businesses house a smaller stock of items. This allows businesses to work in a smaller space with limited storage space or make alternative use of space that would otherwise be used for inventory.
Creating available cash. By reducing the need for space, the strategy also decreases overhead and makes cash available for other operating costs, such as labor.
Reducing waste. Businesses can also reduce inventory that either goes unsold or expires by avoiding over-ordering, which can have a positive impact on a bottom line.
What are the disadvantages?
Higher inventory cost. If you switch from buying in bulk to smaller, more frequent orders, stock might be more expensive per item, which can impact your profit on each sale.
Supply chain disruption. Keeping inventory replenished to avoid running out of products is key to just-in-time inventory, so disruptions to your supply chain can cause major friction in your operations. Anything from a product going on backorder to a natural disaster interrupting shipping can affect your supply chain and cost you money.
Running out of inventory. If you inaccurately track sales or fail to forecast customer demand, you might sell products faster than they can be replenished, which leaves you unable to fulfill orders.
Businesses that can benefit from just-in-time inventory
Small businesses that have regular sales and want to keep tabs on cash flow are good candidates for a just-in-time inventory strategy, especially if they find their inventory often sits for long periods. Several business models have found just-in-time inventory helpful in lowering costs and creating a more streamlined process.
Automotive repair. Instead of keeping all parts for several makes or models of cars in stock, automotive shops can keep only those that tend to be in high demand and order other parts as they need them to complete jobs. This is especially helpful given how expensive parts can be for automotive repair.
Bookstores. Reading trends tend to be seasonal, with classics hitting their high in winter months and bestseller lists evolving every month. Just-in-time inventory helps bookstores respond to consumer trends.
Cafes and coffee roasters. Purchasing coffee beans and grounds in smaller quantities means coffee tends to be fresher for your customers and offers peak flavor.
Construction. Similar to how automotive repair benefits from not ordering parts until they are needed, construction businesses can dedicate a lot of their overhead to storing materials until they are used on site. By only ordering materials in time with their use, construction companies can save in storage costs.
Florists. Flowers can require a lot of upkeep and only last so long before they are unsellable. Implementing just-in-time inventory cuts down on wasted stock and allows businesses to follow seasonal trends.
Retail. Stores only have so much room on their shelves and storage space for inventory. Limiting stock to smaller orders can free up space and let stores work on leaner budgets.
Good Promotional Products, a provider of customizable merchandise for businesses, once had offices full of unsold products, said Joe Bass, CEO and founder, by email. Switching to just-in-time inventory helped.
"When I just ordered as much as I knew I needed, it freed up a lot of my office space as I didn't have a lot of unordered products just sitting around," Bass said.
Businesses that should avoid just-in-time inventory
Businesses that source materials internationally. For Illuminate Labs, a dietary supplement manufacturer, the need to frequently order materials internationally made the just-in-time method overwhelming.
"Dealing with suppliers is a time-intensive process," says Calloway Cook, the company's founder. By choosing to keep a lot of stock on hand, he says the company has been able to focus its efforts on scaling the business instead of worrying about long lead times from international suppliers.
Businesses that only process a handful of orders annually. A just-in-time inventory strategy tends to be "less effective for slow movers," Lang says. "This is for the fast-to-medium movers, where you replenish more frequently."
Businesses with certain operational limitations. You might want to wait on implementing the method if you:
Can't delay orders without drastically impacting business.

Don't know how to track customer demand to anticipate inventory needs.

Aren't confident in your supply chain to deliver on time.

Don't have reliable employees who communicate well about supply issues.
How to implement just-in-time inventory as a small business
Small businesses need to focus on several operational areas to implement a just-in-time inventory approach.
Test your turnaround time
When you receive inventory just before you need it, you may still need time to create products and provide services using the materials you ordered. Research and test your process to be confident that you are able to get orders out the door on time without a large inventory.
Know how to gauge consumer demand for your products and how to anticipate changes in customer purchase patterns.
Some businesses replace the inventory they just used to fulfill customer orders; other businesses prefer to forecast inventory needs by averaging monthly totals and noting seasonal sales from previous years.
With such a tight turnaround time, you need dependable vendors that will deliver inventory when needed. If they can't, a just-in-time inventory strategy can fall apart. If your suppliers are inconsistent about deliveries, consider changing providers before implementing the new system.
Have a plan for supply chain disruptions
You must be able to adapt to supply chain disruptions and find alternative vendors when material orders are delayed or canceled despite your supplier's best efforts. Make a plan about how to respond to a bad situation to avoid delayed orders.
Frequently asked questions
Will just-in-time inventory work for all businesses?
Can I use just-in-time inventory for an e-commerce business?