6 Loan Types for Self-Employed Business Owners
For the most part, self-employed people can apply for the same types of loans that more formally structured businesses can.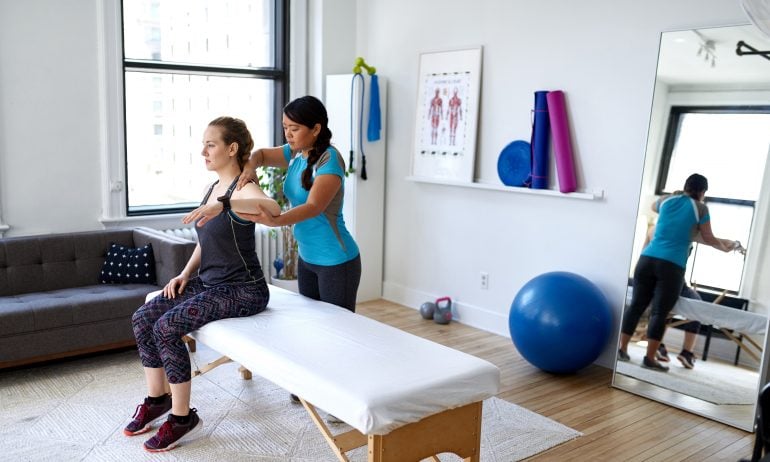 Many or all of the products featured here are from our partners who compensate us. This influences which products we write about and where and how the product appears on a page. However, this does not influence our evaluations. Our opinions are our own. Here is a list of our partners and here's how we make money.
If you're self-employed, you're probably used to jumping through a few extra hoops when it comes to finances. Applying for a loan is no different. Lenders may want to see extra documentation from a sole proprietor or freelancer to prove that their income is reliable.
Banks, online lenders and the U.S. Small Business Administration have loan options for the self-employed, and business credit cards can help cover smaller, everyday business expenses. For entrepreneurs who don't qualify for business loans, personal loans may be a good alternative, too.
with Fundera by NerdWallet
Business loans for the self-employed
If you need to borrow a set amount of money to fund business expenses, you may have considered applying for a small-business bank loan. To qualify, you will probably need to have been in business for several years and have good or excellent personal credit.
Still, lenders may require you to provide a personal guarantee. If your business goes under, you could be personally liable for the debt. Other lenders ask borrowers to provide assets like real estate as collateral or take liens on business assets so they can seize them if the debt goes unpaid.
SBA microloans are small loans issued by nonprofit community-based lenders and guaranteed by the SBA. The program is designed to serve business owners who may struggle to qualify for traditional business loans, so microloans are usually easier to qualify for than term loans or lines of credit.
SBA lenders can finance microloans of up to $50,000, though the average is around $13,000. These funds can be used to buy inventory, supplies, machinery or equipment.
A business credit card is a simple way to quickly unlock a small amount of financing and can help you establish a business credit history to qualify for larger loans in the future. Credit limits, interest rates and annual fees on business credit cards can vary depending on each applicant's credit history. Like personal credit cards, some business credit cards offer rewards such as cash back, 0% APR introductory periods or travel points and miles.
To apply, you'll need information about your personal finances since you may have to personally guarantee the debt. Be prepared to provide the details about your business, too, including the legal structure, estimated monthly spending and employer identification number.
Like a credit card, a line of credit allows a business owner to borrow money as needed and pay off purchases over time. You can use a line of credit to smooth out seasonal cash flow challenges or to invest in purchases that will help grow your business. Lenders charge interest on what is borrowed only.
Typically, lines of credit offer higher limits than credit cards. They're harder to qualify for, though — you'll probably need several years of established business history.
Online loans often have more lenient requirements than bank or SBA loans; borrowers may be able to qualify with a minimum of six months in business and a personal credit score of 600 or higher. However, this type of funding is usually more expensive and may have shorter repayment terms. Overall, this type of funding can be a good alternative for businesses that don't qualify for bank or SBA loans, or that need funding quickly.
Personal business loans can be a solid source of funding for self-employed people who haven't been in business long enough to qualify for a business loan, want to avoid online lenders' high interest rates or lack the collateral to secure a business loan. Keep in mind, though, that business loans commonly offer larger loan amounts and longer repayment terms.
If you're struggling to qualify for a loan on your own, adding a co-signer could help. The co-signer adds their name and signature to the loan, assuring the bank that if you aren't able to repay the loan, they will. This can help you build credit while borrowing the funds you need. The co-signer doesn't have access to loan funds.
How to get a loan if you're self-employed
Self-employed people are generally held to the same lending standards as more formally structured businesses, which can make the loan application process more rigorous for them.
From the lenders' perspective, self-employed business owners are often riskier to fund than more formally structured businesses like limited liability companies and corporations.
Since there's no legal separation between a self-employed business owner and the business itself, an entrepreneur's personal assets could be at risk if their business is sued or runs into financial trouble. This may hurt their ability to make loan payments on time, even if they meet lenders' requirements.
Lenders commonly have minimum time in business, annual revenue and credit requirements. Be prepared to provide a business plan and financial statements, including tax returns and bank statements, to help prove you're able to repay the debt.