National Processing Review for 2022: Pricing, Features and Alternatives
This payment processor offers competitive rates and works with high-risk businesses, but requires long-term contracts.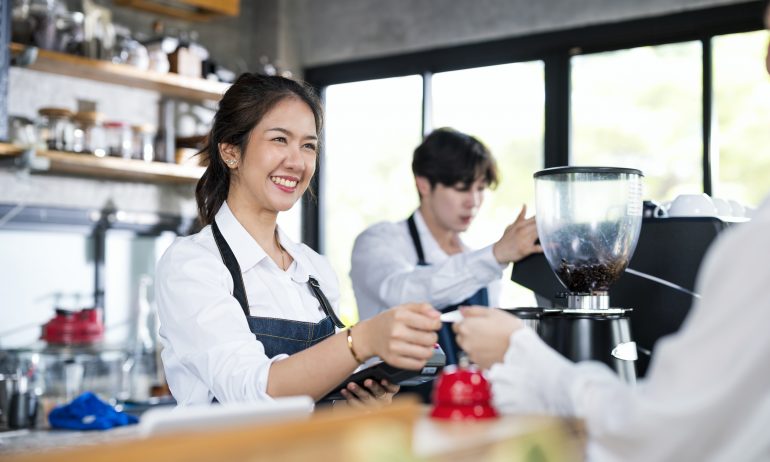 Many or all of the products featured here are from our partners who compensate us. This may influence which products we write about and where and how the product appears on a page. However, this does not influence our evaluations. Our opinions are our own. Here is a list of our partners and here's how we make money.
National Processing, a payment processor, offers competitive rates, useful integrations and compatibility with several card readers. Unlike many payment processors, it also works with high-risk merchants, such as dropshipping businesses or stores that sell cigarettes and tobacco. Its long contract terms make it a so-so choice overall, but it's a competitive option for businesses in high-risk industries.
Restaurant: interchange plus 0.14% and 7 cents per transaction.

Retail: interchange plus 0.18% and 10 cents per transaction.

E-commerce: interchange plus 0.29% and 15 cents per transaction.

Subscription: interchange plus 9 cents per transaction.

Subscription Plus: interchange plus 5 cents per transaction.

$9.95 for restaurant, retail and e-commerce.

$39.95 for cash discounting.

$59 for Subscription or $199 for Subscription Plus plan.

Undisclosed; you have to call to get a quote. National Processing sells card readers and bundles of POS hardware from third-party manufacturers, including hardware from Clover.

Cash, credit and debit cards, digital wallets and ACH transfers.

Two to three years; early termination fee runs $495 to $595 (with some exceptions).

Technical support is available 24/7. Other customer support services are available Monday through Friday by phone, chat, online tickets and SMS.
Customers choose a plan based on either their type of business or the types of payments they want to accept. Because each plan's features are already determined, there's no room for customization.
National Processing has plans for the following types of businesses:
The company also offers plans that specialize in types of payments. These include:
The Cash Discount plan lets you charge customers who pay with credit cards the payment processing fee for their transactions. This means you won't pay an extra fee for running those transactions, and you can charge cash-paying customers a lower price, which is called a cash discount.
The ACH Processing plan is for transferring funds between banks; it does not include credit card processing capabilities.
Plans cannot be combined, so you'll need to determine which type of payment processing works best before choosing a plan.
All plans except the ACH Processing plan include a free mobile card reader and allow you to have your existing equipment reprogrammed to work with the National Processing system. Other plan features include free gateway setup, free PIN pad, a virtual terminal and recurring transaction options.
National Processing has its own point-of-sale system that includes an impressive set of features, including:
Inventory management with alerts.
The POS system also includes features that are specific to certain industries. For restaurants, users can split payments, provide estimates and invoices, and assign tables. By-appointment businesses can let customers schedule appointments, sort appointments by employee and categorize appointments by resource, such as by table or bowling lane.
One of the cool features of National Processing is that it lets you purchase a credit card reader with your account or use one you already have. If you want to order a new one, options include:
The company can also reprogram some existing card readers, which means you might be able to keep your favorite model if you switch to National Processing.
The company also has accessories to build out your hardware setup, offering a thermal printer and cash drawer as part of its startup bundle.
Every National Processing plan comes with the SwipeSimple virtual terminal, which allows you to enter credit cards manually for over-the-phone orders or times when you don't have a credit card reader handy. The virtual terminal includes features similar to those offered by other POS systems, including the ability to store customer information, track customer purchase histories and identify bestselling products.
National Processing has its own processing gateway for online transactions. This allows you to connect your shopping cart with a POS system or virtual terminal to sell your products through your website.
You can also use Authorize.net as your payment gateway. If you already have an account, you can work with Authorize.net to reprogram the gateway to work with National Processing as your processor.
How much does National Processing cost?
| | | |
| --- | --- | --- |
| | | Interchange plus 0.14% plus 7 cents. |
| | | Interchange plus 0.18% plus 10 cents. |
| | | Interchange plus 0.29% plus 15 cents. |
| | | None; the cost is passed to the customer. |
| | | Interchange plus 0.12% plus 6 cents. |
| | | Interchange plus 48 cents per transaction and 1.5% for individual transactions over $5,000. |
| | | Interchange plus 9 cents. |
| | | Interchange plus 5 cents. |
National Processing states that rates might vary, so you'll need a quote before deciding.
Additionally, all customers pay $79.95 annually as a PCI compliance fee, which is a fee related to the cost of keeping payment systems secure. If new customers are not PCI compliant after a two-month grace period, they'll be charged $99.95 monthly until they become compliant.
Works with high-risk merchants
National Processing works with multiple banks with high risk tolerance, allowing them to provide services to merchants in high-risk industries. The company also provides several ways for high-risk businesses to mitigate their risks, including fraud and chargeback management tools. These tools can make it easier to avoid potential losses and maintain a good processing track record.
Offers popular integrations
National Processing offers several good integrations for accounting, online selling and shopping carts. Available integrations include:
These integrations can save you time, make your checkout more streamlined and reduce accounting errors.
All plans require customers to pay a monthly fee; National Processing charges PCI compliance and software fees on top of a monthly fee, which increases the total cost of the service. These fees are in addition to transaction fees.
National Processing requires a contract, which is typically for two years. But it does offer a few situations in which it doesn't charge an early termination fee, like if you sell your business or if National Processing can't beat a competitor's rate.
Square: No long-term contracts
While it's not an option for high-risk merchants, Square offers month-to-month plans with no long-term contracts. There's no monthly fee, but processing rates are higher than National Processing's rates — in-person transactions are 2.6% plus 10 cents and online transactions are 2.9% plus 30 cents. Square also provides in-house payment processing and payment gateway services. And its POS comes with features that include inventory management, reporting and management of different store locations.
PaymentCloud: More features for high-risk businesses
For high-risk businesses, PaymentCloud is a strong option. Processing fees are quote-based, and plans start at $10 per month. It also offers several shopping cart integrations along with high-risk business tools like chargeback protection and fraud prevention.
Find the right payment provider to meet your unique business needs.