Paycom vs. Paylocity: 2022 Comparison Review
Paycom vs. Paylocity both offer payroll processing, HR management and more. Here's how they stack up.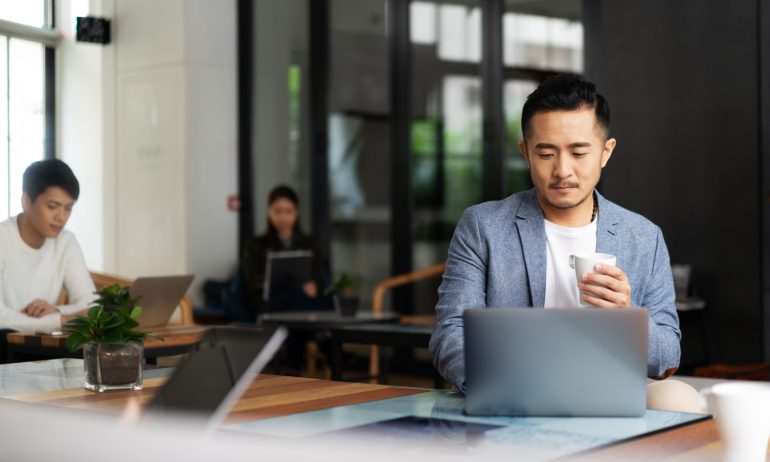 Many or all of the products featured here are from our partners who compensate us. This may influence which products we write about and where and how the product appears on a page. However, this does not influence our evaluations. Our opinions are our own. Here is a list of our partners and here's how we make money.
If you're looking for an all-inclusive HR software platform for your small business, you may find yourself comparing Paycom and Paylocity. Both of these systems can offer payroll processing, HR management and more. This comprehensive guide will help you determine which of these platforms is better for your business.
Accept payments without worry
See our payment provider recommendations that fit your business.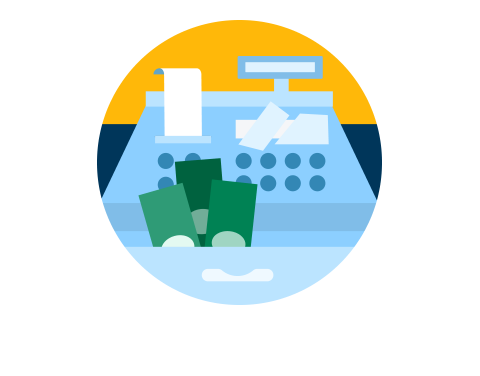 On the whole, you'll find a number of similarities when comparing Paycom vs. Paylocity. Both of these solutions are all-in-one platforms — meaning they allow you to access a wide variety of payroll and HR features within the same system. Additionally,  both Paycom and Paylocity are cloud-based HR software platforms; they store all of your data in the cloud, giving you access to your account through the web, wherever you have internet access.
On top of the similar payroll and HR features both of these solutions offer, it's worth noting that both platforms also give you the option to outsource some of your operations to their teams — like in the case of payroll taxes, wage garnishments and more. Of course, there are also differences between Paycom vs. Paylocity, which will be discussed in greater detail throughout this comparison.
You can find an initial Paycom vs. Paylocity comparison in the chart below:
| | | |
| --- | --- | --- |
| | | |
| | Single, all-inclusive software plan available. | Single, all-inclusive software plan available. |
| | -Single sign-on system with data sync that eliminates need for continuous, manual data entry. -Advanced data reporting that syncs across all parts of the system and can incorporate multiple years, EINs, and formats. -Ask Here feature within self-service app allows employees to ask questions to the right people within the company. -Direct data exchange monitors employee usage of system and your ROI. | -Social community and recognition features available for employee engagement. -On Demand Payment available for employees to deposit earned wages to their account. -Mobile app functions as self-service portal, but also as a communication tool for all team members and HR staff. -Marketplace full of HR-related third-party integration tools, including benefits platforms. |
| | A few proprietary add-ons available, like ACA assistance. | Variety of third-party integrations available through Paylocity marketplace. |
| | Self-service app available for Android and iOS. | Paylocity mobile app available for Android and iOS. |
| | Phone and email customer service available during regular business hours, Paycom University training also available. | Customer service available via phone or email, Monday through Friday from 7 a.m to 7 p.m CT. Also offer self-help knowledge base and online training courses. |
| | Larger businesses that are looking for an enterprise solution to both automate and outsource their payroll and HR processes. | Midsize to larger businesses that are looking for an all-in-one solution with an emphasis on communication and employee engagement. |
Paycom vs. Paylocity: Features
With this summary in mind, let's break down how Paycom and Paylocity compare in terms of features. Both of these platforms have a range of capabilities to offer, so this comparison highlights some of their most notable ones.
With Paycom, you have payroll software, HR software and talent management software, all within a single system. You can log into your Paycom account and access any aspect of the platform, which syncs data seamlessly across your features to eliminate the need for manual data entry. In addition to multi-user access, Paycom also extends its functionality to your employees through its Self-Service mobile app, available for both iOS and Android devices.
On the whole, Paycom breaks down its vast and detailed feature set into five overarching categories: Payroll, HR management, time and labor management, talent acquisition and talent management. Within each of these categories, Paycom gives you access to a high-level of automation and customizable tools, including:
Enter payroll data and customize processes, pay codes, data sets, etc.; sync data across system

Give employees access to their payroll information 24/7 through the self-service app

Receive automatic payroll tax management from Paycom's team including completing, filing and paying payroll taxes

Manage wage garnishments and expense reimbursements

Use infinite mapping to simplify and quickly track your payroll accounting data

Create customized payroll reports using data across the platform that incorporates multiple years, EINs and formats.
Use a document management system to create, assign and archive HR documents like I-9 and W-4 forms, employee handbooks and more

Create customized workflows and assign tasks for onboarding and other HR processes

Remain compliant with government regulations and receive notifications of changes to relevant legislations, including COBRA laws

Manage entirety of benefits administration process, from setting up benefit plans to allowing employees to review and choose them to notifying employees of their eligibility; work with 401(k) providers

Give managers access to tools that allow them to review employee requests, conduct performance reviews and schedule interviews with prospective candidates for open positions

Create an approval chain for employee payroll and HR changes with personnel action forms

Develop and send employee surveys and receive confidential feedback

Add Enhanced ACA plugin for assistance managing Affordable Care Act obligations and data

Monitor HR metrics, generate reports, use direct data exchange tool to evaluate employee usage of the system.
Time and labor management
Allow employees to track and submit their time through the self-service app; edit and review submitted time

Customize time tracking options for holidays, different shifts, sick days and more; manage employee PTO and corresponding requests

Create employee schedules and let your team view their schedules, mark availability and swap shifts using Schedule Exchange

Implement web-based or physical time clocks that sync with payroll

Assign labor to particular categories or departments to manage labor costs and usage

Generate real-time and historical time and labor management reports.
Share open positions across job boards, use Candidate Tracker to build a customized applicant tracking system from resumes, create notifications for corresponding interviews, hiring decisions and onboarding

Reduce tax liability with tax credit software

Run background checks on candidates or current employees and remain in compliance with Fair Credit Reporting Act

Create a customized onboarding workflow that includes new hire paperwork, task checklists and E-verify for employment eligibility

View recruiting and talent acquisition reports across all system data.
Create employee review system and allow employees to complete self-reviews, manager reviews and 360 reviews

Manage a compensation budget, update employee compensation and view reports on compensation across the organization

Allow employees to use the self-service app for access to the Ask Here feature, where they can ask questions and get directed to the individual in the company who can provide an answer

Assign and track performance goals by employee and across the company

Create business-specific training courses for employees, as well as implement compliance training; allow employees to complete trainings through the self-service app

Generate reports across system data, allow executives to customize their own dashboards.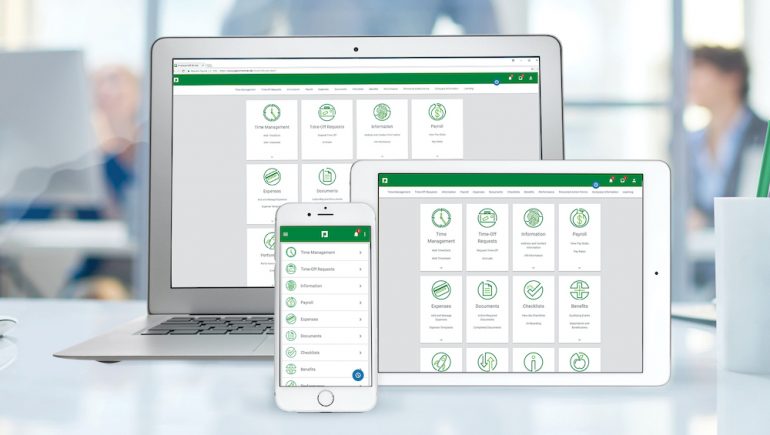 Within each category, Paycom includes advanced reporting tools that allow you to generate customized reports that incorporate data from any part of the system. Paycom also allows your employees to be directly involved in your payroll and HR processes with the capabilities included in the self-service app.
It's evident that Paycom is truly an all-in-one HR and payroll service, and should perhaps most accurately be referred to as an enterprise-level solution. With a wide-ranging feature set that's both advanced and detailed, there's no doubt that Paycom is designed for larger and more complex businesses.
Like Paycom, Paylocity is a single sign-in platform that allows you to complete all of your payroll, HR and other related tasks within one system. Additionally, like Paycom, Paylocity focuses on streamlining your processes by syncing data across parts of the system — and through employee self-service in the Paylocity mobile app.
While Paycom and Paylocity offer many of the same features overall, you'll see that there are a handful of differences that distinguish the two solutions. First, whereas Paycom breaks down its system into five overarching categories, Paylocity differentiates its system into seven feature sets.
Customize data fields for new hires and quick editing, automate payroll updates with employee action form, use templates or create your own to track your process to ensure payroll compliance

Preview, correct and verify register instantly prior to processing payroll

Work with Paylocity experts to configure custom payroll accounting reports

Integrate data from benefits, 401(k) information, retirement plans and more from your preferred vendors

Automatically pull approved expenses into payroll and add reimbursements to employee paychecks with expense management tool

Use compliance dashboard to review compliance laws and regulations

Allow employees to deposit earned wages to their account on demand through On Demand Payment

Work with Paylocity experts for full payroll tax and wage garnishment services.
View position-level data to track headcount and status for each position and predict changes in open positions

Allow employees and managers to access personal and company information anytime through the Self-Service portal

Use reports, analytics and dashboards to monitor key metrics and trends across all of your data within Paylocity

Create a customized onboarding process and simplify data collection from new hires

Use HR Edge to receive day-to-day HR assistance from Paylocity experts, including live support, online resources, custom handbooks, compliance courses, recruiting and talent acquisition.
Benefits admin technology
Configure employee benefits packages, allow employees to manage their own benefits elections, send files to carriers to update employee coverage

Track enrollment analytics and generate related reports

Allow employees to manage benefits and access insurance cards from any internet-connected device

Add and manage supplemental employee benefits like HSAs, FSAs, TMAs and more.
Allow employees to use the mobile app to check schedules, request time off, view time and communicate with managers

Use a time clock kiosk for employees to clock in and out and submit time off

Assign and track points for attendance and related occurrences

Give managers the ability to create and adjust schedules, without needing to correct payroll data

Use reports or live dashboard to view schedules and track employees' work history.
Create custom workflows for targeting candidates, generate job application templates, communicate with managers and applicants and extend offer letters

Manage employee performance on an ongoing basis with performance journaling, goal implementation, performance reviews and 360 feedback

Use learning management system to educate employees with pre-built courses, as well as design your own

Track compensation and budget for employee pay increases, bonuses and more.
Allow employees to connect through Community, a social collaboration tool

Give employees ability to recognize each other's work with virtual "pats on the back"

Create and send surveys to employees, allow them to give feedback, track results.
View payroll, HR and personal data including paychecks, pay history, schedules, tax forms, time-off balances and more

Access company directory, policies and other resources

Connect and communicate with co-workers

Clock in and out, view timesheets, submit expense reports

Receive push notifications as well as updates on company news and announcements

As a manager, approve time off, review schedule changes and timecards and more.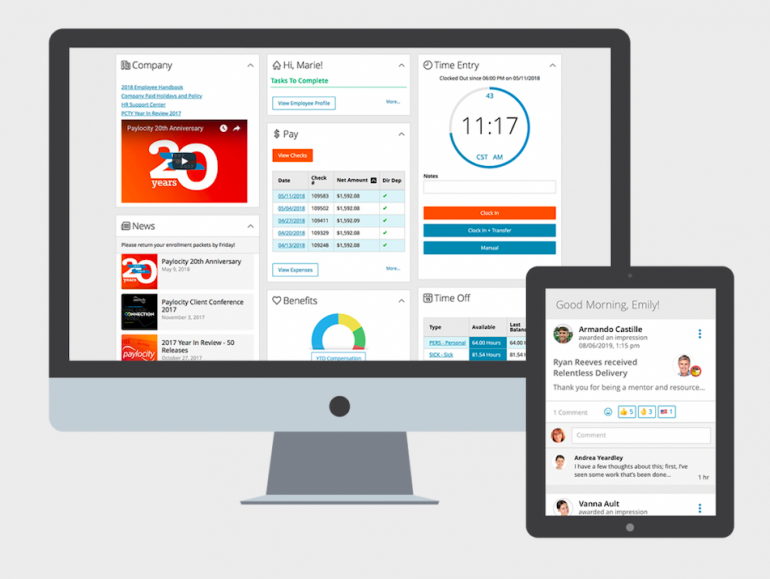 As you can see, Paylocity includes many of the same features as Paycom, although perhaps more of an emphasis on employees and their engagement and less of a focus on advanced analytics and reporting. Along these lines, it's also worth noting that Paylocity offers an online integration marketplace — something Paycom does not offer. Within this marketplace, you can browse a variety of third-party integration options including fringe benefits tools, time and attendance plug-ins, performance management platforms and more.
Due to the vast feature set Paylocity offers, in many ways, this system is also best-suited for larger businesses with more involved payroll and HR needs. However, compared to Paycom, Paylocity may be more approachable for businesses with an employee focus, as well as those who want an all-in-one solution, but don't necessarily need the high-level of automation Paycom provides.
Paycom vs. Paylocity: Pricing
Now that you have a better sense of how Paycom and Paylocity compare in terms of features, let's discuss pricing. Unfortunately, it's almost impossible to accurately compare the costs of these two solutions — as both operate on a quote-based pricing system. Therefore, in order to find out how much either Paycom or Paylocity will cost your business, you'll have to contact their sales teams directly. By working with their sales teams, you'll be able to determine what pricing will look like on a monthly or annual basis — depending on factors like the size of your business, payroll schedule and the specific functionalities you need.
On the whole, many payroll and HR providers price their platforms on a monthly subscription basis, charging a monthly base fee, plus a monthly per-person fee for every employee you have within the system. With this in mind, although you won't know the details upfront, it's generally safe to say that the bigger your business and greater your needs, the more expensive your solution will be. Plus, overall, an all-in-one software like either Paycom or Paylocity will likely be priced at a higher rate compared to more basic solutions, like Gusto or QuickBooks Payroll.
Paycom vs. Paylocity: User reviews
Consulting user reviews can be helpful when you're trying to decide between two business solutions, especially — as is the case with Paylocity vs. Paycom — when the systems are fairly similar and they don't have accessible pricing to compare.
On the whole, Paycom and Paylocity reviews across the internet are largely positive. With Paycom, users highlight that the system is powerful, yet manageable; that it has great reporting capabilities; and that the employee self-service app is extremely useful. Additionally, many reviewers also mention how helpful the Paycom customer service team is with responding to requests and resolving issues.
In terms of negatives, some users write that Paycom can be expensive, glitchy, and that it can be too complex and not necessarily user-friendly. Along these lines, a handful of customers also report login issues.
With Paylocity, on the other hand, users highlight the synchronicity of the system and how the fact that all of the features work together helps save time, paperwork and improves communication between HR staff and employees. In addition, customers report that Paylocity has great reporting, is generally user-friendly and that its customer service is very helpful.
On the other hand, critiques of Paylocity typically focus on specific features; however, some users mention that certain parts of the platform can be confusing and could use greater explanation within the system.
Paycom vs. Paylocity: How they compare
With all of this information in mind, here are a few overarching distinctions that are worth highlighting again in the Paycom vs. Paylocity debate.
Although Paycom and Paylocity have very similar capabilities, Paycom offers perhaps a greater level of automation across its feature set. With each of the specific tools that Paycom provides, you can highly customize every element and detail and even outsource some tasks and functions to Paycom's team. In this way, Paycom allows you to set up your system in such a detailed way that your HR team doesn't need to have a hand in the execution of every process.
Additionally, one of Paycom's strongest benefits is its emphasis on data sync across parts of the system. Instead of having to manually move or re-enter data, all of the information you put in Paycom works together, saving you time and preventing payroll mistakes due to manual error. Along these lines, Paycom also stands out with its advanced reporting. Paycom not only allows you to create and export customized reports within each area of its platform, but it also can do so by incorporating multiple data sets from across the system and generating reports that include multiple years, EINs and locations.
Thus, Paycom is best-suited for larger businesses that are looking for an enterprise-level solution to both automate and outsource their payroll and HR processes.
Where Paylocity stands out
When it comes to Paylocity, this system stands out most noticeably for its employee engagement features. Whereas Paycom's automation focuses on efficiently managing processes without the need for significant collaboration or input from HR staff, Paylocity has a large focus on increasing communication between employees, managers and HR team members.
In addition to its employee self-service tools, Paylocity also includes employee engagement features like a social collaboration tool, employee recognition function and communication functionality within the mobile app. In this way, Paylocity gives employees more active participation in the organization, outside of simply managing their payroll and HR-related information.
Moreover, compared to Paycom, which does not offer third-party integration tools, Paylocity has an entire marketplace full of add-ons that you can use to sync platforms you already use or integrate new tools to expand your capabilities within its system. Finally, although it's difficult to make a definitive evaluation without actually using the platform (and neither Paycom or Paylocity offer a free trial), user reviews suggest that Paylocity is a much more accessible system than Paycom. Although both of these platforms have some criticisms in regard to complexity and ease of use, more reviewers seem to comment on the user-friendliness of the Paylocity system.
Therefore, Paylocity is best-suited for midsize to larger businesses that would benefit from an all-in-one payroll and HR software, but who might not need the significant level of automation and detail that Paycom provides. Plus, Paylocity is also a worthwhile choice for businesses looking for third-party integrations, as well as an emphasis on employee engagement.
Due to the all-inclusive, enterprise-nature of both Paylocity and Paycom, you might find that neither of these solutions is right for your business. In this case, you might consider top alternatives that cater more toward newer and smaller businesses. Although there are a variety of payroll and HR platforms that may fit your needs, you might start your search with this option:
Well-known as a top solution for small-business owners, Gusto Payroll is a great alternative if you're looking for a range of features and upfront pricing — but don't need a platform as expansive as either Paycom or Paylocity. Plus, Gusto offers three different subscription plans, so that you can choose the features and price point that works best for you.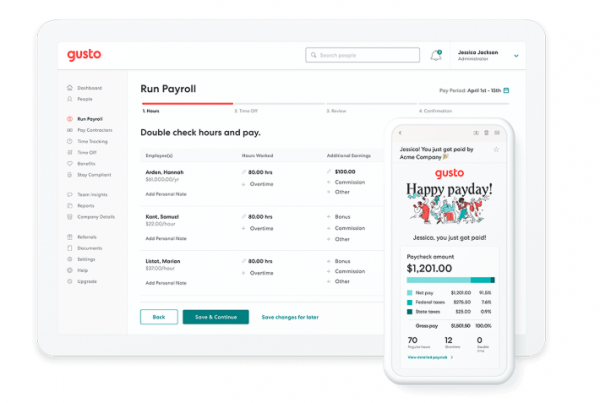 Overall, with any of the Gusto plans, you receive access to its web-based, user-friendly software, including features such as full-service payroll, employee self-service and profiles, health and workers comp benefits administration, paid time off policies and customer support. With the higher-level plans, you'll gain additional features for time tracking, onboarding and general HR management. Pricing for Gusto starts at $39 per month, plus $6 per employee per month.
Ultimately, if you need a more accessible, yet fully functional payroll and HR system, Gusto is a worthwhile alternative to Paycom or Paylocity.
A version of this article was first published on Fundera, a subsidiary of NerdWallet