How to Increase Your Restaurant Profit Margin
Profit margins can vary greatly among restaurants but are typically paper-thin. Here's what to do to increase them.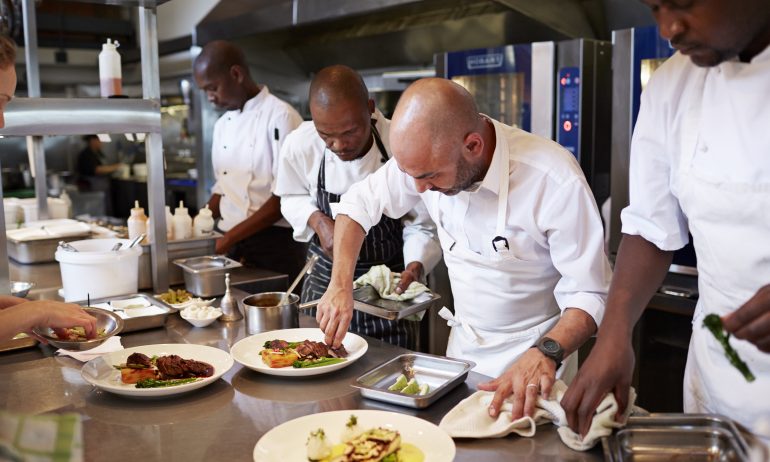 Many or all of the products featured here are from our partners who compensate us. This influences which products we write about and where and how the product appears on a page. However, this does not influence our evaluations. Our opinions are our own. Here is a list of our partners and here's how we make money.
According to the National Restaurant Association, small-business restaurants tend to have a pretax profit margin of only 3% to 5%. If you own a restaurant, here's what you need to know about profit margins and some simple steps you can take to increase yours.
Bookkeeping and accounting software

Sage 50cloud $48.17 per month (when paid annually) and up.

Wave Financial Free (add-ons available).

Xero $13 per month and up.

Zoho Books $0 per month and up.
Profit margin is a reliable way to measure your business's profitability. To calculate the pretax profit margin, divide operating income by revenue and then multiply the result by 100. Other useful types of profit margin include:
Gross profit is the amount of money your business takes in, minus the cost of goods sold, which would include food items, beverages and the like.
To calculate gross profit margin, divide gross profit by revenue and then multiply the result by 100. For example, if you spend $10,000 a week on food and beverage menu items, and you take in $20,000 a week in sales, you'd be making $10,000 gross profit per week, and your gross profit margin would be 50%.
This figure presents a much more accurate picture of how your business is really doing. Rather than just subtracting the cost of menu items from your revenue, you also factor in all your other business expenses which, in addition to cost of goods sold, may include rent or mortgage, utilities, labor, paper goods and other disposables, licenses, taxes, fees and more.
To calculate net profit margin, divide net profit by sales and then multiply the result by 100. If your restaurant takes in $20,000 in weekly sales but spends a total of $19,300 on goods, labor and overhead, your net profit would be only $700 weekly, and your net profit margin would be 3.5%.
How to improve your profit margins
To widen your profit margin, you'll need to bring in more revenue, reduce your expenses — or ideally, both. Here's how:
Income-boosting strategies
Do an analysis for an accurate snapshot of which items are helping or hurting your bottom line. Every menu option you offer should be profitable. Determine your costs for each item, eliminate anything that's losing money and update your menu layout to draw guests' attention to higher-profit choices. Simply including a photo on the page may increase that item's sales dramatically. You may also want to create a shorter lunch menu to keep orders moving faster during the lunch rush.
In addition to teaching staff to provide excellent customer experience, train them to upsell orders with salads, sides, beverages, desserts and soups. You can even offer staff incentives to keep upsell motivation high.
While you'd never want to rush your customers, efficiency means more income. Consider purchasing a kitchen display system to serve guests faster, and seat customers faster by incorporating the latest restaurant business software. Accepting QR payments allows customers to pay at the table rather than wait for a server to bring the check. You may even want to add self-service table ordering in certain sections of your restaurant.
People often check out a restaurant on social media before giving it a try, so use that to your advantage. A robust social media presence helps you reach potential customers and will strengthen your relationship with existing ones. Create your own hashtag so customers can share their dining experiences, and post contests and other promotions regularly.
Encourage repeat business
Keep customers coming back for more with excellent service, great food and loyalty programs. Consider using a restaurant point-of-sale system that can create customer profiles, such as Square, Toast or Cake. These profiles can help you track a customer's past orders and personal information, such as their birthday, email and mailing address, so you can send them targeted promotions and other communications.
In recent years, delivery services have increased in popularity. If you haven't already implemented food delivery, doing so could significantly increase revenue. Several restaurant POS systems allow you to accept orders from multiple online platforms.
Add additional indoor seating if fire safety codes permit, and consider adding outdoor dining as well.
Cost-reduction strategies
Work with suppliers to negotiate prices, shop around for the best deals and consider joining a restaurant buying group to access wholesale prices. See if you can source less expensive ingredients without sacrificing quality, and resist pressure from suppliers to over-order.
Every time you lose an employee, your bottom line is hit with recruiting and training costs, as well as a temporary loss of productivity. Keep your team happy and loyal by creating a positive, supportive workplace culture and offering competitive compensation.
A 2017 study from the World Resources Institute found that in a group of restaurants studied, the median restaurant saved $6 for every $1 invested in reducing food waste. To get food waste under control, avoid over-ordering and try to get a measure of how much you're actually wasting through inventory management software. Look for creative ways to repurpose excess inventory such as using scraps that would otherwise be trashed to make soup stock, fillings or fresh-pressed juices.
Encourage third-party customers to become direct customers
Customers love the convenience of third-party services like DoorDash and GrubHub, and these apps are great for introducing new customers to your business. But these services come with commissions and fees that could take anywhere from 5% to about a third of each order. Implement your own direct ordering and reservation solutions. Then, send links to your customers, perhaps providing an incentive such as a discount or free beverage in return for working with you directly.
Become more energy efficient
Because of their high need for refrigeration, cooling and electricity, restaurants tend to consume roughly five to seven times more energy per square foot than other types of businesses, according to Energy Star, a government program that promotes energy efficiency. And for quick-service restaurants, that figure can be as much as 10 times higher. To decrease energy costs, invest in efficient Energy Star-certified commercial equipment and energy-efficient lighting.
Smart scheduling can help keep labor costs under control without sacrificing competitive wages. Use past reservation and sales data to estimate busy times and avoid overscheduling. Implementing table ordering software also allows you to maintain a lighter staff roster.