How to Sell on Newegg: The Ultimate Guide
Newegg is a tech-focused e-commerce marketplace that caters to a variety of buyers.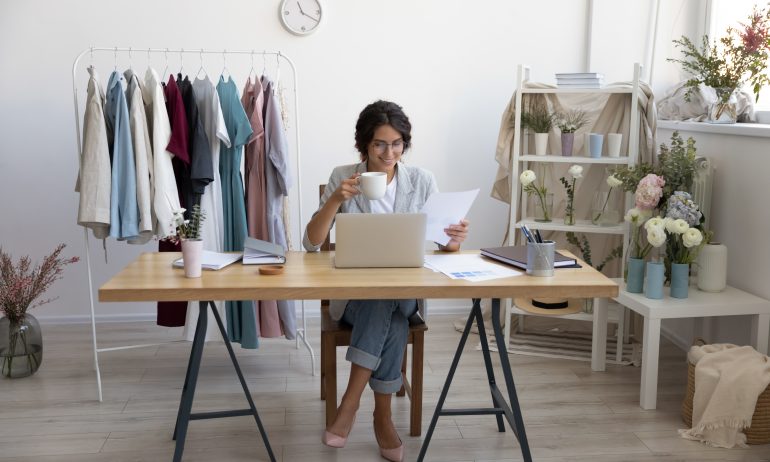 Many or all of the products featured here are from our partners who compensate us. This influences which products we write about and where and how the product appears on a page. However, this does not influence our evaluations. Our opinions are our own. Here is a list of our partners and here's how we make money.
Newegg is a tech-focused e-commerce marketplace that primarily caters to buyers seeking new, used or refurbished consumer electronics, computer parts, gaming and entertainment items. But users can also buy non-electronic goods on this e-retailer platform, too — think sports and fitness equipment, luggage and jewelry and office supplies.
While major brands like Dell, Lenovo, Dyson and Office Depot have seller stores on Newegg, this platform is equally accessible to small and independent businesses selling products in Newegg Marketplace-approved product categories. If you sell products within these categories, you might be curious about how to sell on Newegg.
1. Apply to be a Newegg seller
First, you'll apply to be a Newegg Seller by providing the platform with basic information about your business. Here's just some of the information you'll need to provide:
Whether you're currently selling on another marketplace.

What type of seller you are (manufacturer, distributor or retailer/reseller).

Which countries you want to sell into.

Your annual sales, number of employees, number of SKUs for sale and the percentage of inventory that's stocked in your warehouse.

Which membership plan you'd like to sign up for (more on that later).
You'll also have the option of telling Newegg more about your business in an open text field. (You'll need to fill out a separate application if you want to sell to China.)
Newegg will contact you if your business makes the cut for selling on Newegg Marketplace. Then you can move onto the next step: listing your items.
Newegg Marketplace membership plans
Newegg Marketplace offers its sellers the choice of three membership plans: Standard (free), Professional ($29.95 per month) and Enterprise ($99.95 per month).
Membership plans increase in available features and add-on services, as well as discounts with Shipped by Newegg and Newegg Shipping Label Service. Each membership also offers greater item listing capacities: you can list up to 5,000 items with the Standard plan, up to 25,000 with the Professional plan and an unlimited amount of listings with the Enterprise plan.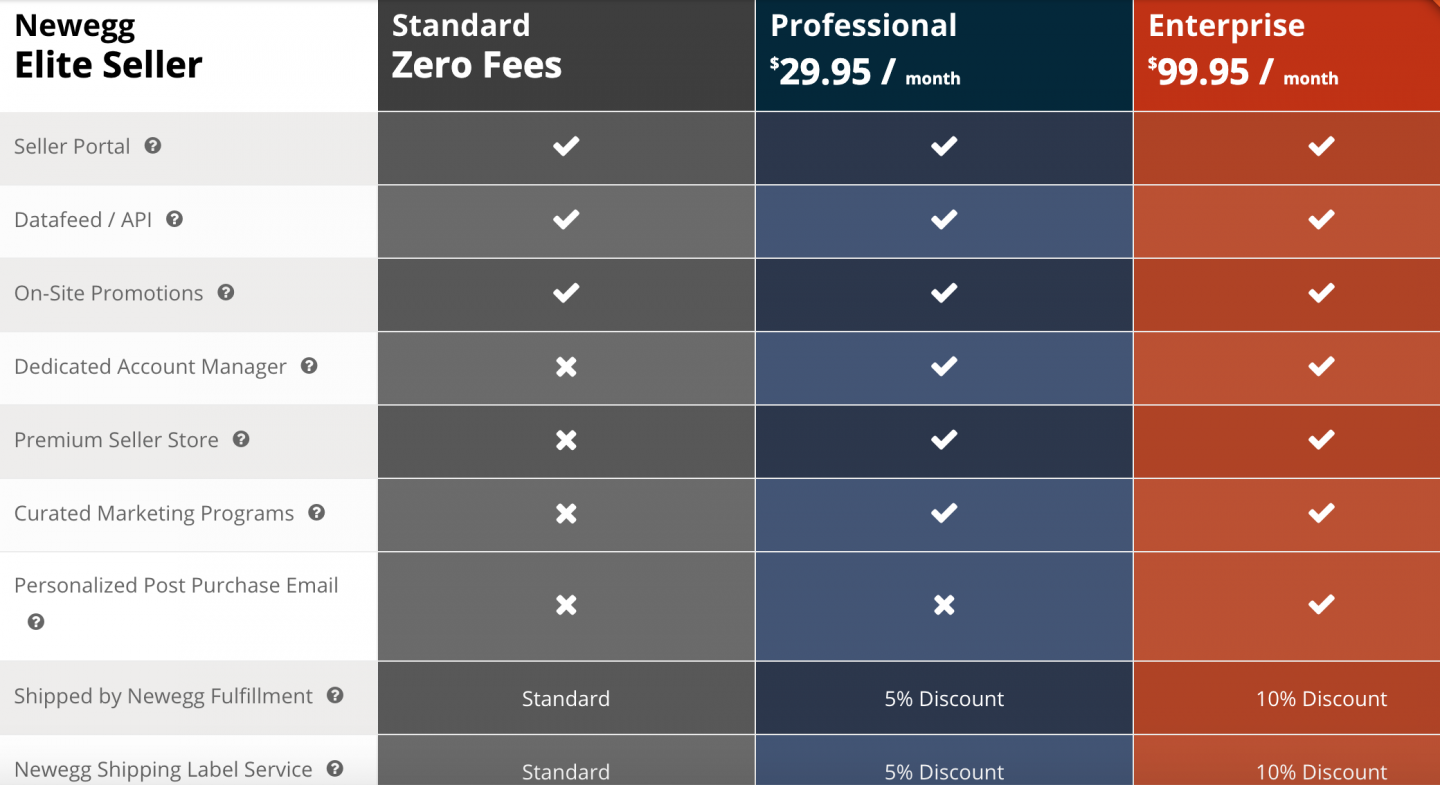 If you choose one of the paid plans, Newegg will charge the credit card on file for your account on the 21st of every month. But keep in mind that if you sign up for the Professional or Enterprise plan, then you're locked into your membership for at least six months. If after those six months you're not happy with your membership level, then you can choose to downgrade to the less expensive or free plan.
Once you're approved to become a Newegg Seller, you'll gain access to your Seller Portal, the hub from which you'll view and manage all aspects of your account, including your listings, orders, marketing, claims and performance reports.
But first, you'll need to list your items on your seller page. Here, you'll have the option of creating a new item listing, creating an item from an existing list or batch uploading items. The Seller Portal will guide you through this entire process.
Newegg offers its paying sellers marketing and merchandising programs to help draw traffic to your Newegg store. A few of Newegg's promotional tools include:
Feature your products on Newegg's Eggxtra Hot Deals, Specialty Store or Category Store categories.

List your products on Newegg's affiliate sites, like Ebates and Slickdeals.

Have Newegg promote your products across its social media channels.

Snag a banner ad or product placement in Newegg's monthly email blasts.

Conduct targeted post-purchase email campaigns.
However, keep in mind that these curated marketing tools are only available for sellers holding a paid membership plan (that's either the Professional or Enterprise plan).
You've made your first sale on Newegg Marketplace — congratulations! Now you need to get your products to your customers on time and fuss-free, which is just what Shipped by Newegg is for.
Shipped by Newegg is the platform's shipping and fulfillment service, wherein you'll ship your inventory to one of Newegg's warehouses, and it will handle the rest of the packing and shipping process.
Once you've set up your Seller Portal, you can indicate the items you'd like Shipped by Newegg to handle, then create inventory/replenishment shipments for those items.

Follow the instructions to send your inventory to a designated Newegg warehouse.

Newegg will notify you when it has received your inventory.

When a customer orders your inventory, Shipped by Newegg will pick, pack and ship their item to the customer's address.
Shipped by Newegg is perhaps one of the most compelling reasons to sell on Newegg. For starters, you can use this service both for items that customers order on Newegg as well as inventory you sell through other sales channels. And in addition to saving you the time and potential logistical nightmares you'd sink into handling your own shipping, using Shipped by Newegg can be a boon for your sales, since it can help garner traffic.
For instance, all items listed on your store that are shipped through Newegg's fulfillment service will feature an SBN logo, so customers know they'll receive their items through a trusted service (which really means on time and in good condition, as SBN ships over 99% of its orders within 24 hours). Plus, SBN items also receive automatic "Featured" status on Newegg Marketplace. And by using SBN, your customers can opt for faster shipping.
With all that said, you will have to pay a few fees if you enroll in Shipped by Newegg. Note that the first three fees vary depending on whether your item is standard size or oversized. Those fees also increase if you're using Shipped by Newegg for multi-channel selling.
Order Handling (per order).

Pick and Pack (per unit).

Weight Handling (based on outbound shipping rates).

Special Handling (only for oversized TV screens).

Monthly Inventory Storage (per cubic foot per month).

Inventory Return (per standard size or oversized unit).

Disposal/Will Call (per standard size or oversized unit).
There are a lot of fees to keep track of here, but you can use Newegg's Cost Calculation tool to view and compare exactly how much it would cost you to fulfill your orders yourself; to use an industry fulfillment service; or to use Shipped by Newegg. That way, you can better understand what you'd need to pay (and how much you might save) to use this service.
Of course, the last step in any sales process is getting paid for your sold items. Every Wednesday, Newegg pays its sellers via ACH direct deposit (or via Payoneer, World First or PingPong for global sellers) into the seller's specific bank account on net 15 payment terms. You'll be able to track your settlements in your Seller Portal, but you'll also receive an email containing payment details every time Newegg pays you.
But don't be surprised when your product's full sales price doesn't land in your bank account come payday: As is the case with any e-commerce marketplace, you'll need to give up a portion of your sales as a cost of doing business with the platform. Newegg's commission rates vary depending on product category, and they range from 8% to 14%. (By the way, you can also consult this list to find out which product categories are approved for selling on Newegg Marketplace.)
By becoming a Newegg seller, you'll have immediate access to the platform's 32 million+ registered users — that's a massive amount of potential customers based around the globe, most of whom are looking for products exactly like yours (and here, they know where to find you). And if you have a standalone e-commerce store, you can leverage Newegg's built-in audience to drive traffic back to your dedicated site.
Newegg offers a couple of services that make marketing and logistic processes easier for its sellers. Most notably, those programs include SBN and Newegg Shipping Label Service, along with its various marketing tools that help sellers boost their products' visibility to encourage more sales.
As you gain experience and traction selling on Newegg Marketplace, you might eventually qualify for Newegg Premier Seller Program. This special membership program gives qualified sellers access to Newegg's highest-tier customers, plus buyer incentives like extra-fast shipping, to encourage even greater sales.
Commission fees are standard for any e-commerce marketplace you may sell on; but Newegg's, in particular, can add up quickly. Also, if you choose a paid membership plan, you're on the hook for at least six months' worth of monthly payments until you have the option of downgrading.
Limited features with the free plan
Newegg does offer specialized selling programs, as well as discounts for its SBN service — but on the downside, you'll need to hold a paid membership plan to access these features. So if you don't want to pay for a membership, you'll only be able to access a limited number of those add-on operational services.
A version of this article was first published on Fundera, a subsidiary of NerdWallet.