Sellfy Review 2022: Features, Pricing, User Reviews
In this Sellfy review, learn about the features, pricing and user reviews of this platform for digital products.
Many or all of the products featured here are from our partners who compensate us. This may influence which products we write about and where and how the product appears on a page. However, this does not influence our evaluations. Our opinions are our own. Here is a list of our partners and here's how we make money.
Sellfy is an e-commerce platform designed specifically for selling digital products, such as music, illustrations, photos, books or videos in digital files. It's best for digital product businesses that want a comprehensive online store solution that is quick and easy to create and manage. However, businesses that consider using Sellfy also have to be willing to invest dedicated monthly funds for the subscription fee as well as the associated credit card processing — meaning this may not be the most cost-effective option for business owners just starting out.
On the other hand, if you want a wider variety of features, payment options and tools to add on as your business grows, you might want to look into more expansive e-commerce solutions. Read on for a full Sellfy review, along with some alternative options.
Sellfy is a cloud-based e-commerce platform developed specifically for businesses and professionals that create and sell digital goods — including everything from ebooks to music to illustrations. Using Sellfy, you can set up a personalized storefront, house and display your products and give customers the opportunity to shop, buy and download. With Sellfy, you can "build your store in under five minutes," allowing you to start your e-commerce business quickly.
If you already have a website or simply want to sell through social media, Sellfy gives you the option to embed products and buy buttons on your business website, as well as on Facebook and YouTube. As an all-in-one e-commerce solution, Sellfy also allows you to integrate your payment processing, utilize its built-in marketing tools and analytics and connect with over 750 third-party apps using Zapier. Sellfy offers a free 14-day trial of its service, no credit card required.
As part of its e-commerce solution, Sellfy includes:
Using Sellfy, you can set up your online store and fully personalize it for your business. Sellfy allows you to add your logo, change the colors and navigation and edit your store layout and information. Sellfy provides you with full shopping cart functionality so customers can purchase multiple items at once. You also have the ability to set your language or let customers see a translated version of your store based on their location.
Using Sellfy, you can host your store directly through its platform, as well as add your own custom domain if you choose. Additionally, you can use Sellfy as an embed to your current business website and customers can purchase your products from there. All of Sellfy's store offerings are also optimized for mobile — allowing for a user-friendly checkout experience on both desktop and mobile devices.
Sellfy allows you to host all of your digital products and does not limit the number of products you can upload to your store. There is no overall storage limit to your Sellfy store; however, Sellfy recommends that individual files be less than 5GB in size. You can offer both standard products as well as subscription services in any type of static file format. Customers have the ability to download instantly after making their purchase.
To organize your store, you can create your own product categories, sorting by any characteristic you choose. You can include a product title, description and image. You have the ability to offer different pricing options for all of your products, including "pay what you want." With this feature, you can let customers choose the price they feel is appropriate for the product, or you can set a minimum price, essentially making it "pay this price or more." You can also offer set prices per product as well as free products.
Although Sellfy allows you to sell a wide variety of digital content, it does not give you the ability to sell physical products, private label rights content, copyrighted material (that you don't have rights to distribute) or third-party accounts.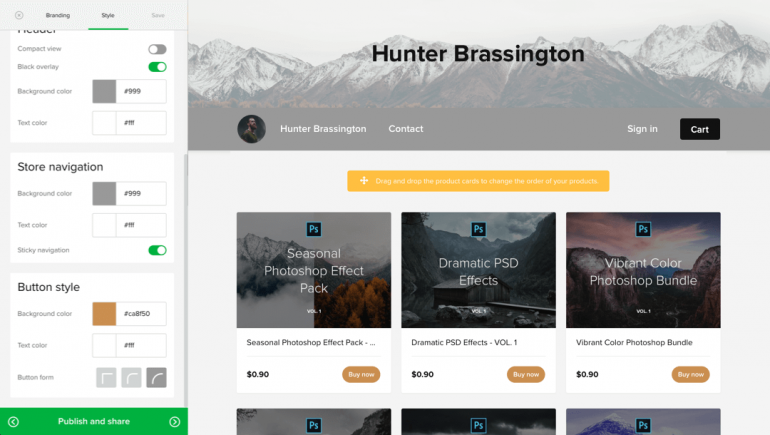 Sellfy allows you to accept payments online directly through your store. You can choose from the two payment processing options that Sellfy offers: PayPal or Stripe. With either of these processors, you'll receive payments instantly, and your customer data is secured (as well as PCI-compliant). In addition to payment security, Sellfy provides anti-fraud measures to protect your products including PDF stamping, unique download links and limited download attempts.
In addition to giving you the capability to set up your store through its platform, Sellfy offers several different embed options so you can increase your visibility and promote your business. With Sellfy you can utilize a business website you already have — you can add "buy now" buttons to your site, embed your whole Sellfy store or embed certain products you have on Sellfy on your website. Sellfy allows you to connect with your Facebook page so you can embed your store there as well. You also can use Sellfy on cards and end screens within YouTube videos.
Marketing and analytics tools
The Sellfy platform includes built-in marketing and analytics tools. You can send email product updates and collect newsletter subscribers directly through Sellfy. You can also offer discount codes and product upsells, as well as create and track Facebook and Twitter ads for your store. With the Sellfy analytics dashboard, you can track your best-performing products, generated revenue, traffic channels, top locations and overall store performance.
To expand your functionality and help automate your e-commerce store, Sellfy offers a handful of integration options. You can set up Google Analytics and webhooks, as well as integrate directly with Patreon and Facebook live chat. Sellfy allows you to connect to Zapier, which gives you the ability to integrate with over 750 different third-party apps, including tools like Mailchimp, Trello, Salesforce and more.
Sellfy has a "Sell Downloads app" specific to the website building platform Wix. If you've created a website using Wix, you can add the Sellfy app and sell your digital products this way. This app, however, is a separate service from the typical Sellfy e-commerce offerings. To use the Sell Downloads app on Wix, you can use the 14-day free trial then upgrade to premium at $9.99 per month.
Sellfy has three plan options: Starter, Business and Premium. The pricing for Sellfy depends on which of the three plans you choose.
The Starter plan costs $29 per month or $19 per month if you opt for an annual subscription. The Business plan, on the other hand, costs $59 per month or $39 per month for the annual plan. Finally, the Premium plan costs either $129 per month or $89 per month for the annual option.
With the Starter plan, you can sell up to $10,000 per year, add unlimited products, customize your store, use discount codes and add a custom domain. The Business plan allows you to sell up to $50,000 per year and also offers 10,000 email credits and product upselling, on top of everything included in the Starter plan. In addition to the features of the Business plan, the Premium plan gives you the ability to sell up to $200,000 per year, includes 50,000 email credits and offers priority support and free site migration from another platform.
If you exceed the sales limit for your plan, you will be expected to upgrade to the next subscription level. If you do not upgrade your account after Sellfy has notified you that you've reached your limit, you may be charged a 2% overage fee on the amount of revenue that exceeds the limit.
Although not directly part of Sellfy's cost, it's important to remember that you'll also have to pay the payment processing fees from whichever gateway you choose to work with. Generally, for Stripe or PayPal, you'll be paying 2.9% plus 30 cents per transaction. These fees can vary depending on the transaction location. Sellfy does not charge an additional transaction fee for payment processing on any of its three plans.
Sellfy offers a 14-day free trial for all of its plans, but you cannot actually process sales with the free trial. You can only do this once you've purchased a subscription plan.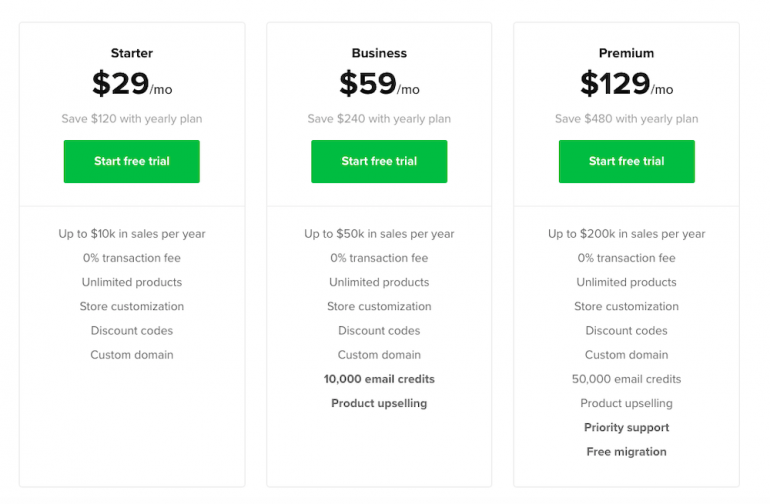 If you're looking to start a digital goods business, there are certainly benefits to choosing Sellfy as your e-commerce platform.
There's a reason Sellfy uses the tagline, "Build your store in under five minutes." One of the biggest benefits of Sellfy is ease of use — appealing directly to customers who want to spend their time developing their products and not necessarily creating and maintaining their store. Using the Sellfy platform is simple and fast, allowing you to set up your store, customize and add your products and start selling quickly.
Sellfy makes maintaining your store easy as well, automating payments and product downloads — meaning you don't have to spend a lot of time managing the store after you've set it up. Furthermore, Sellfy is a relatively comprehensive platform, giving you all the essential tools you need to run an efficient e-commerce business.
Although you can't use Sellfy if your business is based on physical products, Sellfy is designed specifically for these digital-based businesses, providing features like PDF stamping, pay what you want pricing, unique download links and limited download attempts. Additionally, Sellfy has no restrictions for storage or amount of products, which is particularly useful if you're selling illustrations, photos or videos.
On the whole, Sellfy reviews on the internet are very positive. Most users mention how easy and fast it is to create a store using Sellfy, even in comparison to popular tools like WooCommerce. Many users also write that Sellfy is well-organized, straightforward and has an intuitive interface. Additionally, Sellfy reviews frequently talk about how the platform automates the sales process — once you set everything up.
Although there are advantages to Sellfy, there are also drawbacks of this platform.
When it comes to extended features, Sellfy is lacking. For example, Sellfy seems to only have one storefront template, so other than changing the logo and colors, there aren't any real ways to differentiate your store design. Additionally, although Sellfy offers three different plans, there are only a few features that actually distinguish these options from one another.
In comparison, many other e-commerce platforms provide additional business tools and capabilities, especially as their plan levels increase in price. Sellfy falls short in terms of its payment gateway options as well. Some platforms have a payment gateway built-in or at least a wider variety of processors to choose from, but with Sellfy you can only use Stripe or PayPal.
For the functionality that Sellfy offers, its pricing appears to be high. Although $29 monthly for the Starter plan might not seem like much, the overall cost can easily grow when you add in the Stripe or PayPal fees. Additionally, the price jump between the Starter, Business and Premium plans is steep, considering that other than the yearly sales threshold, there are very few differences between the three. When you compare Sellfy's pricing to other e-commerce platforms on the market, there are solutions available with comparable capabilities at a cheaper cost.
As with any tool for your business, you'll want to explore all of your options before choosing an e-commerce platform.
Selz is an e-commerce platform that provides solutions for businesses that sell physical or digital products. Selz allows you to create an online store (as well as a blog) by choosing one of its themes and customizing it with its drag and drop builder. Like Sellfy, Selz gives you the ability to add your custom domain name, embed buttons, products or a whole store on your business website, as well as integrate your store with Facebook.
In addition to Selz's physical product capabilities (like inventory management and shipping services), it also offers "Digital ninja" features, which include the ability to sell all kinds of digital products, unlimited hosting and bandwidth, automated product updates and license key product protection.
Whereas Sellfy only gives you the ability to integrate your store with Stripe or PayPal, Selz has full payment processing capabilities, using its own gateway to accept payments from all major credit cards, as well as PayPal. Furthermore, Selz offers four different plans, ranging in monthly fees from $0 to $35. With the top-level Selz plan, Pro, you receive a wider variety of features — plus, it's less expensive than either the Business or Premium Sellfy plans.
No matter what kind of e-commerce business you're looking to start, it's hard to go wrong selling on Shopify. Shopify is one of the most popular e-commerce platforms and is well-known for its usability and range of features. Shopify, like Sellfy, allows you to quickly and easily create your online store and customize it to your business. Using Shopify, you also have access to expanded sales channels like Instagram, Facebook, Amazon and eBay.
Shopify has options for business owners who sell physical products and digital goods. For digital products, Shopify gives you the option to manually or automatically fill orders, limit the number of downloads, resend or cancel download links and edit pre-created email templates to send to customers.
On the whole, Shopify offers four different plans with monthly fees ranging from $5 to $299. Shopify can serve as your payment processor, charging the same credit card processing fees as Selz (2.9% plus 30 cents) when you subscribe to the Basic Shopify Plan ($29 per month) — and these processing fees decrease with the higher-level plans. Shopify does not charge an additional transaction fee unless you use a third-party payment provider.
A version of this article was first published on Fundera, a subsidiary of NerdWallet.