Weebly vs. WordPress: The Ultimate Guide for Small Business
Dive into the details of Weebly vs. WordPress to see what each platform has to offer for specific needs and users.
Many or all of the products featured here are from our partners who compensate us. This influences which products we write about and where and how the product appears on a page. However, this does not influence our evaluations. Our opinions are our own. Here is a list of our partners and here's how we make money.
This article is out-of-date.

In 2018, Square acquired Weebly. Now, its main online store builder is Square Online, which features both Weebly functionality and integration with Square point-of-sale systems. For more information about Square Online and other options, see NerdWallet's list of the

best online store builders.
Weebly and WordPress are both top-rated e-commerce platforms. They differ greatly, however, in terms of ease-of-use, flexibility and cost. Your best choice really depends on whether you're looking to build your website quickly and easily, or if only a powerhouse, no-holds-barred website will do. This comprehensive guide compares Weebly and WordPress in detail, to help you decide which might be right for your small business.
Here's a quick rundown of what each platform has to offer for specific needs and users, plus some notable drawbacks.
Weebly wins for ease-of-use
WordPress wins for versatility
In the quick comparison of Weebly vs. WordPress above, Weebly is the clear winner for ease-of-use and seamless integration with Square. WordPress takes top billing for overall versatility and expandability. However, that's just the part of the story. These key considerations will help you decide the victor for your unique needs.
Both Weebly and WordPress offer free sales-enabled starter plans — something few website platforms provide anymore. This is a great perk for personal blogs or startup e-commerce websites looking to launch with no upfront costs. However, most businesses and serious bloggers need the features and professional branded image that the paid Weebly and WordPress hosting plans support.
You have to subscribe to Weebly to access its system. Once you've set up your Weebly account, you can choose from four plans, ranging from its free starter website to the $26-per-month e-commerce plan, detailed below.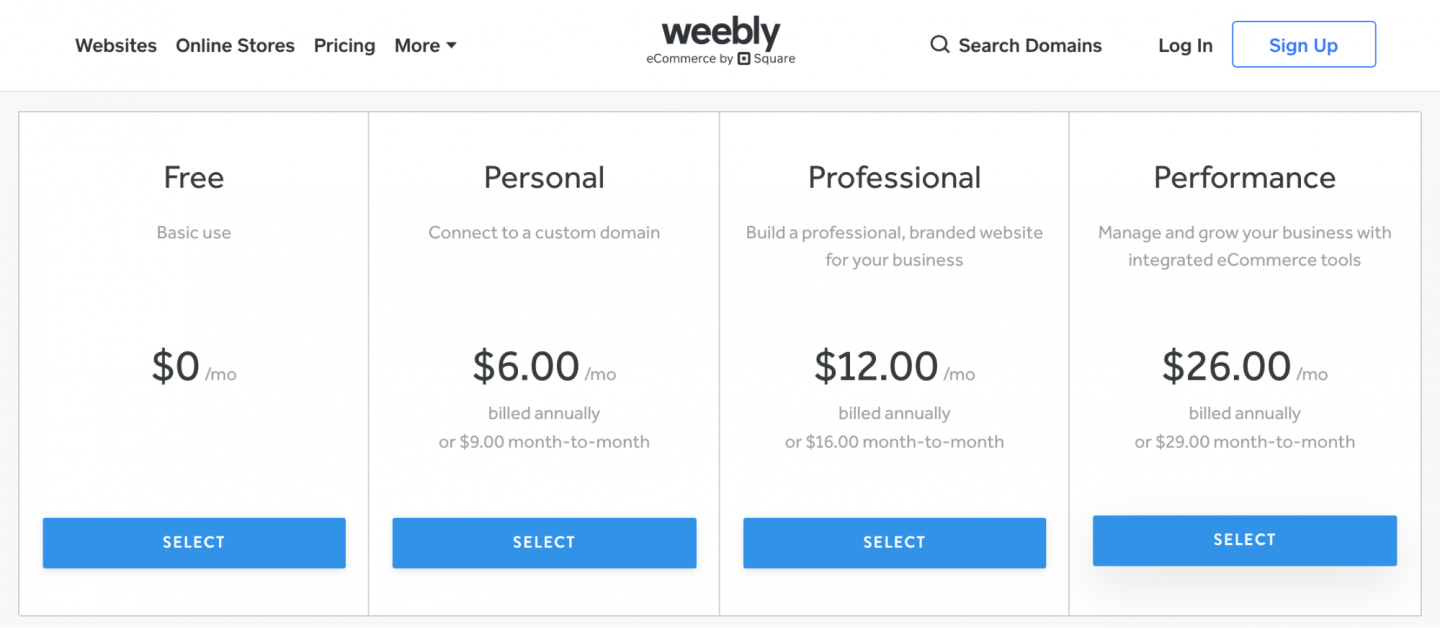 WordPress is a free platform, but you have to host it somewhere. Unlike Weebly's all-in-one website service, you have many WordPress hosting options, including services like BlueHost, WPEngine and GoDaddy. WordPress.com is another top-rated hosting provider and it offers something most others don't — a free WordPress hosting plan.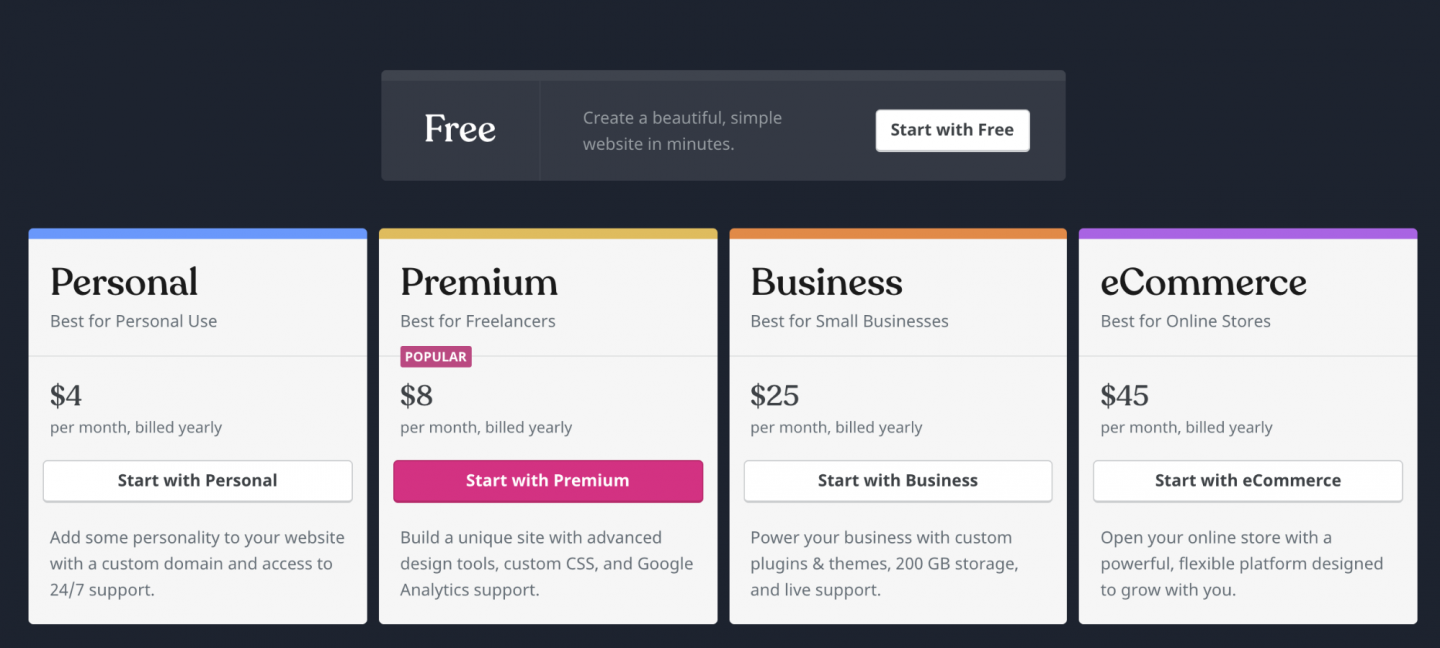 You'll find that the free and lower-tier plans offered on Weebly and various WordPress hosting services are limited. You have minimal storage space and access to very few sales, design and marketing tools. Free plans only support subdomain URLs, too, so you can't connect your own domain name. Plus, they run ads on your website, which tends to look unprofessional. Naturally, higher-level Weebly plans and WordPress hosting packages offer more features, such as your own domain name, more storage capacity and added marketing perks.
However, free plans aren't a bad place to start and are very handy for test-driving both platforms to see which you prefer. When you're ready to tap the tools needed to expand, you can always upgrade your plan without disrupting what you've already built.
If you're planning to build and manage your own website, ease-of-use matters — especially if technology isn't your strong suit. Here, Weebly knocks WordPress out of the ring. Weebly's all-in-one website builder packs website hosting, design tools and business management features into one convenient, nearly foolproof system.
When you sign up for a Weebly account, it walks you through a quick-start setup based on your specific needs.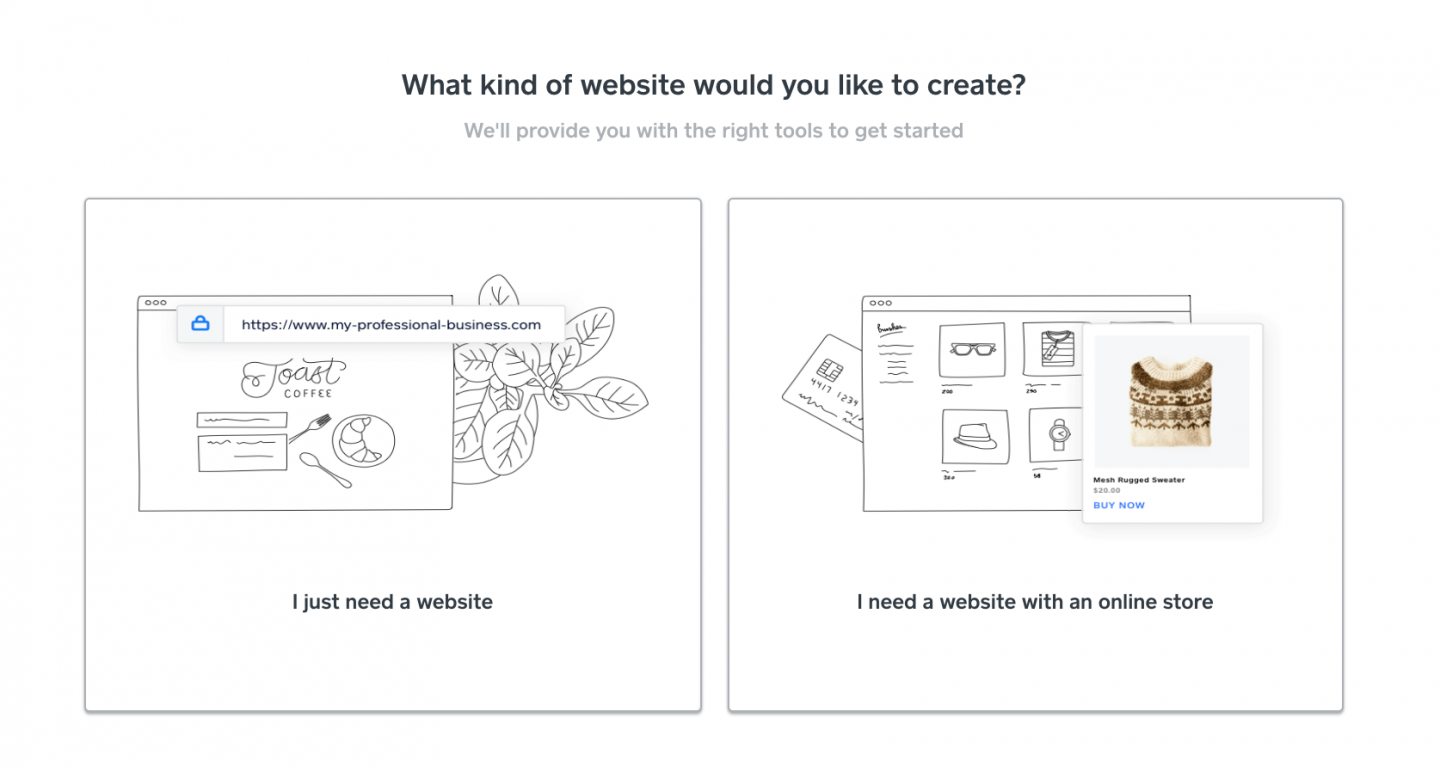 In just a few clicks, you'll have a foundation website that you can make your own using Weebly's simple drag-and-drop website design tools. From account sign-up to pressing "publish," launching a basic website on Weebly takes just a few minutes. If you need a website up and running fast, Weebly lets you get it done in no time.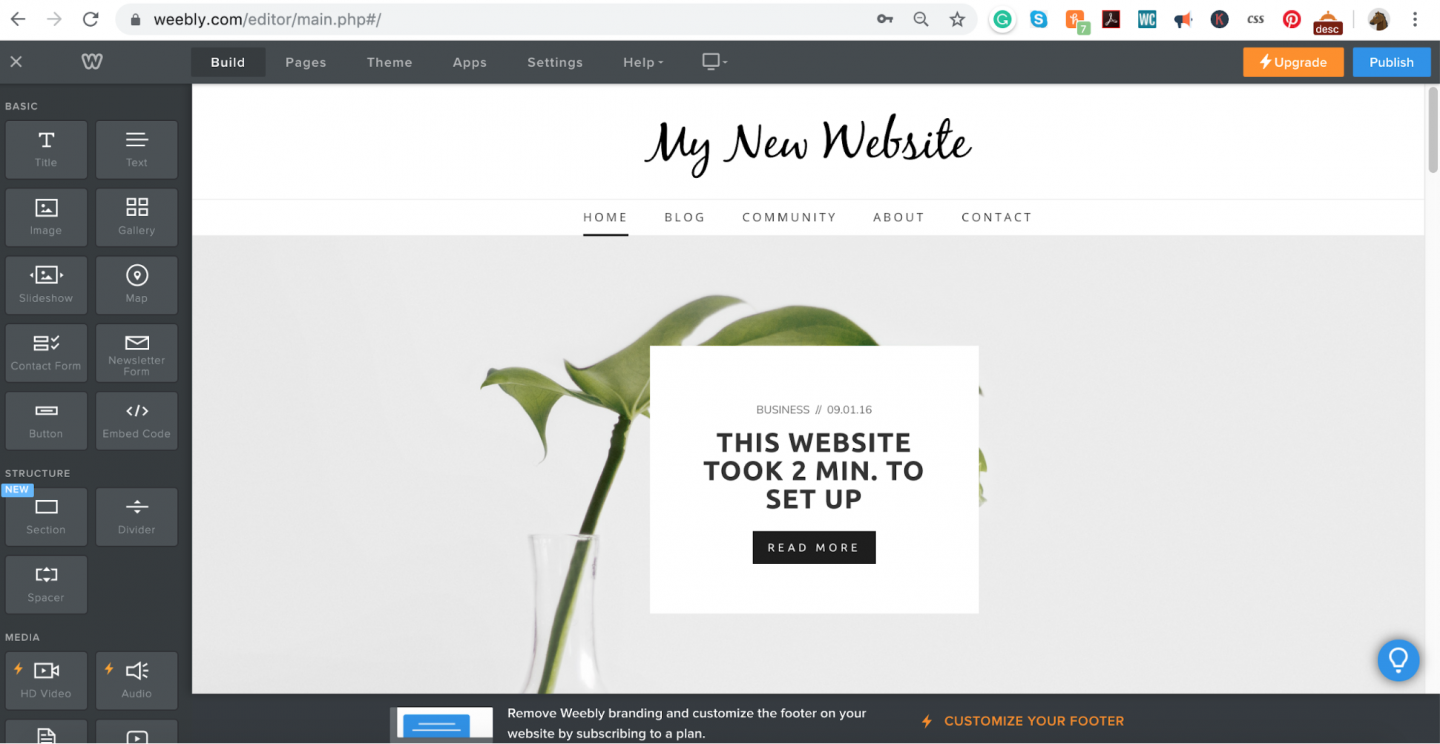 In contrast, WordPress has a distinct learning curve. After setting up an account with your WordPress hosting service, you must:
Install and set up a website theme to drive the overall look and functionality.

Set up headers, footers, pages and categories.

Create your navigation menus for your website.

Add various plugins to support features like search engine optimization (SEO), performance and analytics, e-commerce functionality and more.
Here's what you see when you set up your WordPress hosting account. Clearly, there's a little more work to be done before you're ready to go live.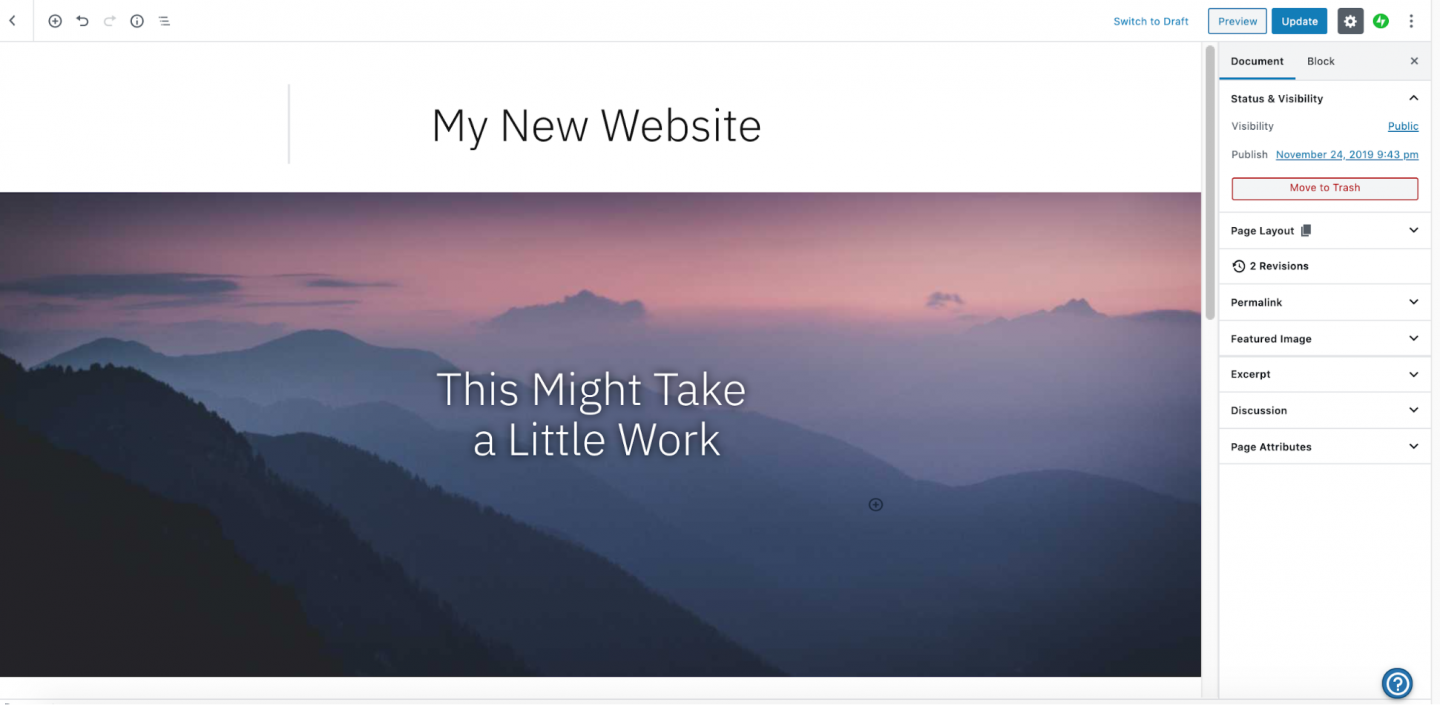 Hosting services like WordPress.com provide a few basic starter theme choices. However, professional websites like online stores or news outlets generally need WordPress themes that provide added display features and several plugins for overall functionality.
WordPress takes the win on website design options because, truly, the sky's the limit. You can explore the universe of WordPress themes — there are thousands to choose from — to get an idea of what's possible. Once you understand how all the parts come together in WordPress, you can create stunning websites that do anything. Again, it just takes time and experimentation to get it all right.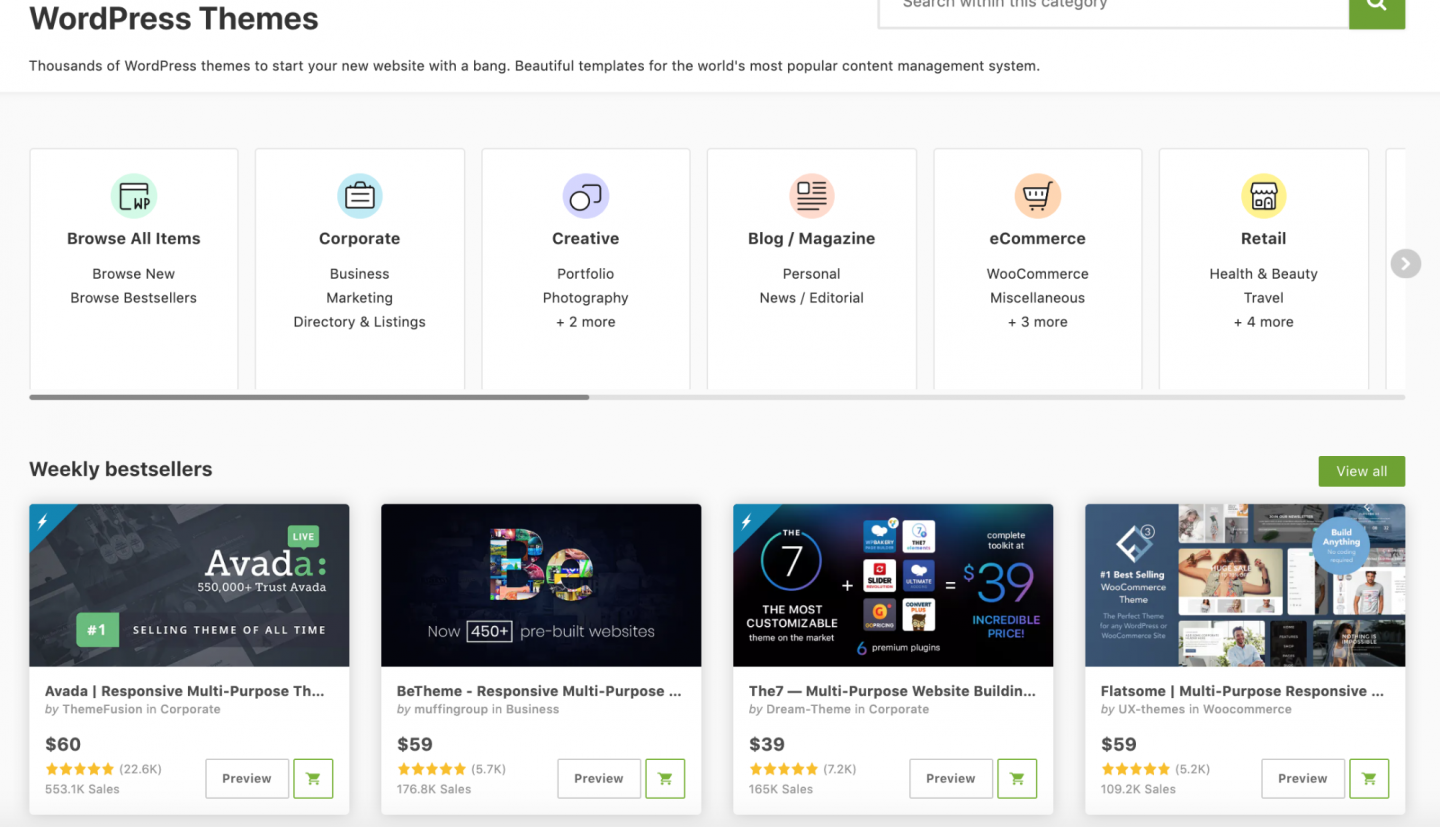 To simplify WordPress customization, you can pair most WordPress themes with page builder plugins like Divi, Beaver Builder or Elementor. These offer drag-and-drop design control similar to what you get with Weebly. However, these premium plugins also add costs and are another element in your learning curve.
Though WordPress is tops for unlimited potential, Weebly is no slouch when it comes to design options and freedom. Like WordPress, Weebly themes let you apply an overall design to your website, then customize it as needed. You can choose from over 60 beautiful, modern and mobile-friendly themes, and all are conveniently pre-loaded in your Weebly dashboard.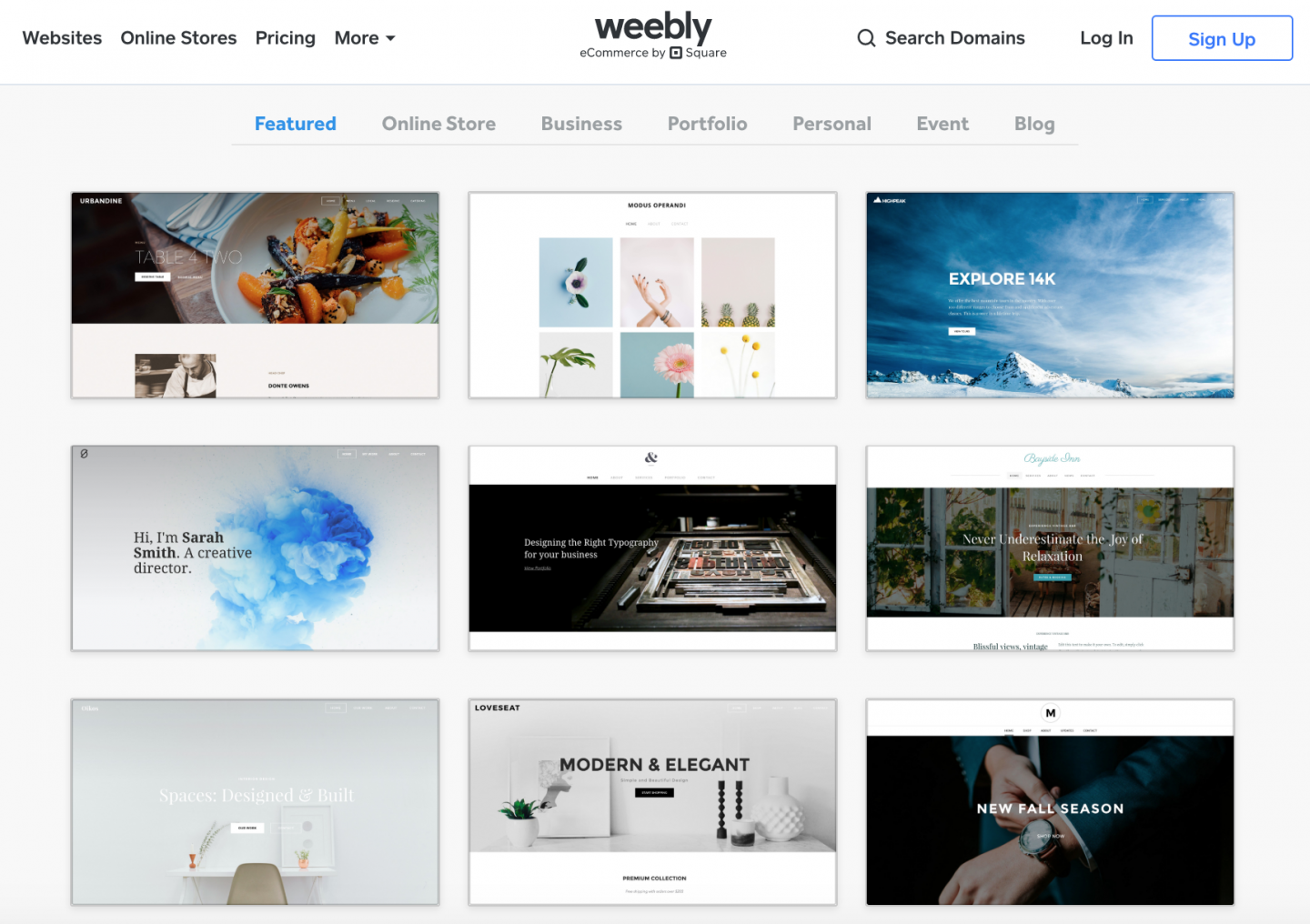 Once you've selected your Weebly website theme, you can customize every aspect using Weebly's simple drag-and-drop tools. You can easily change fonts and colors; replace demo images; add new elements like images, text blocks and shop sections and even add new pages and links to your navigation menus in just a few clicks.
WordPress is the most popular blogging system in the world. Millions of blog-based websites, from mega-brands to personal micro-blogs rely on WordPress. This makes sense when you consider that, at its heart, WordPress is a blogging platform that's highly customizable via feature plugins and use-specific themes.
You can create multiple sections, various types of posts and pages and insert all types of engaging content wherever you wish. From text and images to videos, forms, members-only content, affiliate links and products, no content is off-limits on WordPress. You can also have unlimited contributors to your website and categorize and display blog posts, pages, feeds and other content any way you wish.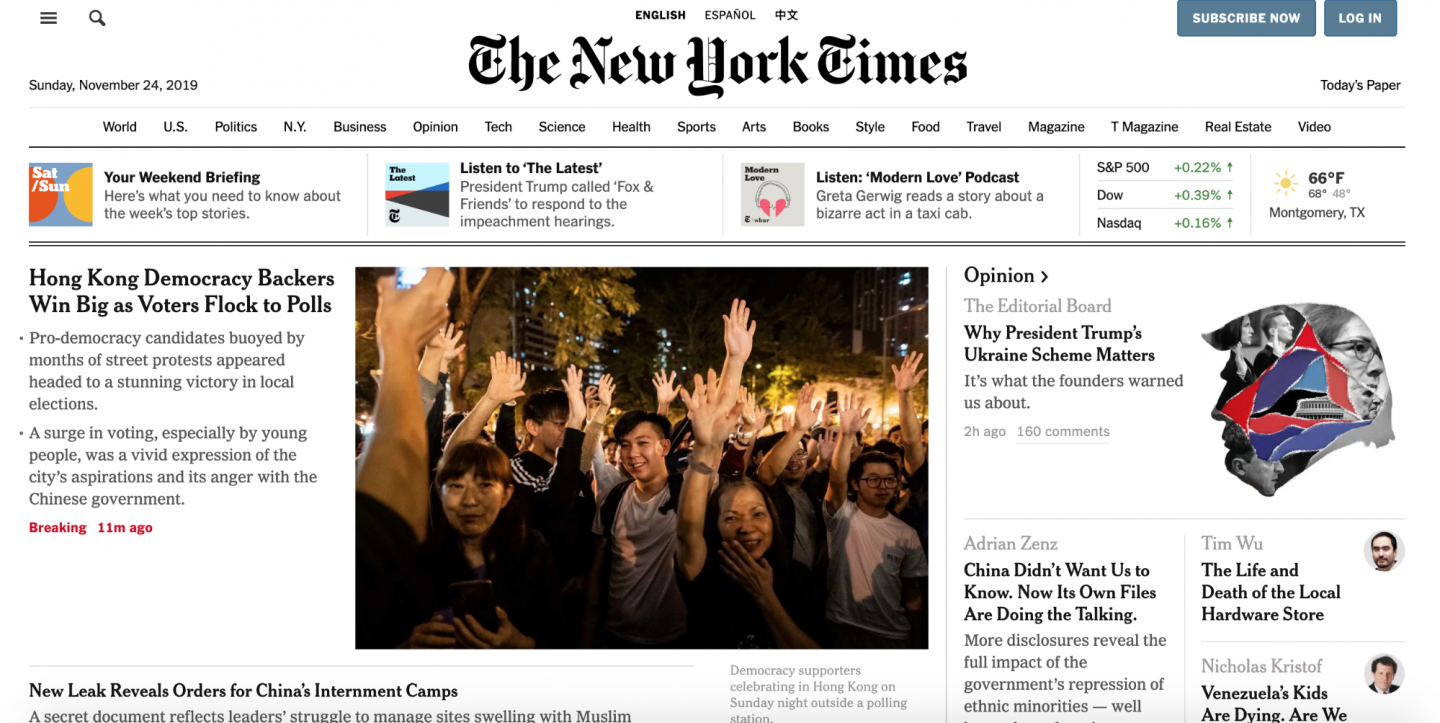 In contrast, Weebly's blogging features are quite basic. You can easily add blog posts with text, videos and imagery to your website, sort them by category and display them in sidebars and page sections. However, it doesn't begin to match the blogging and content management power of WordPress.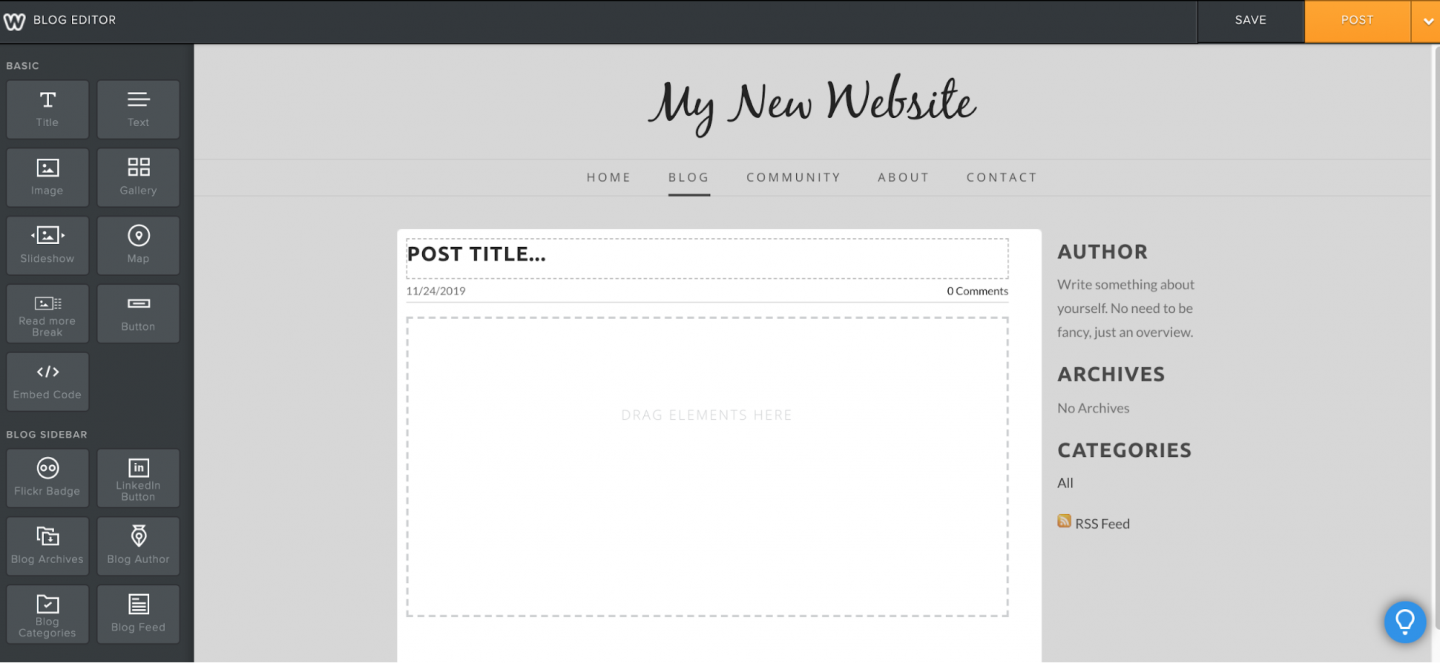 Both Weebly and WordPress offer a fantastic perk for side-gig sellers and shoestring startups — you can sell products on free starter websites. Most e-commerce website builders including Shopify, Squarespace, Wix and other top online store builders require paid plans to sell anything online.
Of course, to tap advanced sales and marketing features, you need Weebly's paid plan. Likewise, supporting a professional-grade store on WordPress generally requires a paid hosting plan. That said, it's nice to know you can hit the ground selling without spending a dime upfront on either platform.
However, the two platforms handle e-commerce very differently. Product and service sales features are built into Weebly, but you're limited to the types of sales the platform supports. In contrast, WordPress uses plugins to add all types of online sales functionality, including products, services, memberships, subscriptions and more. For many, this is the deciding factor in the Weebly vs. WordPress matchup.
You can build an online store section directly on any Weebly website by adding products to Weebly and inserting them into a shop section. You can also insert them anywhere in pages and blog posts using Weebly's simple drag-and-drop tools.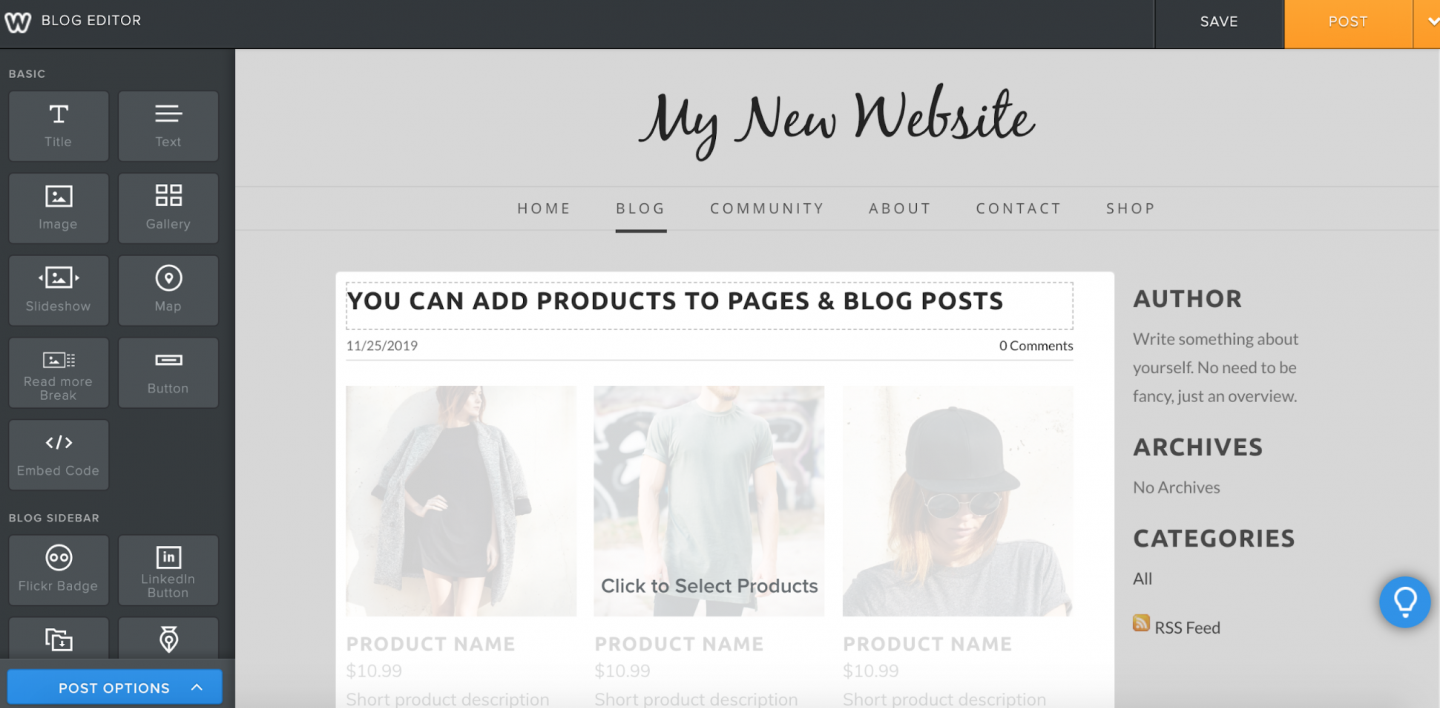 You can accept online payments on Weebly by enabling Stripe, Square and/or PayPal. Online payments can be accepted in any plan, including a free Weebly website, using Stripe or Square. However, PayPal can only be connected if you upgrade to a paid Weebly plan.
Square owns Weebly, so if you use Square to process payments or already run your business with Square, you have three e-commerce options with Weebly:
Add products to a free Weebly website: You can add products to Weebly and insert them anywhere on a free website and process payments via Square.

Use the free Square Online Store, powered by Weebly: If you want to combine online and Square POS sales, you can build the Weebly-powered Free Square Online Store within your Square POS dashboard, then sync products, customers and sales in one place.

Build a full-featured online store using Weebly's e-commerce plan: Weebly's highest-tier plan costs $26 per month and adds key e-commerce sales features like shipping label printing, e-commerce analytics, abandoned cart recovery and item reviews. You can also integrate this plan with your Square POS.
Of course, Stripe and PayPal also work with the paid Weebly plans, but you only get the Square POS integration if you use Square to handle your payments. All three options charge the same amount: 2.9% plus 30 cents per online sale.
Like all things Weebly, its e-commerce sales features are amazingly simple to learn and use. You can sell products that ship or allow pick-up or delivery options. It's easy to manage customers, orders and marketing within your Weebly (or Square POS) dashboard. You can even integrate Instagram into any plan. Checkout is secure and mobile-friendly, too.
However, Weebly isn't considered an e-commerce powerhouse. If you plan to ship more than 30 orders per day or if you want to expand into multichannel sales on Amazon and Facebook Shops, you're better off on a dedicated platform.
Shopify and BigCommerce are top platforms to consider, but you can also add powerful plugins to WordPress to create all types of online stores.
WordPress doesn't come with built-in e-commerce features. You add online sales features via e-commerce plugins. How you sell online using WordPress and how you set up your online store all depend on the e-commerce plugin you choose.
Some plugins support just certain types of sales, like online courses or digital products. Others, like WooCommerce and WP EasyCart, support all types of online sales, including physical products that ship, digital downloads and even subscriptions and membership websites.
Some WordPress e-commerce plugins are free, including the most popular store plugin, WooCommerce, which supports everything from single-product sellers to high-volume websites. You can pair WooCommerce and other free e-commerce plugins with free WordPress hosting for a no-cost startup.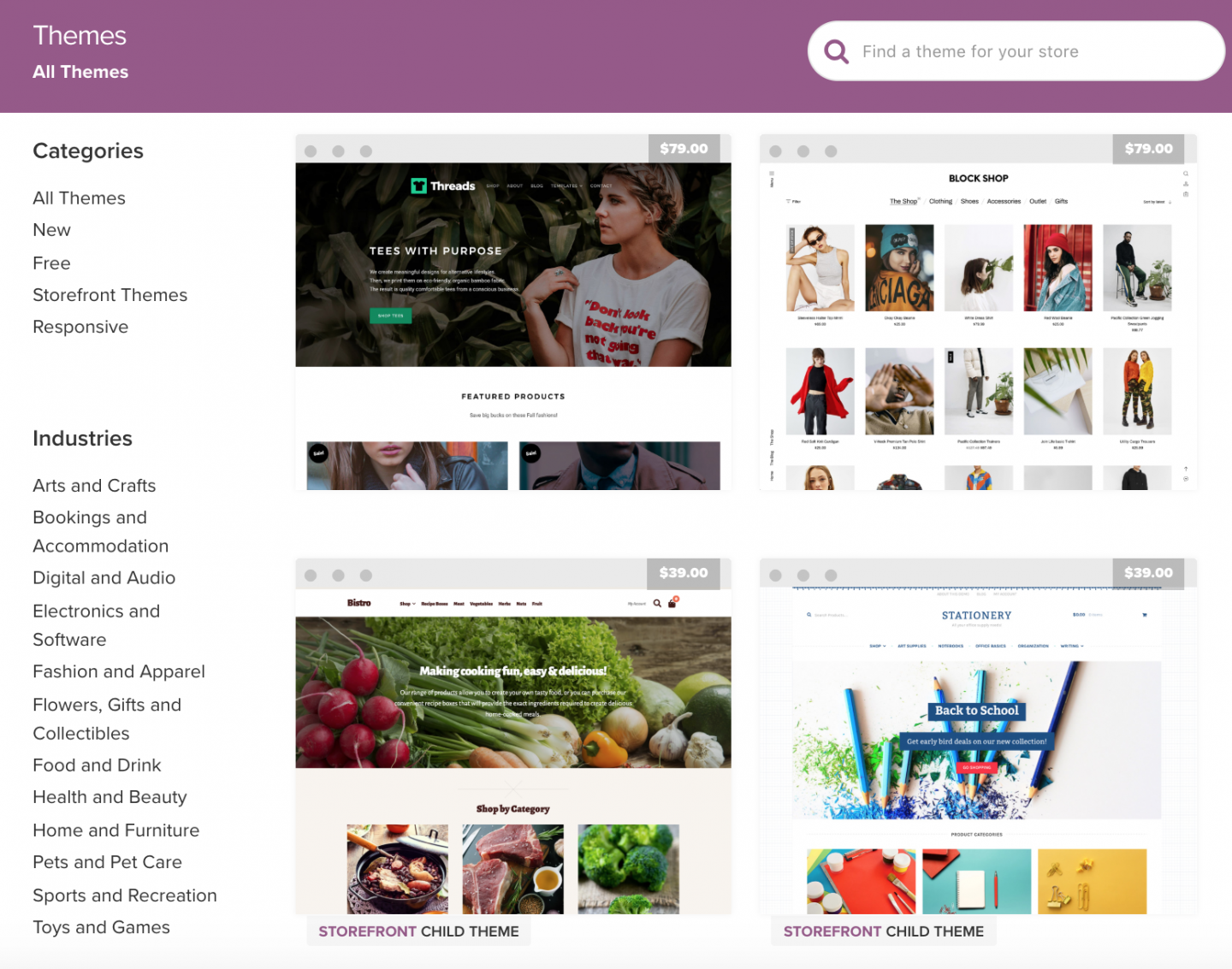 WooCommerce also integrates with Square POS if you want to go that route for payment processing. Or, you can connect Stripe, PayPal or your own merchant account — something you can't do on Weebly.
The main takeaway is that Weebly gives you a sound set of tools for marketing and selling products and services online, but WordPress does it all. Various e-commerce plugins let you build and run all types of online businesses. You can sell products and services, offer subscriptions and memberships, manage online courses and much more. WordPress e-commerce plugins also support more payment services than Weebly.
Integrations and expandability
In the Weebly vs. WordPress matchup, WordPress is the winner by a knockout when it comes to integrations and expandability. Tens of thousands of plugins, extensions and themes make it possible to turn a WordPress website into anything imaginable.
WordPress's main drawback is that you need to shop around to find the best plugins, themes and extensions to fit your specific needs. Then, you need to install and test them to ensure they don't conflict with others that you use. Lastly, you need to keep them updated to work correctly. This can be a challenge since themes and plugins are made by third-party developers who occasionally go out of business or simply quit supporting their products.
In contrast, Weebly offers some limited expandability through services listed in its Apps tab, like the e-commerce apps shown below.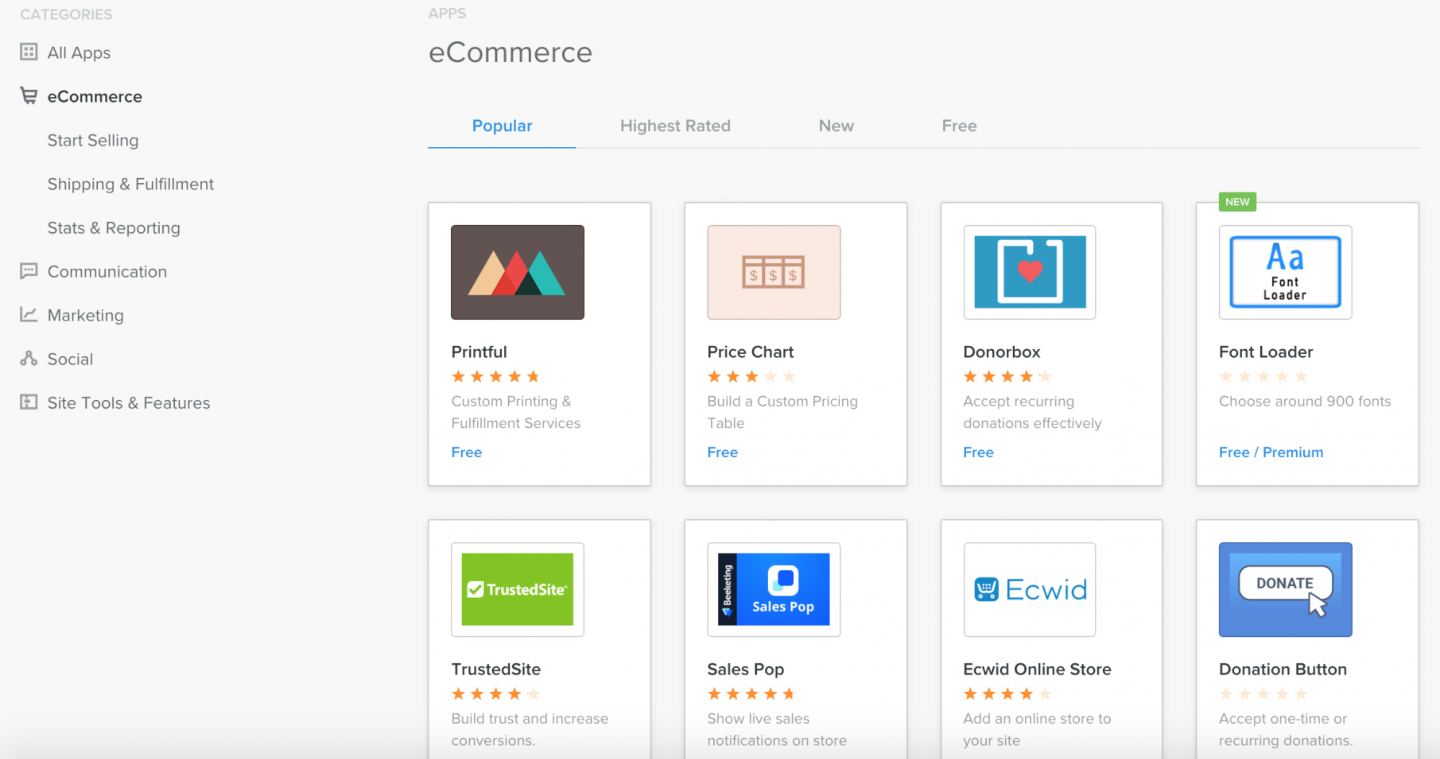 Weebly only offers apps supported by trusted developers, so you generally don't have integration conflicts or update issues, unlike WordPress. Though Weebly's app universe pales in comparison to WordPress, it does offer some handy add-ons for growing businesses.
Weebly also wins big over WordPress when it comes to customer service. This is because Weebly is a service that provides a useful centralized knowledgebase, detailed tutorials and — best of all — helpful customer service pros who are available 24/7.
In contrast, WordPress is open-source software that doesn't offer any centralized help. The way you learn WordPress is via online tutorials published by various WordPress hosting services, online "gurus" and theme and plugin developers.
WordPress hosting services provide assistance with basic setup and hosting issues, and plugin and theme developers offer support for their specific products. However, there's no single support desk that can help you make everything run smoothly in WordPress. You either learn it yourself or hire a developer to put everything together for you — which can be costly, depending on your needs.
A version of this article was first published on Fundera, a subsidiary of NerdWallet.