Wells Fargo Equipment Finance Review
Our comprehensive Wells Fargo equipment finance review covers all the details, offers pros/cons and alternatives.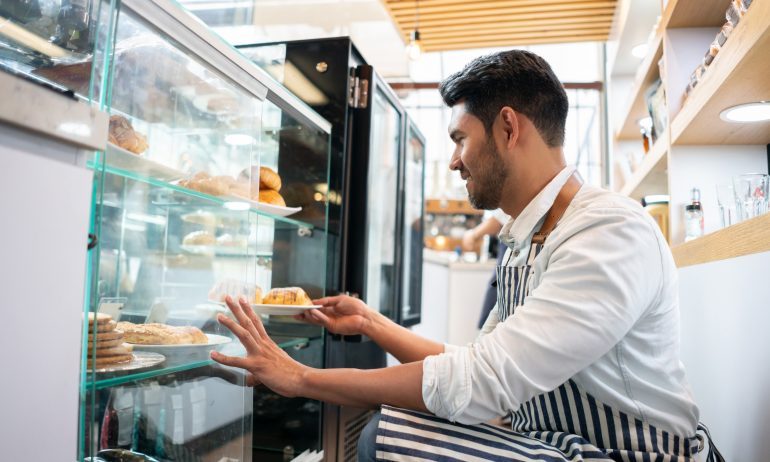 Many or all of the products featured here are from our partners who compensate us. This influences which products we write about and where and how the product appears on a page. However, this does not influence our evaluations. Our opinions are our own. Here is a list of our partners and here's how we make money.
As of May 2021, Wells Fargo has discontinued their Equipment Express loan. Current customers with these loans will continue to be serviced as normal.
For alternatives to the Wells Fargo Equipment Express loan, visit our guide to equipment financing.
Wells Fargo equipment finance: Everything you need to know
Wells Fargo equipment finance loans can help you invest in equipment with $10,000 - $100,000 loan amounts, 2 - 6 year terms and rates starting at 7%.
Whether you need to outfit your restaurant's commercial kitchen, buy work vehicles for your sales team or purchase manufacturing equipment, a Wells Fargo equipment finance loan could be just the right option.
Plus, Wells Fargo is one of the best banks for business loans in the United States. Learn the details about equipment financing from Wells Fargo, including the cost, the qualification requirements and how to apply. Find out everything you need to know about these business loans so you can make an informed decision about whether their products will be good for your business.
with Fundera by NerdWallet
What is an equipment finance loan?
Equipment finance loans allow small business owners to purchase equipment—such as cars, trucks, kitchen appliances, heavy machinery, office furniture and computers—without having to pay for the equipment up front. Terms generally extend up to the expected lifespan of the equipment, and interest rates range from 7% to 30%.
You don't necessarily need to apply for a Wells Fargo equipment finance loan or any other equipment-specific loan product in order to finance the purchase of equipment. You could technically use a short-term business loan, a Wells Fargo SBA loan, or another debt finance option to purchase the equipment.
That said, an equipment loan is often the most cost-effective way to purchase equipment. The presence of collateral considerably lowers the risk for the lender because if the borrower defaults, the lender can seize and sell off the equipment to recoup the loss. For this reason, you're likely to get favorable rates and terms with an equipment loan.
Wells Fargo equipment finance: Cost and terms
You should always look for the best equipment loan for your small business, but we've found that Wells Fargo equipment finance offers highly competitive terms. And with more than 6,000 branches across the US, Wells Fargo equipment finance is available to most business owners.
Wells Fargo calls the equipment finance for small business customers the Equipment Express loan. Wells Fargo also offers larger amounts of capital and more flexible terms for select industries under a commercial equipment finance program, but for most small businesses, the Equipment Express loan offers enough financing to get the job done.
Wells Fargo equipment finance loans for small businesses offer the following ranges of terms:
Up to 100% vehicle and equipment finance available.

Can use the proceeds to buy new or used equipment or upgrade existing equipment.

$10,000 to $100,000 loan amounts.

2- to 6-year terms (up to 6 years on new vehicles; 5 years on new equipment and used vehicles; 4 years on used equipment).

Fixed rates starting at 7% for vehicle loans.

Fixed rates starting at 7.5% for other equipment.
Wells Fargo equipment finance: Minimum requirements
Wells Fargo equipment finance loans come with the following minimum requirements:
$100,000+ in annual revenue.
Be sure to note that Wells Fargo equipment finance is available within the following industries:
Restaurant and foodservice.

Manufacturing and packaging.

Commercial trucking companies and owner-operators.

Cars and specialty vehicles.
Although a wide range of businesses can qualify for an equipment loan, the amount that you're qualified to borrow and the interest rate you will have to pay depend on your business's history. The bank will consider your credit history, your business's financials and the value of your equipment.
That said, one of the biggest benefits of equipment loans is that your financial history and credit score matter less because the equipment collateralizes the loan. Lenders are often more interested in what equipment you're planning to buy and the value of the equipment over your financial history. This makes equipment loans a viable option for newer businesses, as well as for business owners who struggle to secure credit approval.
Of course, you have to keep in mind that having a lower personal credit score or a more limited business revenue history could result in a higher interest rate on your equipment finance loan than you may otherwise receive.
Not every equipment loan requires it, but you might also be asked to submit a down payment. If you're a low-risk candidate, this could be as low as 0%. For candidates with riskier financial backgrounds, that might jump to between 10% and 20%.
Wells Fargo equipment finance: How to apply
The loan application process for Wells Fargo equipment finance is a relatively simple one—but you'll need to do your research ahead of time and be prepared with the necessary documents to make your equipment finance process go smoothly.
As you prepare your application, keep in mind that how much you're approved to borrow will depend upon your financial history, as well as the type and cost of the equipment you intend to purchase.
Here are the steps to applying for a Wells Fargo equipment finance loan:
Apply online. Customers who have had a Wells Fargo checking or savings account open for at least one year can apply online for an Equipment Express loan. You'll be asked to provide some basic information about your business and equipment in the application. You'll need income and ownership information for anyone who owns 25% or more of the business. Don't worry, you don't need to submit a purchase order or dealer invoice for the equipment yet—that will come a bit later in the application process.

Speak to a Wells Fargo loan consultant. After Wells Fargo reviews your business loan application, they'll decide whether to approve you. If they decide to approve you, a Wells Fargo loan consultant will contact you to get further information to process your loan. You might have to submit further documentation at this time. The loan consultant will also explain how to submit the title documentation for a vehicle or invoice for equipment.

Submit documents. When you apply for a Wells Fargo equipment loan, the bank will request to see certain documents. It's possible that Wells Fargo will ask for some documents in addition to the ones listed below, so make sure all your business's financial documents are in good order. Documents include:

Account number of current Wells Fargo checking or savings accounts.

Business name, address and phone number.

SSN of the primary borrower.

Ownership type and number of owners.

Profit and loss statement showing gross annual business revenues.

Annual income, banking account numbers and ownership percentages for anyone who owns 25% or more of the business.

Copy of driver's license.

Equipment purchase order or dealer invoice.

Receive funds. Once Wells Fargo receives the documentation, they'll send the funds to your Wells Fargo checking or savings account. The funds should arrive in one business day in most cases. The whole process should take just a few days if you have all your information in order and know which equipment you want to purchase. If you're in the midst of negotiation for the purchase of a piece of equipment, you can keep this funding timeline in mind and apply for your equipment loan even before you've reached the final stages of the purchase process.
Wells Fargo equipment finance: The pros and cons
As with any loan, there are positives and negatives to taking out Wells Fargo equipment finance. For most businesses, the benefits far outweigh the drawbacks and the funding enables you to purchase equipment—essential to starting a new business or growing an established business.
A lot of the pros and cons of equipment financing from Wells Fargo depend on your specific credit circumstances. If you have good credit, the application process goes relatively quickly and you can qualify for 100% financing at a low interest rate. But if your credit isn't that great or if your business is new, then there could be hurdles in the process.
Wells Fargo equipment finance pros
Wells Fargo supports a variety of industries and types of equipment.

Purchase the equipment you need at a low up-front cost.

Fixed interest rates mean predictable monthly payments.

No extra collateral is necessary beyond the equipment itself.

Can purchase multiple pieces of equipment with one loan.

No application or prepayment fees.

Can submit an initial application online.
Wells Fargo equipment finance cons
Need good credit to qualify.

Might have to put up a down payment if your credit isn't good.

Might have to visit a Wells Fargo branch in person to submit paperwork.

Equipment can depreciate quickly, which means you might be stuck with outdated equipment at the end of the term.
Wells Fargo equipment finance vs. equipment leasing
Wells Fargo and most other lenders offer two types of equipment finance arrangements: Loans and leases. With a loan, you make regular payments of principal and interest and, in the end, you own the equipment. With a lease, you basically rent the equipment from the vendor and make regular payments. However, at the end of the lease, you're not the owner of the equipment. You have to either return the equipment or purchase the equipment at that time.
You can enjoy lower payments and easier qualification requirements with many types of equipment lease options. In addition, there's no need to worry about a down payment with a lease. However, you won't own the equipment at the end of the term. So, if you're looking for a long-term business loan solution, an equipment loan is preferable. But if you're in need of equipment that gets obsolete quickly (like medical equipment), then a lease is probably better because you'll want to upgrade at the end anyway.
Whether you go with a lease or loan structure, the key to choosing the right equipment financing for your small business is to make sure that the term of the loan or lease isn't going to outlast the equipment itself. You don't want to still be making payments once you've stopped using the equipment or once it's time to upgrade.
Wells Fargo equipment finance alternatives
Wells Fargo offers equipment loans, but if you're not able to qualify or feel their terms aren't a good fit for you, there are alternative options.
Some other places to get equipment finance include:
Other banks. In addition to Wells Fargo, Chase, Bank of America and smaller local banks offer equipment finance.

SBA loans. Many banks also offer SBA 504 loans, which have low interest rates for the purchase of equipment, real estate and other capital assets. Chase SBA loans are great alternatives to Wells Fargo's product.

Online lenders. Non-bank online lenders tend to have lower requirements and are able to fund loans faster than a traditional bank, though they also tend to carry slightly higher interest rates. Some online lenders, like National Funding and Crest Capital, specialize in equipment financing. Equipment loans are a common type of loan, so there are several lenders you can try.
Is Wells Fargo equipment finance right for your business?
Because each business is unique, you'll have to weigh several factors about your business to decide whether or not an equipment loan is your best choice.
Our best advice here: it takes money to make money. If your small business needs to grow, sometimes you need to spend money. One of the easiest ways to grow your business is to purchase equipment that will help you become more efficient, produce more products, or be able to work more hours.
Whether you decide to seek equipment financing from Wells Fargo or pursue equipment financing from another source, this funding option is a smart solution for any business owner looking to make a major equipment purchase more affordable.
Frequently asked questions
How do you get equipment financing from Wells Fargo?
What is an equipment loan?
How long can you finance heavy equipment?
This article originally appeared on Fundera, a subsidiary of NerdWallet.