How Lost Luggage Insurance Works
Insurance that comes from booking with a travel card might be enough, but more specific coverage is available.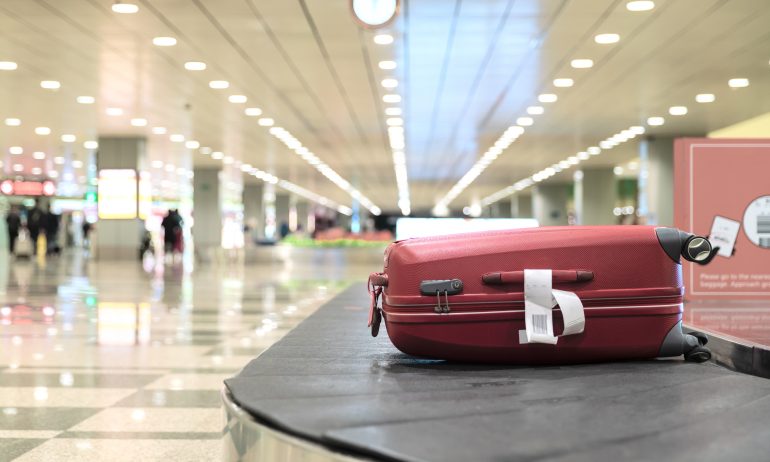 Many or all of the products featured here are from our partners who compensate us. This influences which products we write about and where and how the product appears on a page. However, this does not influence our evaluations. Our opinions are our own. Here is a list of our partners and here's how we make money.
No one ever expects their bag to get lost on the way to a two-week vacation in Europe, swiped from their hotel room in Asia or misplaced at the hotel concierge desk in New Orleans. But most frequent travelers have at least one horror story about delayed or lost luggage.
And while nothing can truly replace your favorite tank top or sun hat when bags go missing or get stolen, lost luggage insurance can help soften the blow. Here's how lost luggage travel insurance works and where to get coverage for your next trip, so you're not out half your wardrobe the minute you land.
Does travel insurance cover lost luggage?
Lost luggage insurance is just what it sounds like: coverage for lost or stolen baggage and its contents during your travel. Usually, it's included in general travel insurance plans, so your luggage may be automatically protected when you purchase coverage before a trip.
But before making assumptions, you should always check to ensure lost luggage is covered and for how much, as different plans offer different coverage types and amounts.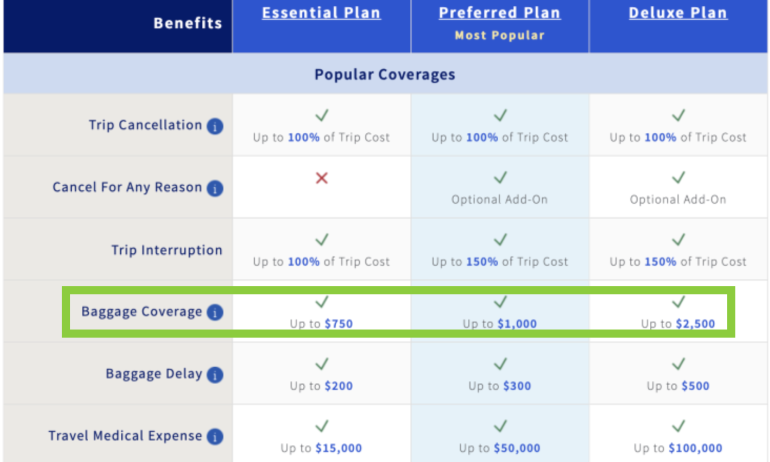 But how often does luggage get lost? According to LuggageHero, an airline's chances of losing your bag are slim – just 0.4% in 2021. And if that happens, the airline is responsible for compensating you for your lost bags and contents. But they may have different liability limits than separate insurance, and there are plenty of other ways luggage can disappear after you leave the airport.
What does lost baggage insurance cover?
What baggage protection covers depends on your insurance, so read the fine print to get the full details and coverage amounts to ensure you're buying a policy that suits your needs.
But, in general, lost baggage coverage typically reimburses you for any luggage and items contained if that luggage was lost or stolen while traveling. That can include luggage lost by an airline or bags misplaced or stolen at your accommodation (say, your bag disappears from your room or vanishes after relinquishing it to the valet). Many plans even cover baggage delays, so you can buy a few essentials if you arrive a few hours or a few days before your luggage does.
Does travel insurance cover baggage damage, too? The answer is often yes, though you'll want to check the specifics of your policy to ensure. If your bag is damaged after a rough flight, travel insurance will often repair or replace the bag if the damage goes beyond normal wear and tear.
Lost luggage travel insurance exclusions
But lost luggage insurance doesn't cover every item or eventuality, and some policies may have a slightly different list of exclusions. So again, read the fine print in your plan details before packing to know what is covered.
Some plans don't cover items such as animals, vehicles, sports equipment, hearing aids, glasses, jewelry, medicines/medical equipment, passports, currency, credit cards, firearms and more. In contrast, other plans might cover some of the above items.
It's essential to keep in mind that there are other exclusions. For example, you can't be reckless with your luggage or where you leave it, like in the back of an open pickup or on a curbside while you enter a cafe.
TIn addition, you typically must first file a report with the airline or local authorities in the case of theft or loss to file a claim with your travel insurance company. It's also best if you can provide receipts for high-value items to receive full reimbursements.
Typical costs of lost luggage insurance
Lost luggage insurance is rarely sold on its own. Instead, it's one of the coverage benefits that fall under full travel insurance. So how much coverage costs to protect your baggage will depend on your trip insurance carrier, whether your destination is domestic or international, how long you're traveling and how much your trip costs.
One international week-long vacation may run from around $37 to $100 or more based on how much protection you want for the items you're traveling with.
A $63 plan, for example, may cover up to $750 of lost or stolen luggage, while a $103 plan might cover up to $2,500.

How do I get baggage insurance?
There are plenty of ways to purchase trip insurance, which includes lost luggage insurance. You may not have to pay out of pocket if you have a travel credit card, as many cards offer these protections. The Chase Sapphire Preferred® Card, for example, offers a maximum lost luggage benefit up to $3,000 dollars per person. All you have to do is pay for your airfare with the card.
For the most control when selecting coverage, use a dedicated travel insurance provider like Allianz, World Nomads or AIG. You share a few details about your trip and personal information, specify the level of protection you need and make the purchase — then, your luggage is covered.
Is baggage insurance worth it?
If you're traveling with high-value personal belongings, baggage insurance can be worth it.
However, you might not need to pay out of pocket to get coverage. For example, if you used a travel credit card with robust trip protection and luggage insurance to book and pay for your vacation and don't require additional or specialized coverage, that may be sufficient.
Purchasing coverage separately is probably best if you don't have baggage insurance benefits through a credit card or want to customize your coverage. But, again, the right option will depend on your needs and will likely vary from trip to trip.
---
How to maximize your rewards
Get more smart money moves – straight to your inbox
Sign up and we'll send you Nerdy articles about the money topics that matter most to you along with other ways to help you get more from your money.