Testing Credit Card Perks: DoorDash vs. Uber Eats
We compared the costs to find out which credit card can save you more with its food delivery credits.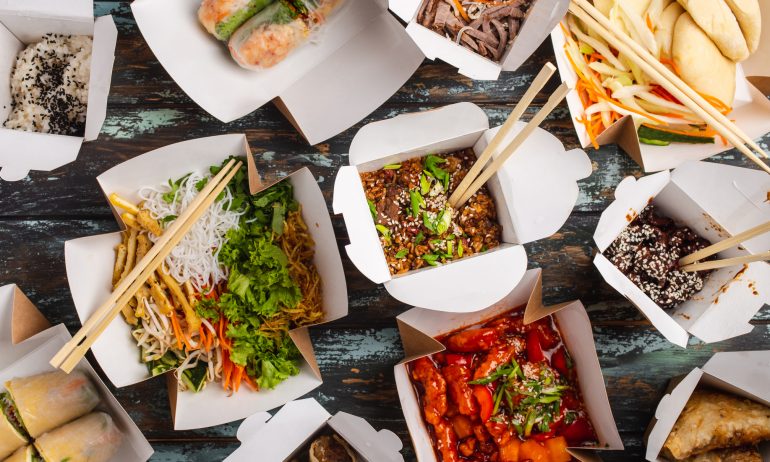 Many or all of the products featured here are from our partners who compensate us. This may influence which products we write about and where and how the product appears on a page. However, this does not influence our evaluations. Our opinions are our own. Here is a list of our partners and here's how we make money.
In many cases, premium travel cards like the The Platinum Card® from American Express offer valuable perks (airport lounge access, food delivery discounts, monthly rideshare credits, etc.) to help offset the hefty annual fees.
But especially after COVID-19 caused many once-jet-setters to put the brakes on air travel, credit cards started offering more non-travel related perks. After all, what's the good of the fresh, locally-sourced, organic salad bar at the Centurion Lounge when you haven't been in an airport in a year? Premium credit card issuers wised up — and found other ways to get you your organic salad.
Now, many dining-related credit cards offer perks including credits and discounts to delivery services such as DoorDash and Uber Eats. But while all the credits may sound good on paper, how good are they? Many are relevant to some people but not others; maybe you drive to work instead of taking Uber, or DoorDash doesn't deliver to your area.
We looked at two of the most popular credit cards with dining perks to see how valuable these perks really are.
| | | |
| --- | --- | --- |
| | 12 months of free DashPass ($120/year). | |
| | | |
| Uber VIP Status/Uber Cash | | Uber VIP status and up to $200 in Uber savings on rides or eats. Only applicable to U.S. Eats Orders and Rides. |
| | | |
The details: DoorDash vs. Uber Eats credits
DoorDash and
Chase Sapphire Preferred® Card
Although holders of the Chase Sapphire Preferred® Card don't receive cash back credits for DoorDash, they still receive a complimentary one-year DashPass subscription. If DashPass exists in your area, now could be a good time to activate this benefit. When this benefit was announced, there was no increase to the card's annual fee, so you're receiving the DashPass benefit for free.
Uber Eats and
The Platinum Card® from American Express
Holders of The Platinum Card® from American Express receive a monthly credit into their Uber account ($15 each month and $35 in December), which appear as Uber Cash. The Uber Cash credits total $200 each year and can be used to pay for Uber rides and Uber Eats orders. Terms apply.
This is a use-it-or-lose-it perk: If the Uber Cash isn't used up each month, it will expire. Even if you don't take Uber for rides, the ability to use Uber Cash to pay for Uber Eats orders is extremely convenient. For the purposes of this test, we are assuming that the Uber Cash would be used for Uber Eats orders (not ride-sharing).
Restaurants have to pay a fee for using these apps. The best way to support restaurants, especially during COVID-19 times, is to order from them directly as this cuts out the middleman costs of food delivery platforms.
The Platinum Card® from American Express is a premium travel card with a high annual fee. It offers cash back credits for restaurant deliveries. To test how useful the DoorDash and Uber Eats benefits are (and more importantly which perk was more cost effective), we gathered a testing group of five people who each live in a different U.S. city:
To qualify, each participant had to meet the following criteria:
DoorDash and Uber Eats offer restaurant delivery to their addresses.

Must provide screenshots of a sample food delivery order from DoorDash and Uber Eats for the same restaurant on the same day.

Screenshots must show the itemized food order along with any additional taxes/fees added on.
Eligibility for this offer is limited. Enrollment is required in the Amex Offers section of your account before redeeming.
Example screenshot comparison
Below is an identical food order on DoorDash and Uber Eats from Kraken Crudo, a restaurant in Miami.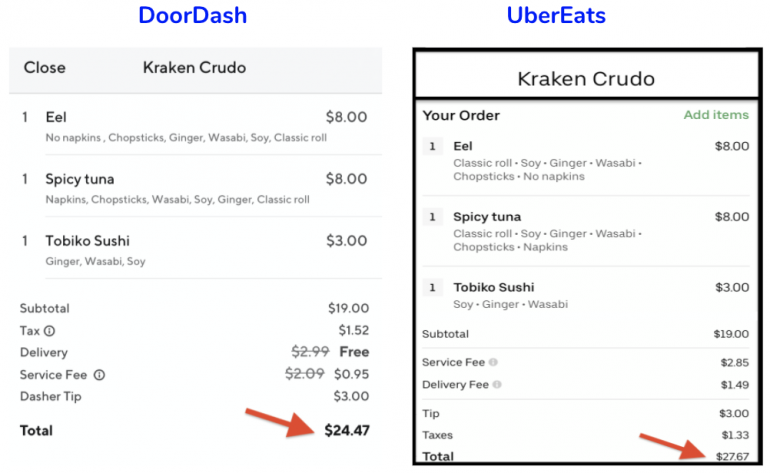 Although the subtotal of food items from both merchants is $19, the additional fees set DoorDash and Uber Eats apart. The DoorDash order of $24.47 reflects that DashPass has been activated (delivery and service fee are eliminated or reduced). Because of DashPass, the food order from DoorDash is $3.20 cheaper than from Uber Eats.
Without DashPass, the food total would have been $28.60 due to the $2.99 delivery fee and $2.09 service fee. In this case, Uber Eats is $0.93 cheaper than DoorDash.
This is the kind of comparison we used to test each of the food orders input by our testers.
Our results comparing Uber Eats vs. DoorDash
So what is better, Uber Eats or DoorDash?
After gathering the findings from each of the participants, we compiled their data and compared the total price of the food order with Uber Eats and DoorDash (with and without DashPass).
Our results demonstrated that using DoorDash with DashPass always resulted in a cheaper order total than with Uber Eats. This isn't a huge surprise given that DashPass reduces service fees and eliminates DoorDash delivery fees.
Even without DashPass, though, two of the orders were cheaper on DoorDash. Sam's DoorDash order was $4.77 cheaper than with Uber Eats because Uber Eats had a $3.99 delivery fee, while DoorDash had a promotion for $0 delivery fees (and the Uber Eats service fee was higher). In Divya's order, DoorDash was cheaper because it had a lower service fee.
During this test, we discovered that Uber Eats always charged a 15% service fee. DoorDash charged a 5% service fee when DashPass was used and an 11%-12% service fee without DashPass.
Uber Eats and DoorDash fees and credits with premium credit card
If you hold The Platinum Card® from American Express, you'll likely end up paying more for your food given that Uber Eats charges a 15% service fee in addition to delivery fees. If you want to maximize your $15 monthly UberCash credit ($35 in December), look for restaurants that waive delivery fees so you can decrease the amount you're paying for fees.
And better yet, order directly from restaurants once your credits have been used up, so your entire order amount supports the restaurants and their staff.
Frequently asked questions
How can I use Uber Eats credit?
What's better: DoorDash vs. Uber Eats?
Can I use Uber credits for Uber Eats?
Which cards come with food delivery credits?
---
How to maximize your rewards
Get more smart money moves – straight to your inbox
Sign up and we'll send you Nerdy articles about the money topics that matter most to you along with other ways to help you get more from your money.