Advertiser Disclosure
Best Banks and Credit Unions for Mobile Banking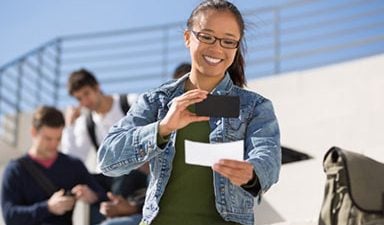 Mobile banking can give you access to banking services whenever and wherever you want them. With a bank's app or website on your phone or tablet, you can complete many common tasks, including checking your account balance, finding nearby ATMs and depositing a check by snapping a photo.
Here are banks and credit unions with the best mobile banking experiences. To compare a wider range of banks, see our roundup of best banks and credit unions.
Best mobile banking apps
Capital One: Best big bank (tie)
Chase: Best big bank (tie)
Discover: Best online bank
Simple: Best mobile-focused bank
Alliant: Best credit union
Simple
Best mobile-focused bank
Simple gets good user reviews for its Android and iOS apps. Although it currently offers only a checking account, that account comes with perks. It's completely fee-free, for starters. You also can set savings goals right in the app. Its Safe-to-Spend feature lets you know how much you have left after taking into account your savings goals, bill payments and scheduled future transactions. That's a step up from the usual "available balance" provided by other bank apps.
» Ready to make a change? Here's how to switch banks
Discover
best online bank
With only one branch, Discover is primarily an online bank,  so customers should expect to access their accounts from their mobile devices often. Fortunately, Discover's highly rated Android and iOS apps don't disappoint. You can check your credit score, freeze and unfreeze your account if you misplace your Discover debit or credit card, and notify Discover when you travel to ensure ongoing card use. That's in addition to basic mobile banking services such as bill pay and mobile check deposit. If you want to open a checking account at Discover, however, you'll need to first have another type of account with the bank.
Chase
best big bank (tie)
Chase's mobile app offers all the essentials: mobile check deposit, a branch and ATM locator and bill pay.
Chase gets consistently high reviews on both iOS and Android platforms and has nationwide branch and ATM coverage.
Capital One
best big bank (tie)
Capital One isn't just home to highly rated checking and savings accounts, it has a robust and well-loved mobile banking platform, too. The app has all the standard functions of mobile banking, like mobile check deposit and ATM and branch locators. But it also lets you add a layer of security with Touch ID or SureSwipe, and make auto and home loan payments. The iOS version even lets you check your credit score. Both iOS and Android users give Capital One high star ratings.
Alliant Credit Union
best credit union
Alliant's app checks all the usual boxes: ATM locator, transaction history, bill payments and balances on demand. But it dominates when it comes to mobile deposit and money management tools. There's an unusually high daily limit of $50,000 for depositing checks through the app. And the charts and graphs in the money management tool let users analyze their spending habits and keep tabs on budget categories.
Amber Murakami-Fester is a staff writer at NerdWallet, a personal finance website. Email: amufe@nerdwallet.com. Twitter: @iamyams. Virginia C. McGuire of NerdWallet contributed to this post.
---
Methodology
We looked at the 15 largest banks by assets and eliminated those without a significant retail banking presence. We also included financial institutions in the country's five largest metro areas and several of the largest online-only banks that offer a full suite of checking and savings products. We rounded off the list with some of the country's biggest credit unions with broad-based membership requirements. Financial institutions surveyed: Alliant Credit Union, Ally, Bank of America, Bank5 Connect, BB&T, BBVA Compass, BMO Harris Bank, Capital One 360, Chase, Citibank, Connexus Credit Union, Consumers Credit Union, Discover Bank, HSBC, Nationwide, Navy Federal Credit Union, Pentagon Federal Credit Union, PNC, SunTrust, TD Bank, Union Bank, U.S. Bank and Wells Fargo. We also looked at mobile apps Moven and Simple.