In December, 22-year-old Tanner Agar wasn't just writing his graduation thesis — he was also filling a record number of product orders for his specialty food startup, The Chef Shelf. But all that extra work didn't discourage the former chef and recent Texas Christian University alum.
"To be tired because of all your sales is the best problem ever," Agar says, adding that seasonality plays a large part in his business. "All the sleep I didn't get in December I can catch up on in January."
This December, The Chef Shelf, which ships foods from Texas chefs to consumers across the U.S., had 11 times more sales than the previous year.
It's difficult to balance entrepreneurship with studies, but many students like Agar are eager to take on the challenge. About 46% of millennials (PDF) said that they're interested in learning about starting a small business, according to 2014 study by the Independent Community Bankers of America and the Center for Generational Kinetics.
"Balancing it all is really hard," Agar says. But, he says, it's well worth it.
If you're eager to get a start on your small business in college, here are some tips:
Go to an entrepreneurial college
At Texas Christian University's Neeley School of Business, which was named the No. 6 top undergrad business school for entrepreneurship by Bloomberg BusinessWeek, students like Agar can headquarter their businesses at a tech incubator in Fort Worth, which gives them access to lawyers, marketers, conference rooms and other resources, all for free.
If you want to start a business while you're in school, going to a university that offers lots of resources for young entrepreneurs can give you a competitive edge. Rice University, for instance, hosts an annual business plan competition with more than $1.5 million in prizes, and Massachusetts Institute of Technology hosts a business plan competition that awards $225,000 to the grand-prize winner. At Babson College, University of Houston, Baylor University and other institutions, students can also get one-on-one mentors to navigate the world of starting a business, according to Entrepreneur. 
Qualify for free money
If you're in college, it might be difficult to qualify for a small-business loan or self-fund your venture. But don't use your student loans to fund your entrepreneurial visions. Instead, think outside the box.
Start by applying for awards for budding entrepreneurs, like the Hult Prize, which provides up to $1 million in seed money to the winners. If you're majoring in business, ask the faculty in your department about local programs and grants you could qualify for. Many schools have business plan and elevator pitch competitions to help give new startups an extra boost.
Set up a website
You don't have to be a programming wiz to set up a sleek website. Through platforms like SquareSpace, Wix and WordPress, you can easily customize a template without knowing any code. While you'll have to pay an annual fee for hosting and a domain name, the overall costs of creating a small-business website are generally minimal — especially if you can find a free template.
If you're interested in building a more complicated site for your small business, consider taking a programming course at your college. Some basic HTML and CSS skills could help you troubleshoot issues down the road. Autodidacts can learn the ropes of programming through free tutorials on sites like Coursera and CodeAcademy.
Build your community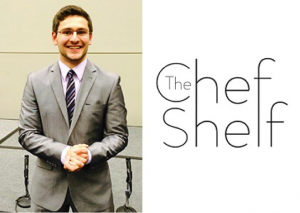 For Agar, creating personal connections through food has always been a focus at The Chef Shelf. "My goal was never to build a website where we simply sell product, because I'm fairly sure someone like Amazon could do a much better job selling product much more cheaply than we can," he says. "But what we can do is build a community around food."
To foster a loyal following for your small business, start by talking about your venture with friends and family and refining your company's social media presence. Figure out who your audience is and find ways to reach them directly, whether that means booking speaking engagements, buying advertising or simply going out for coffee with potential clients.
Think big
You might have the largest student-run enterprise on campus — but don't stop there. The more you work on expanding your business while you're in college, the easier it will be to build on your success after graduation.
Agar, who just graduated a few weeks ago, says the Neeley School of Business is giving him another year to operate from the Tech Fort Worth incubator rent-free. During that time, he hopes to expand his customer base, hire employees and find angel investors. He explains it all with a food analogy, of course.
"I'd rather have a large percent of a whole watermelon than 100% of a grape," he says.
---
Image of child running via iStock; photo of Tanner Agar courtesy of Tanner Agar.