American women are having fewer and fewer children — unless you live in Delaware or North Dakota, which are among the six states where women are bucking the trend and having more babies.
New figures from the U.S. Census Bureau show that from 2009 to 2013, the states that posted an increase in the rate of women who gave birth in the past year were: Delaware, South Dakota, New Hampshire, North Dakota, Virginia and Hawaii. The birthrate in the rest of the nation was either flat or declining.
And even in many of these most fertile of states, the birthrate has jumped around in the past few years. For example, in New Hampshire, the rate zigzagged from 44 to 47 before settling at 46 births per 1,000 women in 2013.
Why pay attention to who is having babies? Simply put, the U.S. needs women to have more children, and possibly sooner in life, to replace Americans who are dying.
A declining birthrate can signal economic trouble down the road as fewer young people enter the workforce. And U.S. fertility rates were already moving downward when the Great Recession hit at the end of 2007. Demographers were particularly alarmed when the federal Centers for Disease Control and Prevention announced that the 2013 fertility rate for the U.S. had reached another record low of 62.9 births per 1,000 women.

---
Do you think the economics of parenthood today may have something to do with the declining birthrate? To learn more, you might want to read NerdWallet's recent study, The True Cost of Raising a Child.
Want to know about future NerdWallet studies first? Click here to have updates sent directly to your inbox.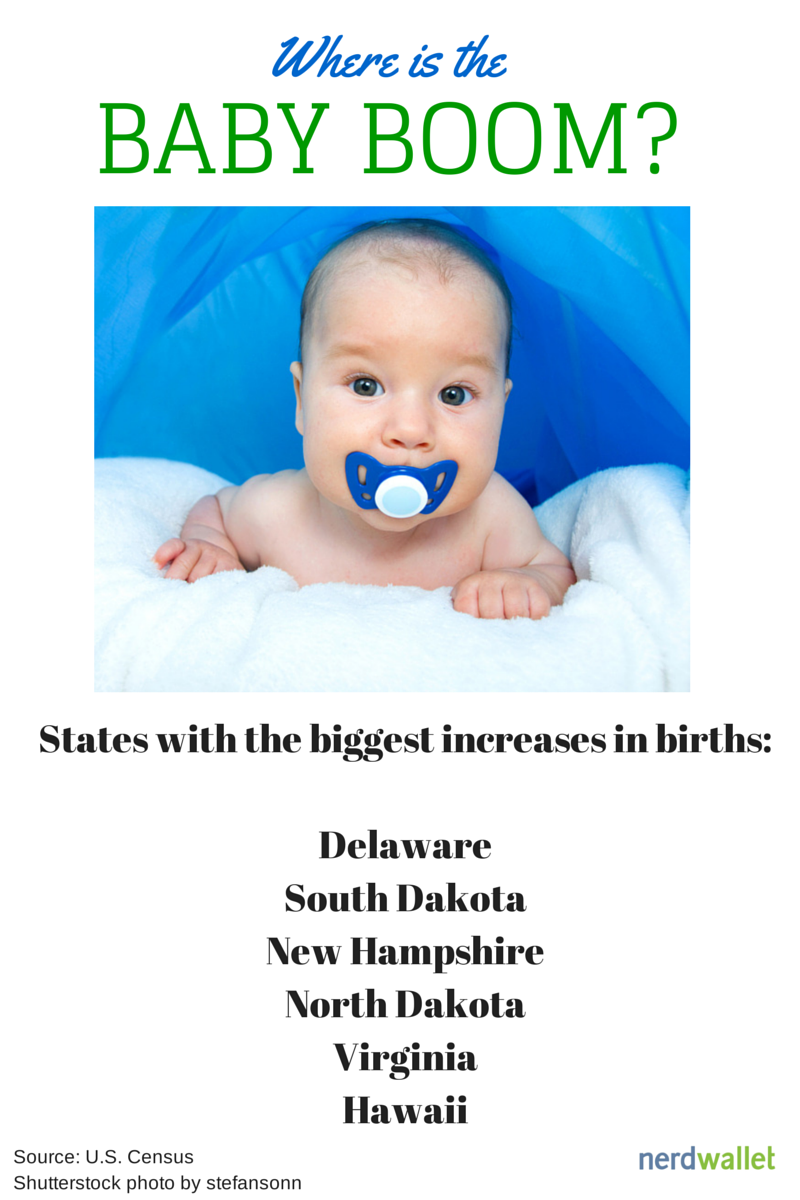 Embed this on your own site:
Birthrates in the nation's most fertile states
State
2009 birthrate
per 1,000 women
2010 birthrate
per 1,000 women
2011 birthrate
per 1,000 women
2012 birthrate
per 1,000 women
2013 birthrate
per 1,000 women
Percent change in birthrate
from 2009 to 2013
Delaware
49
52
49
49
53
8%
South Dakota
65
62
61
64
69
6%
New Hampshire
44
47
46
46
46
5%
North Dakota
64
62
61
64
66
3%
Virginia
52
52
53
53
53
2%
Hawaii
63
62
65
66
64
2%
The birthrate is the number of births per 1,000 women age 15 to 50 in the past 12 months.
Source: U.S. Census Bureau, American Community Survey, 3-year estimates 2009-2013.
---
Baby image via Shutterstock.