Mortgage rates edged higher for the second week in a row and are at their highest level since July, according to Freddie Mac's latest survey of lenders:
30-year fixed-rate mortgages averaged 3.98% with an average 0.6 point for the week ending Nov. 12, 2015.  A year ago, the rate averaged 4.01%.
15-year fixed rates averaged 3.20% with an average 0.6 point. The same term priced at 3.20% a year ago.
5-year adjustable-rate mortgages priced at 3.03% with an average 0.4 point. Last year at this time, the same ARM averaged 3.02%.
"A surprisingly strong October jobs report showed 271,000 jobs added and wage growth of 0.4% from last month, exceeding many experts' expectations," Sean Becketti, chief economist for Freddie Mac, said in a release. "The positive employment reports pushed Treasury yields to about 2.3% as investors responded by placing a higher likelihood on a December rate hike. Mortgage rates followed with the 30-year jumping 11 basis points to 3.98%, the highest since July."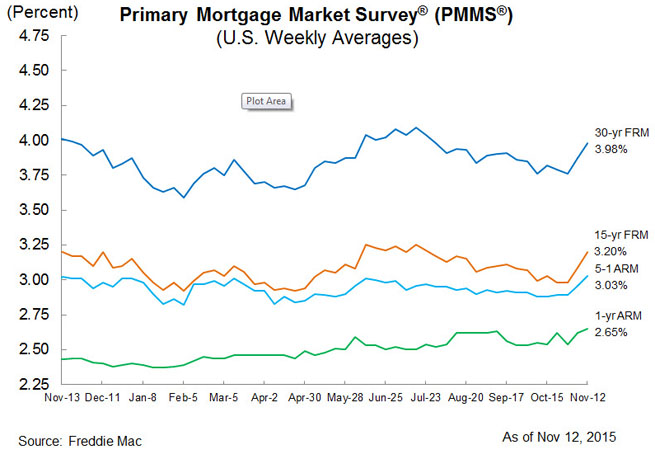 Meanwhile, home loan demand sagged during the week of Nov. 6, according to the Mortgage Bankers Association. Mortgage applications were down 1.3% from one week earlier while refinance applications fell 2%.
Home sellers are optimistic, not fearful this year
Home sellers are optimistic but the real estate market is approaching "normalcy," according to a new survey conducted by Redfin. The report says that last year sellers cited the fear of rising home prices and interest rates as a prime motivator for selling their home and buying another. This year, based on the responses from 730 home sellers, listing a home is likely to be more a matter of a lifestyle decision, such as upgrading or downsizing.
One in five sellers also say they want to pull out a profit from their home's recent value appreciation.
"Seller optimism is flying high right now," Redfin chief economist Nela Richardson said. "But buyers are more grounded now and pricing a home too high is risky. More sellers are having to drop their initial asking price this fall than a year ago."
More from NerdWallet:
Hal Bundrick is a staff writer at NerdWallet, a personal finance website. Email: [email protected]. Twitter: @halmbundrick