Last year, there was a sense of optimism that new credit scoring refinements could help address the challenges minority mortgage applicants face when buying a home and begin to narrow the nation's homeownership gap.
But it will take more than credit scoring changes alone. One reason is that reinventing credit reporting standards as part of the mortgage process is a glacial process, and so far, little progress has been made.
And while lending standards, another key component for any mortgage approval, have eased a bit recently because of a growing economy and fully recovered housing industry, black homeownership still lags behind ownership by whites — by a wide margin.
So what will it take to narrow the homeownership gap? And what can you do now to nudge the mortgage lending system ever-so-slightly in your favor?
Homeownership gap in the U.S.
Overall, the nation's homeownership rate is down, but for blacks, it has plummeted. And the homeownership gap between blacks and whites is growing wider.
The percentage of Americans owning a home dropped to 63.4% in 2016 — that's 5.6 percentage points below the peak in 2004 — and the lowest rate of homeownership in more than 50 years, according to the Joint Center for Housing Studies of Harvard University.
From 2004 to 2016, the homeownership rate for blacks dropped 7.5 percentage points, while for whites it fell 4.0 percentage points, according to the center. The Hispanic homeownership rate dropped 2.1 percentage points.
Credit reporting changes in place
Fannie Mae, the government-sponsored enterprise that provides capital to home lending, in late 2016 began integrating "trended credit data," a multimonth snapshot of consumer payment patterns. Proponents of incorporating this data into a loan underwriting process say it provides insight into how a consumer manages debt by showing changes in credit balances and payment amounts. Borrowers who regularly pay off revolving credit might particularly benefit.
Fannie also rolled out parameters for qualifying applicants without credit scores. Fannie's brother GSE, Freddie Mac, introduced a no-credit-score capability of its own. The changes allowed consideration of borrowers without a credit score, but with housing payment histories, such as from renting, as well as other payment references.
The difficult task of getting approved for a mortgage is even harder for those without a credit score who are "credit invisible" — an issue that minority applicants could face, according to data from the Consumer Financial Protection Bureau.
"About 15% of Blacks and Hispanics are credit invisible compared to 9% of Whites and Asians," says a 2015 report by the CFPB. "These differences are observed across all age groups, suggesting that these differences materialize early in the adult lives of these consumers and persist thereafter."
However, credit reporting updates can only drive change so much. Credit availability — the likelihood lenders will make a loan — is also the key.
» MORE: FHA loans: What you need to know
Mortgages and credit availability
Karan Kaul, a research associate at the Housing Finance Policy Center at the Urban Institute think tank, says it's difficult to determine what moves credit availability higher or lower.
"There are dozens of factors that go into approving a mortgage: the FICO score, the loan-to-value, the DTI are just some of the factors," Kaul says. And then add to the mix prevailing income, debt, liquid assets and savings trends.
» MORE: Calculate your DTI
To measure mortgage access, the Urban Institute created a credit availability index based on its analysis of home purchase loans that are likely to default. The higher the percentage of loan default rates, the greater the risk lenders are assuming and the closer the mortgage lending industry moves to, or past, "reasonable lending standards," according to the institute.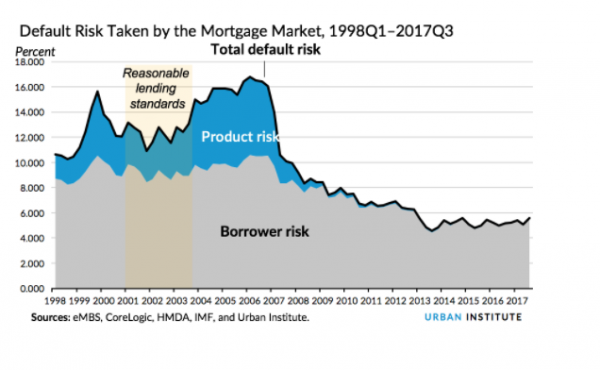 "Credit availability [for all borrowers] did improve in 2017," Kaul says. "However, there are a few things to remember. We are still in a phase where the amount of credit risk taken by the mortgage market is very small compared to the reasonable credit standards of the early 2000s."
From 2001 to late 2003, lenders were still prudent in making loans, and mortgage default rates — then 11% to 14% — were within the historical average, Kaul says. That's how the Urban Institute defines "reasonable lending standards."
It was just after this period when "the craziness started," he says, and lenders took on extreme levels of risk, ultimately leading to a rash of loan defaults and the housing market crash.
"When you compare where we are today to where the reasonable standards [are], you could double the amount of risk the market is taking right now," Kaul says.
Loan defaults are currently just below 6%.
What you can do now
Credit scoring and tight lending standards are factors that affect all borrowers. How can you get a mortgage in this environment?
First, make sure you're demonstrating the behaviors that the advances in credit reporting reward, says Joe Mellman, senior vice president and mortgage business leader for TransUnion.
"For example, paying down revolving balances over time. Or paying off your credit card in full each month, rather than carrying over a balance. Or never exceeding your credit limit," he says. "These are financially healthy behaviors all consumers, including minorities, veterans and first-time home buyers, can benefit from when trended data is utilized to determine mortgage access."
Then, make sure your mortgage application is processed with these advanced credit insights. That means asking lenders if they use underwriting systems that allow trended credit data and nontraditional credit references.
"There seems to be general interest in the mortgage industry to explore alternative credit data and its ability to safely open up access to deserving consumers," Mellman says. "Other industries, like credit card and auto lending, are demonstrating the potentially positive impact alternative credit data can have."