Trulia has been a runner-up in the home search portal wars, never quite catching up to powerhouse Zillow. But there are those who prefer its look and feel to other home search sites, particularly when it comes to mobile usability. The National Association of Realtors says more than one-third of house hunters use mobile and tablet websites or apps to find a home, so it's an important and highly competitive space.
How does the Trulia mobile app stack up? Here's our hands-on review. (And check out what we thought of the Zillow app, too.)
What the Trulia app does best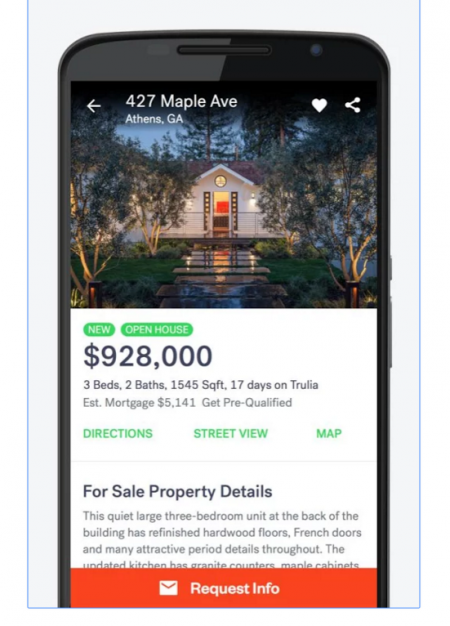 Like other home search portal apps, Trulia offers lots of photos and neighborhood information. The Trulia app also makes it easy to share information with others — a good thing, because it can be hard to share a single small screen when house hunting with a companion.
Using the built-in GPS on your smartphone, the app will show you homes for sale or rent, as well as recently sold homes, as you cruise through neighborhoods. Maps also show the top-rated schools in the area, an overview of local crime, average home prices and neighborhood points of interest.
Open house dates can easily be added to your calendar, and you can set alerts for new listings in your target neighborhoods or status updates on saved homes.
Recent updates have removed a bit of clutter and yielded a simpler, more intuitive design.
Putting it to work
After installing the app and navigating through three quick introductory screens, you're straight into house-hunting mode. An initial search yields results grouped by "New Listings," "Fixer Uppers," "Safe Areas" and other pre-set filters regarding home features, such as an updated kitchen, hardwood floors or pool. It's easy to customize your search, too.
Your favorite homes can be grouped into boards that you can invite your friends and family to join.
Scrolling down on a home listing for more data shows neighborhood info, an estimated monthly mortgage cost and other  details. A swipe starts the photo tour. And there's always a can't-miss-it red bar at the bottom of the screen urging you to "Request Info." One particularly convenient feature: Driving directions are on-screen and a tap away.
Go to a neighborhood map view, then click on "Local info" at the bottom of the screen. You'll find information on schools and neighborhood amenities, as well as Trulia heatmaps for natural disaster info, affordability and crime. For example, click "Crime" and your neighborhood view will be painted from green to red — representing areas with the lowest to the highest crime rate.
User reviews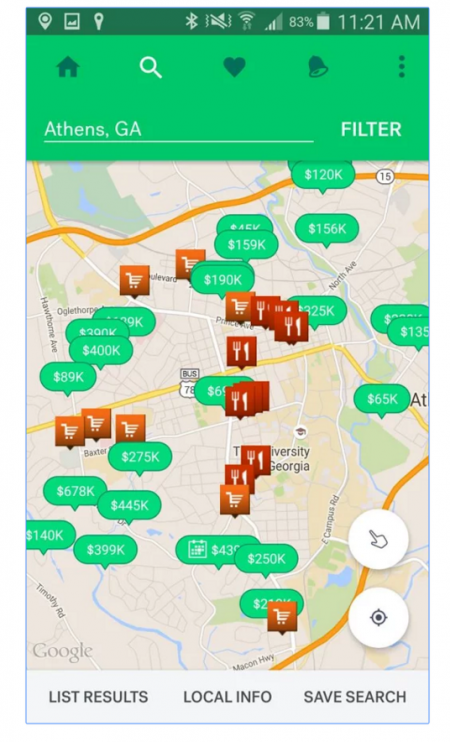 The Trulia mobile app generally gets high marks from users, garnering 4½ out of 5 stars from both Android and iOS users. As with any update, users have a few complaints with the latest version. Among the issues reported are problems with sorting, losing prior favorites and homeowner association fees not being reflected in condo listings.
But the users who prefer this app really love it, raving about ease of use, voice-search capabilities and useful maps. Positive reviews use phrases like "easy and addictive," "user-friendly," "listings always updated" and "easy to navigate."
Some features that users are asking for include a street-view option, the ability to remove homes already considered from a new search and an option to turn off notifications.
The bottom line
For data-driven fashionistas, the Trulia app is also available for Android Wear and Apple Watches. And the app syncs your favorite searches and saved data across devices. Trulia also offers separate apps for rentals — including homes, apartments and condos — and for real estate agents.
Overall, the Trulia app is a handy tool for homebuyers on the hunt.
More from NerdWallet:
Hal Bundrick is a staff writer at NerdWallet, a personal finance website. Email: [email protected]. Twitter: @halmbundrick
---
Image via iStock.