House-hunting apps are rapidly gaining sophistication, speed and new features. Zillow, the leading home search portal, has a suite of real estate apps with some cool functions you may not know about.
What the Zillow app does best
Real estate apps are transforming the home search process, with virtual reality interior views, on-demand home tours and algorithms that show a house's search popularity. Maybe one day apps will even calculate the square footage of a home's yard and recommend a suitable breed of dog that would best fit the available lawn. Well, maybe not.
The free Zillow iOS and Android apps cover the basics well. You can search homes by address, or based on a current location using your smartphone's GPS. You can even draw a custom search area on a map. And all the usual search filters are there: by the number of bedrooms, baths, home price and more.
Beyond the basics, the Zillow app offers something you don't see very often: free access to foreclosure property listings.
But beyond the basics, the Zillow home search app, just like the website, offers something you don't see very often: free access to foreclosure property listings. You can locate pre-foreclosures, auctions and bank-owned properties, too.
Parents can find homes near specific schools and within enrollment boundaries, as well as check out public and private school ratings and reviews.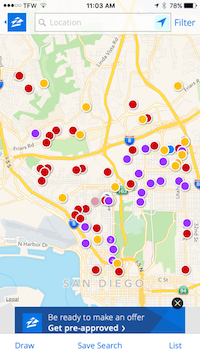 And of course, there are the Zestimates, Zillow's proprietary algorithm-based home value estimates that are popular with house hunters — but not so much with real estate agents. Industry professionals admit these robo-guesses may be entertaining, and even a source of general neighborhood values, but only a real-life appraisal will give you an accurate home value.
What users say
The Zillow app has a clean appearance and replicates most of the website's features. It's easy to scroll through and enlarge photos. Mobile maps have the same house-by-house value detail layer (Zestimates) as on the website. On the closest zoom, Zestimates can be hidden for easier readability on small screens.
Online reviews of the Zillow app for iOS and Android rave about the tool's user-friendliness. Some favorite features mentioned include:
The "Remove" tool, which lets you hide homes you aren't interested in from future searches
Useful links to county data for detailed property tax assessment info
Mapping, sorting and history options
But as with any app, there are some glitches — especially after updates. User reviews gripe about crashes, freezes and slow load times, and there are also requests for additional features such as ranking favorites in a saved home list, additional search filters and an ability to distinguish previously viewed homes.
Users also warn about incomplete, inaccurate or outdated information.
Other Zillow apps
Zillow offers three other free apps beyond the basic home search tool:
Zillow Rentals: This app helps users find condos, townhouses, apartments and single-family homes for lease. Just like the real estate app, the Zillow rental tool will push immediate notifications when new listings are released, and you can contact landlords and property managers by phone or email via the app.
Zillow Mortgages: This app helps you calculate how much house you can afford, receive real-time mortgage quotes based on your home loan request and market, and even gain preapproval. Zillow says, "Qualified buyers will receive an approval letter from a highly-rated lender within minutes."
Zillow Digs: This home design app provides home improvement ideas with searchable images, filtered by room, style, project cost and keywords. Just like the web version, images are clickable — you can choose a room feature, such as a lamp, faucet or cabinets, and a link will send you directly to the product source. No more guessing where the designer found that cool wall color and what it's called.
Many of the same functionalities of the smartphone and tablet Zillow apps are also available on the Apple Watch version of the apps.
These Zillow apps offer just about all you need, technology-wise, to find the perfect home. Except for that dog recommendation thing.
More from NerdWallet:
Hal Bundrick is a staff writer at NerdWallet, a personal finance website. Email: [email protected]. Twitter: @halmbundrick.
---
Top image via iStock.