Finding the right stroller is challenging enough, but the process can be twice as hard when you're looking for one that accommodates two children.
The Joovy ScooterX2 and the Baby Trend Snap-N-Go Double are both popular models, good for everyday use.
So which of the two is right for your little ones? We've compared our highest-rated double strollers to help you decide.
At a glance
The biggest difference between the two is that the Baby Trend Snap-N-Go is a stroller frame for infant car seats, while the Joovy ScooterX2 is a traditional stroller that can't function as a car seat carrier, making the Joovy suitable only for older babies and toddlers.
The Baby Trend Snap-N-Go Double is almost $200 less than the Joovy ScooterX2 Double, but car seats are sold separately.

| | Joovy ScooterX2 | Baby Trend Snap-N-Go Double |
| --- | --- | --- |
| Price | $279.99 from Joovy | $99.99 list price |
| Weight | 32 pounds | 18 pounds (not including car seats) |
| Recommended use | 3 months to 45 pounds per seat | Infant to 40 pounds per seat (including car seat weight) |
| Seating | Side by side | Tandem |
| Storage basket | Yes | Yes |
| Car seat carrier | No | Yes |
| Buy on Amazon | | |
Design
The Joovy ScooterX2 and the Baby Trend Snap-N-Go Double are noticeably different. The ScooterX2 features forward-facing, side-by-side seats, while the Snap-N-Go has tandem, rear-facing stadium seating. This makes the ScooterX2 wider, which might make it more difficult to fit through doorways. It measures 30 inches wide, compared to the Snap-N-Go's 19.5 inches.
The Snap-N-Go Double weighs 18 pounds, while the ScooterX2 is quite a bit heavier at 32 pounds. Keep in mind, however, that car seats will add weight to the Snap-N-Go Double.
The ScooterX2 is available in five colors: blueberry, red, green, orange and black. The Snap-N-Go frame comes only in the standard silver-black combo.
Each can quickly fold up when not in use to make storage and transport easier.
» MORE: The best side-by-side strollers
Features
Despite their differences, these strollers share some attractive characteristics. In fact, both are featured in our best double strollers roundup — based on 10,529 analyzed reviews. The Joovy ScooterX2 came in at No. 1 with an 8.7 overall score. The Baby Trend Snap-N-Go Double earned the No. 2 spot at 8.63.
Both strollers feature a large storage basket and two cup holders. Additionally, both strollers can be folded with one hand.
The Baby Trend Snap-N-Go Double
On the Snap-N-Go, many of the features shoppers look for in a stroller — for example, a canopy or reclining seats — are dependent on the car seats you use. This stroller fits car seats from most major brands, including Britax, Graco, Chicco and Evenflo.
The Snap-N-Go also comes with a parent tray to hold items such as phones and keys.
The Joovy ScooterX2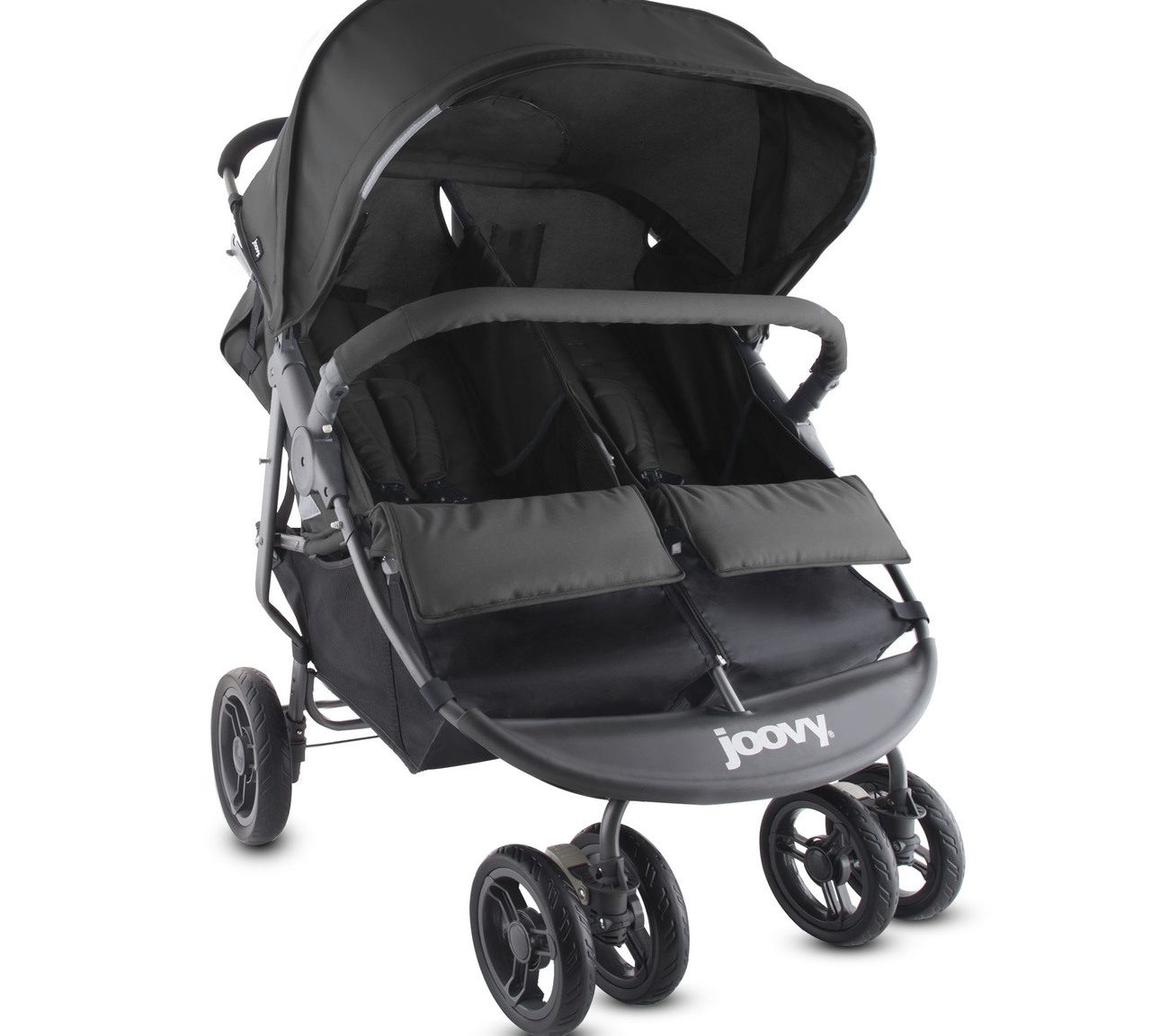 The ScooterX2 doesn't have a tray, but it includes several mesh and zip pockets for extra storage. Its seats can fully and independently recline. Joovy also says this model has the "largest canopy on the market" to help protect kids from the sun.
The ScooterX2 has padded seats and a five-point harness to keep children comfortable and secure.
» MORE: The best strollers
Price
The Baby Trend Snap-N-Go Double isn't sold through the manufacturer, but it's available at a variety of retailers. Its list price is $99.99. The Joovy ScooterX2 is priced considerably higher, at $279.99.
However, with the Snap-N-Go, you'll also need two compatible car seats. We recommend checking Amazon, where you may find both of these strollers — and a variety of car seats — at a discount.
Narrow down, then double up
Both strollers offer ample storage space. But if you're looking for a standard stroller and want to be an equal distance away from both of your kids, consider the Joovy ScooterX2, with its side-by-side seats. It doesn't accommodate the youngest infants, but it can hold toddlers and children up to 45 pounds.
If you want a more streamlined design to make navigating the narrow aisles of the grocery store easier, the Baby Trend Snap-N-Go Double might be the right choice. And it's a good option for parents looking for a convenient way to move their babies from the stroller to the car. In contrast to the ScooterX2, toddlers might be too large for the Snap-N-Go.
More from NerdWallet
The best travel system strollers
Chicco Liteway vs. Chicco Liteway Plus
The best jogging strollers
Lauren Schwahn is a staff writer at NerdWallet, a personal finance website. Email: [email protected]. Twitter: @lauren_schwahn.