Editorial note
Able Lending isn't currently issuing loans.
Compare loans
from other online lenders.
Editor's note: NerdWallet's Step by Step series gives small-business owners a behind-the-scenes look at the loan application processes for various online lenders. We show you what you can expect screen by screen as you submit your application.
Able Lending's model gives entrepreneurs a way to marshal the funding dollars of their friends and family members — aunts and uncles, college roommates, guy at the coffee shop, whomever — to back their businesses.
The Austin, Texas-based lender's most popular product, the Able Growth loan, combines contributions from these backers with financing the company itself pours in. Spreading the risk allows Able to lend to early-stage businesses that banks often wouldn't consider.
Vinyl Me, Please, a monthly record subscription service based in Denver, was such a company. Nearing two years under their belt, its founders knew that as their customer base grew, they would need to overhaul the way people shopped, ordered and paid online. Since the company's inception, it had used a hacked-together set of third-party software — imagine, as a customer, typing your credit card number into a Google spreadsheet to place an order.
"We had exhausted some of the patience of our members of being a young site," co-founder and CEO Matt Fiedler says. "They told us it was kind of [ridiculous] that we didn't have a way to make it easier on them. We kind of agreed with them."

That's where Able entered the picture.
Table of Contents
Able Lending loan application summary
Basic information and pre-qualification
Recruiting backers and funding
Able Lending loan application: summary
Like most lenders, Able asks borrowers about themselves and their businesses, and requests documents to back up the answers. Where Able differs is in its option for borrowers to recruit third-party backers.

Time: 10 minutes to get pre-qualified; 1-2 days to receive a conditional offer after required documents are submitted.
Funding time can vary because the loan can't close until all backers have contributed the funds they pledged. It takes another day to disburse the money.
Calls from lender: As few as zero; most requests for information are handled via e-mail.
Rounding up backers: Able provides borrowers an online pledge page to help recruit backers. In general, the more backer funds you raise, the more wiggle room the lender has to offer you a lower overall rate for the loan and a longer term, both of which can lower monthly payments. Able generally requires that the backer contribution make up at least 10% of the total loan amount. Read our Able Lending review.
Minimum borrower requirements and needed information: Able asks for basic personal information — name, Social Security number and home address — to do a soft credit check.
Here are the minimum requirements for an Able Growth loan:
Been in business at least one year
Positive year-over-year revenue growth
At least $100,000 in annual revenue
Personal credit score of at least 600
Sign a personal guarantee
Bankruptcy-free in the 12 months prior to funding
If the borrower pre-qualifies, Able requests financial information about the business. This includes:
Profit and loss statements for the past two years
Balance sheets for the past two years
Bank statements for the past 12 months
Note: Able does not lend in California, Delaware, Nevada, North Dakota, South Dakota or Vermont.
Loan amount: $25,000 to $1 million
APR: 8% to 25%
Loan term: 1 to 5 years
Funding time: Up to 7 days for Able-funded loans; up to 1 to 2 days after full backer contribution for Able Growth loans.
Read our Able Lending review.
Before you apply for an Able Lending loan, find out whether you meet the lender's minimum qualifications.
600+ personal credit score
1+ year in business
$100,000+ in annual revenue
Positive year-over-year growth
No personal bankruptcy in the past 12 months
Personal guarantee required
Able is not available in California, Delaware, Nevada, North Dakota, South Dakota and Vermont
[
Back to top
]
1. Basic information and pre-qualification

Time: Less than 10 minutes
Documents needed? None
To get started with an application on Able's website, first enter basic personal information and choose which type of Able loan you want. (For the purposes of this step-by-step article, we are discussing Able Growth loans, which includes funding from backers and the lender.) On the next page, you use the slider to indicate the desired loan amount and click the box for the purpose of the loan.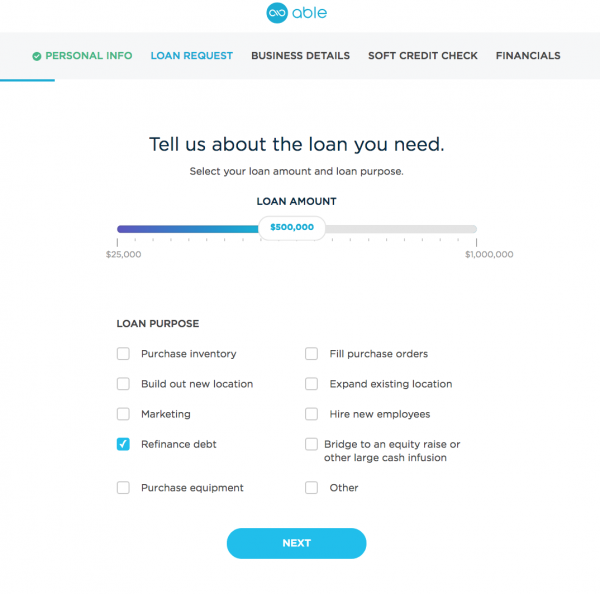 You're then asked for basic business information such as your business ZIP code, time in operation, your ownership stakes and your annual revenue. If you decide to continue from there, Able will ask for your home address and Social Security number to do the pre-qualifying soft credit pull. Able can do the check and confirm that your personal credit meets requirements within seconds, says Mihir Korke, the company's chief marketing and growth officer.
Vinyl Me, Please's experience differed from those of applicants who typically start the process via Able's website. Co-founder Tyler Barstow knew Able co-founder Evan Baehr, so he and Fiedler began discussions with Able about their plans to create a new subscriber platform and the capital they would need to do so. The business partners settled on $100,000.
The process formally started for Vinyl Me, Please when the co-founders received links from Able to submit information for a personal soft credit check. They got an email less than an hour later confirming that their credit met the lender's requirements and requesting a list of financial documents.

[Back to top]
2. Conditional offer

Time: Within 24 hours of uploading all documents at the earliest; could be a few days.
Documents needed? Profit and loss statements for past two years, balance sheets for past two years, bank statements for the past 12 months.
Immediately following pre-qualification, Able asks for financial statements — balance sheets, income statements, statements of cash flows — and other documents such as pending purchase orders, bank statements and financial projections, which the company's underwriters use to evaluate your business's creditworthiness.
Based on your documents, they may have additional questions. For example, Able asked the Vinyl Me, Please co-founders how they booked deferred revenue on their balance sheets.
Able can offer a conditional approval within a day once it receives all required documents and questions have been addressed. The lender then gives you a range of scenarios for loan rates and terms to consider, Korke says. Borrowers can use a calculator on Able's site to toggle the split on the total loan amount, the interest rate backers receive and the term of the loan.
In addition to profit and loss statements, balance sheets and bank statements, Fiedler and Barstow provided cash flow statements, a list of the business's outstanding debt and financial projections.
They received a conditional offer within a few days from Able for a 36-month, $100,000 loan, split $75,000-$25,000 between Able and backers, respectively. The interest rate for Able's portion was set at 13%, with the backer rate adjustable between 6.5% and 13%. Able's origination fee was 5% of the loan amount, or $5,000, and there was no prepayment penalty. The monthly payment would be around $3,300.

[Back to top]
3. Accepting loan offer
Vinyl Me, Please accepted the loan offer 29 days later, just short of the 30-day deadline on its offer letter. The company took so long, Fiedler recalls, because he and Barstow wanted to be certain it was the best option for them, and they needed to nail down some details on how much their platform overhaul would cost. Because the holidays were approaching, they decided to wait until the new year to begin recruiting backers.

[Back to top]
4. Recruiting backers and funding

Time: Varies depending on how long it takes to secure backer contributions
Documents needed? As required to recruit backers
In general, Able gives you two weeks to get all your backers in line, though it can be extended to a month, Korke says. Borrowers can send would-be backers a link to a funding page that describes the loan and directs them to contact Able if they're interested in contributing. It's up to you, ultimately, to agree with your backers on the interest rate they will receive.
The average Able Growth loan has three backers. After the loan is funded, backers get monthly interest-only payments until Able's portion of the principal is paid in full. Backers then receive interest-and-principal payments.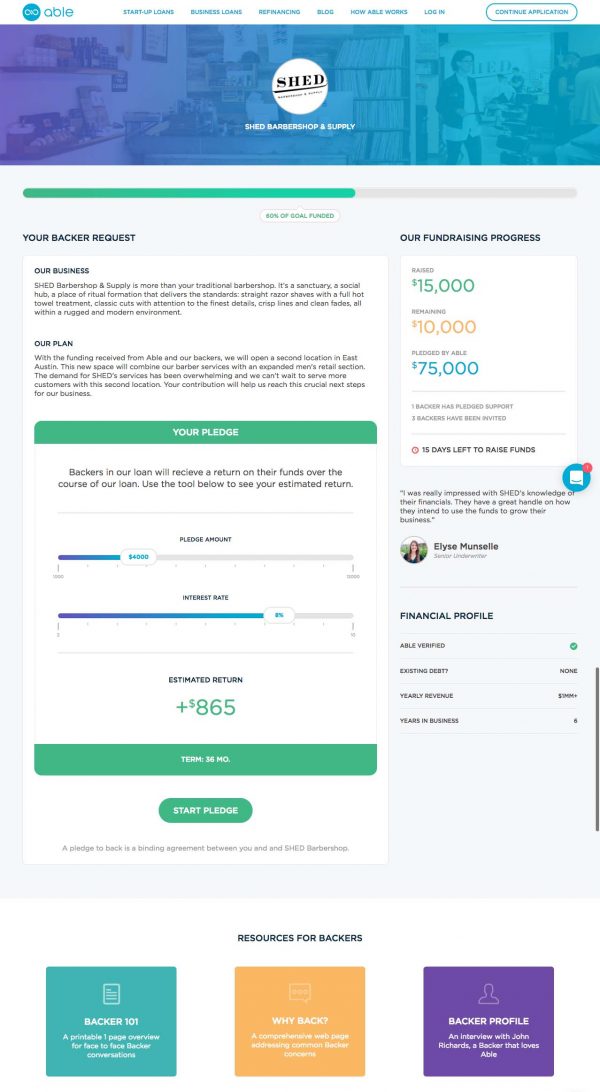 Fiedler started by sending emails to potential backers, directing them to a page on Able's site where they could learn more.
"I was scared to ask people for money," he says, but Able's platform made it easier.
He typically referred questions about how the loan servicing would work to the lender. Of the five people solicited, three opted in, two for $10,000 and another for $5,000. Each backer agreed to a 12% interest rate, Fiedler says.

[Back to top]
5. Loan closing
Before the loan is funded, Able does a hard credit check. Once all backers have deposited their contributions with the lender, the loan is ready to close.
In Vinyl Me, Please's case, because it had been a few months since its conditional approval, Able also asked for up-to-date financials before funding the loan. Once the co-founders provided the information, their loan closed in early 2016 and they received funding a few days later.
What happened next
In the months after getting the loan, Vinyl Me, Please built out the back and front ends for new subscriber account pages and storefront pages that give customers an experience that looks and feels like more established e-commerce sites and relies much less on third-party software, Fiedler says. Removing the "friction points" of the old system, he adds, has helped the company retain current subscribers and bring in new ones.
Looking ahead, the new platform will also serve as the basis for Vinyl Me, Please's growth strategy. The subscription model remains the bread and butter, but the company wants to increase sales to non-subscribing customers who want to buy records in one-off transactions.
Without the loan, the company probably would still be trying to work with the old system.
The loan "has set us up for the future and given us a really strong leg to build the rest of the business on," Fiedler says.

[Back to top]
Compare Able Lending with other lenders
If you want to compare Able Lending with other lenders, use NerdWallet's small-business loan tool. We gauged lender trustworthiness, market scope and user experience, among other factors, and arranged them by categories that include your revenue and how long you've been in business.
Updated Jan. 9, 2018
Andrew L. Wang is a staff writer at NerdWallet, a personal finance website. Email: awang@nerdwallet.com. Twitter: @andrew_L_wang.