Editor's note: NerdWallet's Step by Step series gives small-business owners a behind-the-scenes look at the loan application processes of various online lenders. We show you what you can expect screen by screen as you submit your application.
Founded in 2013, StreetShares is relatively new to the alternative lending space. The company uses community-based lending to connect small-business owners with investors who share characteristics such as military service. This way, StreetShares aims to drive down risk, which helps keep interest rates between 9% and 40%.
StreetShares offers term loans between $2,000 and $100,000, though you'll only qualify to borrow up to 20% of your company's annual revenue. Check out our review for more information.
Below, we'll break down StreetShares' application process step by step. It's also mobile-friendly, so you can complete it on the go from your phone or tablet.
Table of Contents
Provide detailed business information
StreetShares loan application: Summary

Time: 10 minutes
Phone calls to expect: 1 to 2
Documents needed: Six months of bank statements, your most recent business and personal tax returns, a DD Form 2014 (if you're a veteran). You might also be required to send copies of your balance sheet and profit and loss statements.
To qualify for a StreetShares loan or line of credit, you need a personal credit score starting at 600, one year of business history and a minimum of $25,000 in annual revenue. You also can't have a bankruptcy in the past three years.
StreetShares at a glance
Type of product
Term loan and line of credit
Cost of funding
9% to 40% APR
Approval time
1 to 5 days
Loan amount
$2,000 to $100,000 for term loans;
$5,000 to $100,000 for lines of credit
Loan term
3 to 36 months
Minimum qualifications
600+ personal credit score

At least one year in business

$25,000+ in annual revenue




Read our StreetShares review
1. Prequalification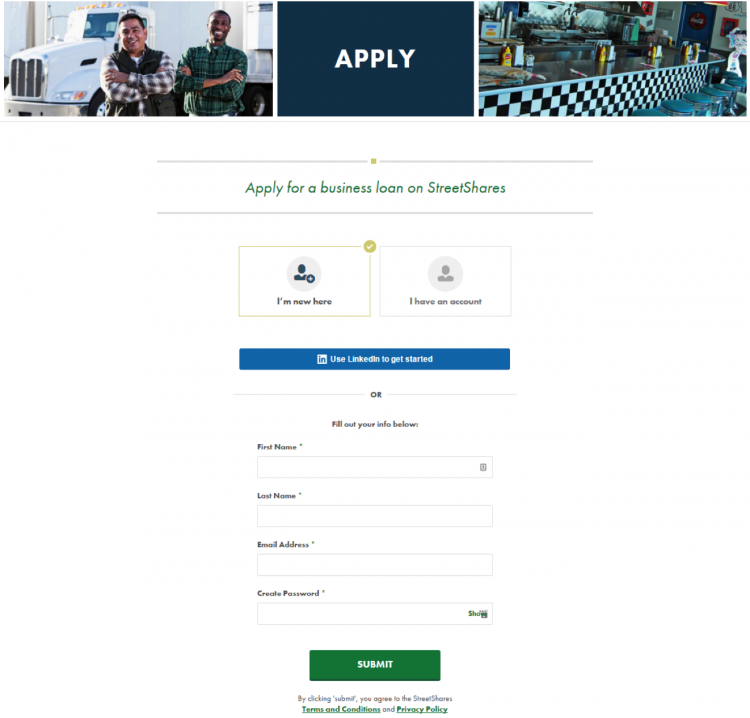 First, you'll provide basic information and create an account. You can use your LinkedIn profile to populate some of the fields.
Next, you'll enter information about the amount of funding you'd like and your requested repayment terms.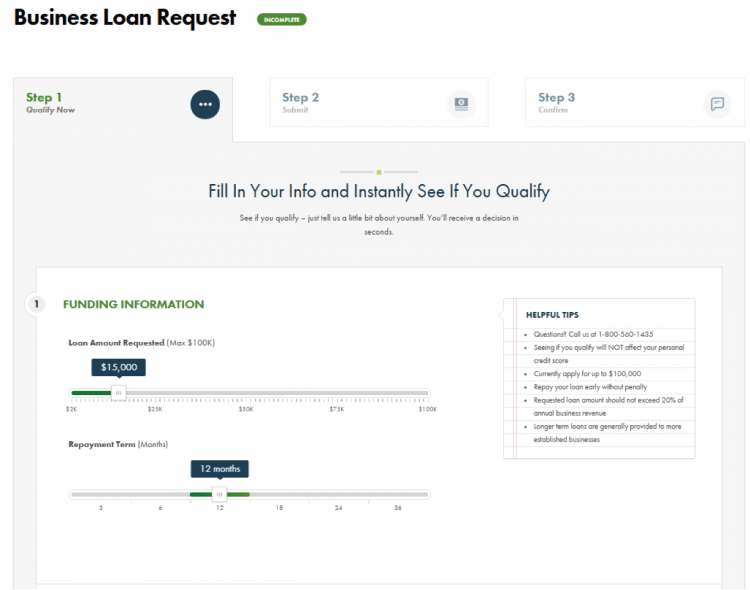 You'll also add some information about your business, including its:
Name
Contact information and website
Business entity type
Revenue
Number of years in operation
Number of employees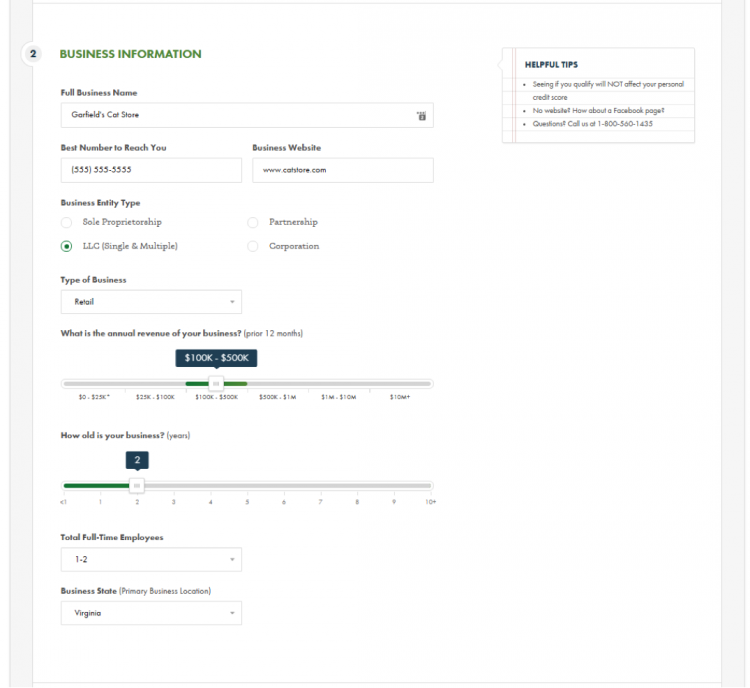 You'll follow up with information about yourself, including your:
Name
Contact information
Birthdate
Veteran status
Household income
Percent ownership in your business
Personal credit estimate
You'll also be asked for the last four digits of your Social Security number. StreetShares will use that information to perform a soft credit inquiry, after which you'll find out if you prequalify for a loan.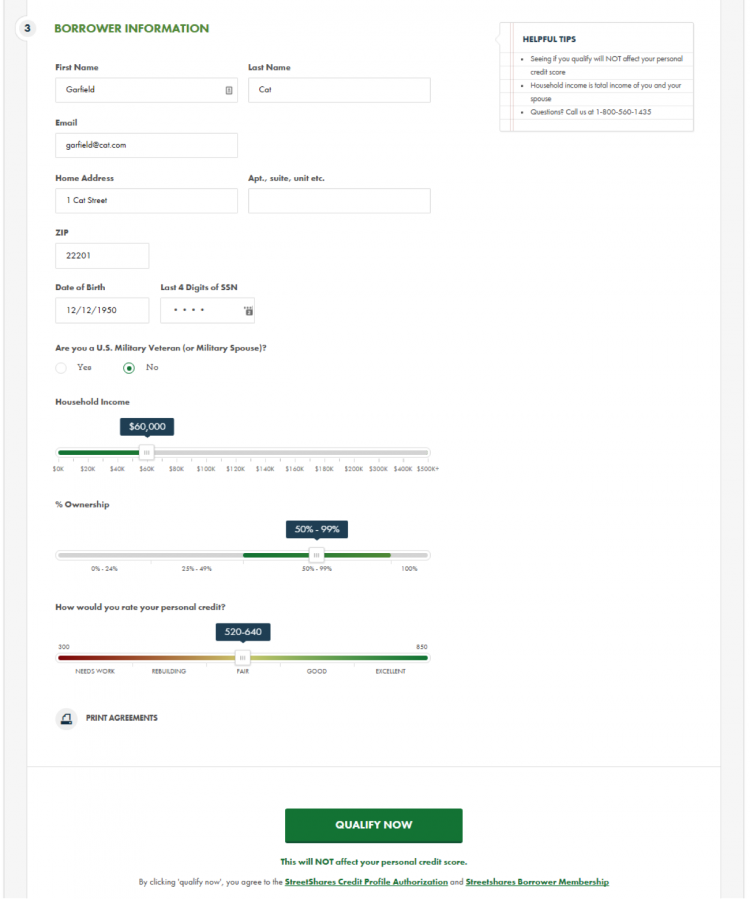 2. Provide detailed business information
If you prequalify, you'll start the full application process and provide more details, including:
Your employer ID number
Your full Social Security number
Your business's address
Your business's outstanding debt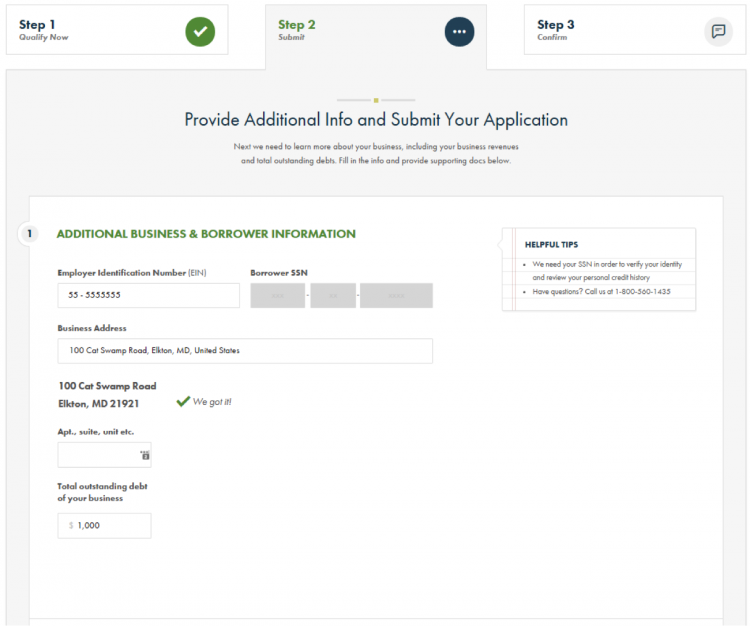 You'll also add information about your business financials. You can either log directly into your bank account to access your last six months' worth of business bank statements, or manually upload the documents. Then you'll upload your most recent business and personal tax returns.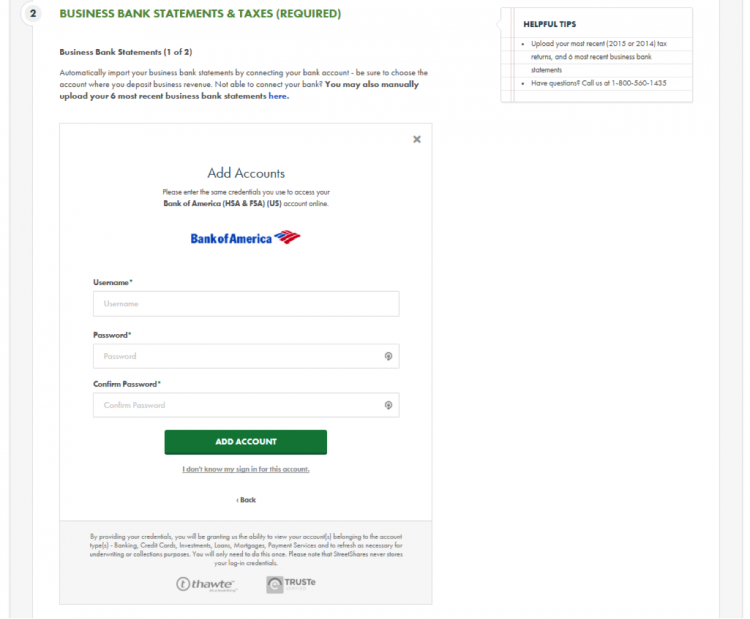 Last, you'll tell the company how you plan to use the funds you receive through StreetShares. Options include buying inventory or equipment or making facility improvements.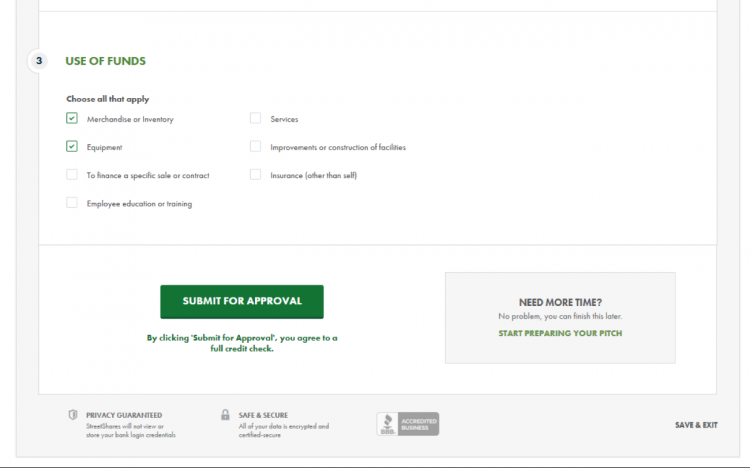 Hitting "submit" sends your documents to StreetShares' underwriting team. At this time, they'll perform a hard credit check.
3. Chat with a sales rep

Between 30 minutes and a few hours after you submit your documents, a customer service representative will call to check in with you about the process and let you know if any documents are missing. If there are substantial questions about your credit history, an underwriter might join the conversation, giving you a chance to clarify.
4. Accept funding
After submitting your application, you'll know whether or not you've been approved in 24 to 48 hours. If you decide to accept your loan offer, an automatic transfer will be initiated and you'll have the funds in your account by the next business day.
To apply
If you're interested in a loan from StreetShares, you can apply on the lender's secure website:
Find and compare small-business loans
To compare StreetShares with other lenders, NerdWallet has created a comparison tool of the best small-business loans to meet your needs and goals. We gauged lender trustworthiness, market scope and user experience, among other factors, and arranged them by categories that include your revenue and how long you've been in business.
Jackie Zimmermann is a staff writer at NerdWallet, a personal finance website. Email: jzimmermann@nerdwallet.com. Twitter: @jackie_zm.
Updated March 13, 2017.