NerdWallet's Best Credit Cards for the Suburbs
Consider your spending on things like gas, groceries, furniture and utilities. Here are our favorite cards for those kinds of expenses.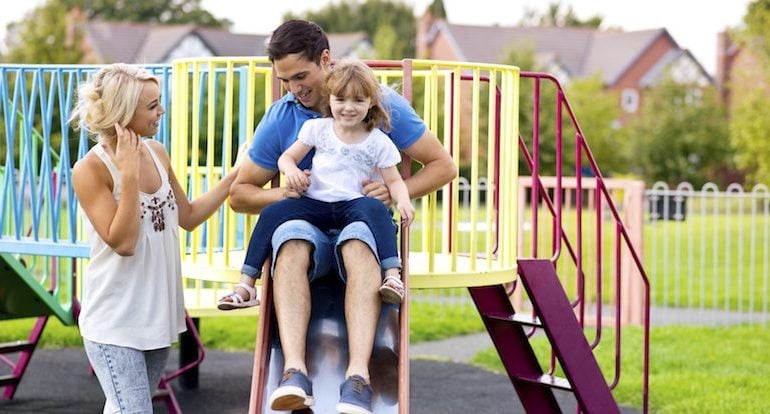 Many or all of the products featured here are from our partners who compensate us. This may influence which products we write about and where and how the product appears on a page. However, this does not influence our evaluations. Our opinions are our own. Here is a list of our partners and here's how we make money.
You've traded skyscrapers for cul-de-sacs and your subway pass for an SUV. Once you've succumbed to the siren song of suburbia, leaving your urban life behind is going to mean a different set of expenses.
To help maximize the spending patterns that go along with your new residential lifestyle, here are our top picks for credit cards for suburbanites.
The  is a strong choice for those who spend a big chunk of their household budget on getting around town and filling up the fridge. You'll earn an industry-leading cash-back rate at U.S. supermarkets on up to $6,000 a year in spending (then 1%), plus 3% cash back at U.S. gas stations and on eligible transit expenses. Terms apply. Even for those days when you don't wanna fight the traffic and would prefer to park yourself on the sofa, the card will snag you 6% cash back on select U.S. streaming subscriptions. It also offers extended warranties and return protection on eligible card purchases, giving you additional safeguards for new appliances or other big-ticket items.
Now that you've made the leap to owning your first home, . The can help with that. One of its 3% bonus category options is "home improvement and furnishings." And if you already have the home goods you need? You'll have five other possible 3% categories to choose from, including gas, online shopping, dining, travel and drugstore spending. Also take note of the card's 2% categories: Grocery stores and wholesale clubs can be quite helpful for homeowners. And the sign-up bonus could be enough to cover the food bill for your first housewarming party.
You'll need to be OK with tracking bonus categories and how much you're spending in them. The $2,500 quarterly spending cap applies to the 3% and 2% bonus categories combined; big spenders may hit that cap pretty early.
If you're highly organized and don't mind a little extra effort in exchange for customized rewards, the  can be a good fit. It offers 5% cash back on your first $2,000 in purchases each quarter on the combined two categories you choose, from a list that typically includes suburban favorites like furniture stores, home utilities, sporting goods stores, gyms and fitness centers, and movie theaters. You also earn 2% cash back on your choice of one everyday category like grocery stores, gas stations and restaurants, and 1% back on all other eligible purchases. You can also  for maximum returns on your spending.
It's a fair amount of work to keep track of so many bonus categories.
If you dread making multiple stops to finish your to-do list, the  could be your wallet's MVP. Fill up your tank, pick up a year's worth of ketchup and purchase a new flat-screen TV, all in one trip. The card's gas rewards are among the highest you'll find, and families that dine out often will also be handsomely rewarded.
While the annual fee is technically , you must be a Costco member, which starts at $60 a year. (By comparison, the  requires a membership starting at only $45 annually.)
If you're already an Amazon Prime member, the is perhaps the most valuable store card on the market. It earns 5% back at Amazon.com and Whole Foods Market; 2% back at restaurants, gas stations and drugstores; and 1% back on all other purchases. So it's great for those times you don't feel like braving the mall, or for those times your kids are craving a jar of 365 Everyday Value-brand organic peanut butter. Officially, the card's annual fee is — but the only way to get it is by becoming a Prime member, and that typically costs $119 annually.
If you can do most of your shopping online, the will save you even more off of the big-box behemoth's already-low prices. With this card, you'll get 5% back on purchases at Walmart.com and items purchased through the Walmart app. This includes items you , as well as for Walmart Grocery Pickup and Delivery. You'll earn 2% back on in-store purchases (including those made at Walmart fuel stations) and the same 2% back on travel and restaurant spending; and 1% back on everything else. (In the first year only, you'll also get 5% back on in-store purchases made with the Walmart Pay digital wallet.) There's no annual fee, but unless you can check off most of your shopping list via your computer or smartphone, you can likely get better all-around rewards on another card.
If big-box stores are more your jam and you can't do without a weekly Target run, consider the . Instead of waiting to redeem rewards, you'll get the incentive immediately upon checkout: 5% off nearly anything in the store. The annual fee is , and unlike either the or the , no membership fee is required. But the card does have a high interest rate: . So try not to carry a balance on it.
Making a Starbucks run is practically synonymous with getting through a busy day. And if you're someone who also uses the ubiquitous chain for its Wi-Fi, your parenting meet-ups, or just to grab a half-caf-triple-foam-whatever on the regular, you can benefit from the rewards on the . The card earns up to 3 Stars per $1 spent at Starbucks stores: 1 Star per $1 when digitally loading your Starbucks Card with your  (excludes money added at the register), plus 2 Stars per $1 spent when that Starbucks Card is used to pay at Starbucks stores. You'll also earn 1 Star for every $2 you spend at on several everyday categories including grocery stores, local transit and commuting, internet, cable, and phone services and 1 Star for every $4 you spend outside of Starbucks stores. There's an annual fee of , though, and rewards can only be redeemed for food and drinks, so this card makes sense only for those who make Starbucks a part of their daily grind.
To view rates and fees of the , see .
Information related to the  has been collected by NerdWallet and has not been reviewed or provided by the issuer of this card.
Information related to the  has been collected by NerdWallet and has not been reviewed or provided by the issuer of this card.