10 Countertop Materials to Make Your Kitchen Pop
Choices — and prices — can vary widely. Which will you choose?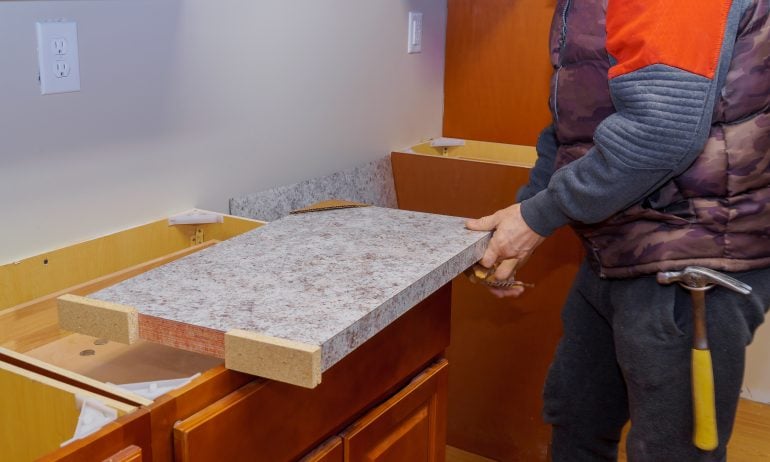 Many or all of the products featured here are from our partners who compensate us. This influences which products we write about and where and how the product appears on a page. However, this does not influence our evaluations. Our opinions are our own. Here is a list of our partners and here's how we make money.
Replacing kitchen countertops is one of the most transformative aspects of any kitchen remodel. But with countless options, the decision can feel overwhelming. That's why we've done some of the homework for you. Here's our quick guide to 10 of the most popular kitchen countertop materials. Note that costs per square foot can range from as low as $15-$20 for tiles and laminates to more than $200 for higher-end materials.
Often featured in traditional and rustic kitchens, natural wood countertops offer enduring warmth and homey charm. Wood needs some TLC, but regular oiling and resealing should keep it in good shape. And although wood is vulnerable to water damage, scratches, cracks and stains, sanding and resealing can restore its original appearance.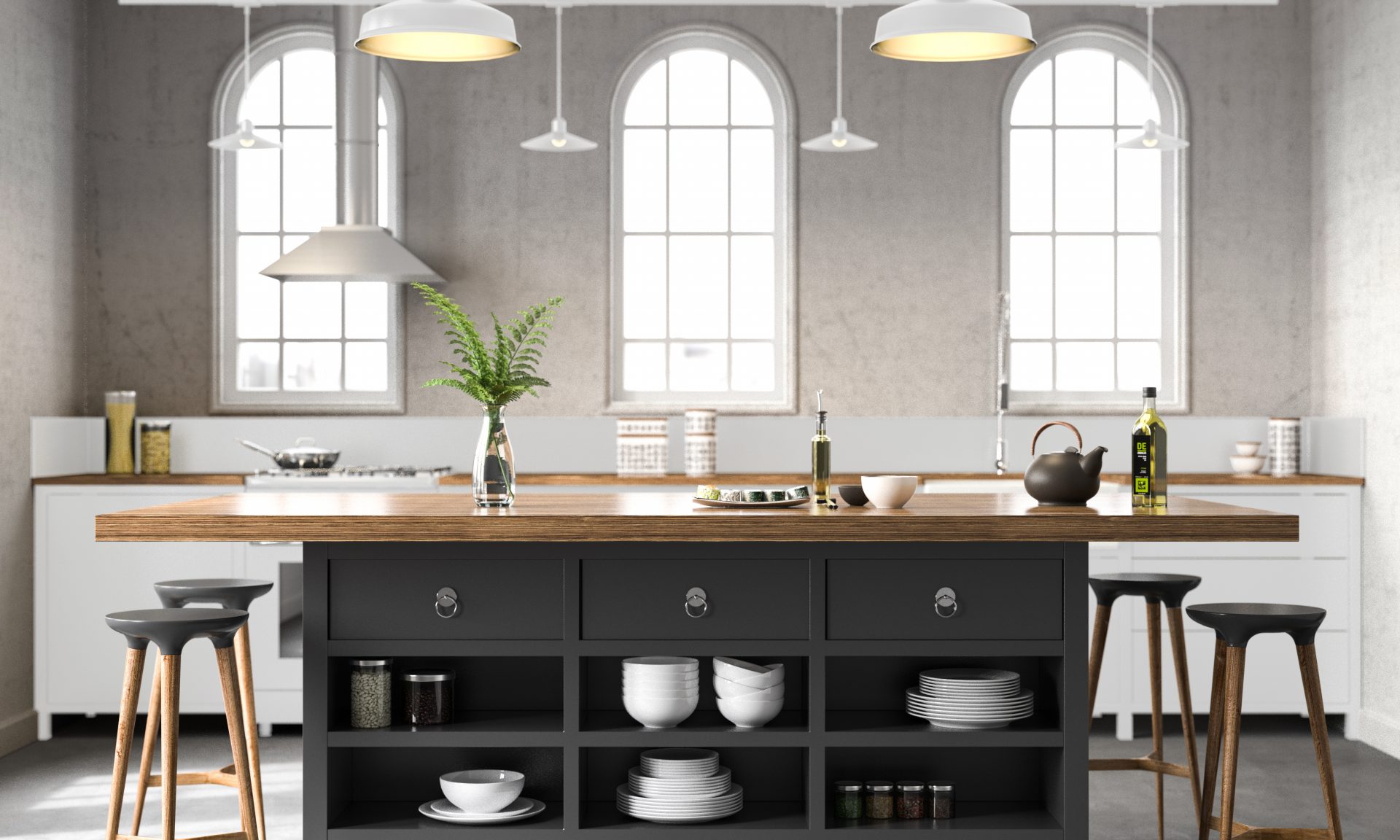 Wood at a glance:
Cost: Typically moderate.

Maintenance: Requires oiling and resealing twice annually.

Durability: Durable with proper care.

Resale value: Unlikely to increase value.

Wow factor: Reclaimed wood is very eco-friendly and may even qualify you for a special tax break.
Colorful tile can be very kind to budgets, and it's DIY-friendly as well. Available in a range of shapes and colors (including some that look like marble or wood), tiles are extremely resistant to heat and cuts, and they clean up easily. Individual chipped tiles can be replaced, but the grout lines between them often develop stubborn stains. It's also important to understand that tile countertops aren't smooth. Cups and plates may wobble, and you can't roll out dough. Ceramic at a glance:
Maintenance: Grout should be resealed regularly.

Durability: Durable, but can chip.

Resale value: Unlikely to increase value.

Wow factor: Tiles can be set in one-of-a-kind mosaic designs.
Today's concrete isn't just for sidewalks. When stamped, stained, etched, polished and sealed, eco-friendly concrete creates sophisticated countertops that range from farmhouse chic to modern industrial. Concrete countertops are durable; they're resistant to scratches and heat, but vulnerable to cracks and stains. This high-end material can be expensive though, and it's hard enough to be tough on dinnerware. Be aware that concrete countertops must be resealed annually, and their weight can put a strain on cabinets and floors. Concrete at a glance:
Maintenance: Requires annual resealing.

Durability: Heat- and scratch-resistant, but may crack and stain.

Resale value: Should increase value.

Wow factor: Embedded glass, stones, seashells and fiber optics can make concrete countertops into true works of art.
Elegant granite brings luxury to even the simplest kitchens, and its high-end appeal is likely to attract buyers and increase resale value. It resists heat, chips, scratches and stains and it's so hard it can dull your knives. Available in thousands of colors with distinctive flecks and patterns, granite can be cut in a variety of edge profiles, from basic (think straight, rounded and beveled) to more premium and custom variations, some quite ornate. Granite is porous, so it requires annual resealing. And because it's so heavy, your cabinets may need extra structural support. Granite at a glance:
Cost: Typically high (choosing a thinner slab can reduce cost).

Maintenance: Needs annual resealing.

Durability: Durable when properly maintained.

Resale value: Should increase value.

Wow factor: The National Association of Realtors names granite as one of the most desired kitchen countertop materials among home buyers.
Laminates such as Formica are a synthetic option that works in both retro and modern kitchens. Because they can mimic the look of costlier materials like stone or wood, laminates create striking countertops that won't strain your budget. Easy to clean and maintenance-free, laminates are also non-porous and fairly simple to install for DIY enthusiasts. There are some downsides though, like visible seams. Laminates are also vulnerable to burns, scratches and chips, and once damaged, they're almost impossible to repair. This option is considered ordinary (or even undesirable) by most home buyers, so it won't increase resale value. Laminates at a glance:
Maintenance: None required.

Durability: Scratches, chips and burns easily.

Resale value: Unlikely to increase value.

Wow factor: A very budget-friendly way to create eye-popping kitchens.
Prized for their timeless beauty and unique veining patterns, marble countertops add to almost any home's value. As the height of kitchen luxury (with a price tag to match), polished marble is known for its subtle hues, sometimes embedded with mineral deposits. Marble is naturally heat-proof but is prone to scratches that can be difficult to repair. And since it's porous, common spills will become permanent stains unless the countertop is resealed annually.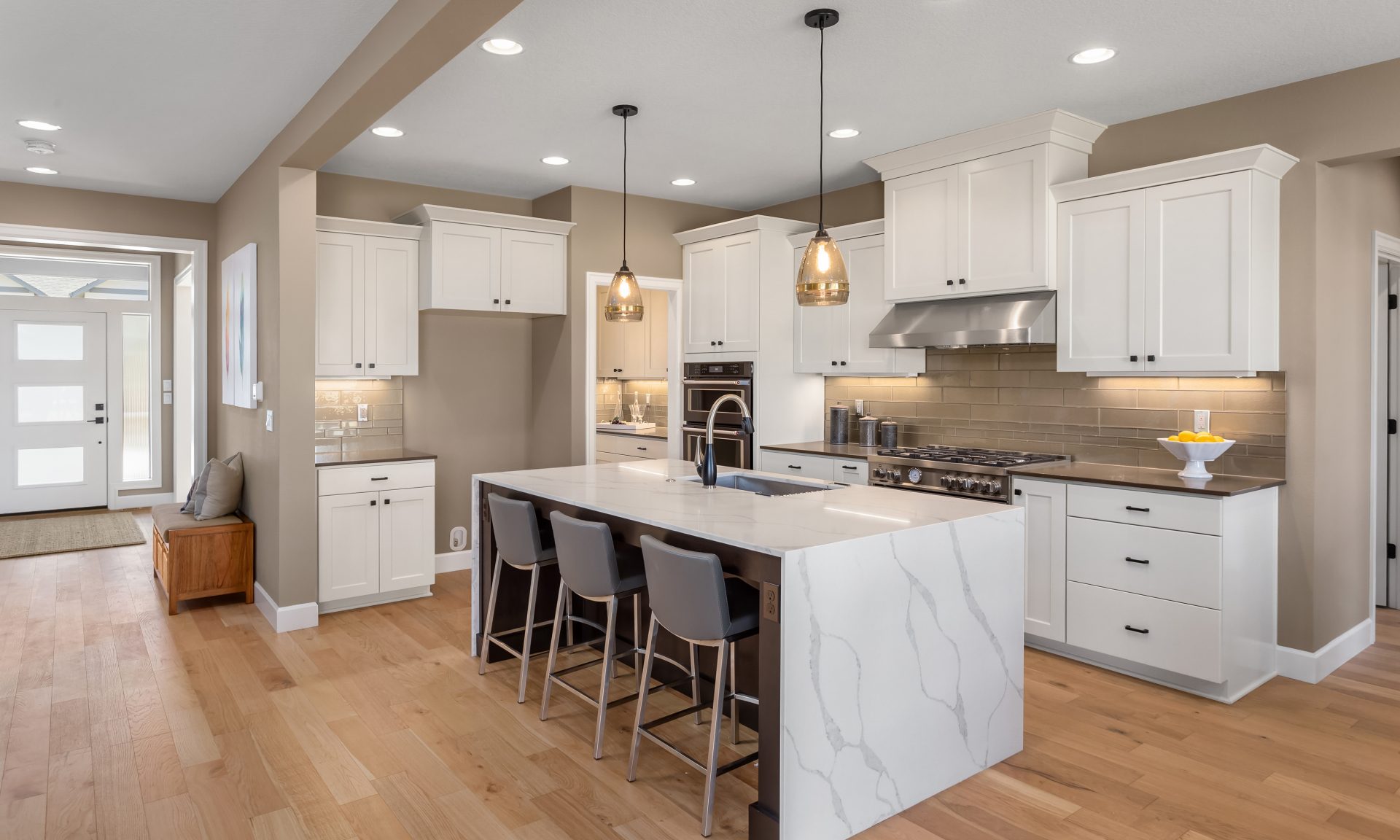 Marble at a glance:
Maintenance: Requires annual resealing.

Durability: Durable. Resists heat but not scratches.

Resale value: Should increase value.

Wow factor: Each marble slab is like no other for a unique decorating statement.
7. Quartz (engineered stone)
The countertop material described as quartz is actually an engineered stone made of mostly quartz along with other minerals. It comes in a variety of colors and can mimic the look of high-end stones like marble or granite. Moderately priced engineered quartz has a number of advantages. Each slab is uniform quality, durable, nonporous, and extremely resistant to stains, bacteria, chips, cracks and scratches. Perhaps best of all, engineered quartz doesn't require any maintenance. Quartz at a glance:
Maintenance: None required.

Durability: Very durable.

Resale value: Should increase value.

Wow factor: Made from as much as 90% quarry waste, it's a very eco-friendly choice.
Soapstone is common in historic kitchens, but this versatile material works equally well with modern designs. Known for its deep gray color, it's also available with blue or green undertones. While soapstone resists stains and bacteria, it's prone to scratches and dents. Over time these create a signature patina that doesn't necessarily detract. Eco-friendly soapstone is highly heat-resistant, and damage can be sanded out. It doesn't require sealants but needs regular mineral oil rubdowns. Soapstone a glance:
Maintenance: Needs regular mineral oil treatments.

Durability: Durable and heat resistant; prone to scratches.

Resale value: Should increase value.

Wow factor: Soapstone looks even better with age.
Once hailed as a space-age luxury, solid-surface countertops such as Corian have become mid-range kitchen staples. While not as popular as natural stone, they may still add to your home's value. Solid-surface countertops are maintenance-free and resist stains but are vulnerable to scratches and heat. If damage does occur, it can usually be sanded out, but this easy-care material isn't a "green" choice. Solid-surface at a glance:
Maintenance: None required.

Durability: Resists stains. Dents, scratches and scorches easily.

Resale value: May increase value.

Wow factor: Can be custom molded to include sink basins and backsplashes.
For the sleek look of a professional kitchen, nothing beats stainless steel. Seam-free, highly durable and immune to heat, these countertops are also nonporous, maintenance-free and popular with home buyers. Stainless steel countertops can last as long as your home, but if a change is ever desired, this green material is recyclable. There are a few drawbacks, however. Stainless steel is noisy, shows fingerprints, and unless you opt for the highest grade of steel, can scratch and dent easily. Stainless steel at a glance:
Maintenance: None required.

Durability: Very durable but does scratch and dent.

Resale value: Should increase value.

Wow factor: Opting for a brushed finish helps camouflage scratches and dings.
So which countertop material is best? Your answer will ultimately depend on individual factors like budget, lifestyle and taste. But taking the time to become familiar with all your options goes a long way toward making your choice easier. And in the end you'll have a new-look kitchen to enjoy — one that could also add to the value of your home.
Get more smart money moves – straight to your inbox
Sign up and we'll send you Nerdy articles about the money topics that matter most to you along with other ways to help you get more from your money.