What Does Business Insurance Cover?
These are common types of insurance coverage that could benefit your small business.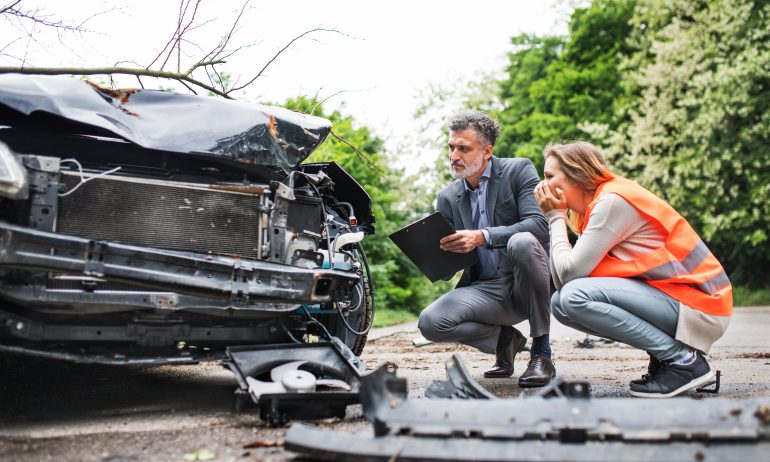 Many or all of the products featured here are from our partners who compensate us. This may influence which products we write about and where and how the product appears on a page. However, this does not influence our evaluations. Our opinions are our own. Here is a list of our partners and here's how we make money.
is one of the most important investments you can make as a small business owner. The right business insurance coverage will protect your company from the financial impact of potential lawsuits, property damage or loss, personal injury and more.
But what does business insurance cover? Just as all businesses are not created equal, a business insurance policy can vary greatly from company to company. Depending on the scope of your business, it may make sense for you to purchase multiple types of coverage that mitigate the risks for your particular line of business.
This guide will help you understand the various ways you may be vulnerable as a small-business owner, as well as the types of insurance that can help mitigate that risk.
One of the simplest ways to acquire good basic business insurance is by purchasing a , which typically includes general liability insurance, commercial property insurance and business interruption insurance.
In addition to a BOP, most companies with employees must hold, depending on state requirements. And if your employees will operate company vehicles, your small business will need .
What happens if someone is injured or harmed by your business or on company property? is designed to protect you from the financial repercussions of the situation. There are multiple kinds of liability policies, from general liability to more specific types of coverage unique to your industry or business model, such as liquor liability insurance.
Most of these policies must be purchased individually.
is a standard component of a BOP and covers bodily injury such as medical expenses incurred by a customer slipping in your office, or repairs on a client vehicle that is damaged on your company property. It also pays out for emotional or reputational damage such as slander or libel.
Employee-related insurance pays for any covered reasons you may experience as an employer. There are three main types of insurance under this category: Unemployment insurance, and employee liability insurance.
As mentioned earlier, employee-related insurance is required if you employ anyone on payroll. In some states, you will need this insurance even if you employ only contractors.
You may even consider investing in  to cover employee claims for issues such as harassment and discrimination.
Business owners purchase , also known as , to protect against litigation for actions made in their line of work.
For instance, medical malpractice insurance protects doctors if they are sued for the injury or death of a patient. Professionals who advise clients on important decisions often need professional liability insurance as well. And even creatives could benefit from errors and omissions insurance, such as wedding vendors who need financial protection in case they cannot deliver their services as agreed.
If your company falls prey to a data breach or cyberattack, can help cover any associated costs. Coverage for this type of liability may include the cost of finding and repairing the cyber breach, mitigating any losses incurred by the attack and can even include the expense of public relations efforts designed to help rebuild your company's reputation.
Business identity insurance is a specific type of coverage that protects companies that have experienced identity theft. Let's say a criminal opens up a storefront in your name to collect payments from your customers, or steals your tax identification number to open fraudulent lines of credit under your business name. If you have business identity insurance, your policy can help cover the costs associated with recouping your losses, as well as rebuilding your credit profile and reputation.
If your business requires the use of a company vehicle, you'll need a . As with your personal car insurance policy, your commercial auto coverage must include liability insurance, which pays for the medical bills and damage incurred by the other party in the event of an accident. (For more about auto insurance, .)
You will need commercial fleet coverage if you operate a or heavily rely on your vehicles to operate your business. Commercial fleet insurance is purchased as a separate policy, and some states mandate a minimum requirement for coverage.
Most personal plans do not adequately cover commercial use. So if you are self-employed and use your personal vehicle for business activities, .
If you drive for a rideshare company such as Uber or Lyft, you can purchase to cover the gap between your personal auto policy and any coverage provided by the company for which you drive.
An umbrella insurance policy kicks in after you reach the limit on other types of liability coverage. This type of coverage is particularly valuable for protecting you against legal claims or lawsuits that could devastate your company.
Let's say a customer is awarded $1 million for sustaining an injury on your company premises, but your general liability insurance covers only up to $500,000. An umbrella policy could cover the additional $500,000 required to pay out the claim.
Outside of general liability and commercial auto liability coverage, most of the policy types above have to do with injury or harm to people. This next category of coverage specifically focuses on damage to the physical possessions you need to operate your business.
is commonly bundled under a BOP. BOP-bundled property insurance primarily covers any damaged or destroyed buildings, equipment, vehicles and other physical belongings that help you run your business.
You can also purchase specialized coverage if you live in an area with known risk of certain types of natural disasters, or if your industry carries higher inherent risk to your equipment.
is one such type of coverage. Contrary to what its name might suggest, inland marine insurance actually protects companies against the loss of products, especially perishable food items, that are transported over land. You can also insure company property against burglary and robbery, earthquakes and volcanoes, food contamination and a host of other issues.
typically comes bundled in a commercial car insurance policy. This type of coverage pays for vehicle damage from theft, vandalism, flood, fire and damage if a work vehicle is hit by an object or another car.
Commercial fleet insurance is important for companies that use their vehicles as a major part of their business model, such as for construction or car rentals.
Finally, the right insurance coverage can protect your company's finances when you are unable to work.
, also called business interruption insurance, kicks in when you cannot work due to a covered cause. Business interruption insurance can pay for your lost income during this time if your restaurant kitchen catches fire, for example.
This coverage typically comes bundled in a BOP and can include lost business income, mortgage or rent payments, payroll and taxes. You can purchase add-ons for specific contingencies such as loss of utilities or extra expenses if you anticipate needing to hire temp workers or pay overtime.
You can purchase for yourself and core employees in your company who are necessary for business operations. Key person insurance pays out in the event of the insured person's death or disability, designating the business as the beneficiary of the loss. The insurance proceeds can be used to pay for lost income, hire a replacement or similar expenses related to the loss of a core business leader.