How to Get Business Insurance for Restaurants and Food Companies
You can get food business insurance by contacting providers, using an online marketplace or working with a broker.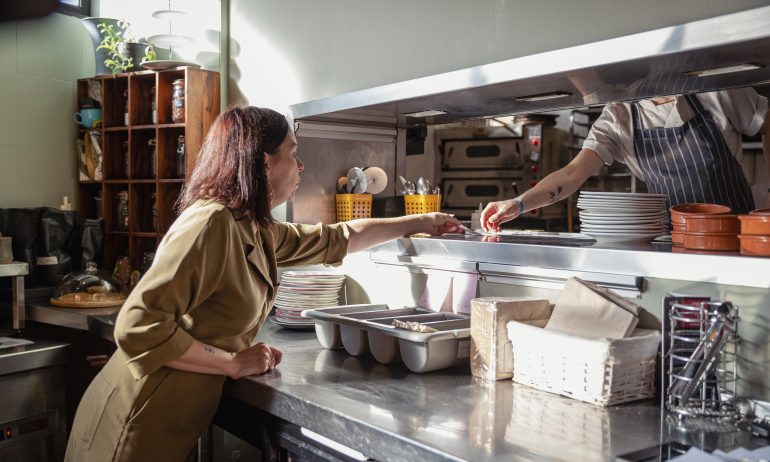 Many or all of the products featured here are from our partners who compensate us. This may influence which products we write about and where and how the product appears on a page. However, this does not influence our evaluations. Our opinions are our own. Here is a list of our partners and here's how we make money.
To protect your restaurant or food business from lawsuits and other losses, you'll likely need multiple types of business insurance. You can get restaurant or food business insurance online or over the phone, directly from an insurer or via a third party like a broker or marketplace.
Here are the kinds of that restaurants and food businesses should consider, as well as how to find the right coverage for you.
Before you start shopping for insurance for your restaurant or food business, evaluate the risks your company faces to understand your coverage needs.
In addition to common risks — like employee injury or loss of income — here are some examples of the industry-specific risks that restaurateurs and food-business owners face:
Think about what lawsuits, accidents or natural disasters might impact your business. Factors such as the size of your business, nature of your work, location, staff and assets will play a role in evaluating your risks.
The right insurance coverage will protect your food business or restaurant from both general and industry-specific risks. Here are some of the types of business insurance that may be applicable for businesses in the food and beverage space — and what these policies typically cover.
You'll likely need to purchase some of the more specialized types of coverage, like liquor liability insurance, as separate policies. Others might be available as endorsements on an existing policy. The Hartford, for example, allows you to add to your general liability policy.
You may also be able to bundle multiple types of insurance into a . BOPs usually consist of general liability, commercial property and business interruption insurance, but can be customized to meet your business's needs.
To shop for the right business insurance for your restaurant or food company, you have a few options:
You can purchase your food business insurance directly from an insurance provider and contact companies to get a quote based on your needs. Depending on the provider, you may be able to get a quote online or over the phone.
Business insurance marketplaces like Insureon streamline the shopping process. You can enter information about your company and the coverage that you're looking for, receive quotes from different insurance providers and compare those quotes to find the best option for your business.
Many of these marketplaces give you the option to get a quote online or over the phone — and also provide customer support to discuss your coverage needs and help you through the process.
An can offer more personalized assistance in shopping for food business insurance. You'll discuss your needs with the broker and they'll get multiple quotes with coverage options from different providers. Then, you can compare and discuss the quotes in order to choose the right policy for your business.
NerdWallet recommends getting multiple quotes from different providers before making a decision. When comparing providers, you'll want to look at factors such as:
Once you've found the right policy and company, you can purchase your food business insurance. After you've purchased your policy, you'll want to make sure you know when your payments are due, as well as how to manage your coverage — including taking actions like filing a claim, adding endorsements or requesting a certificate of insurance.
You'll want to reevaluate the insurance coverage for your restaurant or food business on an annual basis. When your policy is up for renewal, think about your existing coverage, costs, customer service and any new risks you might be facing — such as opening a new location or hiring additional employees — to ensure that you still have the right policy for your business's needs.