Liability Insurance 101: What Business Owners Need to Know
Liability insurance covers legal fees and settlement costs in case of lawsuits. Businesses may need several types.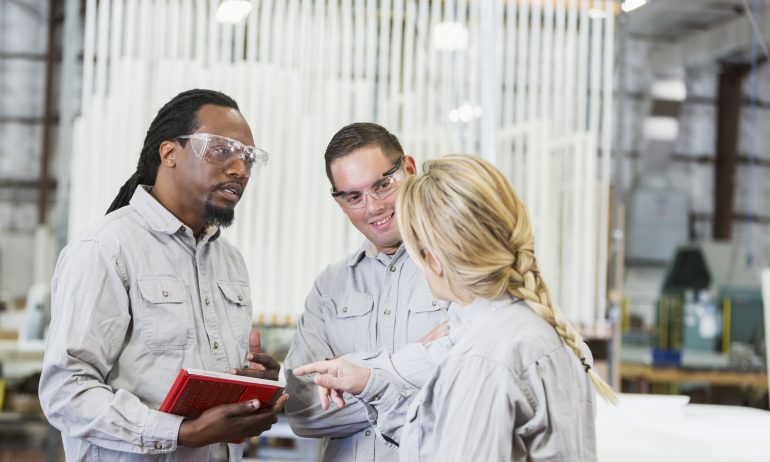 Many or all of the products featured here are from our partners who compensate us. This influences which products we write about and where and how the product appears on a page. However, this does not influence our evaluations. Our opinions are our own. Here is a list of our partners and here's how we make money.
Liability insurance protects your business if it is sued for doing something, or failing to do something, that causes harm.

General liability insurance policies can pay out to cover medical costs after injuries, repair costs after property damage, legal expenses and settlement costs. Most business owners should have general liability insurance.

Depending on what your business does, you may need additional types of liability coverage, such as errors and omissions insurance.
What is liability insurance?
In general, liability insurance protects you financially if you cause harm to a person or damage to a person's property. If you are at fault in an auto accident, for instance, the liability portion of your personal auto insurance pays for the other party's medical expenses and car repairs.
Many kinds of business insurance provide liability protection. If a business harms or is accused of harming someone or their property, commercial liability insurance policies can cover medical bills, property repairs, legal costs and settlements up to the policy's limit.
There are many types of liability insurance that cover specific kinds of harm that might result from your business's operations. A few examples include:
Someone trips on a loose tile in a store and breaks a bone, and the owner of the store has to pay their medical costs. General liability insurance could cover that expense.

A product is defective and has to be recalled. Product liability insurance — specifically product recall insurance — could cover that expense.

A doctor makes a mistake during a procedure that results in a patient's death and has to pay a settlement to the patient's family. Medical malpractice insurance, which is a type of professional liability insurance, could cover that expense.
What does liability insurance cover?
In general, liability insurance covers legal costs. If a court finds the policyholder to be at fault, it also covers settlement costs, including medical expenses for someone who has been injured or repairs to property that has been damaged.
Many businesses need several different types of liability coverage, depending on what kinds of work they do, where they do it and whom they do it with.
Some of the types of coverage below can be packaged and sold together as one policy. Others may be sold separately.
General liability insurance
General liability insurance covers your business when a third party or their property is harmed in your normal course of doing business. A general liability policy could pay out to cover medical costs for a customer who slips and falls in your store and then files a lawsuit, to use a common example.
General liability insurance can also cover repair costs if you or an employee damage someone else's property while doing business. And it can cover legal defense costs and settlement costs if your business is sued for libel, slander or violating copyright.
General liability insurance does not cover injuries that your employees sustain while on the job, though. For that, you'll need workers' compensation.
Professional liability insurance (Errors and omissions insurance)
Professional liability coverage pays out if a business owner does something wrong, or fails to do something important, that results in harm to the customer.
Medical malpractice insurance, which covers doctors if they are sued after the injury or death of a patient, is a common type of professional liability insurance. But other professionals, especially those who give advice to clients, may need to carry professional liability insurance too. These include attorneys, accountants, architects, financial advisors and more.
Professional liability insurance can also be called errors and omissions insurance. It is typically not available as part of a business owners' policy and has to be purchased separately.
Product liability insurance
Product liability insurance covers harm done by the products a business manufactures, distributes or sells. If you are sued for manufacturing a defective toy or selling contaminated lettuce, this type of coverage could protect your business.
Other types of liability insurance
There are many other kinds of liability insurance that protect businesses in specific situations. Like the types of coverage described above, these may be attached to other business insurance policies or purchased separately.
A few of the other kinds of liability insurance include:
Commercial auto insurance
Commercial auto insurance policies include liability insurance as well as other types of insurance coverage. Most states require businesses to have insurance for business vehicles.
Like personal auto insurance, these policies usually include:
Liability coverage, which covers medical bills or property damage for the other people involved in the crash.

Personal injury protection, which covers medical bills for the driver and any of their passengers.

Uninsured motorist coverage, which pays for medical care and property damage if the other driver is at fault but doesn't have insurance or if they flee the scene.

Comprehensive and collision coverage, which cover damage caused by fire, flooding, vandalism or being hit by another car.
Commercial auto policies can cover any vehicles used to do the company's business, whether or not those vehicles are owned by the company.
If you're self-employed and you use your personal vehicle to do business, check your personal auto insurance policy to see how much commercial activity it covers. Most personal policies do not offer enough coverage for regular commercial use.
Workers' compensation is a type of liability insurance that covers medical expenses and lost wages if an employee is injured on the job.
Almost every state requires business owners to carry workers' compensation insurance for their employees. Some states require it only once you reach a certain number of employees, though the rules can vary by industry. Check the rules in your state to avoid being penalized.
What kind of liability insurance do I need?
The short answer is: It depends.
When shopping for insurance, many small-business owners start by purchasing a business owner's policy. A BOP is a package that includes several different types of coverage, usually including general liability coverage.
Almost all states require that business owners carry workers' compensation and commercial auto insurance. Your state may also have industry-specific regulations, like requiring that doctors have medical malpractice insurance or that lawyers have legal malpractice insurance.
Other stakeholders can set regulations too. For instance, state bar associations may require attorneys to disclose to clients whether or not they have professional liability insurance. Commercial property leases often require business owners to carry general liability coverage.
Beyond what's required, you may need other types of liability insurance depending on your industry, what kind of products you sell or services you provide, the size of your business and other factors.
How do I buy liability insurance?
Shopping for business insurance can be a lot more complex than shopping for personal insurance. An insurance broker can help you understand what kinds of coverage your business needs and help you make sure your policies meet those needs. If you work with a financial advisor, they can probably refer you to an agent who sells business insurance.
As your business grows, you may need to update your insurance policies. Review your coverage regularly as part of your business planning work and make sure to add additional coverage if you need it.
How much does liability insurance cost?
Every type of liability insurance coverage will come with its own costs. Some of these types of insurance can be packaged together in a business owners' policy. Others are sold separately.
The cost of each type of policy can vary dramatically depending on:
What industry you're in and what your business does.

How many employees you have.

How long you've been in business.

Where your business is located.
The cost of general liability insurance: Progressive reports that businesses that bought new policies in 2020 paid $53 per month on average. Insureon reports its customers pay a median price of $42 per month.