Directors and Officers Insurance: What It Is and Which Businesses Need It
Directors and officers insurance protects your leadership and business from financial loss resulting from lawsuits.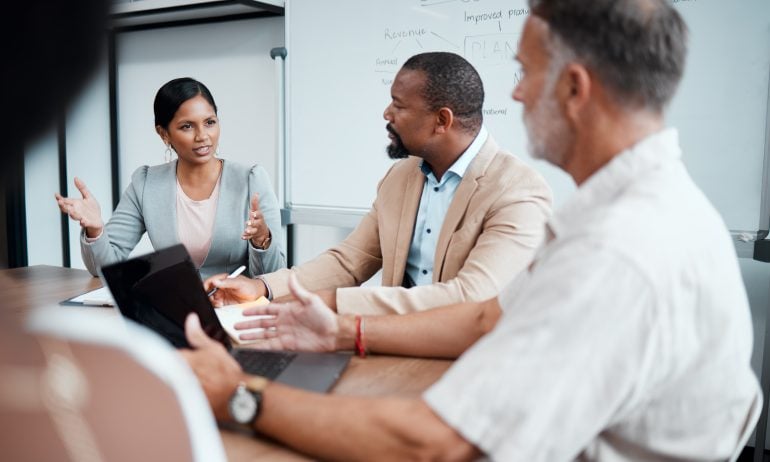 Many or all of the products featured here are from our partners who compensate us. This may influence which products we write about and where and how the product appears on a page. However, this does not influence our evaluations. Our opinions are our own. Here is a list of our partners and here's how we make money.
Directors and officers insurance, also called D&O liability insurance, protects a company's leadership from financial losses resulting from business-related lawsuits. It covers claims made against them while they're sitting on the board of directors or acting as officers of the company.
Leadership can be held responsible for business failures and potentially implicated in claims against the company. Not every company needs to purchase this type of policy, but it can allow officers to confidently lead without worrying about personal monetary loss.
Directors and officers insurance is generally worth purchasing if your company:
Directors and officers insurance pays for claims filed against company leadership. The coverage has three parts, referred to as sides:
There are different types of policies; select coverage based on how your business is organized and what risks you're exposed to.
Some risks you may want to cover include:
Here are some standard exclusions you can expect to see in directors and officers insurance policies:
Premium amounts vary. However, a survey by the insurance marketplace Insureon found that 54% of its small-business customers paid less than $1,500 per year for directors and officers insurance. The amount you pay depends on the coverage limit you select and several other factors. Generally, a higher risk factor means an increased premium. The following are some common factors an insurer would use to assess risk:
It's important to shop around before you purchase a policy. You'll have a better sense of what premium is reasonable for your business if you get at least three different price quotes and .
Self-insured retention is the dollar amount you'll be required to pay on each claim before the insurer will start covering costs. You may see this rate listed on the declaration page of your policy. You can think of it as a type of deductible. A low-risk company might have a retention of $1,000 while a high-risk company might have a retention of $250,000.
A retention can also be used as a cost-control tool. As a retention goes up, your premium goes down. That's because you are taking on some of the risk that would otherwise be shouldered by the insurance company. Also, every claim costs an insurance company time and money. When a business handles small claims itself, it lowers the expense for the insurance company.
Many insurers offer directors and officers policies. They can be purchased individually or bundled with other types of business insurance.
According to S&P Global Market Intelligence, the largest insurance providers by direct premiums for this type of policy in 2020 were:
Other popular carriers include:
If you currently have business insurance, your first step may be to contact your agent to see if they offer directors and officers policies. You can also request a quote online directly from an insurance carrier, or work with an insurance broker.
It's best to work with a knowledgeable insurance professional who can explain the finer details of the policy. You may also want to consider having an attorney or insurance consultant who has no financial interest in the transaction review the policy before you buy it.