At NerdWallet, we strive to help you make financial decisions with confidence. To do this, many or all of the products featured here are from our partners. However, this doesn't influence our evaluations. Our opinions are our own.
It's no secret that Marriott's rollout of the Bonvoy loyalty program has left many members feeling "Bonvoyed" — a term customers coined to express their frustration in the aftermath of the chain's merger with Starwood. Changes announced recently by Marriott could leave members feeling freshly Bonvoyed, although the news isn't all bad.
We already knew Marriott's award chart was going to be restructured to include off-peak, standard and peak pricing, but now we know these changes will go into effect Sept. 14 of this year. This means you have about three more weeks to make reservations if you anticipate award prices going up, especially for higher-category properties.
Off-peak, standard, peak awards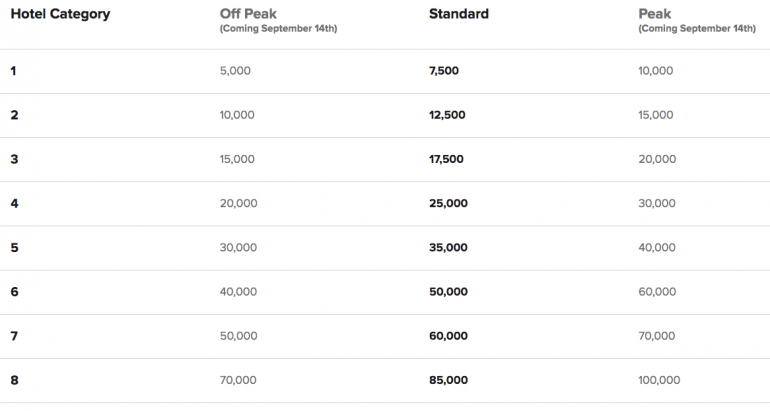 If you're booking a lower-end property, the changes aren't too drastic, as you can see above. However, Category 8 properties will see 15,000-point gaps between each of the three different award types.
This pricing model will be based on demand. You'll be able to see on Marriott's website and mobile app whether a property is in off-peak, standard, or peak season on your desired date. If your plans are flexible, you can use Marriott's flexible date finder to find dates with the lowest rate.
On top of the new award redemption rates, Marriott is also making updates to its cash and points chart: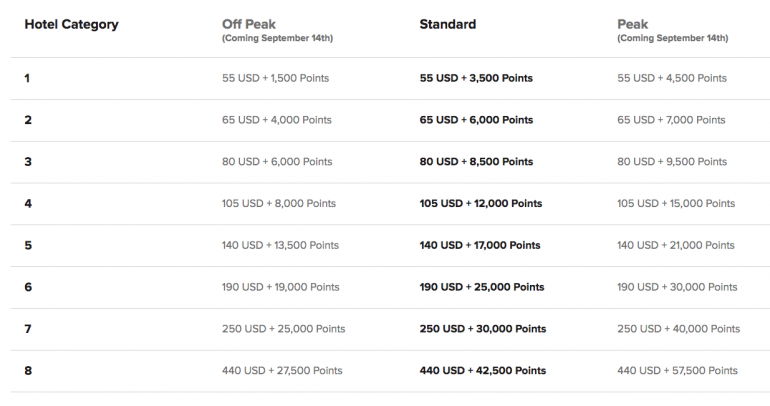 Each hotel category will be bookable with partial points and cash for each of the off-peak, standard and peak seasons. This can be a helpful option if you don't have enough points but want to book a higher category property at a discount.
It isn't just the award chart that's getting a makeover on Sept. 14. If you've been taking advantage of Marriott's Points Advance program, changes to this policy could be particularly disappointing. Until now, Points Advance has functioned as a way to lock in award reservations even when you didn't yet have the points in your account.
As of Sept. 14, that will no longer be the case. You'll still be able to reserve award stays with Points Advance, but the rate won't be locked in. If the points rate changes between the time you make the Points Advance reservation and the time you finalize the booking, you'll have to pay the new price. You're effectively locking in the room, not the rate.
So the obvious solution would be to lock in as many low prices as possible before Sept. 14, right? Well, sort of. Turns out, you can use the Points Advance program as is until the 14th, but Marriott will only honor five of your Points Advance bookings.
After Sept. 14, you'll only be allowed to have three active Points Advance bookings at once. That reduction doesn't seem like such a huge blow, especially since you won't even be able to lock in a price with Points Advance anyway.
Marriott has long offered a fifth night free on award bookings (if you book five nights on points, the fifth is free), and that isn't changing. But after Sept. 14, your free night will be the cheapest night out of the five that you book. So if you book a Category 7 reservation that includes four peak nights for 70,000 points and one standard night for 60,000 points, you'll receive the standard night for free.
Making the best of Marriott's changes
There are a few ways to be smart about the way you book with Marriott going forward. The first is to book award nights before these changes go into effect and keep an eye on your Points Advance bookings.
You could even book up to five Points Advance stays to lock in original prices. After Sept. 14, keep an eye on your bookings. If the price goes down, you can rebook at a lower rate.